Montecreto, Italy ~ ~ My Family's Home in Northern Italy!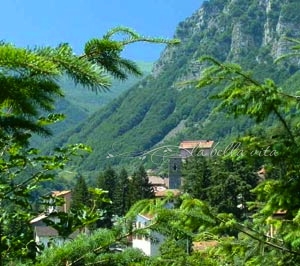 Tucked on the side of the tallest towering mountain in Italy, Monte Cimone, lies the native hometown of my family, Montecreto. This little town of 950 people is nestled among fir and beech trees in the Apennine Mountains in the Provence of Emilia-Romagna. Although Monte Cimone has many ski routes nearby, Montecreto never grew into a wealthy ski village because its location is more hidden, remote, and difficult to get to.
This was a most desperate place to live in Italy and at the turn of the 20th century compelled both sides of my impoverished family (maternal and paternal grandparents) to search for a better life in America around 1910. They settled in a little immigrant coal-mining village called "High Bridge, Iowa" which is no longer in existence.
My ancestors in Italy lived on 'cucina povera' (food of the poor) out of necessity and not because of its trendiness today. My grandfather hated chestnuts because that's all they had to make flour with and other recipes. Pasta and rice were staples with a little bit of meat. Chicken and rabbit were common, but never, EVER did they eat fish because of the distance from the sea. That explains why my family has never celebrated the traditional Italian Christmas Eve dinner known as the "Feast of the Seven Fishes". They could not get to the sea, nor could they afford fish if it were in front of them. And fish was not brought up into the mountains. As a result, they had never heard of the feast. My family could not afford any of the rich desserts such as cannoli or ricotta cakes, but they did bake biscotti, which we have always called 'contucci' that they dipped in wine after dinner.
Similar to thousands of Italian immigrants at that time, my grandparents' families were dirt poor, period! And they certainly did not travel to 'America' on the ocean ships in first class . . . I imagine they were in the bottom level of those ships with just one trunk filled with all of their belongings (I am the only fortunate grandchild to have one trunk from both sides of my grandparents, each over 100 years old, to cherish and pass down to my children).

But only two people from each side (maternal and paternal) of the family moved to America. Their sisters and brothers stayed behind on the mountain and never left Italy. Eventually, they moved to where they live today in the nearby bustling city of Modena, home of Luciano Pavarotti, both the Ferarri and Maserati sports cars manufacturing plants, and balsamico vinegar. Today my relatives' quality of life is such that my aunts, uncles, and cousins have absolutely no desire to ever leave Italy. It just couldn't be any better today!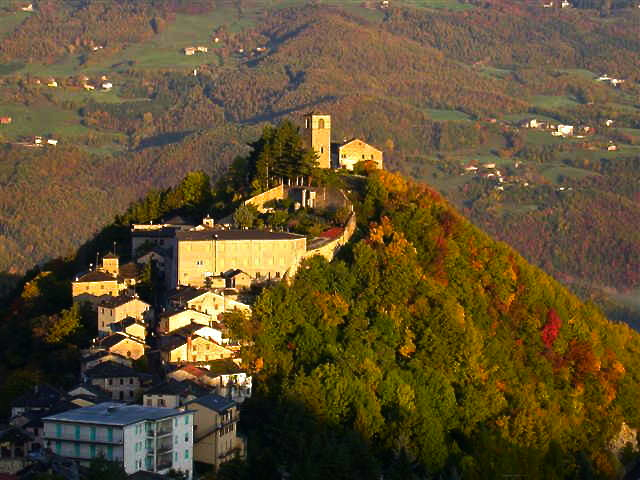 A part of me wishes that my grandparents had never left Italy and that I would have had the opportunity to grow up in this beautiful country. But that was obviously not part of the bigger picture/plan and so here I am, a fortunate U.S. citizen visiting the land of my heritage with my parents (ages 85 and 92 years young)**. My mother and father have returned to Montecreto and Modena about six times, so they know their way around and are quite fluent in Italian. At one time I was fluent in the language, but you know what they say, "Use it or lose it" and I had no one to speak Italian to once I left home after college. So now I'm enrolled in an online Italian language course and it's slowly coming back to me.
While here we will not only visit my family, but also go to the local Catholic church to look through Baptismal records so that my mother can do some family genealogy work.
** My father passed away 3 months after this trip.
** My mother passed away 3 years later.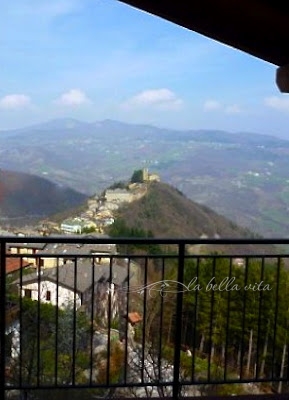 One of those homes on the top of that ridge is my grandmother's childhood home. There's only one road going through this tiny little town and you're looking at it in both of the photos above! To get up here, one has to drive straight up twisting and winding roads with hairpin turns, something I am not crazy about driving on. But chauffeur of this trip, I am. So I need to just get over my fear of mountain road driving (it's something I usually let my husband do while I keep my eyes shut). I just pray that they have guard rails on the side edges of the road! Luckily for me, my sister who has driven this road before told me that there's not a lot of traffic!
After I return to the States, I'll share more photos. For now, I'm off exploring this little mountain town, visiting family, talking, eating delicious home-made Italian food, drinking some vino, looking through dust-covered, aged record books in a church or city hall, and thanking God that I've got this moment in time to be in this lovely little spot on earth.
Ciao!