Zuccherini – Italian Lemon Cookies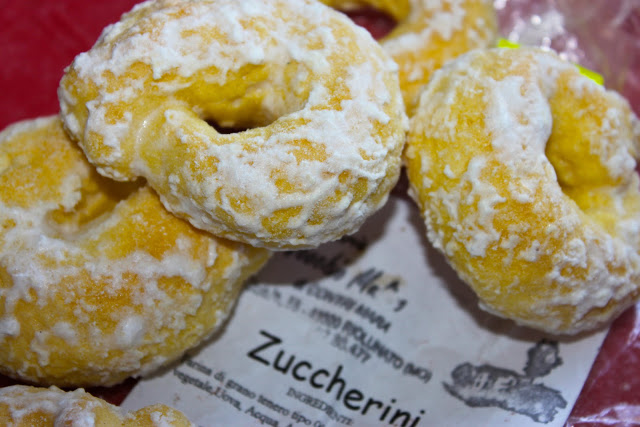 Zuccherini are little Italian cookies shaped like wedding rings that are customarily given to guests at weddings in Italy. They are traditionally given from the bride and groom as gifts for good wishes to everyone, and are displayed in beautiful white baskets lined with white fabric and decorated with fresh flowers. However, these cookies are now prepared year-round because of their popularity!
I bought a bag of these little sweet, lemon-yellow cookies while up in the mountains of Northern Italy (above) and also found them in many of the shops in Amalfi (below). They were so delicately flavored with lemon, and not overly sweet. I just fell in love with them, having enjoyed them from the cucina of my Nonna Stella. One would have to find an Italian bakery to find these cookies! My mother really loved these cookies so much that she included the recipe for zuccherini in our the family cookbook' (shown below).
So along with other recipes that are almost identical from scouring the Web and all of my Italian cookbooks, I'm sharing this delicious recipe for all of us to prepare in our own homes. Other than my family's cookbook, the 'book' as we often call it, I could only find two other Italian cookbooks where I found the recipe.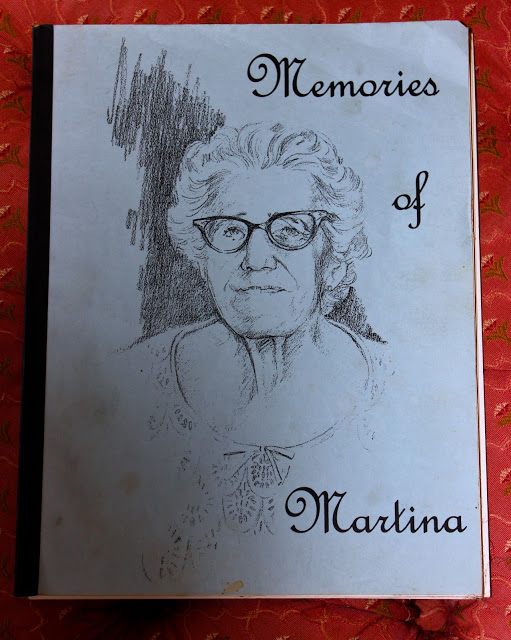 From my family's 'humble', non-photo, text-only, finger-smudged cookbook, "Memories of Martina", is the following recipe for "Zuccherini" (which is misspelled in our cookbook) and which I have reduced in quantity for you in the recipe at the bottom of this post.
.
Don't use 'margarine' as stated below in the recipe from my family's cookbook. At one time it was considered 'modern' to use margarine in American kitchens, but no more. So prepare this recipe the authentic way with olive oil, the correct way!
.
Also, the icing in the recipe below is a bit different, so use either recipe for the icing, just remember to add lemon juice/zest for the outstanding flavor that is enjoyed in Italy (in the second recipe below)! But if that is too much lemon for you, than just mix sugar and water or milk.
.
My family's recipe below is just a little bit different than those that I found in the other cookbooks, so just compare and see which recipe or a combination is more to your taste preferences.
.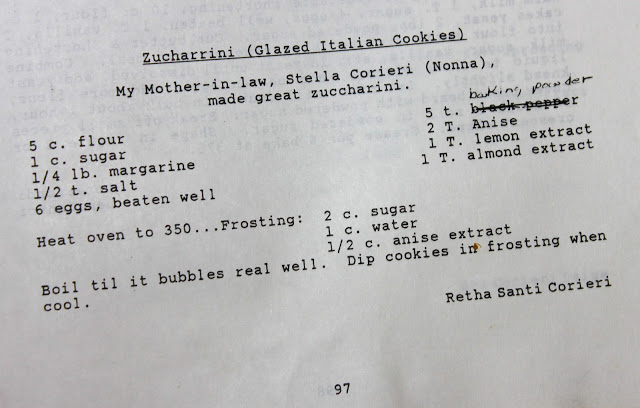 I also found the recipe in "Italian Holiday Cooking" by Michelle Scicolone and "Bologna Mia" by Loretta Paganini so that we can bake these cookies for Christmas and throughout the year!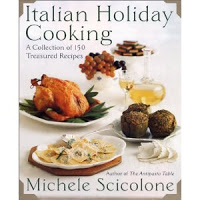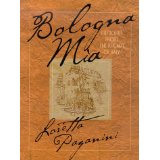 I found out that Zuccherini are some of the oldest of all Italian biscotti. The beauty and deliciousness of these cookies is in their minimalism and simplicity. . . using only the most basic ingredients of sugar, flour, eggs. olive oil, anise seeds and a little bit of added flavor – – and for this recipe, it is lemon!
These cookies are SO EASY to make too! You just form a 'well' of your dry ingredients, then add the eggs, olive oil and flavorings in the middle of the 'well' just as you would do to make pasta the 'old' traditional way. With your hands, slowly incorporate the flour mixture into the eggs/olive oil mixture to make the dough. Pull off little pieces about the size of an egg and roll them out into ropes, form them into 'rings' and pinch the two ends together where they meet. Bake, glaze, and that's it!
Now this is super easy deliciousness!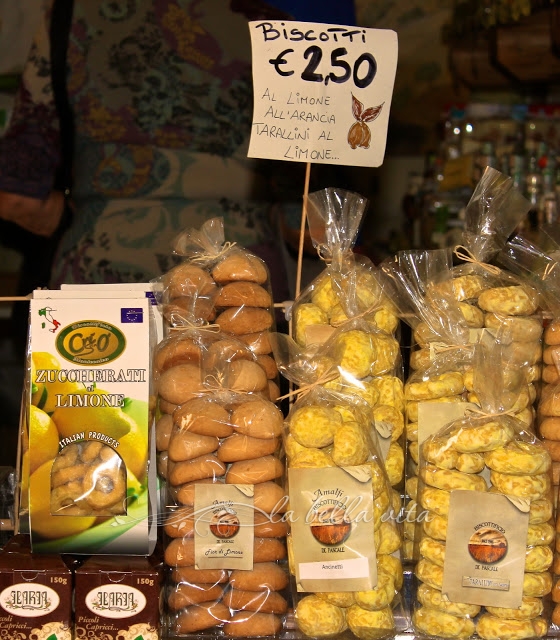 .
a display of Zuccherini in Amalfi . . . I should have bought more!
.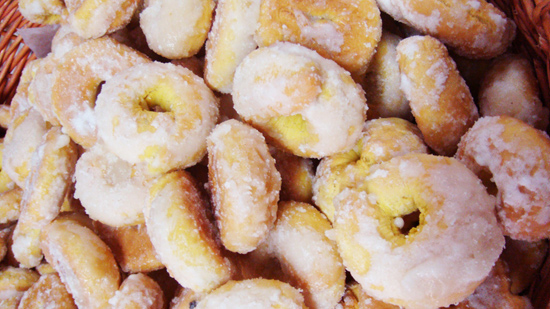 the powdered sugar – lemon glaze hardens on the lemon cookies
Print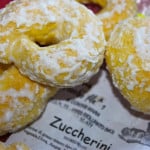 Zuccherini – Italian Lemon Cookies
Author:
Prep Time: 0 hours
Additional Time: 0 hours
Cook Time: 0 hours
Total Time: 0 hours
Yield: 32 cookies 1x
---
Cookie Dough
3 – 4 cups all-purpose flour
1 cup sugar
1/2 teaspoon baking powder
1/4 tsp. salt (sea salt is best)
3 large eggs, room temperature
1/4 cup olive oil
1 – 2 teaspoons anise seeds (place seeds in a cloth and crush with a mallet)
1–1/2 teaspoon anise extract
2 teaspoons grated lemon zest
For the Frosting/Icing
1 cup powdered sugar
2 – 3 Tbsp. lemon juice (depending on how lemony you want your glaze)
Double this if you like more glaze (like I do)
---
Instructions
Sift together the flour, sugar, baking powder and salt onto a large cutting board.
Shape it into the form of a large well.
Into the middle of the 'well', add the eggs, olive oil, anise seeds and extract, and lemon zest.
Incorporate all ingredients together to form a dough; do not overwork.
Place in an oiled bowl, cover with plastic wrap, and let the dough rest for 30 minutes.
Preheat oven to 350 degrees F.
Cut dough into egg-size balls and roll out each one into a long rope of medium thickness.
Optional: For a more layered cookie, flatten the rope and fold it in half along the entire length of the rope.
Shape each rope into a ring.
Pinch the ends together.
Place cookies onto a well greased and floured, or parchment paper-lined baking sheet.
Bake for 15-20 minutes until lightly golden.
Prepare glaze by mixing together sugar and lemon juice.
Brush each cookie with the lemon glaze while the cookies are still warm.
OR
as my Nonna used to do
Place the glaze ingredients in a plastic bag, insert the cookies, and SHAKE to cover the cookies with the lemon glaze!
It's OK if these cookies harden; they become perfect for dunking into coffee or wine as Italians love to do.
TIP: Another great way to ice the cookies is to:
Put the sugar and water in a large pot.
Cook on medium until frothy.
Add the lemon juice. Continue to cook and whisk for 5 minutes until frothy again.
After the icing is frothy, carefully place half of the cookies into the hot icing.
When completely cooled, remove the cookies from the pot with a slotted spoon and place on a cotton dish towel on top of a baking rack or wooden board.
Allow cookies to dry completely (for a minimum of 2 hours).
Once the cookies are completely dry, they can be kept fresh in a sealed container.
---
.
Do you enjoy La Bella Vita Cucina?
We'd love to have you as part of our community!
Click below to get the latest recipes, travel tips,
and gardening ideas straight into your inbox!
.
.