Home-Made Chicken Pasta Noodle Soup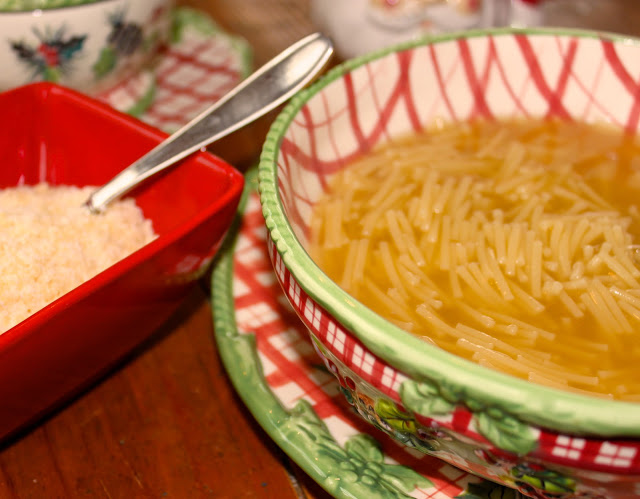 "Oh the weather outside is frightful" . . . NOT!
It's 70 degrees here today on the 8th of December!
"and my dear, you're so delightful" . . . NOT!
My dear husband is sick with a horrible cold. Yes, he's still as delightful as one can be when one is sick.
Singing the rest of this Christmas song might have brought a 'slight' smile to my congested and stuffy-headed husband, but for a little physical assistance, I knew that it would be better if I helped nurse his head and chest cold with some humble home-made chicken broth and wonderful pasta noodles that I brought home from Italy.
Plus, I don't have a great voice for singing!
As they say in the old wives's tale, eat chicken soup to help cure the common cold.
Whether there is any truth to that wisdom or not, I know that chicken soup certainly helps 'mentally' when a loved one is under the weather.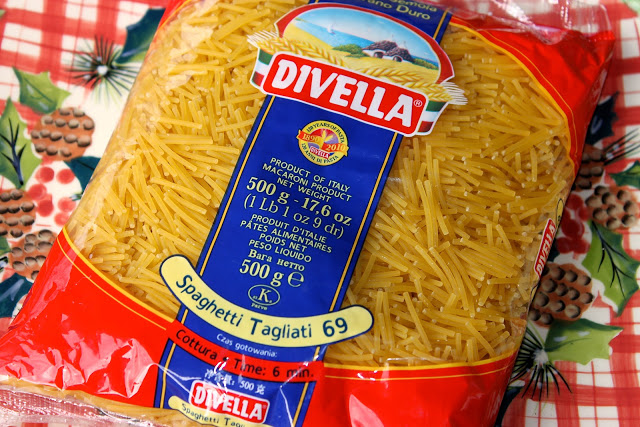 .
I picked up this package of 'Spaghetti Tagliati' while on the Amalfi Coast this past October because I felt that this pasta shape closely represented the pasta shape for chicken soup that Americans are accustomed to purchasing in the market for 'package-ready-made' chicken soup (i.e: Lipton's).
.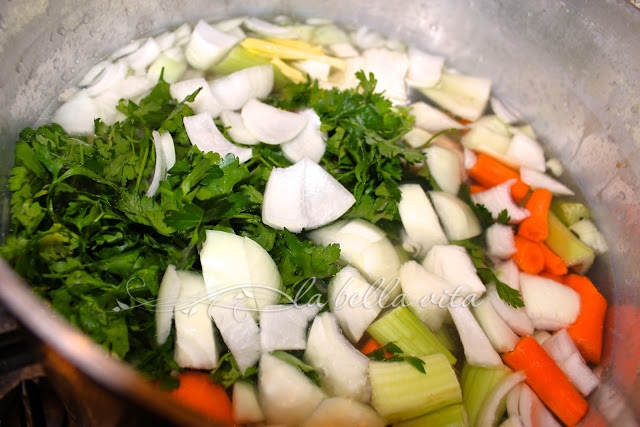 .
The recipe for homemade chicken broth follows, but in general, fill up a HUGE pot of water and insert lots of fresh onions, carrots, celery, and Italian parsley. Then add . . .
.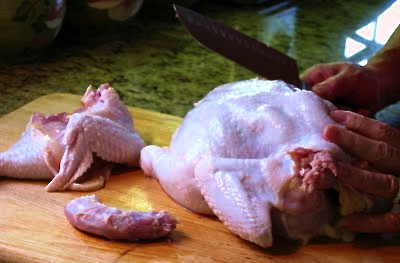 .
a really good cut-up chicken (see recipe link below)
.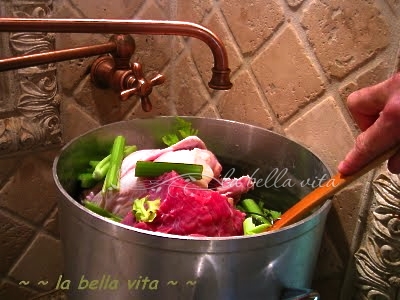 .
and beef (if you like) to the veggie-filled water
.
.
after several hours of cooking on low heat, STRAIN all of the meat and veggies into a strainer and then filter several times through a light, paper-thin tea towel to remove (what we call) the 'gunk' out of the broth in order to make it clean, clear and pure broth!
.
Refrigerate the chicken broth overnight. The fat will rise to the top and harden.
The next day, remove the hardened fat and discard.
.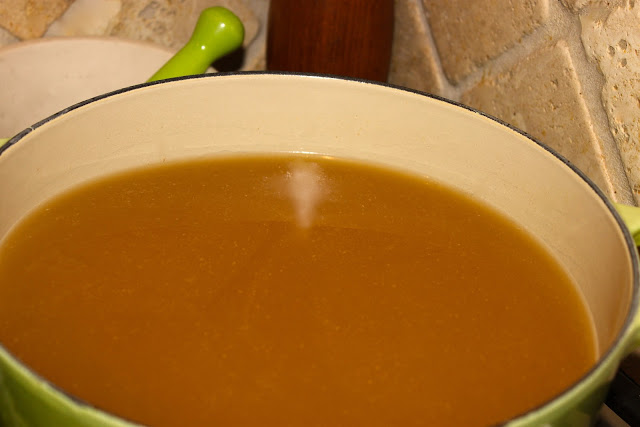 .
.
This is the beautiful result that you will have!
.
This DOES NOT take a lot of work and is so worth it!
.
While you're blogging, or reading a foodie magazine or watching a favorite foodie TV show, get this broth going on the stove, freeze it, and have it on hand for whenever you might need it!
.
Home-made chicken broth TOTALLY outshines store-bought chicken broth!
.
And now here's the link to my post in 2009 for a complete step-by-step tutorial on making homemade
"brodo di pollo"
(chicken broth). I hope you enjoy
my family chicken broth recipe
(click the link)
that has been passed down through many generations!
.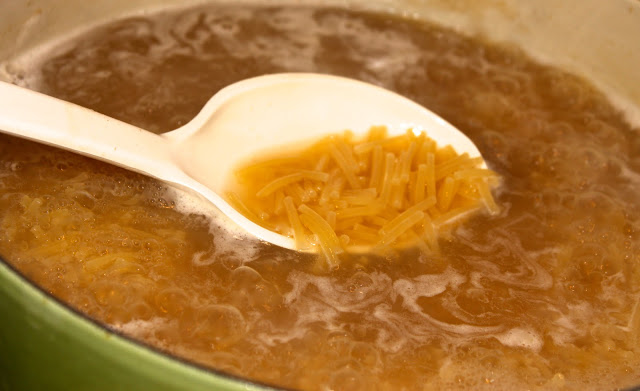 .
Once you have made and/or frozen your chicken broth,
either use the freshly made broth or heat up the frozen broth on the stove
add your favorite pasta or tortellini and
cook until 'al dente' and no longer
.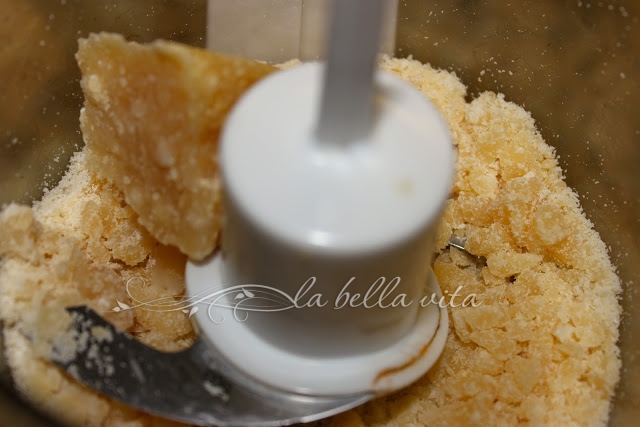 .
.
while the pasta is cooking,
grind some fresh Parmigiana-Regiano cheese
to sprinkle on top of your soup!
Never use the pre-packaged, canned varieties of Parmesan sold in stores!
Freshly ground Parmigiana cheese makes such a noticeable difference!
.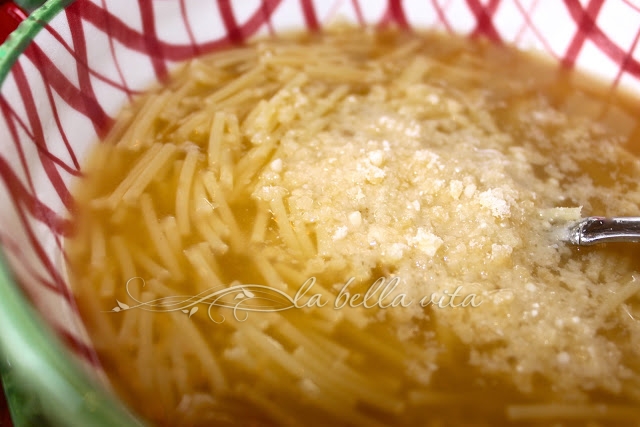 .
.
Sprinkle the freshly grated Parmigiana on your hot chicken noodle/pasta soup!
.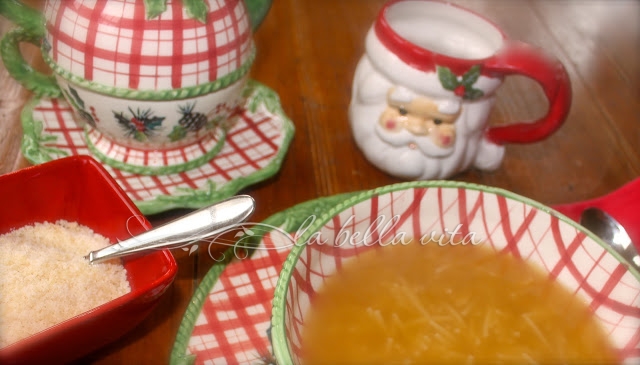 .
and enjoy !!!!
.
Wishing you a healthy and Merry Christmas season!
.
And if any of your loved ones happen to catch a bad cold,
this delicious soup will help them so that they too can better enjoy the festivities of this wonderful holiday!!
.
.