AUTHENTIC Pure, Simple and Fresh Italian Marinara Sauce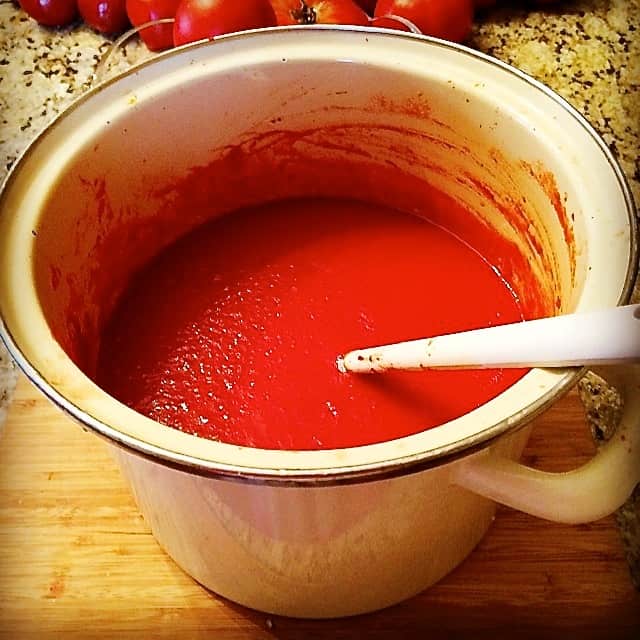 This has proved to be a banner year for tomatoes in our gardens. YAY!
So I decided it was time to make a pot of AUTHENTIC, pure, simple and FRESH Italian Marinara Sauce . . . a recipe from the late Marcella Hazan (author of "Essentials of Italian Cooking" which has become somewhat of the contemporary bible of Italian cookbooks written in English). I'm feeling more and more like an Italian Nonna (grandmother, which I really am) who has been standing over the stove preparing numerous sauces to can and freeze for the winter and to give to our kids. Picture me doing this: adding, tasting, adjusting, stirring, simmering, tasting again and again until perfection is reached!
As she states in her book, "this sauce is unsurpassed" due to it's purity of having nearly nothing but fresh tomatoes in the sauce. It isn't complicated so don't be intimidated. Having the highest quality of ingredients, as fresh as possible, is imperative.
The interesting ingredient in this sauce is BUTTER, which at first sounded a bit strange to me! And then I thought, "Well, why not? We add butter to tomato soup for added depth and flavor!", so it must do the same thing for a Marinara sauce. Truthfully, I might even add more butter the next time I make this sauce!
After the required 45 minute simmer that Ms. Hazan calls for, I found the sauce to be a little too thin and runny, almost like a tomato juice. I thought, "Man would this make one HELL of a Bloody Mary juice (with hot spices added of course)! Tuck that thought back in my brain for future reference!
So to the pot of thin sauce, I added lots of high-quality canned tomato paste. And the result? AUTHENTIC Pure, Simple and Fresh Italian Marinara Sauce
Again, if you make this, remember that it is pure simplicity with nothing else added. We also like lots of goodies in our Marinara sauce though! So here is the link to my Garden Fresh Marinara Sauce that has a traditional and delicious Italian "sofretto" base (sautéed onions, garlic, celery, carrots in olive oil) and basil.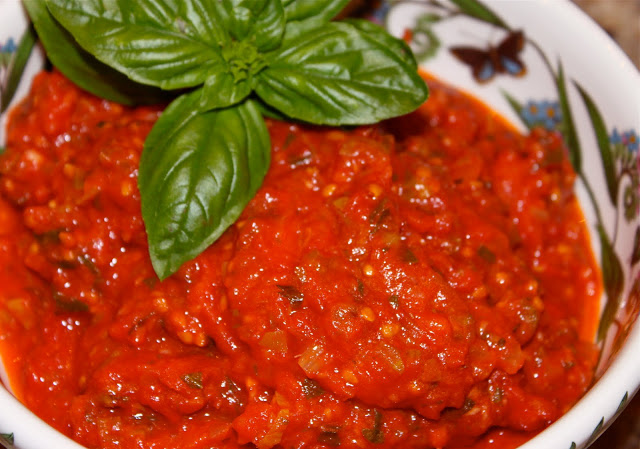 The secret to this and any good Marinara Sauce is FRESH TOMATOES! PERIOD!
Print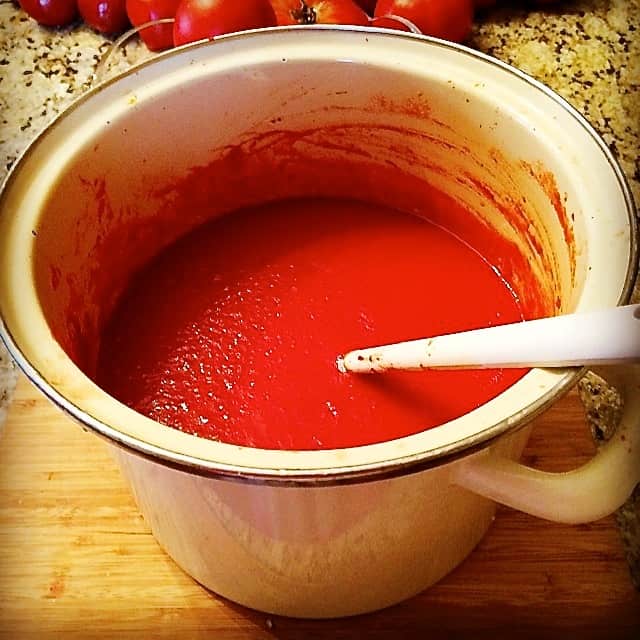 Pure and Simple Fresh Marinara Sauce
Author:
Prep Time: 0 hours
Additional Time: 0 hours
Cook Time: 0 hours
Total Time: 0 hours
---
Description
No commercial jarred tomato sauce can ever beat the fresh taste of home canned/jarred tomatoes from your gardens or farmers' markets.  Although time-consuming, this labor of love is totally worth it each and every time to make your recipes simply more DELICIOUS than ever!!!
---
10 lbs. garden-fresh tomatoes (imported canned Italian San Marzano tomatoes can be substituted)
1 stick of butter
1 onion peeled and sliced in half
2 Tbsp. freshly cracked sea salt
1 tsp. sugar
2 18–oz. cans of high quality tomato PASTE
---
Instructions
In a large pot, boil water on the stove on high heat.
Fill a large pot of cold water and place right next to the pot of boiling water. Do not heat up this second pot of water.
Place tomatoes in the hot boiling water to BLANCH until a crack appears in each tomato, this takes about 2 minutes.
Immediately remove each tomato as they crack and place them in the pot of cold water to stop the cooking.
When all tomatoes are in the cold water pot, take it to the sink and carefully drain the water which at this point will be warmed up from the hot tomatoes.
Refill it with more cold water to stop the tomatoes from cooking.
As the tomatoes are cooling, and safe to not burn your hands, begin to pull the skins off of each tomato and remove the stem.
Using a hand-held tomato puree device OR a simple mesh strainer, mush the tomatoes through to remove the seeds.
I do this twice.
As you are doing this, remove the chunky pieces of tomato pulp and place in the bowl of strained juice, otherwise all you're going to have is juice.
Take an immersion blender (what I call a 'boat motor') and puree all of the pulp in the seedless juices.
In a tall pot on low-medium heat, melt one stick of butter.
Add the pureed tomatoes.
Add the peeled, cut-in-half onion.
Add salt and sugar.
Simmer on the stove with a pizza pan underneath to prevent burning, for 45 minutes.
Remove the onion halves.
Add the tomato paste (this is my addition to Marcella Hazan's recipe that we felt was too runny).
Simmer for another 15 minutes to thicken.
Taste, taste, taste.
RECOMMENDATION: As Marcella Hazan states in her classic Italian cookbook, this is Marinara at it's very purist and she's right. However, we like the addition of "sofretto" (onions, celery, garlic, and possibly carrots) and fresh basil. I have a recipe for that as well on my blog "La Bella Vita Cucina" and it is delightful!
---
Notes
Adapted from Marcella Hazan's "The Classic Italian Cookbook"
---
Here's another SUPER garden fresh tomato cold Gazpacho soup for you to enjoy!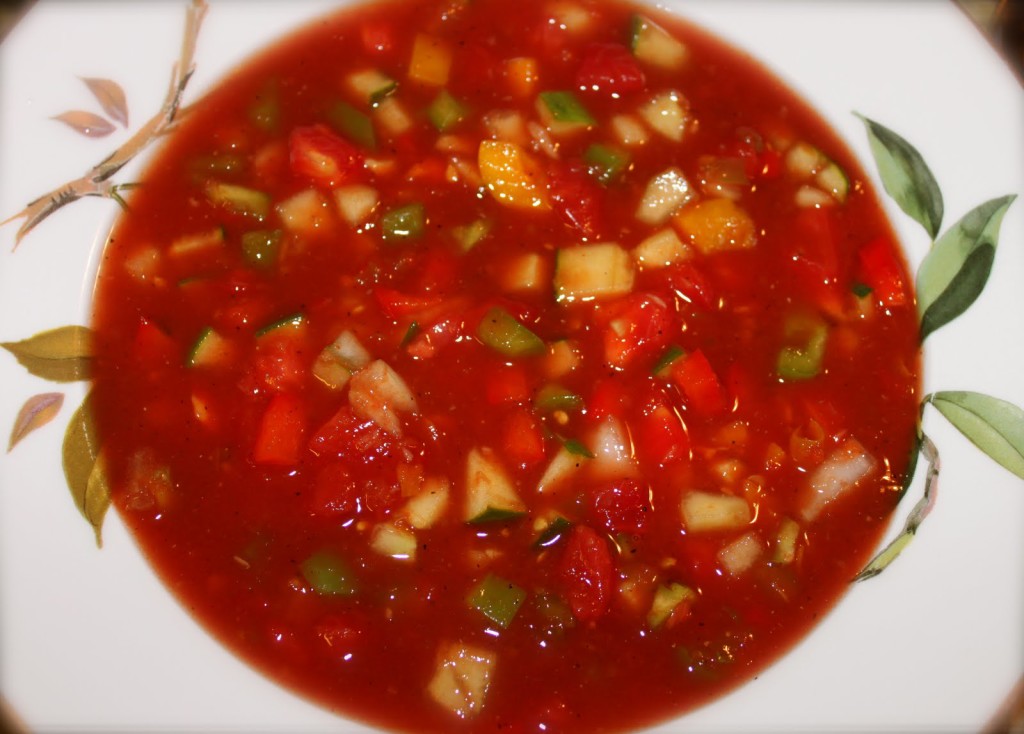 And last but not least is this outstanding fresh Tomato Basil Bisque soup:
Tomato Basil Bisque Soup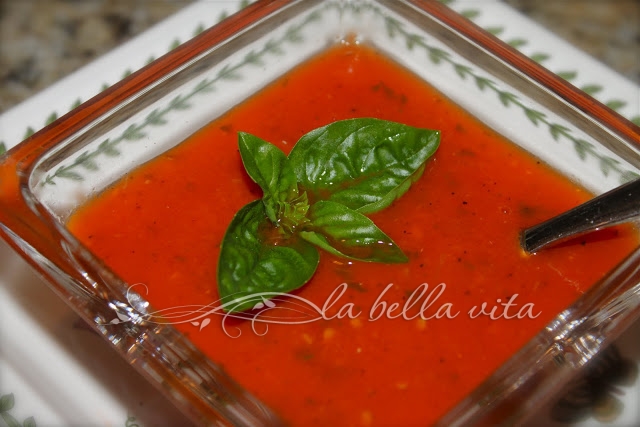 All of these super fresh, super delicious garden-fresh tomato recipes will certainly keep you busy in the kitchen
and help you enjoy the freshness of summer all year-long!