Fresh Peach Salad with Raspberry Vinaigrette
Peaches, oh so sweet and juicy summer peaches! Perfect for a Fresh Peach Salad with Raspberry Vinaigrette .
We wait all year long for this delicious, delicate fruit that is so versatile that they even taste heavenly in savory dishes, not just pies or cobblers!
When I visited my family in Modena, Italy this spring, my cousin, Silvia, told me that her favorite fruit is 'pesche'. Remembering this upon our return home to the States, I immediately went to our local peach farm and bought several jars of homemade peach jam, jellies, preserves, as well as peach butter and peach salsa to ship back to her in Italy as a way of saying "thank you / grazie" for everything that she did for us during our visit. I told her that South Carolina produces more peaches than any other state except California (even though Georgia is called 'the peach state').
South Carolina's peaches differ from other peaches grown elsewhere in that they are famous for their SWEETNESS! That's a pretty special and 'sweet' reputation!
This year has been a banner year for peaches in South Carolina, with an unending bumper crop. All the better for those of who can't get enough of these fuzzy balls of yumminess!
I wanted to try my hand at some new peach recipes and need to give a big shout out to one of my long-time food blogger friend, Angie, of "Angie's Recipes" for motivating me to try her summer peach salad! Angie has an army of followers and for good reason: all of her recipes are super creative, healthy, delicious, and photographed oh so beautifully. She and I have communicated back and forth to each other since I can't remember when. So recently, she posted a delightful peach salad recipe that blew me away.
Since I am also crazy about raspberries, especially combined with peaches (i.e.: think of the famous 'Peach Melba' dessert), I chose to add raspberries to her recipe, and use a home-made raspberry vinaigrette. The next time I prepare this salad (very soon) I will also add crumbled goat cheese to balance the sweet and sour raspberry vinaigrette and add slivered almonds.
This fresh summer peach salad is not only delicious, it is beautiful and worthy of presenting to your loved ones any time!
I hope that you enjoy this delicious Fresh Peach Salad with Raspberry Viniagrette !
Print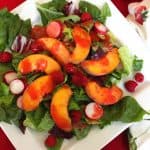 Fresh Peach Salad with Raspberry Vinaigrette
Author:
Prep Time: 0 hours
Additional Time: 0 hours
Cook Time: 0 hours
Total Time: 0 hours
---
For the Salad
Mixed spring lettuce
Radicchio
3 – 4 fresh peaches, pit removed, and sliced
1 – 2 cups red raspberries
5 – 6 red radishes, sliced
Freshly-cracked black pepper to taste
Crumbled goat cheese (optional)
Slivered almonds (optional)
For the Raspberry Vinaigrette
1 cup red raspberries
2 Tbsp. champagne vinegar
1/4 cup olive oil
4 – 5 tsp. honey (added to your taste preference)
2 Tbsp. water
1/4 tsp. freshly-cracked sea salt
---
Instructions
Prepare Raspberry Viniagrette
In a mini-blender add the raspberries, champagne vinegar, olive oil, honey, water and sea salt.
Blend until smooth.
On individual salad plates, lay the mixed lettuces and radicchio.
Lay the peach slices on next, followed by the radish slices and red raspberries.
Sprinkle on the goat cheese and slivered almonds (optional).
Drizzle the salads with Raspberry Viniagrette.
---
Here are some absolutely delicious peach recipes for you to prepare and to 'wow' your loved ones as well:
red raspberries and radishes accent the peaches ">Peach Bundt Cake with Amaretto Cream Glaze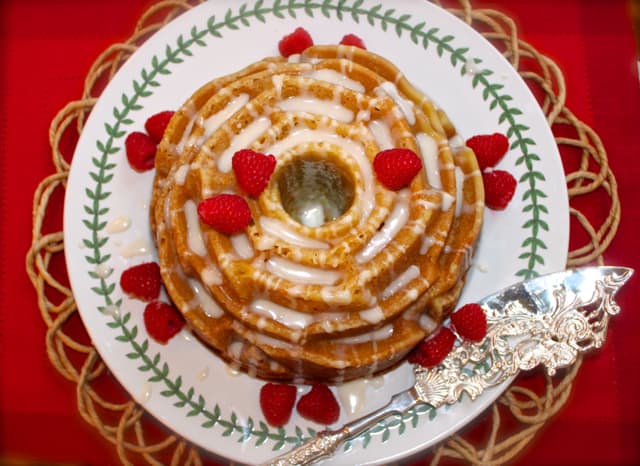 Luscious Fresh Peach Ice Cream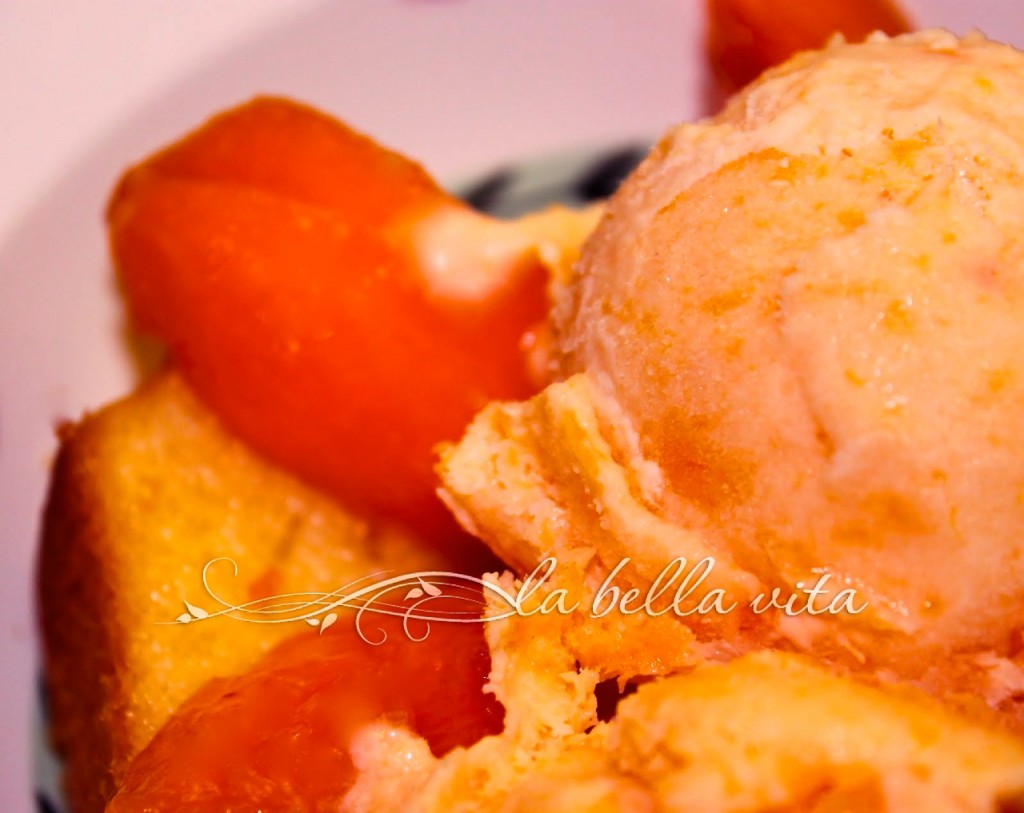 Peaches and Cream Ice Cream with Raspberry Coulis (Sauce)