Tomato and Zucchini Gratin with Asiago and Pimento Cheese
What a year we've had in our gardens! We're still canning and freezing fresh veggies for the winter. And more vegetables are still growing and ripening on the vines!
So I had to put on my thinking cap to try and use more tomatoes and zucchini together in a recipe and I came up with this very delicious gratin.
Can recipes really combine Italian flavors with Southern specialties? You bet and just to prove it, here's an Italian and Southern cheesy vegetable gratin to help use use garden-fresh tomatoes and zucchini.
After coming up with this Tomato and Zucchini Gratin with Asiago and Pimento Cheese side dish, my only disappointment was that the bottom was a little soggy from the moisture in the zucchini since I didn't squeeze them between paper towels as I had done with the tomatoes . . . which REALLY works to decrease excess liquid! I will most definitely do that the next time I make this (and indicated it in the recipe card below), plus I think I'll add a layer of the bread crumb-asiago cheese mixture on the bottom to soak up any additional liquid.
This gratin has a layer each of zucchini, tomatoes, red onions and then a wonderful topping of pimento cheese, sour cream, eggs, Italian breadcrumbs and asiago cheese. Then you top it off with a cheesy, bread-crumby mixture. The aroma makes you want to dig right in, but you have to let it set for about 30 minutes after baking to let things set a bit.
So restrain yourself from digging right in! This gratin is very, very good and even my husband loved it . . . and he doesn't like cooked squash of any kind! That's the endorsement for ya!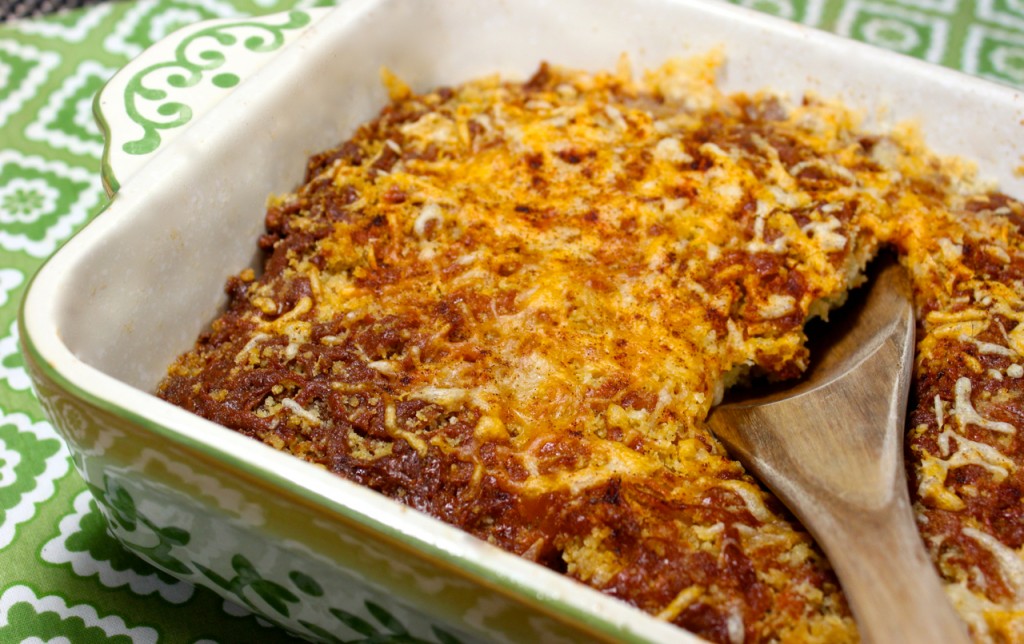 Tomato and Zucchini Gratin with Asiago and Pimento Cheese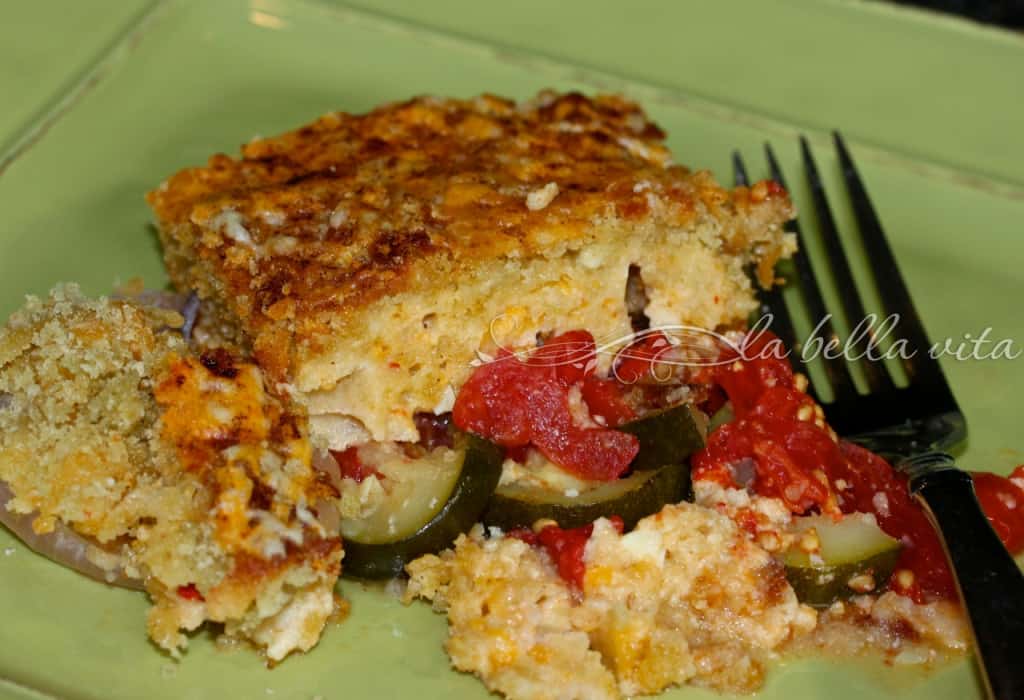 Ingredients
1-½ zucchini, cut into 1/4 inch slices, squeezed between paper towels to reduce liquid
2 large garden-fresh tomatoes, water salted out, tapped dry between paper towels
1 red onion, sliced very thin
1 cup regular "Palmetto Cheese" pimento cheese (not bacon or jalapeño-flavored)
½ cup sour cream
2 jumbo eggs, beaten
4 large garlic cloves, skinned and minced fine
2 cups Italian bread crumbs (divided in half in separate bowls)
1-¼ cup freshly-grated Asiago fresco cheese (divided in half in separate bowls) (this cheese is available at Whole Foods and is slightly softer and has less of a bite than regular Asiago).
1 whole stick of salted butter, melted
Optional: Paprika to sprinkle on for color
Instructions
Instructions
Pre-heat oven to 350 degrees F.
Slice tomatoes and lay on several paper towels on top of a baking rack.
Salt the tomatoes and allow the liquid of the tomatoes to be 'salted out' for about 30 minutes.
Do the same with the zucchini slices.
Do not skip this step or your gratin will be watery on the bottom.
Pat the tomatoes and zucchini slices very, very dry.
Prepare a medium sized baking pan with butter or olive oil spray on all sides of the pan.
First place a layer of zucchini slices.
Next layer the tomato slices.
Layer the sliced onions on top of zucchini and tomato layers.
Next, in a large mixing bowl, blend the Palmetto Cheese regular flavor pimento cheese, sour cream, eggs, garlic and half of the Italian bread crumbs and half of the grated Asiago cheese.
Pour this mixure over the layered vegetables and spread it evenly.
In another medium mixing bowl, blend the remaining halves of the Italian bread crumbs and the Asiago cheese.
Sprinkle the Italian bread crumb and Asiago cheese mixture evenly all over the top of the gratin.
Drizzle the melted butter all over the top.
Bake for 50 minutes until golden brown, placing aluminum foil on the top when the top is golden brown and does not burn during the remainder of baking time..
Allow to rest for 30 minutes before serving.
Salt: I didn't add any salt to this recipe during the preparation. But upon serving, I, personally, sprinkled some salt on top of my serving. . . it's a personal preference thing as many people are trying to reduce the amount of salt in their nutrition.
Notes
I only use "Palmetto Cheese" brand of pimento cheese made fresh and shipped to you from South Carolina.
Here are a few more amazing recipes that you will enjoy:
Fried Green Tomato Stacks with Jalapeño Pimento Cheese!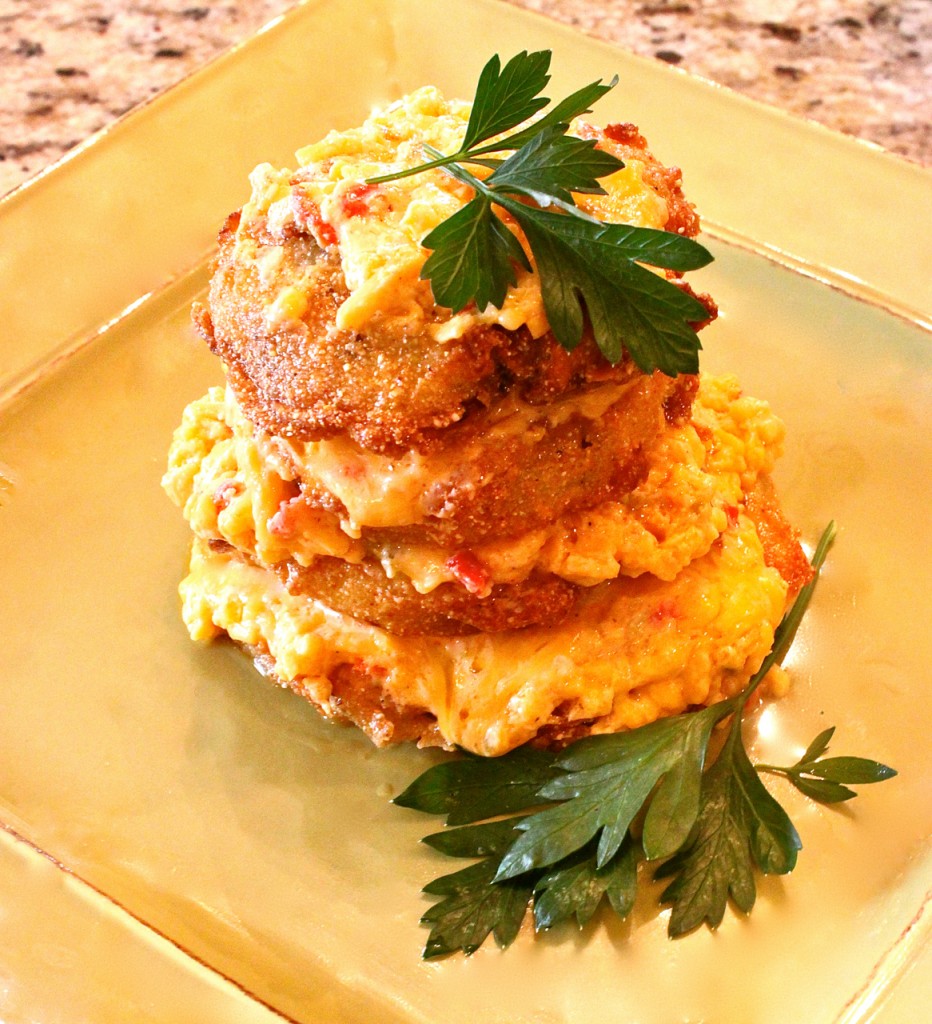 Total cheesy and fresh-garden YUMMINESS!
Creamy Parmesan Zucchini and Rice Gratin
For this recipe and all recipes that I include Asiago cheese, I only use the most authentic and excellent Asiago PDO. You can find it in the markets listed (click on the link).
.
.