Foodie Heaven: Circa 1886 in Charleston, South Carolina, Where to Eat
The word is out!
The #1 city in the United States to visit – – for FOUR years in a row, is CHARLESTON, S.C., ranked by Conde Naste's "Traveler" magazine and 'Travel and Leisure' magazine!
And there are numerous reasons why this phenomenon has taken place:
Charleston offers tons of American history (not just the Civil War, but also its paramount importance in turning the American Revolutionary War from losing to winning against the British), authentic Southern culture, a vibrant foodie and restaurant scene rivaling NYC and any of the larger U.S. foodie cities, superb weather, excellent theatre (Spoleto USA), exclusive and unique shopping . . . and above all: GREAT SOUTHERN HOSPITALITY & friendliness!
This year, there was only one city around the planet that ranked higher than Charleston for tourism: Florence, Italy! SERIOUSLY! For those of us in South Carolina, this is a huge recognition of excellence! We are seriously proud of Charleston and everything that the residents and businesses have done to make it such a world-class destination!
Charleston is simply an amazing place to visit!
And that's exactly what we did this weekend. We snuck away for a brief weekend vacay escape to Charleston. While there, we never stopped for one moment so that we could experience as much as we could.
Truth be told, we've been to Charleston countless times, and each time we've set out to experience different eateries and cultural/historical tours. This trip was no exception. Actually, this visit was one of our BEST times in the city! Charleston never bores anyone! Plus, after you see some of the historical sites, you'll never go hungry for authentic, delicious, Lowcountry Southern food in Charleston . . . guaranteed!
Many of us who know and love the city of Charleston, SC vividly remember in our minds the hypnotic Spanish moss hanging from live oaks, swaying gently in the warm coastal breezes amidst classical antebellum (pre-Civil War) architecture, and the slower pace of its natives . . . who speak with a thick, heavy dialect as smooth and gentle as the flowing waters of the Cooper and Ashley rivers surrounding Charleston that empty into the sea.
Charleston, SC is the epitomy of Southern charm and class . . . and when one visits, it's as if you are taken back to a time of days long ago when life was simpler, slower and engaged with greater respect towards another.
Today, Charleston has become a foodie paradise for everyone, and not just for Southerners. In fact Charleston is not only a hot culinary scene, it is a city that has a dining scene that just keeps getting more brilliant and blazing every day. Charleston's top-ranked eateries continue to create and serve the most extraordinary locally-sourced farm-to-table, seasonal, mouthwatering 'Lowcountry' culture cuisine.
For this, our most recent visit, we decided to indulge ourselves and celebrate our 22nd wedding anniversary at the top 2 ranked eating establishments in Charleston (according to the contributors of TripAdvisor). We experienced foodie heaven in Circa 1886 and Hall's Chophouse.
First let me share about our experience at Circa 1886. My next post will be all about the fabulous #1 eatery in Charleston: Hall's Chophouse!
Circa 1886 has been heralded as one of the top 2014 Excellence Award-Winning restaurants around the world according to Trip Advisor reviewers (#12 in the USA). I must say that our experience was simply a beautiful and delicious (what I write about, remember) dining experience that we highly recommend to any of you for that perfect special occasion!
If you are seeking Southern charm combined with an outstanding dining experience, Circa 1886 is the fine dining eatery that you must experience when in Charleston.
A man and his family from a (not blue blood) humble background purchased the beautiful Wentworth Mansion and not only converted the mansion into a luxury hotel, but also added a superb restaurant into the restored carriage house of the old property.
Walking up to the property is awe-inspiring to say the least in regard to the ancient home's immense size and classical beauty!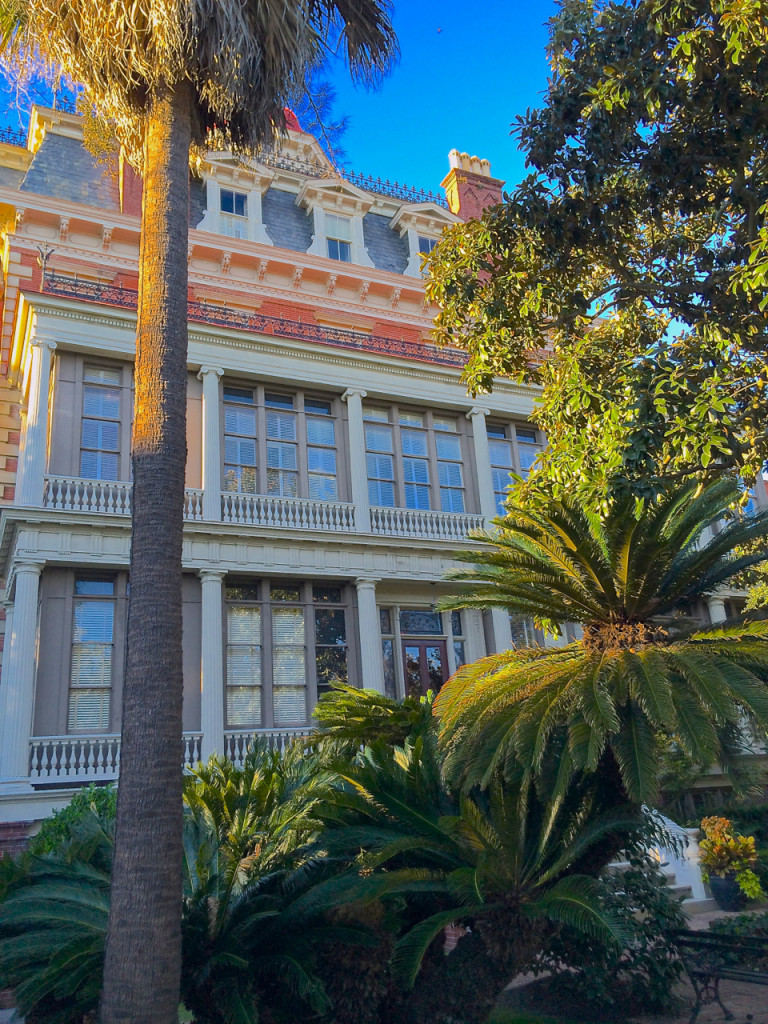 Walking around to the restaurant, one is able to see the mansion's architectural beauty and feel enticed to venture inside to view it's treasures (which is possible to visit until 9:00 PM, after which it is only open to those who lodge in the mansion).
Continue walking past the mansion and guests easily find the restaurant in what was once the horse stables and carriage house.
We loved the soft, subtle, sage-colored wain skoting on the walls of the interior decor.
If you're in Charleston, S.C. or planning on visiting the city and looking for an intimate, delicious evening of fine dining, do make a reservation for Circa 1886! (click on link 'Circa 1886!') for menu and more. You will truly be in for a special, memorable South Carolinian dining experience!
Read more about Circa 1886's accolades: Ranked as the #12th best restaurant in the U.S.A. according to the 2014 TripAdvisor Awards!