Superb, Authentic Pimento Cheese Recipe ~ Okra Grill, South Carolina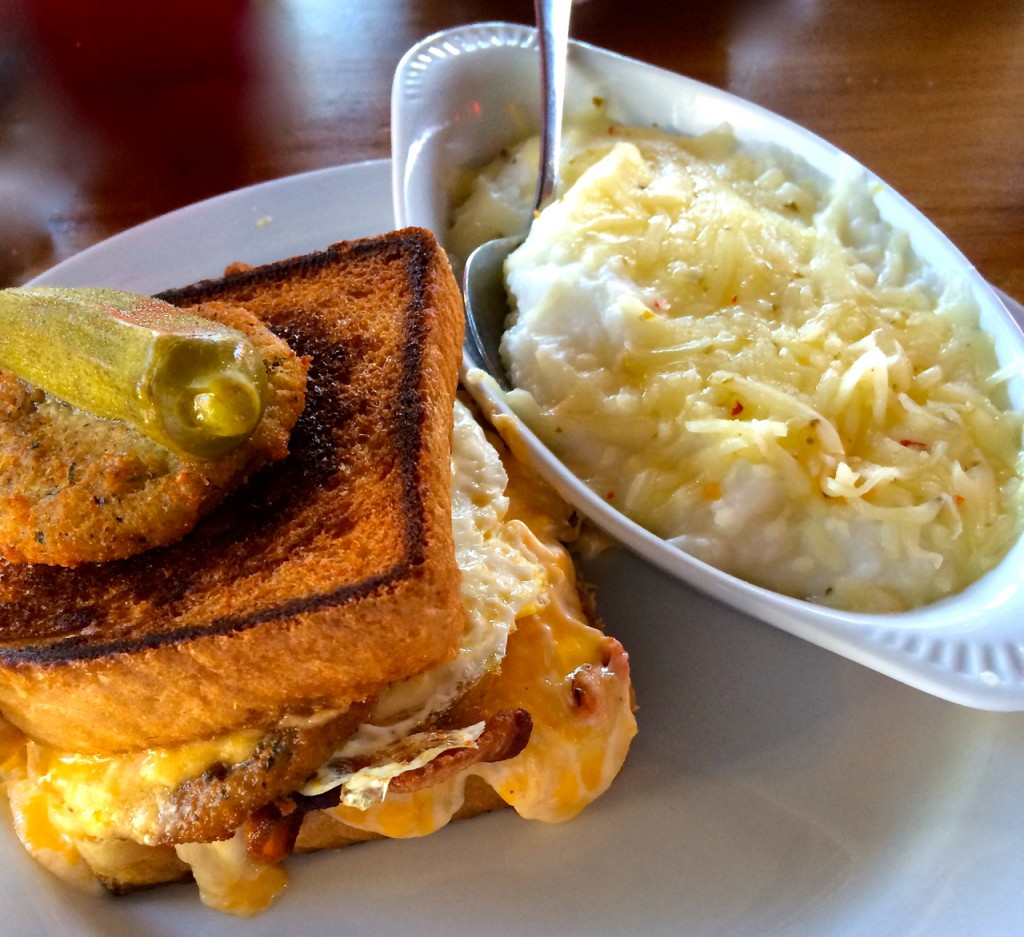 Ooey, gooey, melting cheesy Pimento Cheese!
Simply MELTY, MELTY GOODNESS!
So perfectly Southern, perfectly addicting and perfectly delicious!
If you haven't passed this golden cheese spread through your lips yet, you are truly missing out . . . BIG TIME!
Pimento Cheese is a Southern deal; totally unknown in other parts of the U.S. unless you've heard about it from others, especially if they have a connection to the South. The first time I had a traditional pimento cheese sandwich was at a Southern college football game tailgating party. I soon discovered what all the hoop-la is about. These plain and simple and addicting sammies are STANDARD fare at Southern get-togethers . . . you can even cut the crusts off the cold sandwiches and serve them at teas and socials!
Recently Mr. Meat and Potatoes (my husband) and I visited Charleston for a weekend and before we left, we decided to pig out just one more time for breakfast. We chose the highly rated Page's Okra Grill in the town of Mt. Pleasant, next to Charleston, S.C. (just across the river and over the new, absolutely beautiful Ravenel Bridge).
Everything written about this local eatery is true . . . offering delicious local Lowcountry South Carolinian cuisine with happy, happy, HAPPY Southern hospitality that South Carolina is famous for. Prepare to stand in line . . . it's worth the wait, because there are happy customers in-the-know who are willing to wait for the delicious goodness that awaits everyone inside or on the outdoor patio!
Their motto: "Serving Local Food for Local People". For us, that's exactly what we look for when we eat in new places . . . where the locals go, because they know the best well-kept secrets and sometimes that are a little off the beaten path! Thank goodness the word has gotten out among NON-Local peeps like us, so we can enjoy it too!
Although Mr. M. & P. ordered his traditional, never change-a-thing-pancakes-for-breakfast, I chose to do something unique and local (as I always do): A breakfast sandwich specialty of the house — Fried Green Tomato Sandwich smothered with house-made Pimento Cheese, crisp, thick Applewood Smoked Bacon, and a Fried Egg on Buttered, Grilled Texas Toast.
And melted on the grill? Do I need to even tell you that I was in cheese heaven!
Oh my goodness, I don't care how stuffed I was . . . I ate each and every crumb and still wanted another sandwich.
Isn't that a little disgusting?
I'll just exercise later . . . and maybe take another cholesterol control pill!
You don't want to miss this place or their pimento cheese items on the menu. Luckily for me (and you), I bought this tiny little booklet of favorite Charleston restaurant recipes and inside is just what the foodie doctor ordered: the recipe for the Page's Okra Grill Pimento Cheese.
You can thank me for finding this recipe and sharing it with you after you make this cheesy elixir! And if you aren't from the South, surprise your friends who will beg you for this recipe!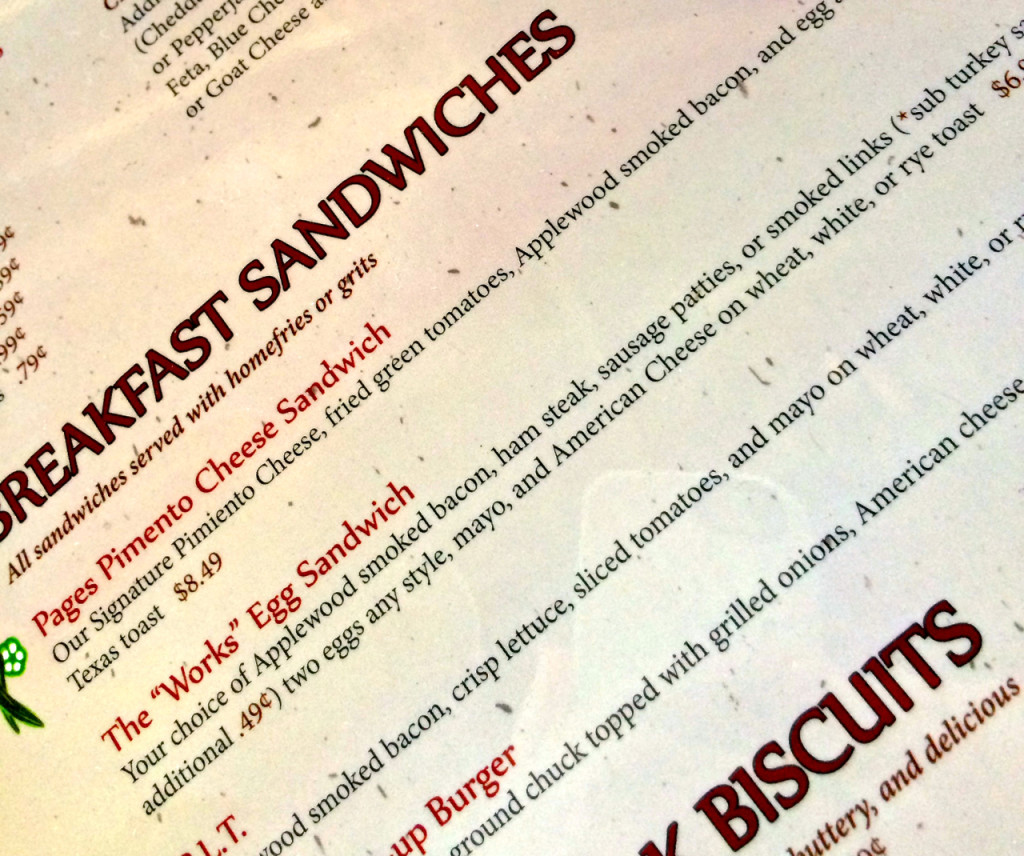 To make this sandwich, in addition to the pimento cheese, use the recipe that I created for Fried Green Tomatoes that has gone viral on the web!
It's a good thing that my husband drove us all the way home! I was so stuffed with joy in my tummy from our breakfast at Page's Okra Grill that I slept and snored happily . . . all the way home!
Here is a video from Page's Okra Grill on youTube in which they share all about their famous Pimento Cheese recipe, how they make it (recipe below) and how to use it. ENJOY!
Print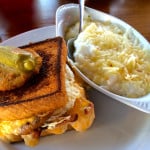 Superb Pimento Cheese
Author:
Prep Time: 0 hours
Additional Time: 0 hours
Cook Time: 0 hours
Total Time: 0 hours
Cuisine: Southern U.S.A.
---
Description
This is a recipe for restaurant quantity; divide it down to be more of a manageable size for your serving needs.
---
10 lb. sharp Cheddar Cheese, shredded
4 cups fresh red pimentos, pickled, and the juice
5 lb. pepper jack cheese, shredded
2 cups pickled jalapeños, diced
1 gallon Duke's mayonnaise
3 lb. cream cheese, softened
1/4 cup kosher or sea salt, freshly cracked
1/4 cup black pepper, freshly cracked
1/4 cup garlic powder
---
Instructions
In a large mixing bowl, combine the sharp cheddar and pepper jack cheeses by hand, tossing gently to blend well.
Add pimentos and jalapeños, toss again.
In a separate bowl, mix the mayonnaise and cream cheese until well blended.
Combine salt, pepper, and garlic and add to the cheese mixture, tossing to evenly coat.
Fold the mayonnaise-cream cheese mixture into the cheese mixture; DO NOT OVERMIX or break down the cheese.
Refrigerate for several hours or overnight to allow all of the flavors to 'marry' and come together.
Serve with crackers, on traditional fresh, soft white bread as sandwiches (cut in fourths), on top of a hamburger, with fried green tomatoes or with a specialty sandwich as shared on La Bella Vita Cucina blog, November 8, 2014
---
Notes
Recipe courtesy of Page's Okra Grill, Mt. Pleasant, S.C., USA from which we enjoyed this incredible pimento cheese and which was published in the small recipe booklet that we purchased while at Page's Okra Grill: "Signature Tastes of Charleston — Favorite Recipes from our Local Restaurants".
Here are some other incredible recipes that have gone viral on the web, that I hope you enjoy!
Please let me know what you think if you do prepare them:
Fried Green Tomato Stacks with Jalapeño Pimento Cheese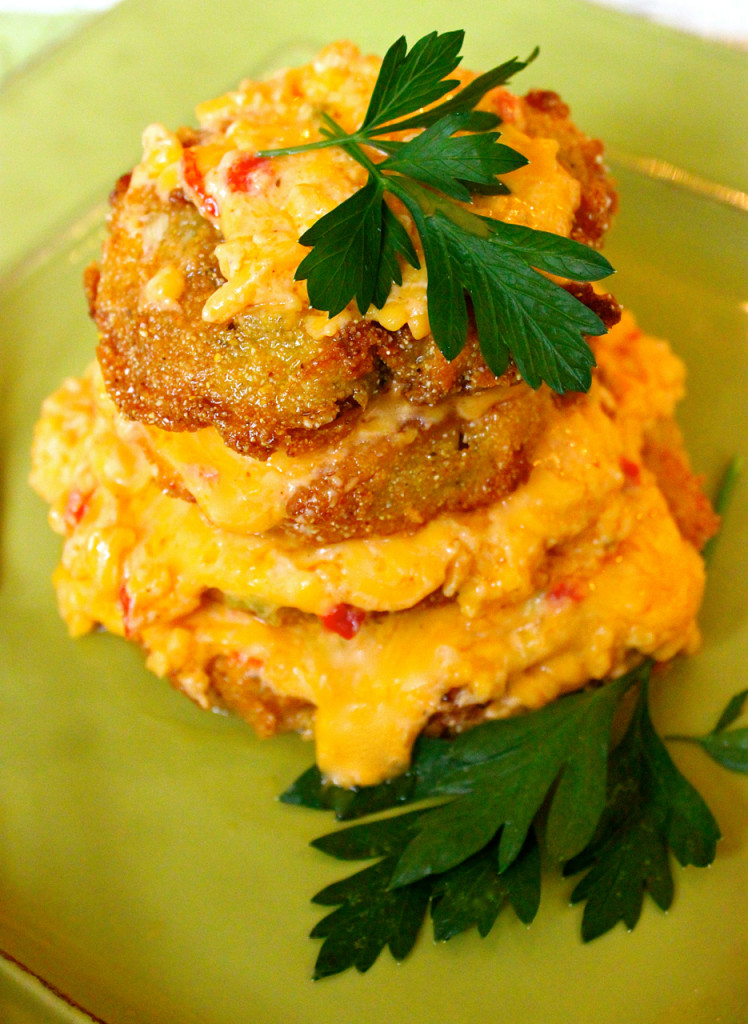 BEST Fried Green Tomatoes with Garlic, Bacon and Buttermilk Sauce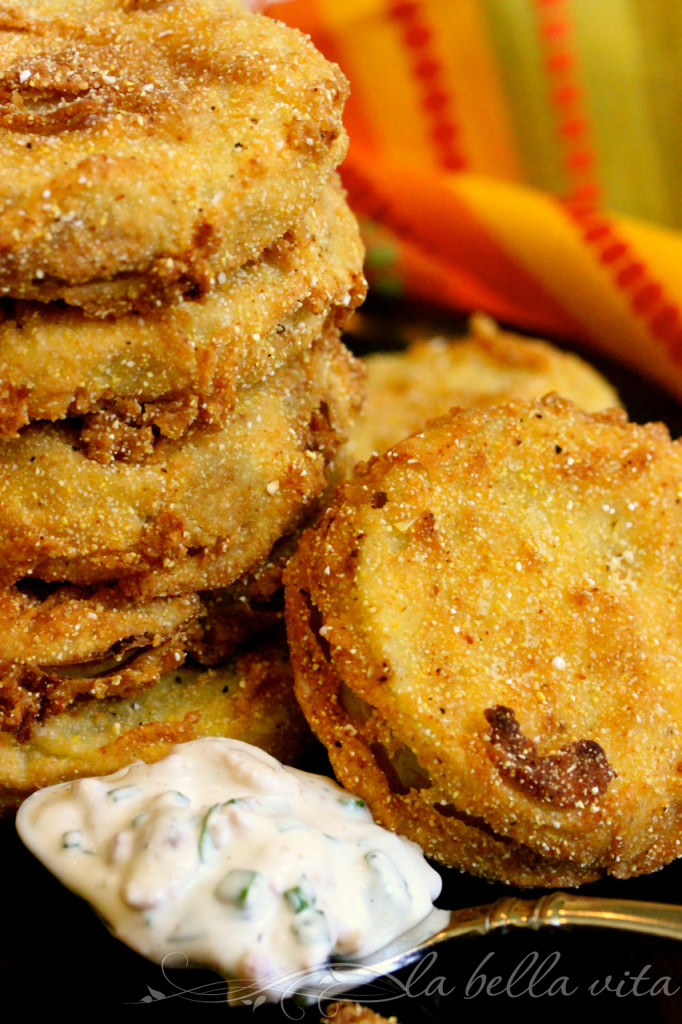 Tomato and Zucchini Gratin with Pimento Cheese and Asiago Cheese
and last but not least, one of my very first recipe posts on Pimento Cheese recipes on La Bella Vita Cucina: