Mascarpone Stuffed Peach French Toast

This week was the season's final harvest of fresh peaches in South Carolina. So I grabbed a bushel at the local peach farm 'store'!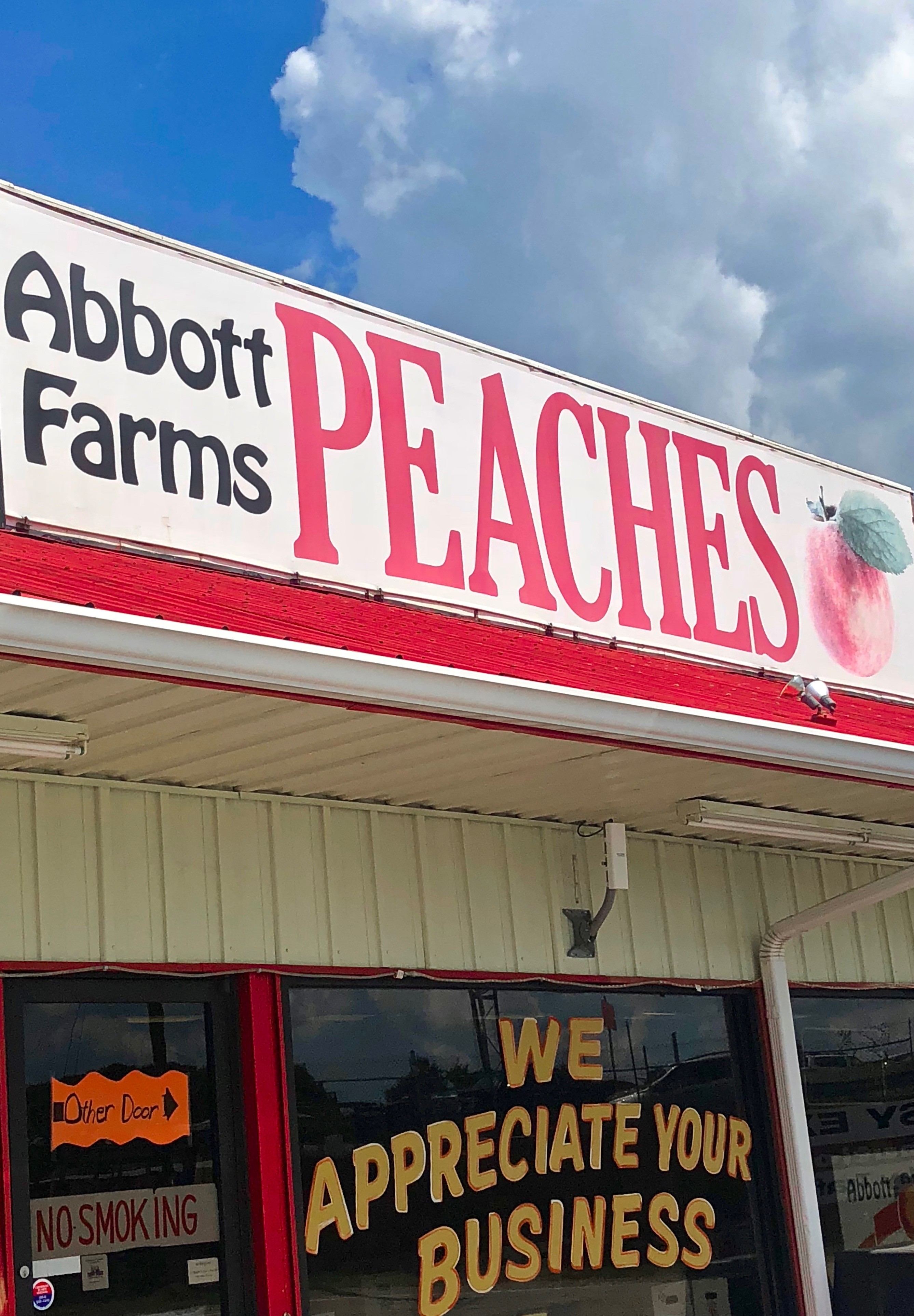 This post may contain affiliate links. There is no extra cost to you whatsoever if you purchase our recommended products. We earn an extremely small fee for introducing you to these products.
And oh my, are these peaches sweet!
The first thing that I do is freeze most of the peaches since they are picked ripe off of the tree and will begin to perish immediately. We really appreciate enjoying this taste of summer in the midst of cold winter days.
The remainder of the peaches were used in a tried and true, beloved recipe that we prepare over and over again that our family begs for: Mascarpone Stuffed Peach French Toast. A layer of caramel sauce and fresh peaches lies under the stuffed toast to surprise your guests. The creamy, filling adds a perfect balance to the sweet caramel sauce that the French toast soaks up. And oh, the fresh flavor of the peaches on this baked dish is amazing!
This recipe is really decadent and worthy of serving for special occasions. We hope you love it as much as we loved creating and enjoying it too!
Here are some nice step-by-step photo instructions for you to easily follow:
Melt butter and brown sugar in a pan on the stove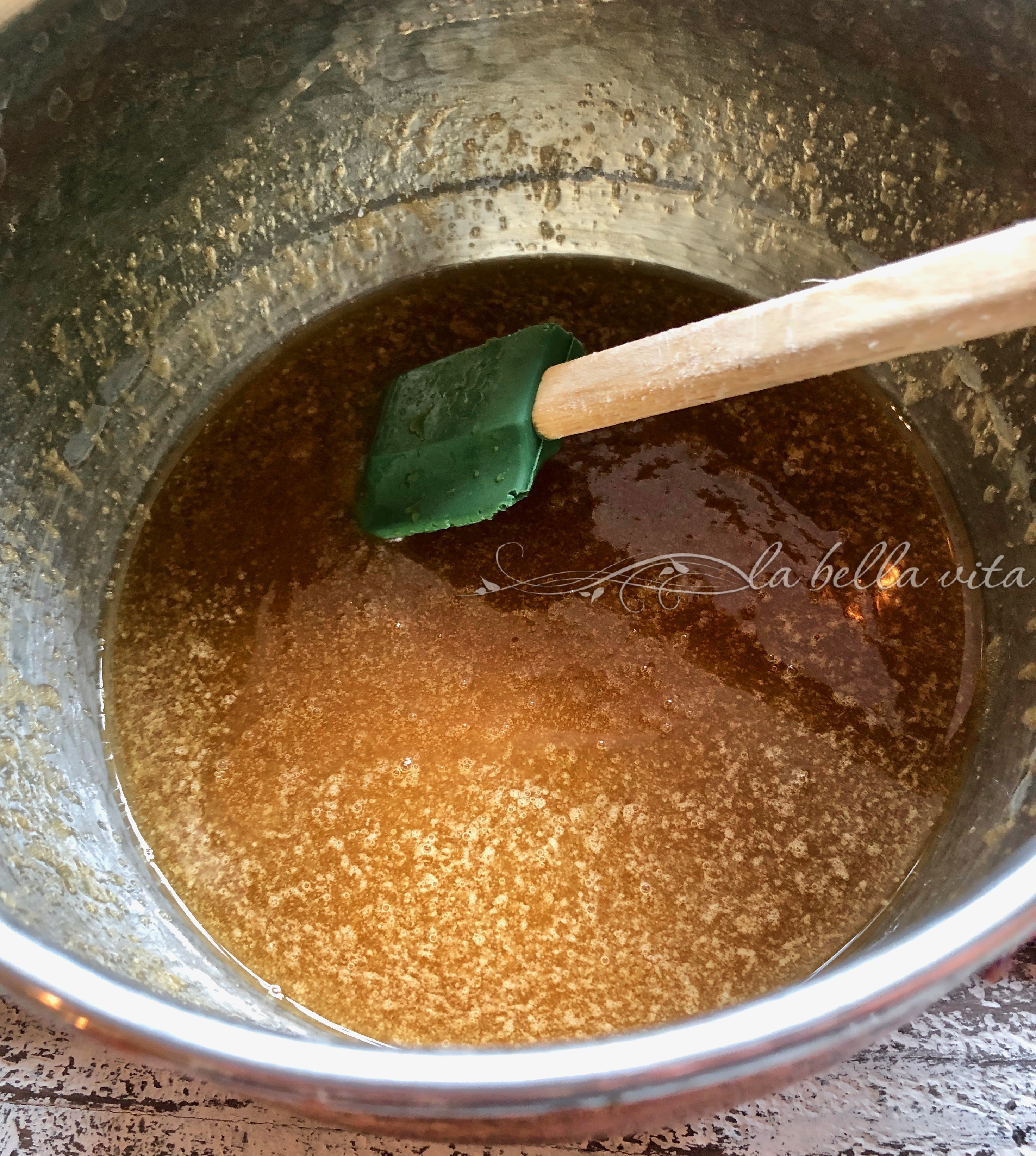 Pour the caramel sauce in a 9″ x 13″ baking pan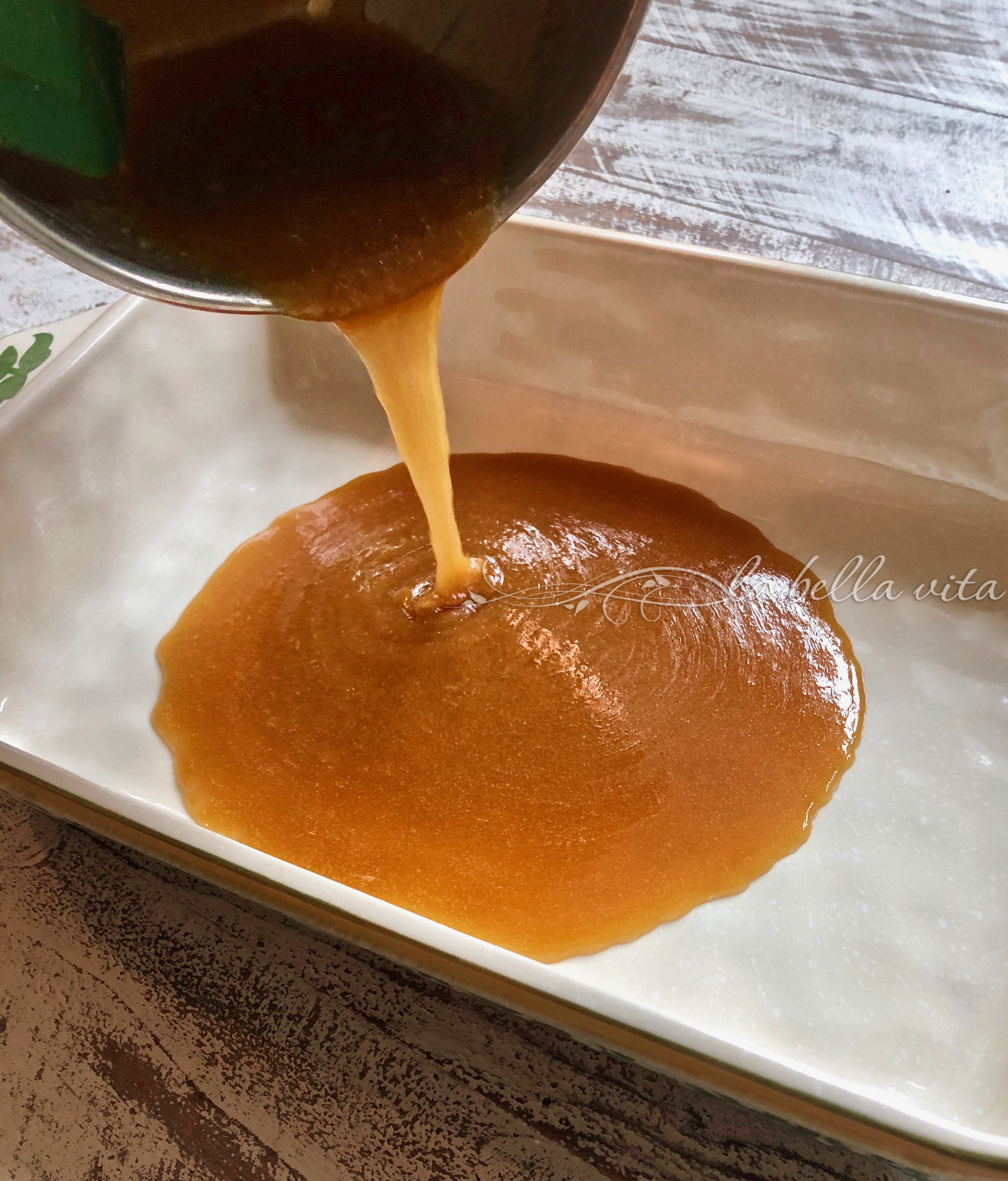 Spread the caramel sauce evenly in the pan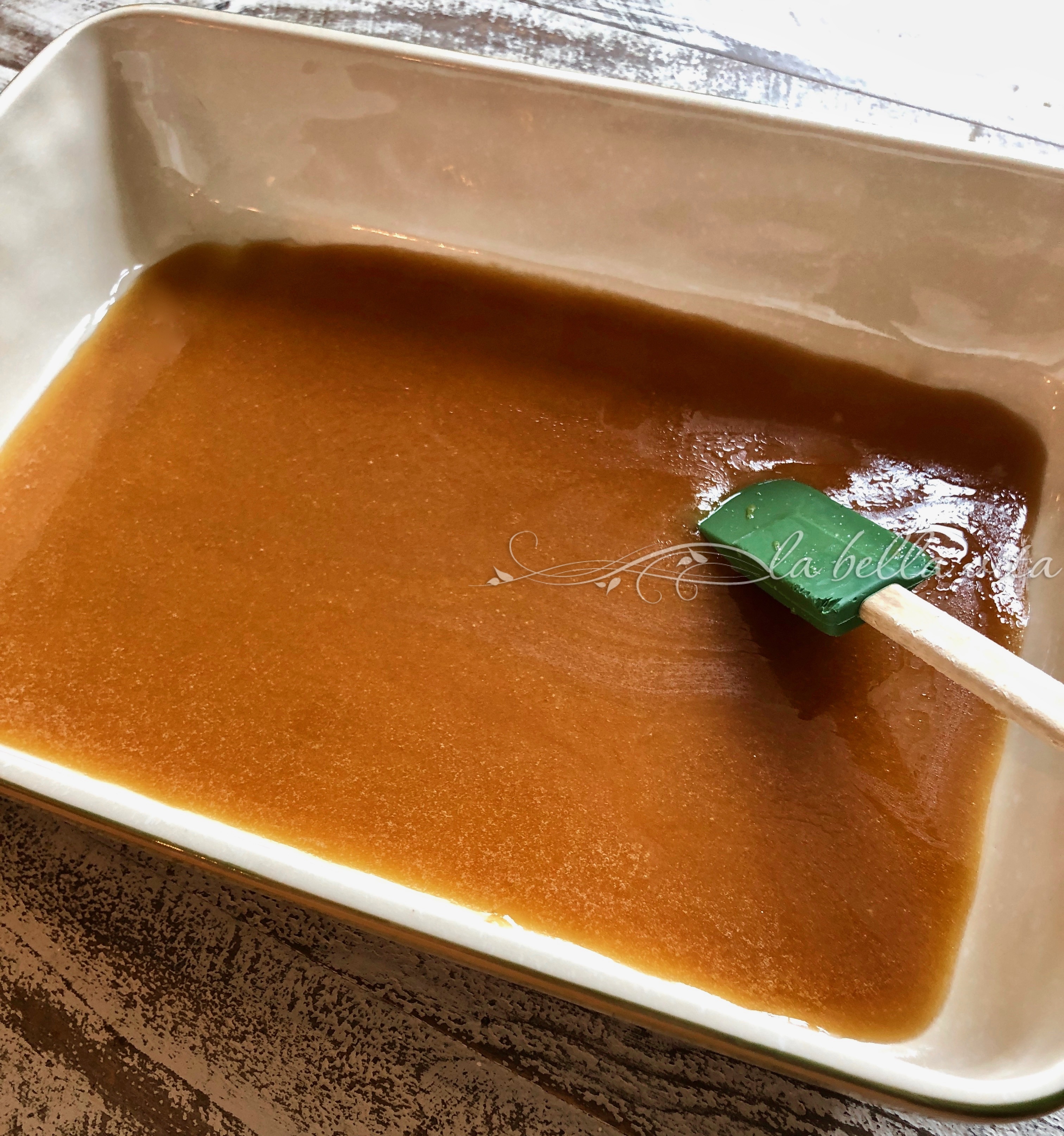 Blend mascarpone cheese with powdered sugar and lemon zest in a medium-size mixing bowl
Blend with a flat whisk until all ingredients are incorporated nicely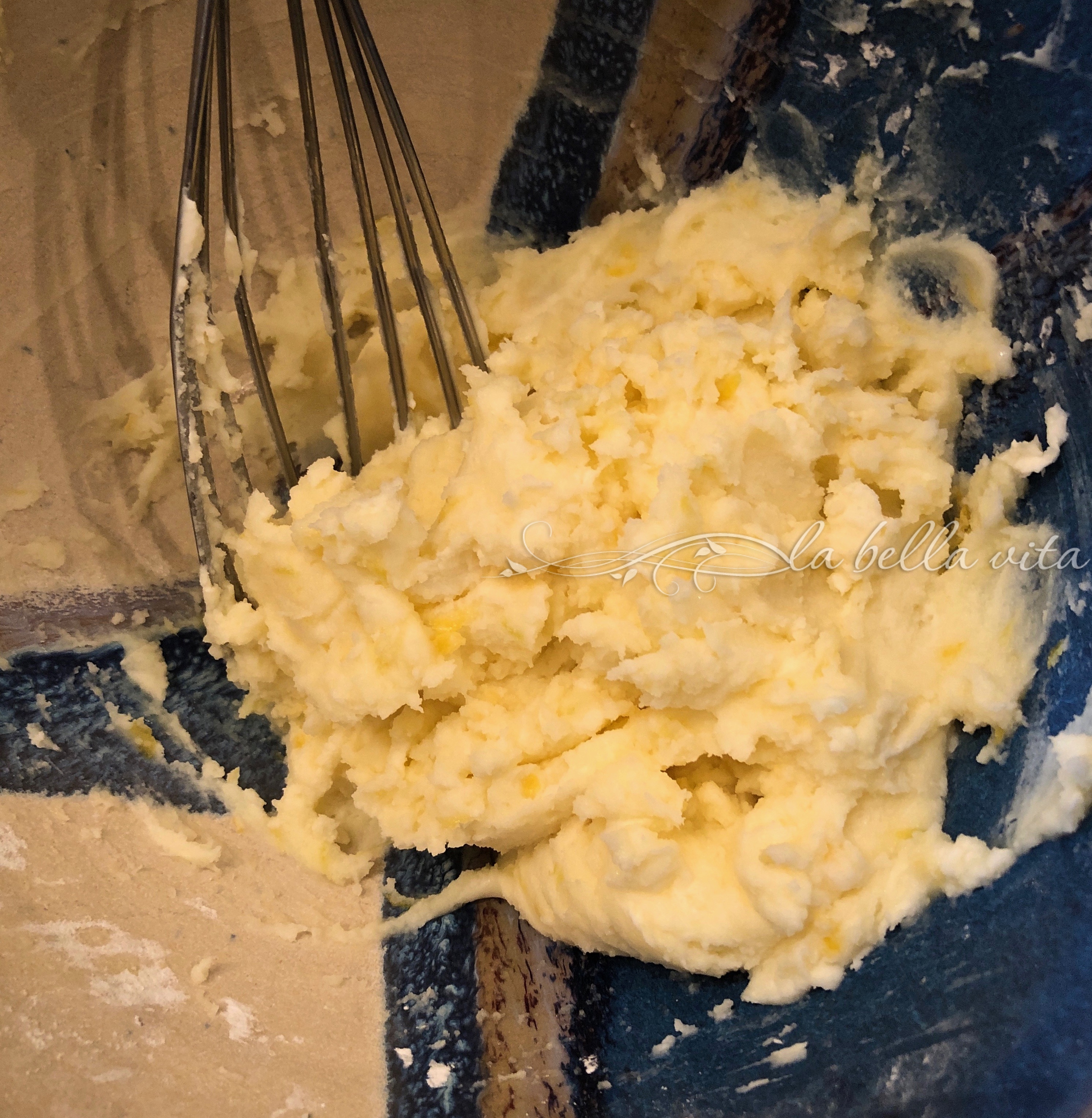 For this recipe I used a peach-flavored Italian Dove (Columbo) Bread that I purchased before Easter when they are for sale and froze. But other times, I have used traditional Pannetone bread (that I purchase during the Christmas season and freeze).
It was perfect! You can also use French Bread or any other hearty artisan bread.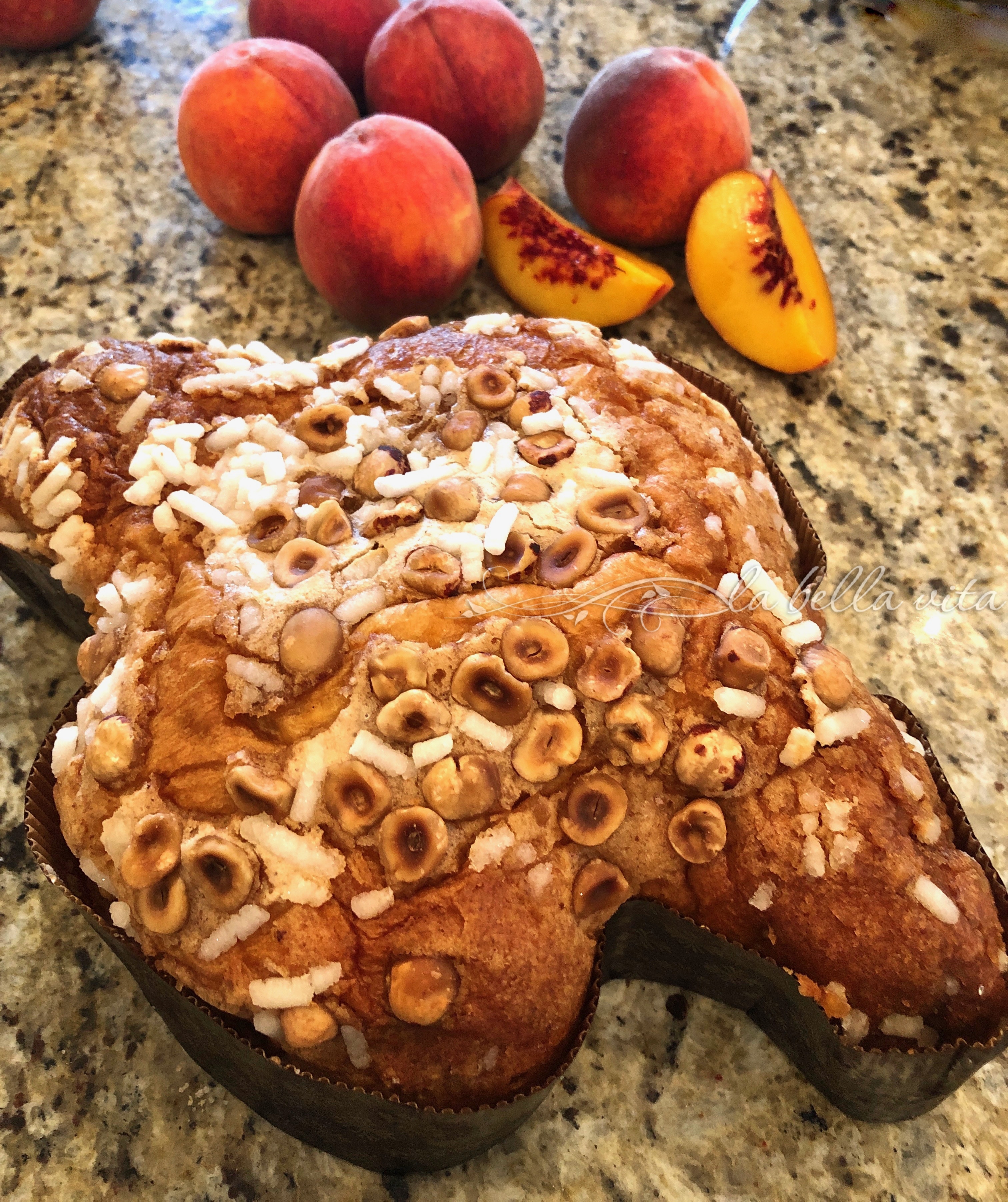 Carefully and Slowly peel off the paper sides of the Italian Dove (Columbo) bread or whatever thick, crusty bread that you choose to use.
Carefully and slowly remove the bottom paper under the bread as well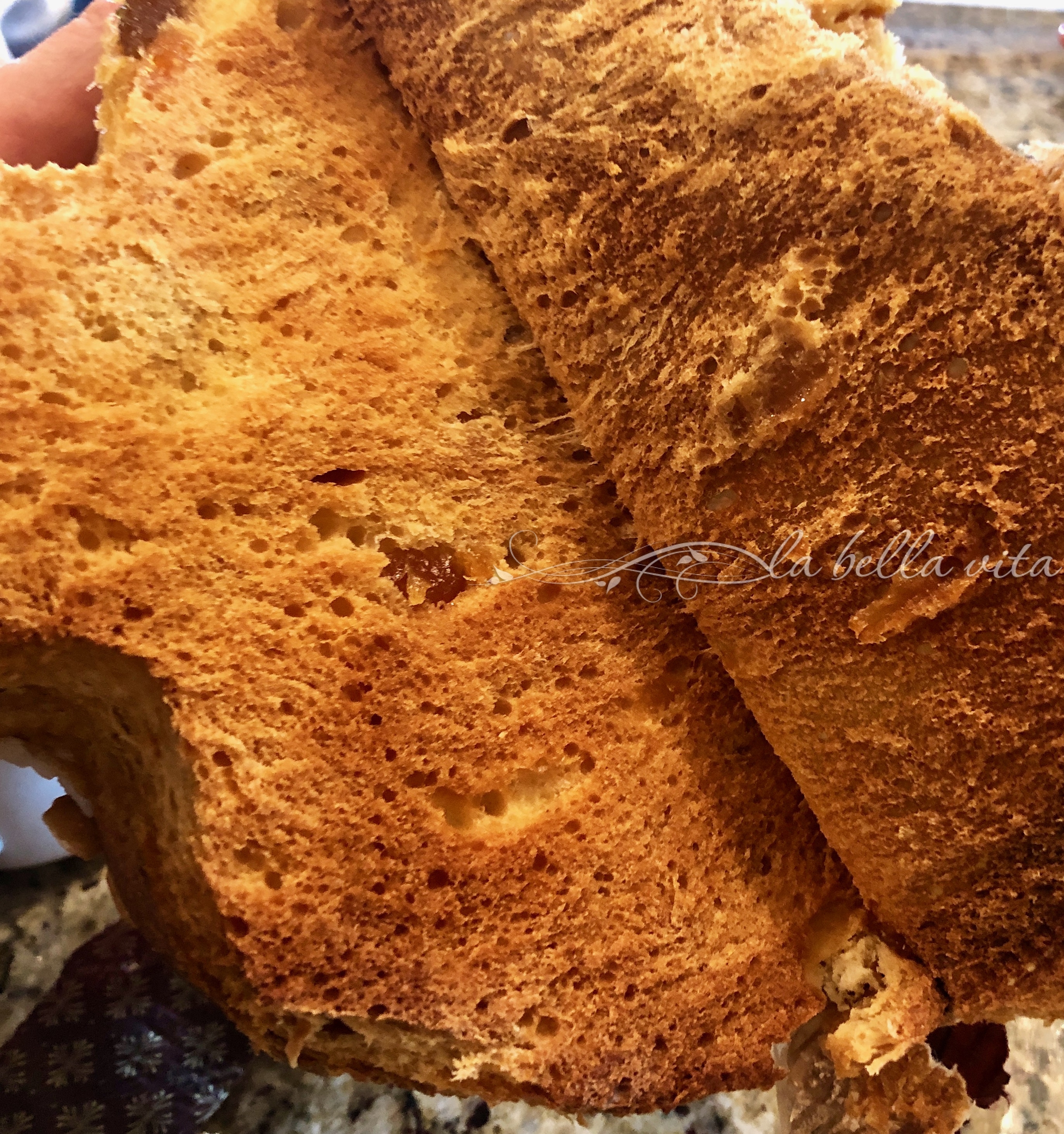 Slice the bread into 1-1/2″ slices (yes, that large)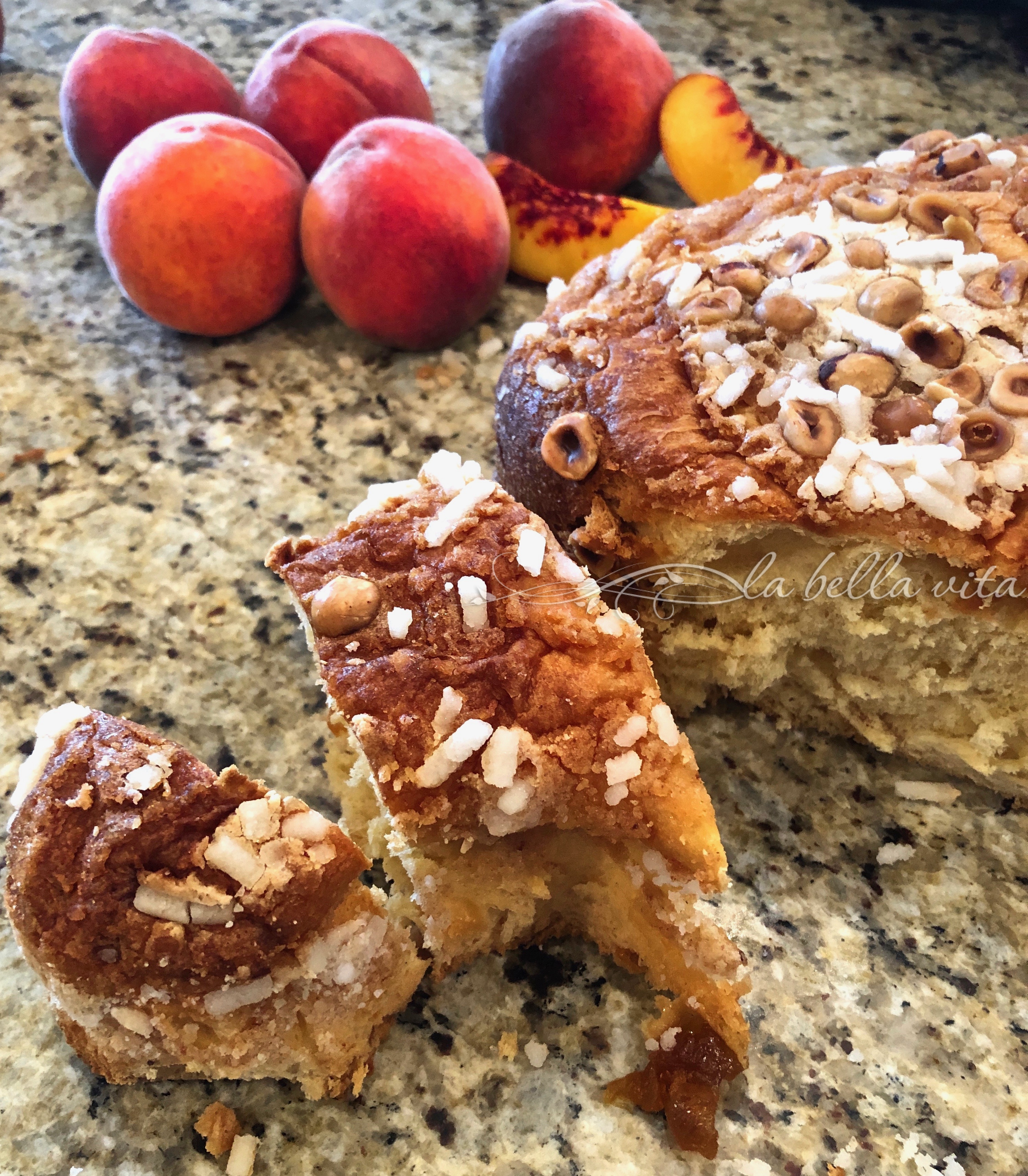 With a knife, cut into the center of each slice all the way to other side without cutting completely through.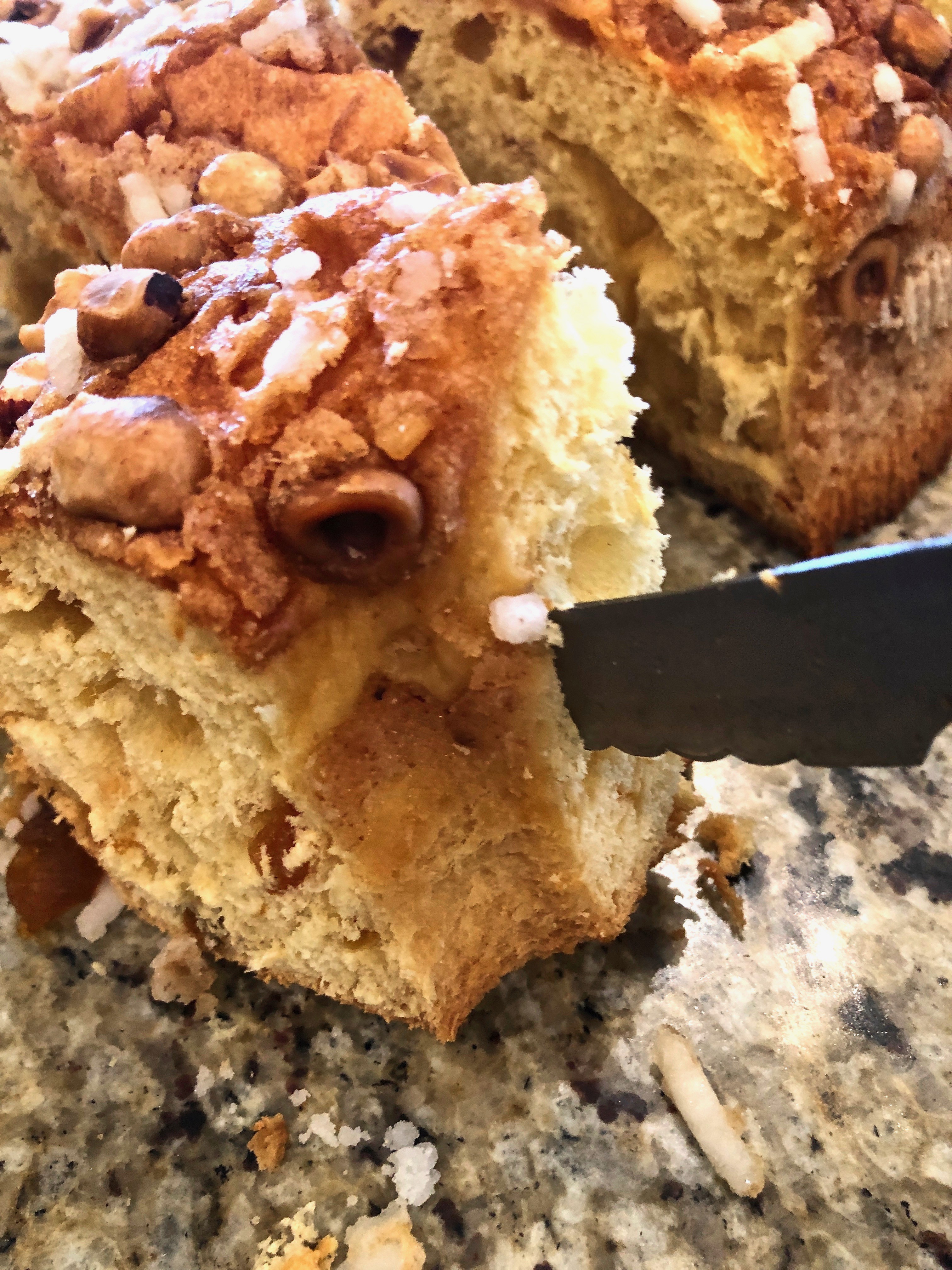 Using your fingers, squeeze cut opening to a nice circular opening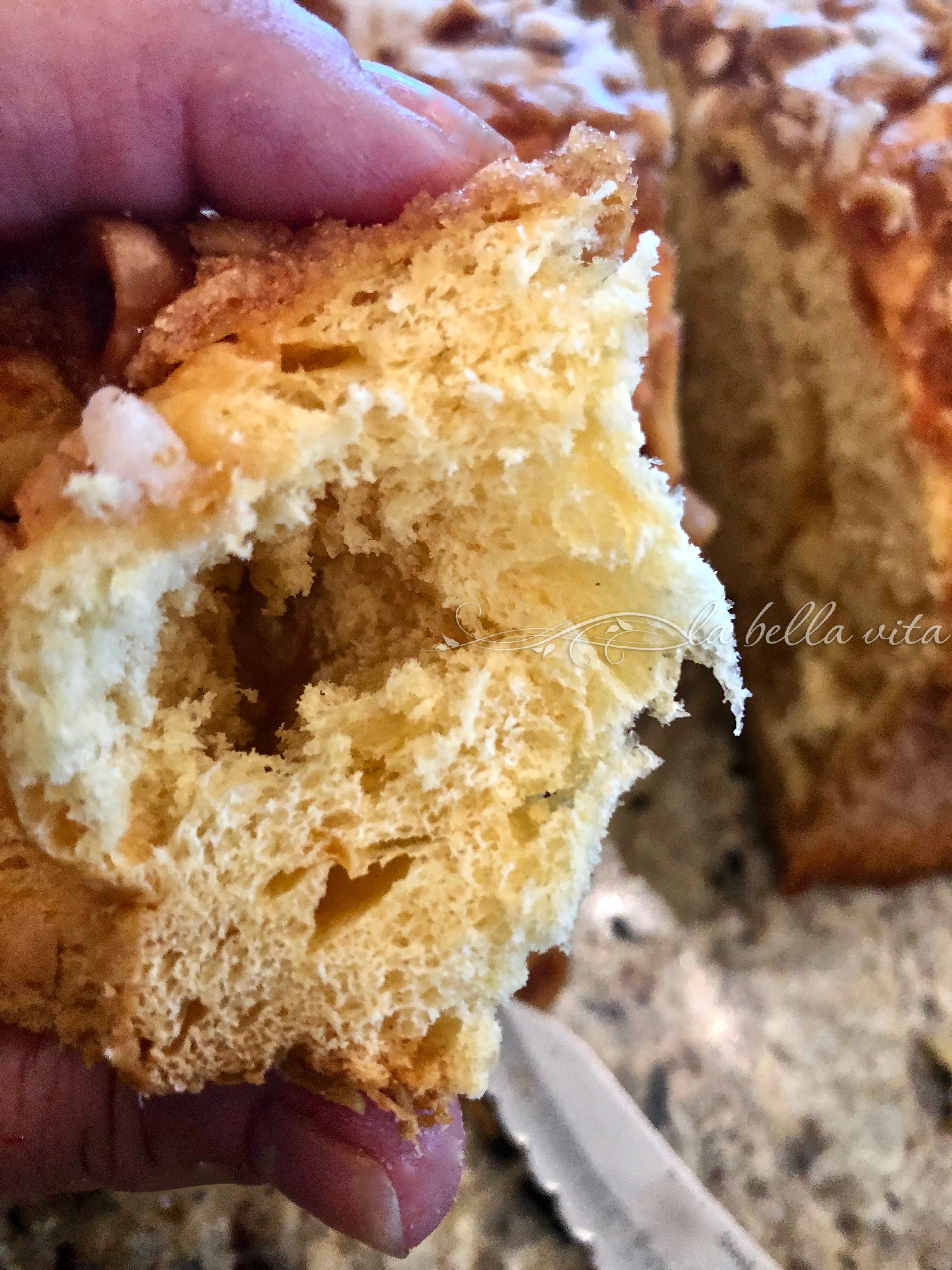 Spoon the mascarpone/powdered sugar/lemon zest mixture into a thick plastic re-sealable bag
Cut a tiny 1/4″ tip off of one corner and use this to pipe/stuff cheese/sugar/zest mixture into the bread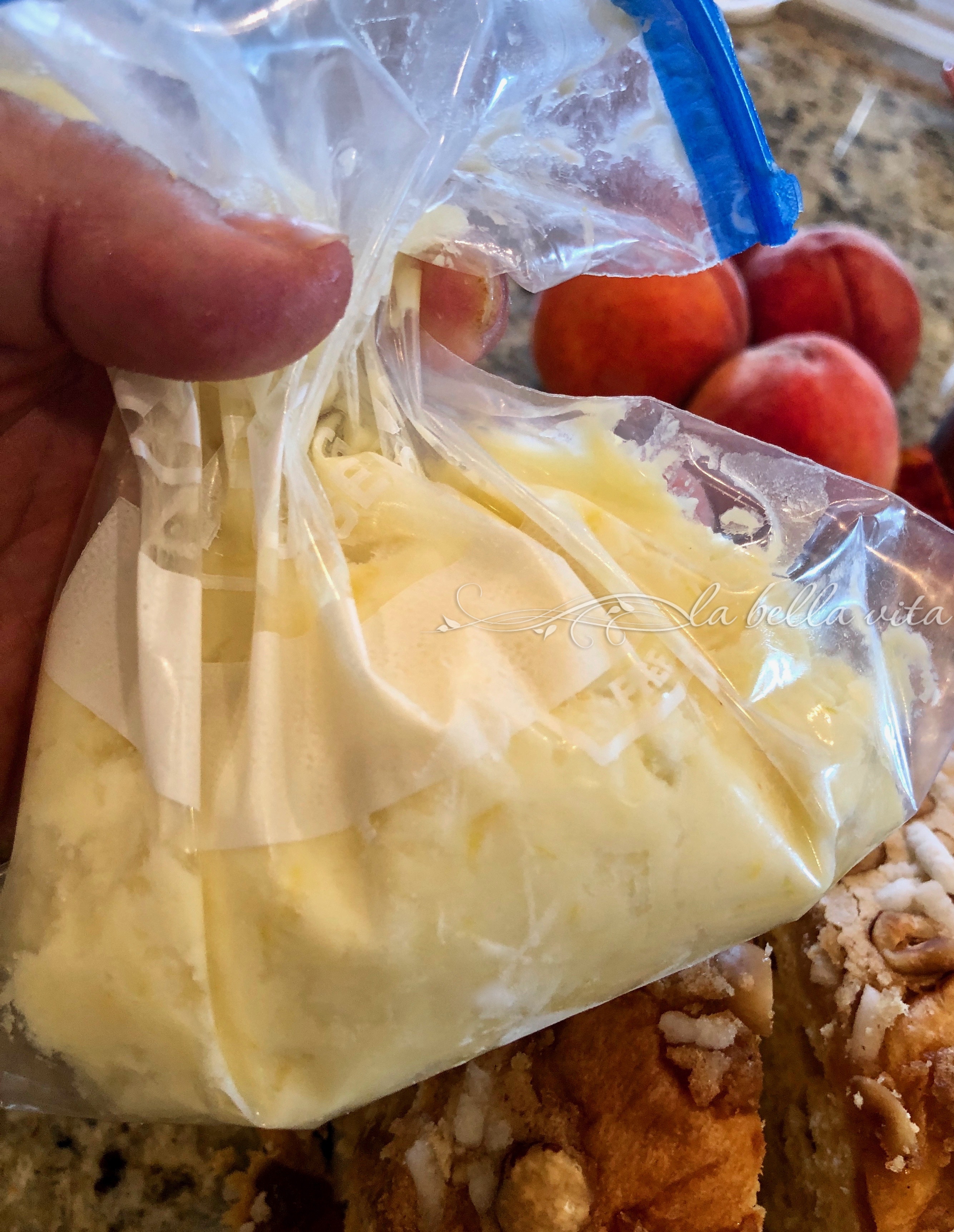 Squeeze some of the mascarpone cheese mixture into the hole compartments.
Hold the bread tight and squeeze. You will get some in, you just have to go slowly.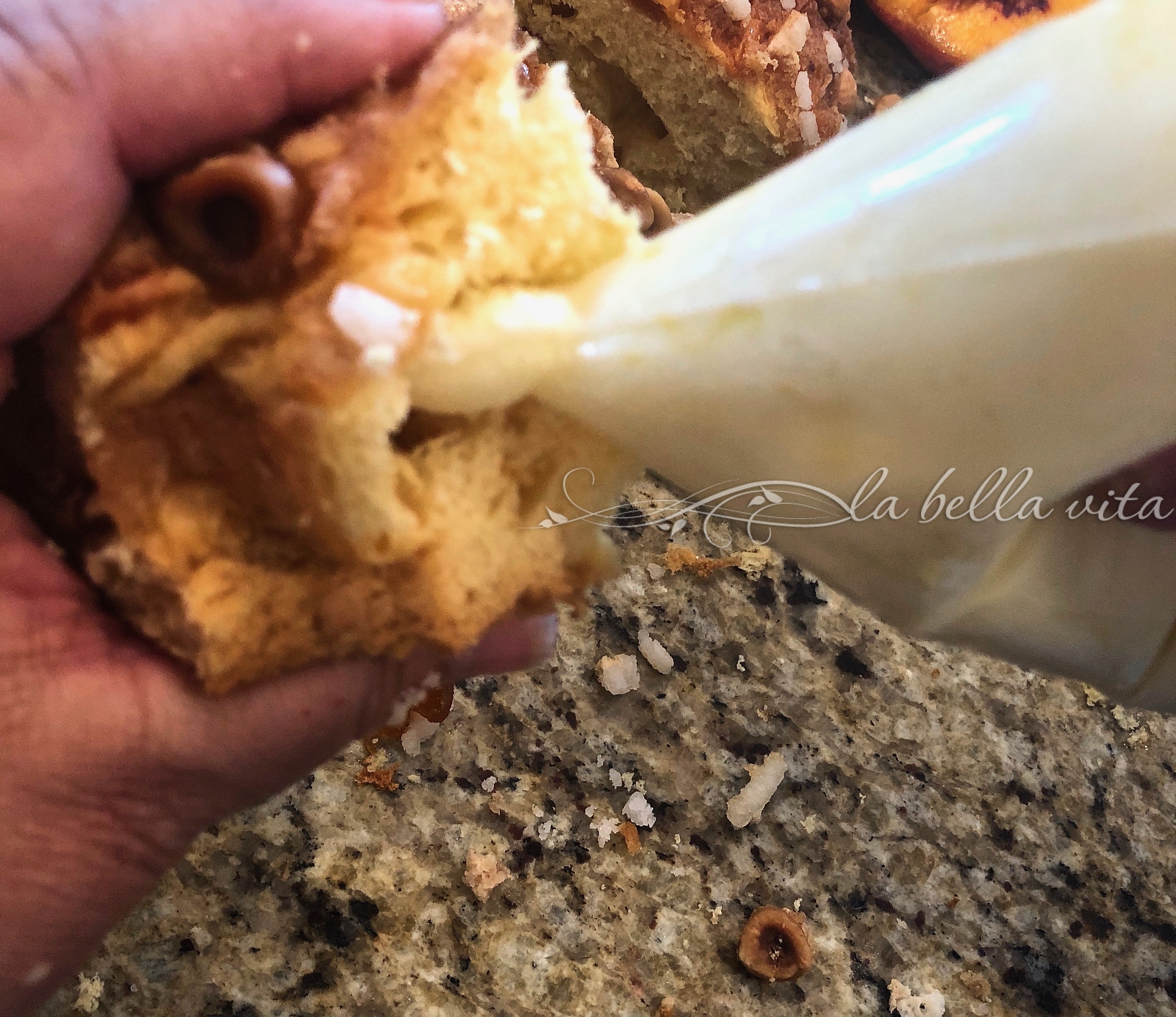 As you squeeze the mixture into the bread, it will come back to the opening when full.
You can also cut on the opposite side to fill the bread more if you like.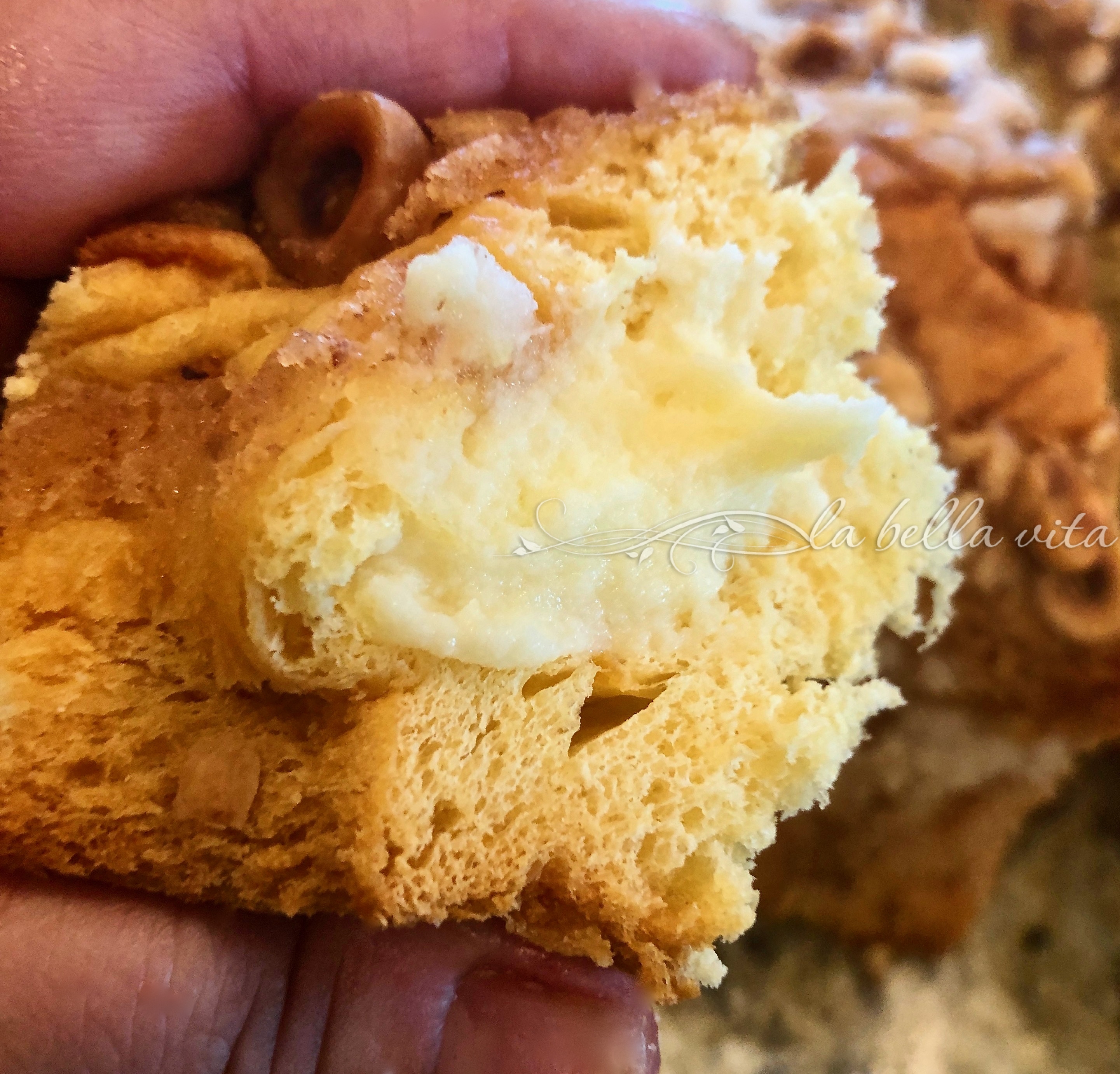 Melt one stick of butter (8 oz.) in a large, non-stick frying pan.
Place the stuffed bread slices into the hot butter and cook until golden brown on each side, about 1 minute on each side.
Be careful not to burn the bread in the hot butter.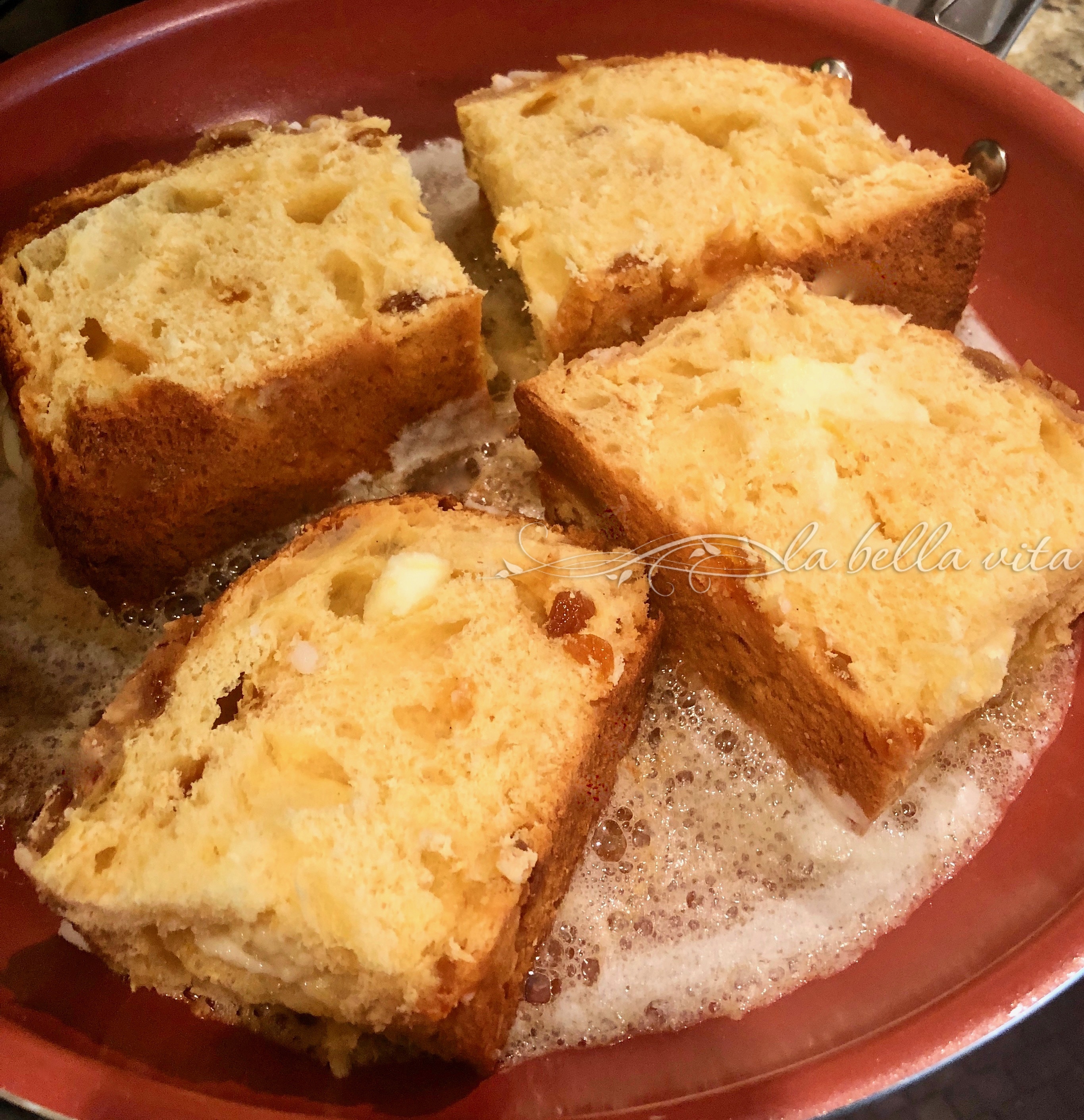 Place one layer of freshly sliced peaches on top of the caramel sauce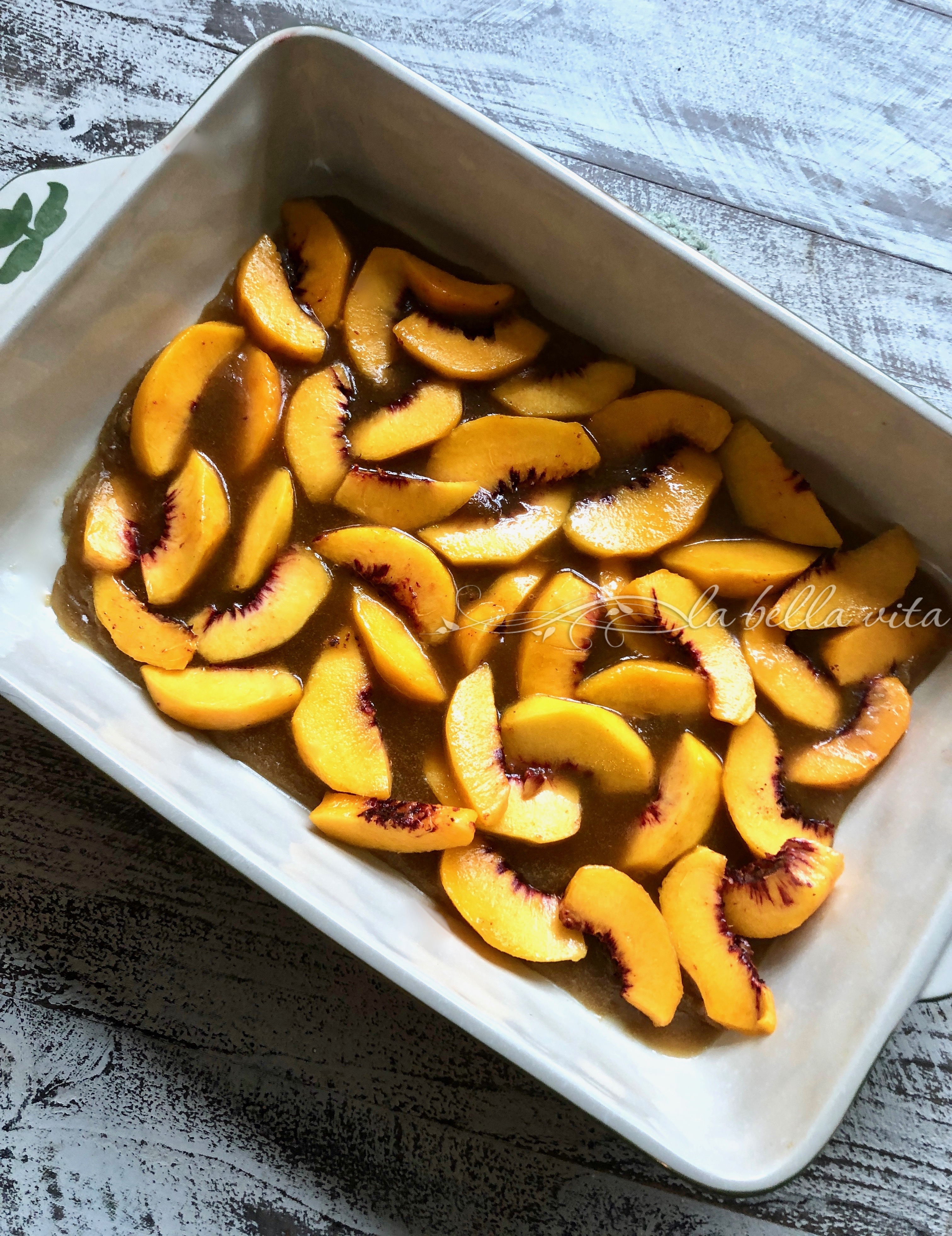 After the stuffed bread slices have turned golden brown, place them on top of the sliced peaches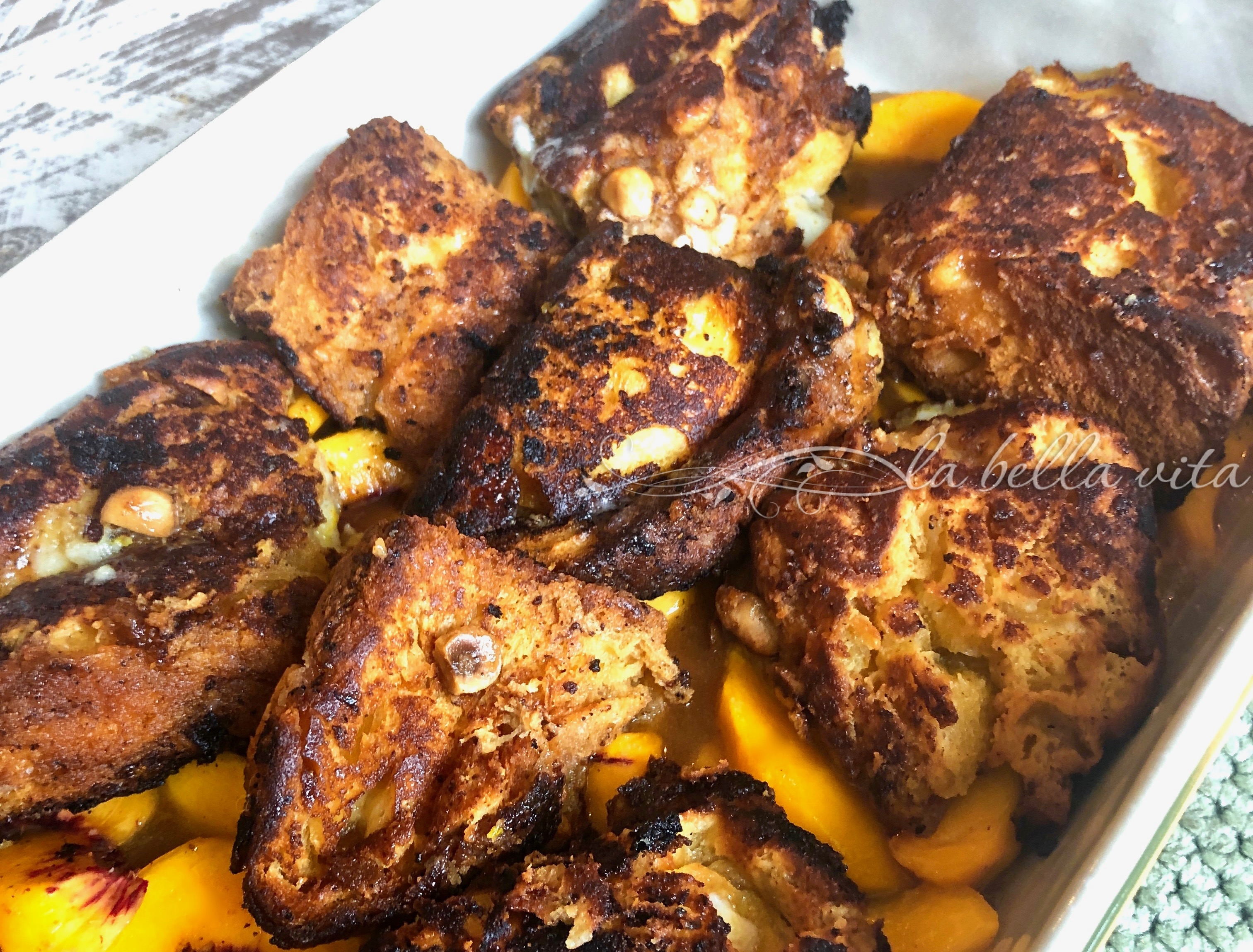 Whisk the eggs, cream, milk, sugar, cinnamon and vanilla together and pour over everything.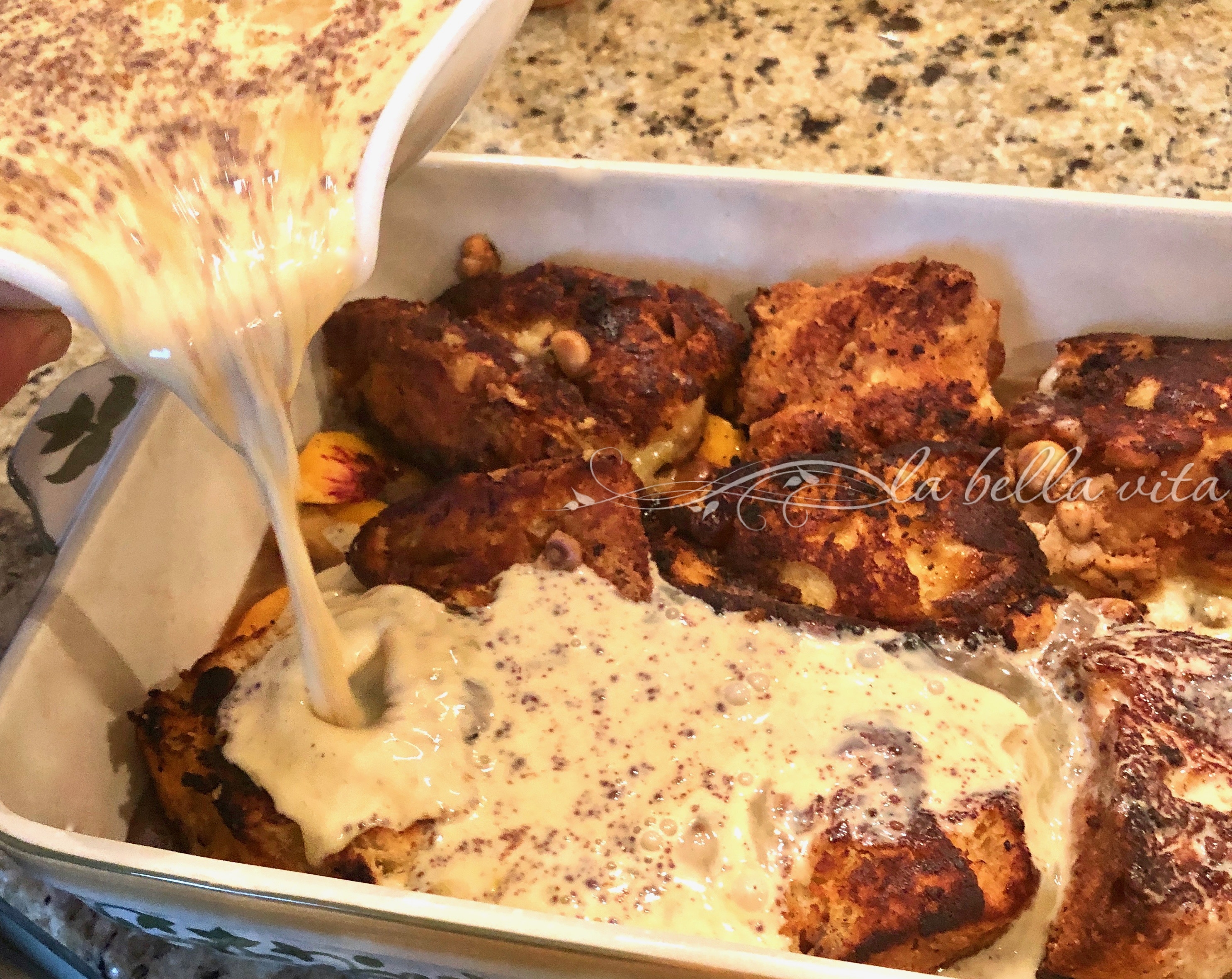 Cover with aluminum foil and refrigerate for 8 hours or overnight
Bake in a 350 F degree oven for 1 hour
Sprinkle powdered sugar on top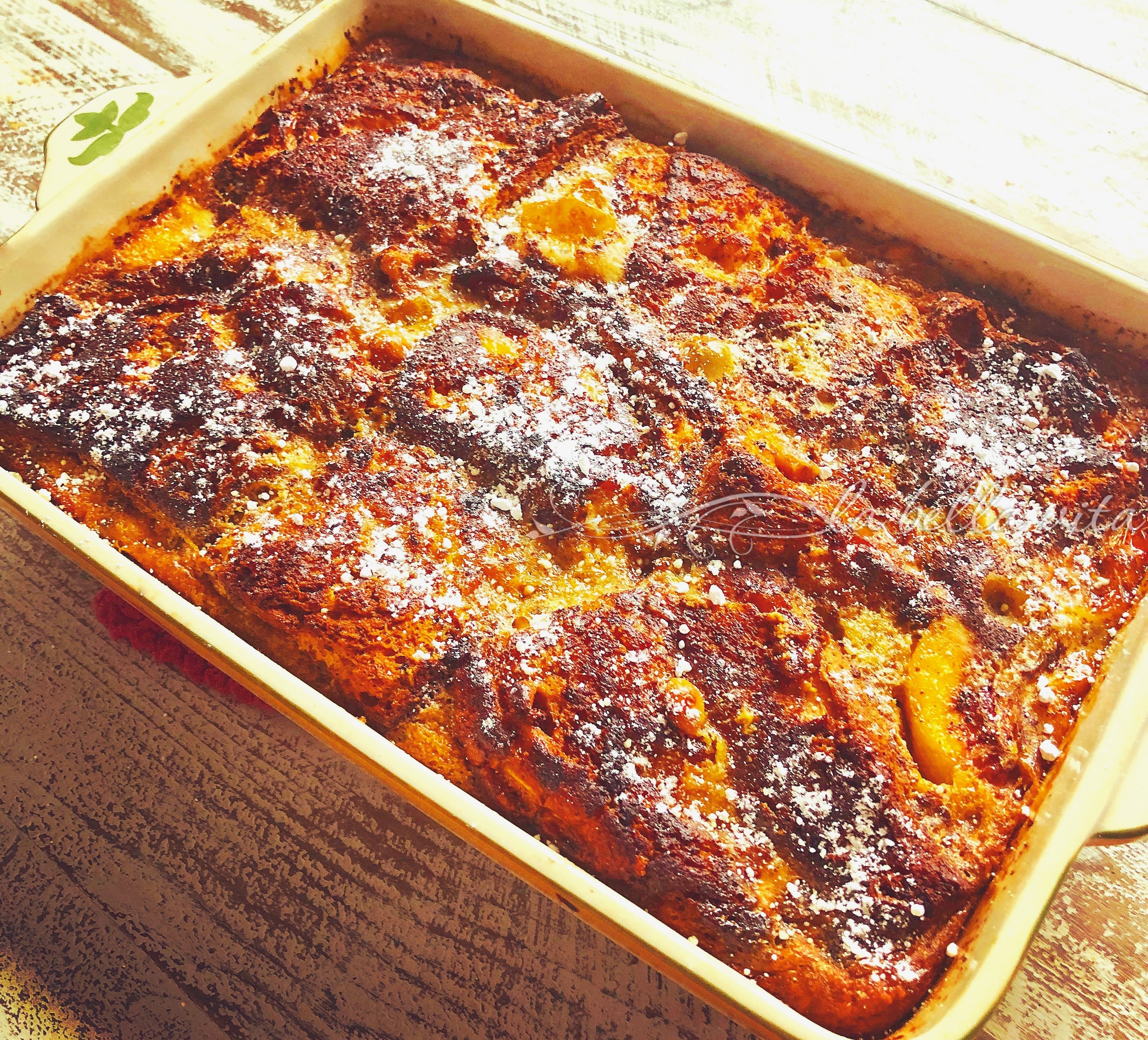 Serve with freshly sliced peaches on top!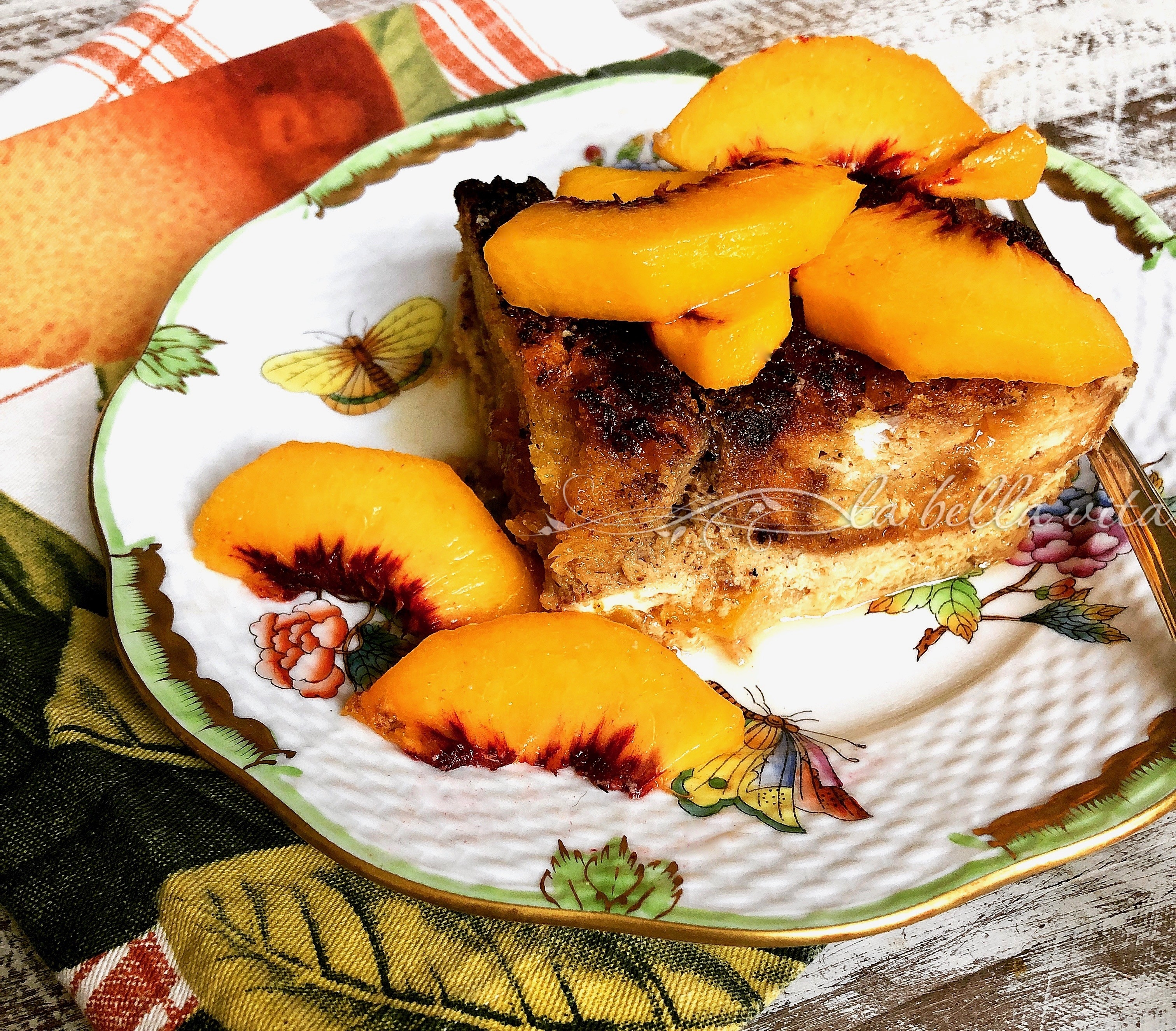 Please share the love and pin this vertical pin:
So let's get to the recipe!
Print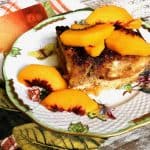 Mascarpone Stuffed Peach French Toast
Author:
Prep Time: 0 hours
Additional Time: 0 hours
Cook Time: 0 hours
Total Time: 0 hours
Category: Breakfast & Brunch
---
Description
This French Toast recipe is an incredibly rich and decadent breakfast treat!  Using peach infused Italian Dove bread, the flavor is overflowing with the taste of fresh peaches.  The lightly sweet and creamy filling balances the caramel sauce perfectly.  Prepare this to impress your guests!
---
8 – 10 fresh peaches, peeled and pits removed, sliced into 1/2" slices
1 loaf Italian Dove (Columbo) bread
1/2 cup (1 stick) butter
1 cup brown sugar (light brown is better to use)
1 8–oz. container Italian mascarpone cheese
6 Tbsps. powdered sugar
Zest of 1 lemon
8 jumbo eggs
1-1/2 cups milk
3/4 cup cream
1/4 cup sugar
1 tsp. vanilla
1 tsp. cinnamon
1/4 tsp. salt
More peaches if necessary to serve on top of each slice of French toast.
---
Instructions
In a saucepan, melt butter and stir in the light brown sugar until well blended.
Pour into a 9 X 13″ baking pan and spread evenly all over.
Place a layer of sliced, peeled and pitted peaches completely over the caramel sauce.
In a medium-size mixing bowl, whisk together mascarpone cheese, powdered sugar, and lemon zest.
Spoon this mixture into a resealable plastic bag and cut a tiny opening at one of the ends. Use this as a pastry tube to fill the bread.
Slice the dove (Columbo) bread or your hearty bread of choice.
Cut into each slice of bread, but not cutting completely through. Press the slit to open up.
Squeeze the mascarpone cheese mixture into the opening. Squeeze gently until filled.
In a large frying pan, melt 1/2 cup butter (1 stick) on medium heat.
Place stuffed bread slices in the hot butter to fry until golden, about 1 minute on each side.
Place the hot, fried, stuffed bread on top of the peaches and caramel sauce in the 9″ X 13″ baking pan.
In a medium mixing bowl, whisk together the eggs, milk, cream, sugar, vanilla, salt, and cinnamon.
Pour this creamy mixture over the bread slices and cover with aluminum foil. Refrigerate for 8 hours or overnight.
Bake in a 360 F degree oven for 1 hour.
Remove from oven.
Dust the top of the French toast with powdered sugar.
Serve with freshly sliced peaches on top and sweetened whipped cream.
---