Rustic Apple Crostata with Caramel Streusel Topping
If you like apple pies and tortas, then you are going to LOVE this Rustic Apple Crostata with Caramel Streusel Topping . . . an Italian take on pie (with a twist of German flair that I added for my German-Scottish husband)! Last month I made a peach crostata with the last harvest of peaches and just knew that I had to make it again with apples now that we're in full swing of autumn.
A crostata is basically the same thing as a French galette. A galette is a rustic tart with hand-folded edges. Both are easier to make than a pie yet will leave you with the feeling that you went to a lot of work . . . and really didn't! So if baking a pie sounds like too much, then you'll love this friendly alternative! I like that having a 'free-form' crust; no need to be perfect for a crostata crust! So if you think that you're messing up the crust, that's just OK and really part of the rustic beauty of the dish! Your family and guests will think you spent hours making this "beautiful and delicious" dessert!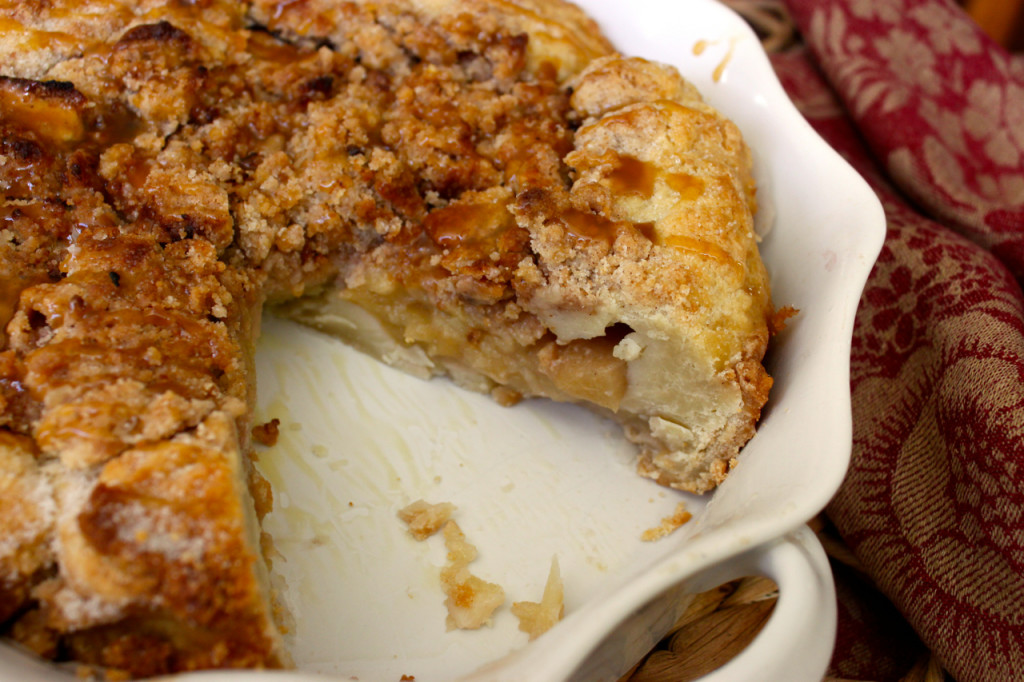 The great thing about crostatas (crostate in Italian), is how insanely simple they are to make! My kind of cooking! Simple and delicious! When I bake a crostata I do something different: I double the crust dough ingredients and make a bigger crostata about the size of a regular pie. Most crostata recipes are rather small. Even though that's OK, my family wants more of a good thing!
The dough is so simple and so flaky! It's versatile enough to use many different kinds of fruits throughout the seasons!
How can anyone resist this beautiful creation filled with layers of apples in a thick, sweet crust topped with lots of cinnamon, sugar, and butter . . . and then drizzled with caramel? Oh, oh, OH!
"Excellent!" was the verdict of my sweets-loving and uber-picky husband. It's always so much fun to find a winning recipe, isn't it?
What are the BEST APPLES to use for BAKING?
That's a great question . . . and important to the best texture and flavor in your crostata, pie, or cake! There are specific apples that are just the absolute best to bake with. Any of the following apples work nicely. Select the variety that you prefer, making sure that the apples are firm, and have a nice combination of tartness and sweetness.
Recommended Apples To Use
Granny Smith
Honeycrisp
Gala
Jonagold
Braeburn
Pink Lady
Tips for Baking a Fruit Crostata
When using juicier fruits such as peaches, you'll need to sprinkle on the top of the dough, a few tablespoons of something dry such as different kinds of flour, sugars, or coconut flakes. This will help soak up the juices from those liquidy fruits quite nicely.
On the other hand, if you use fruits that are more, you need to remember to bake the crust about a third of the time in the oven by itself and than add the fruit to cook inside the crust for the remaining amount of time.
Don't worry about having a perfectly formed and shaped crust; the beauty if a crostata is its natural look.
Please share the love by pinning this vertical image!
So let's get to the recipe!
Print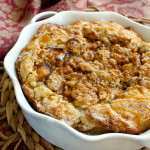 Rustic Apple Crostata with Caramel Streusel Topping
Author:
Prep Time: 40 minutes
Additional Time: 0 hours
Cook Time: 1 hours
Total Time: 1 hour 40 minutes
Yield: 8 slices 1x
Category: Desserts
Cuisine: Italian
---
For the Crust:
2 cups flour
5 Tbsp. sugar
1/2 tsp. salt
2 sticks of very cold butter, sliced
4 – 5 Tbsp. ice water
Melt butter to brush on dough and sugar to sprinkle on top of dough after crostata is filled with apples and ready to go in the oven.
For the Apple Filling and Streusel Topping:
3 pounds of apples, peeled, cored and sliced into one-third" slices (use an assortment of Granny Smith, MacIntosh, and Fuji apples)
1/2 tsp. lemon juice
1/3 cup flour
1/3 cup sugar
1/2 cup finely crushed vanilla wafer cookies
1/2 tsp freshly grated sea salt
2 tsp. ground cinnamon
2 Tbsp. corn starch
6 Tbsp. cold butter, sliced or diced
Caramel Topping:
Use store-bought or a home-made recipe to drizzle on top
Serve with vanilla or cinnamon ice cream.
---
Instructions
Prepare the Dough:

Using a food processor with a steel blade: Place the flour, sugar, and salt in the bowl and pulse several times to combine.

Add butter slices and pulse until butter is the size of peas.
Add ice water, continuing to pulse to combine; stopping at the point before the dough becomes a solid ball.
Turn dough out on a well-floured wooden board and form into a circular disk.
Wrap with plastic wrap and refrigerate for a minimum of 1 hour.

For the Apple Filling and Streusel Topping:


While peeling, coring, and slicing the apples, place them in a bowl of cold water with the lemon juice to prevent them from turning brown.
In the bowl of a food processor fitted with a steel blade, combine flour, sugar, crushed vanilla wafer cookie crumbs, salt, cinnamon, and corn starch, pulsing a few times to mix.
Add the butter slices and pulse until crumbly (If it isn't crumbly, do so with your hands).
Preheat oven to 375 degrees F.

Preparing the Crostata:


1. Place the chilled dough on a floured wooden board; using a floured rolling pin, roll dough into a large circle.
2. Place the rolled out dough on top of parchment paper
3. Layer the apple slices on the dough leaving a 2″ border.
4. Sprinkle the streusel mixture evenly over the apples.
5. Gently fold the 2 inches of the outer dough border over the apple mixture, overlapping the dough into a folded side border-top.
6. With the uncooked crostata still on the parchment paper, carefully lift it up and place it (parchment paper included) inside a baking pan; it should have a snug fit (which prevents the overlapped dough from falling down).
7. Brush some melted butter on the dough and sprinkle with sugar.
8. Bake for 20 minutes on the lowest oven rack, then remove and cover the dough on the sides with aluminum foil to prevent burning. Keep an eye on the crostata for any signs of burning; cover with aluminum foil if streusel also begins to turn dark brown or black.
9. Return to the oven and bake for another 40 minutes.
10. Serve warm with ice cream and caramel sauce.
---
This is literally my all-time "go-to" favorite baking dish to bake crostatas and casseroles in!
Here's a link to it for you. Totally dependable, in a great size and a nice price to boot!
Here are a few more delicious apple dessert recipes for you to enjoy: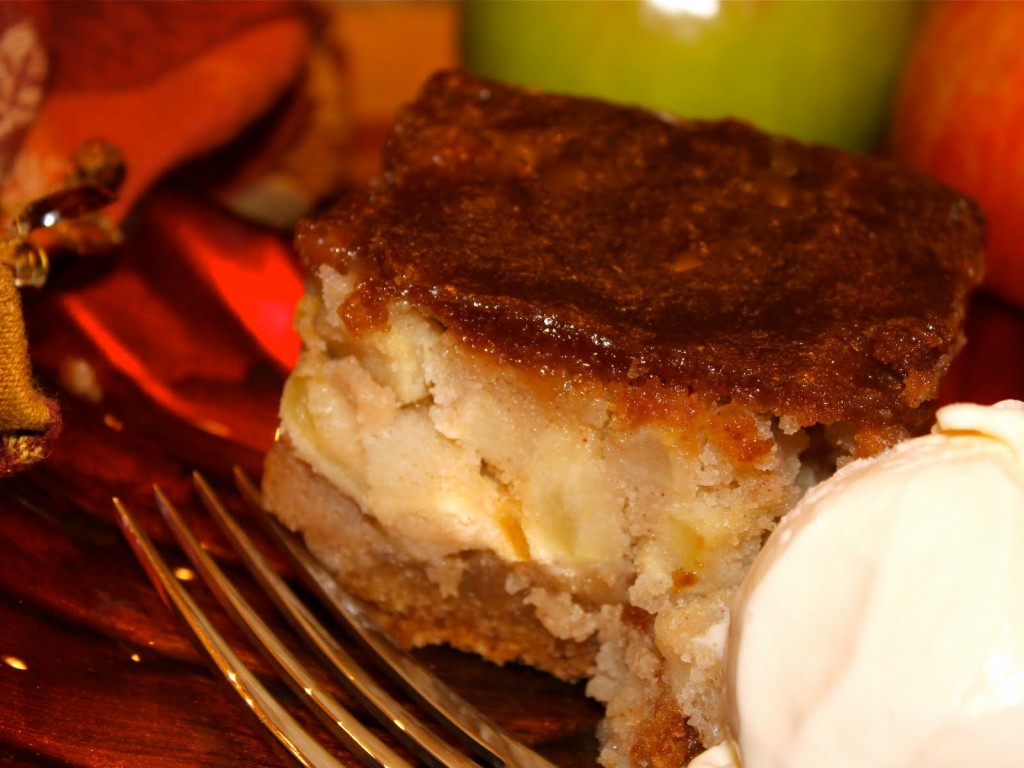 .T
This Post Contains Affiliate Links.
There Is No Extra Cost To You Whatsoever If You Purchase Our Recommended Products.
We Earn An Extremely Small Fee For Introducing You To These Products.
This post was originally posted in 2014 and reposted in 2020 with added information.