Caramel Glazed Apple Cake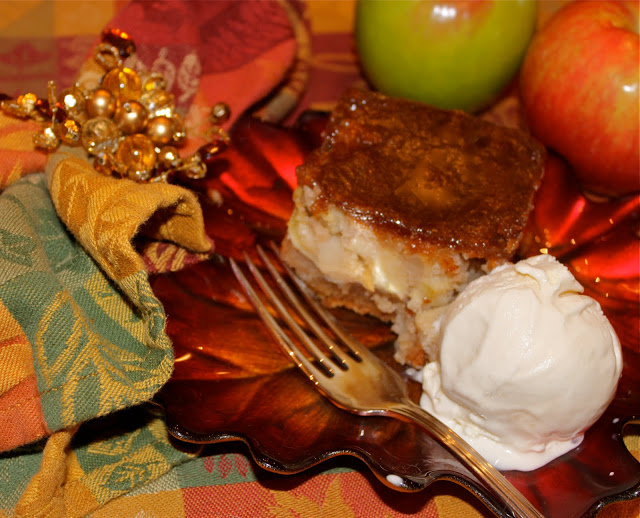 Who doesn't like the combination of apples and caramel? Actually, I love caramel MORE than I do apples! I couldn't wait for a gooey caramel apple every time my parents took us to a fair or festival. The combination of that tart apple with that super sweet caramel coating was irresistable! When I had to wear 'braces' on my teeth, my dentist made me swear not to eat caramel apples until the braces were removed. It was hell!
Apples are one of the first signs of autumn and it is officially the fall season, so this cake is perfect in timing. If there is one fruit ingredient in a cake or pie that we just adore, it is the apple. We love apples so much, that on every holiday buffet table, we serve a fresh, home-made sky-high apple pie! Pumpkin pie literally takes a back seat to both our apple and cherry pies on Thanksgiving too.
My fellow caramel lovers, here is an apple cake topped with an incredible caramel glaze that is just delicious!
Now about this cake: It's rather plain to look at, but once you take a bite, you could eat the whole apple-caramel-cinnamony thing. I made the following changes from the original recipe (I seem to always do that!): For the cake batter, I added a half teaspoon of ground cinnamon. I simply could not believe that an apple, sugar, caramel recipe did not include any cinnamon . . . so in it went and wow, I'm so glad that I added it. I also an extra teaspoon of vanilla, because we love a more enhanced vanilla flavor. And with almost all recipes, I eliminated the nuts because hubby can't eat nuts.
For the glaze, I used dark brown sugar only because that's what I had on hand, and I don't like to waste anything. I also used a full stick of butter and not 1/3 cup, plus I added 1/4 cup regular sugar, because I felt the glaze didn't taste sweet and buttery enough. Additionally, I chose not to use a 9 x 13 inch pan. At first, I prepared this size of a pan and after scraping the batter into it I thought, "nah, this cake is going to be way too flat in this huge pan", so I prepared and used a smaller cake pan, more like a 6 x 10 inch pan. I wanted a higher cake, not a sheet cake. Because of this smaller baking pan I needed to bake the cake another 10 minutes to get the thicker inside portion of the cake thoroughly cooked.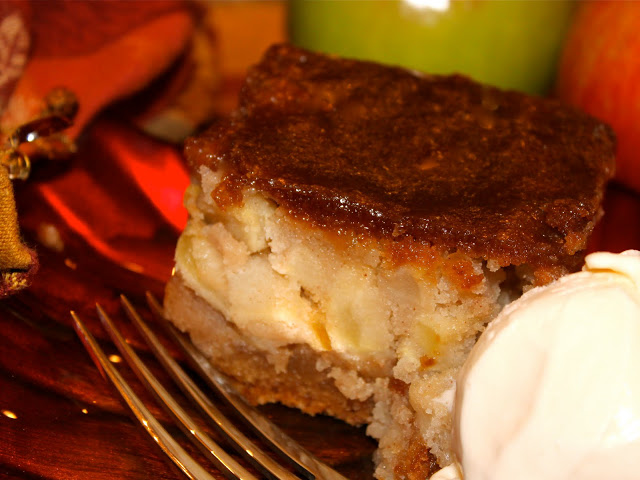 Caramel Glazed Apple Cake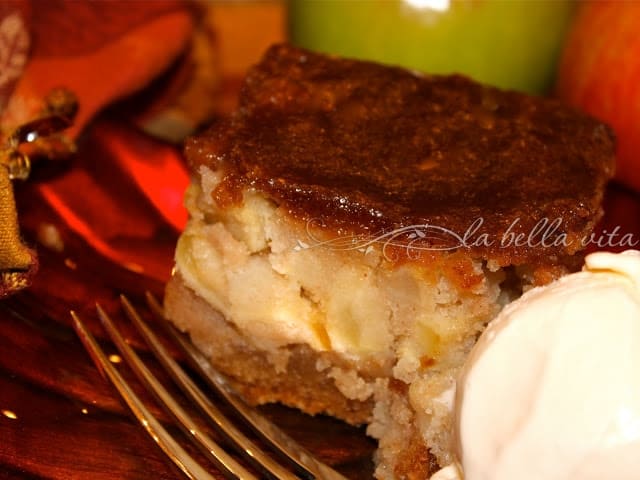 Ingredients
For the Apple Cake
3 cups flour
2 cups sugar
1/2 teaspoon ground cinnamon (my addition to the recipe)
1 teaspoon baking soda
1 teaspoon salt
3 jumbo eggs
1-1/2 cups canola oil
3 teaspoons vanilla (I increased this from 2 tsps. in original recipe)
3 cups finely chopped apples (I used Granny Smiths)
For the Caramel Glaze
1 cup firmly packed brown sugar
1/4 cup granulated white sugar (my addition)
1 stick of butter (I increased the amount from 1/3 cup)
1 teaspoon vanilla extract
4 Tbsp. heavy cream (I increased this from 2 Tbsp.)
Instructions
For the Apple Cake
Preheat the oven to 350 degrees.
Grease a 9 x 13 inch pan or a smaller size if you prefer, as I did.
In a medium bowl, combine the flour, sugar, cinnamon, baking soda and salt.
Stir with a fork to mix everything together well.
In a large bowl, beat the eggs with a mixer at low speed until pale yellow and frothy/foamy.
Add the oil and vanilla and beat well.
Stir in the flour mixture with a wooden spoon and continue stirring the batter until the flour is completely absorbed and blended in (add about one cup of flour at a time, blend well, and repeat).
Add the apples and stir to mix well into the batter.
Scrape the batter into the prepared pan.
Bake for 50 - 60 minutes or until the cake is golden brown and springs back when lightly touched near the center of the cake and the sides of the cake are beginning to pull away from the sides of the pan.
Place the cake still in the pan on a wire rack.
Pour the glaze over the cake while both the cake and the glaze are still hot.
For the Caramel Glaze
Combine all the ingredients in a medium saucepan.
Cook over medium heat, stirring often, until the mixture comes to a gentle boil.
Cook for 3 - 5 minutes, constantly stirring.
Pour the hot glaze all over the hot-from-the-oven apple cake.
Serve warm or cool with vanilla ice cream! (But it is much better served warm!)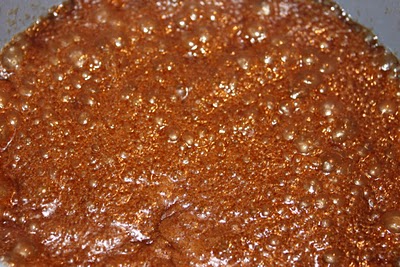 The hot, gooey caramel glaze bubbling on the stove.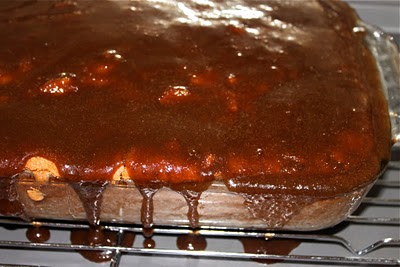 Caramel glaze running over with love! You should smell this! Ahhhh!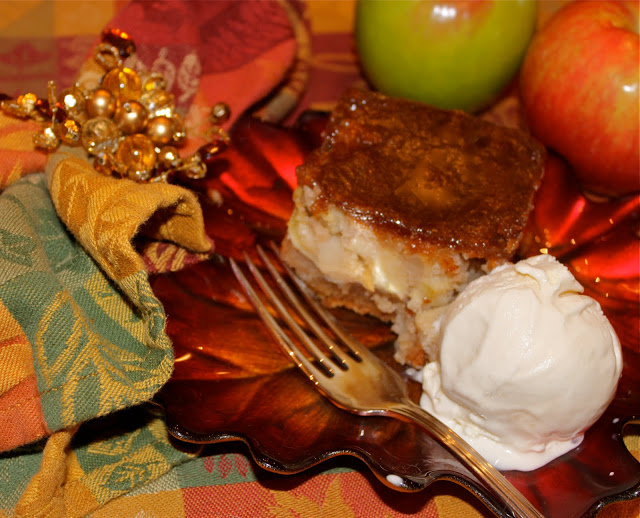 .
.