Italian Cheesy Artichoke and Asparagus Phyllo Pie ~ Perfect for Springtime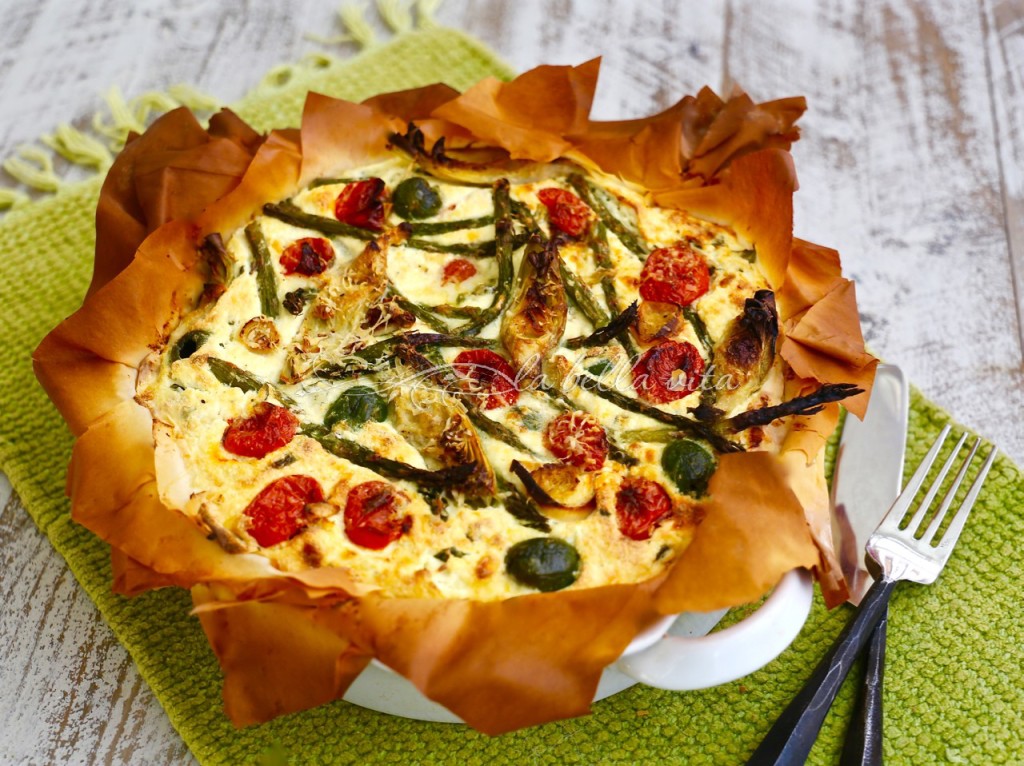 Fresh. Roasted. Vegetables.
All in a delicious savory pie! Add lots (as in 4 varieties) of Italian cheese, fresh garlic and basil, and some beautiful phyllo dough . . . and you've got a show-stopper dish! Hello Gorgeous! Meet "Italian Cheesy Artichoke and Asparagus Phyllo Pie"!
Oh my!
This cheesy, savory pie would be perfect for a brunch or lunch with friends. Plus you can make it ahead and simply re-heat it. For those who are either vegetarian or decreasing the amount of meat in your nutrition, this recipe is perfect!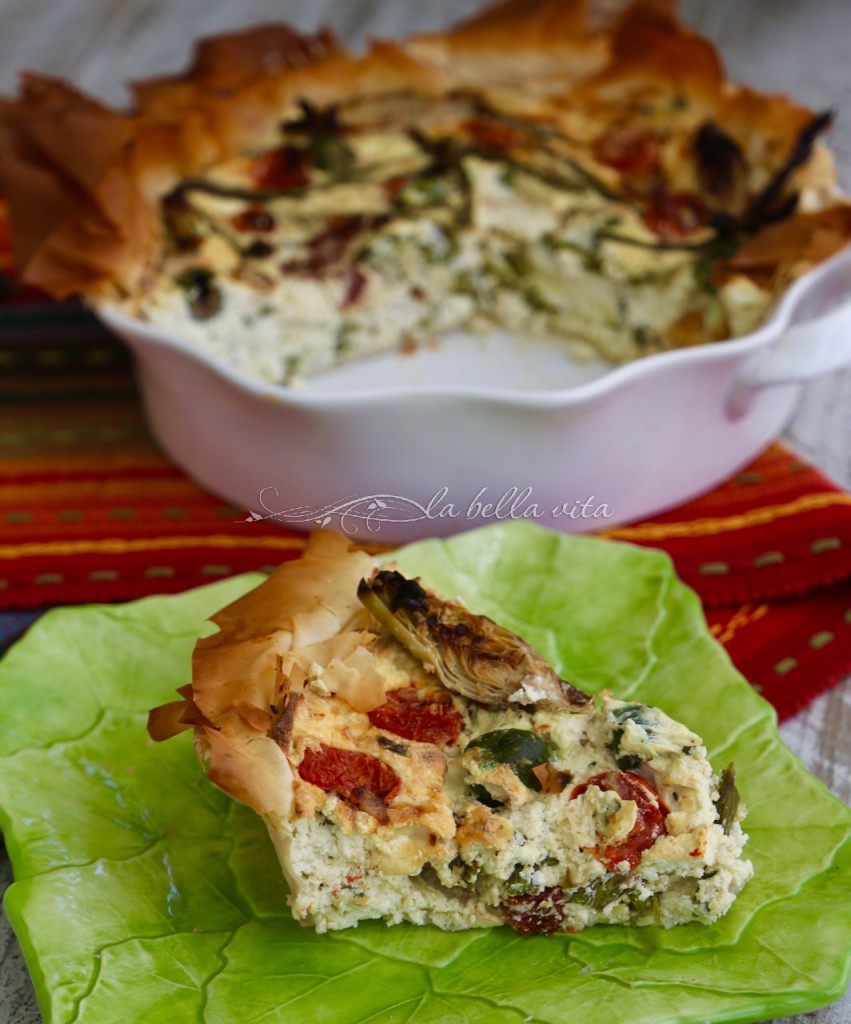 I have to admit, I like foods with a lot of brilliant color and this recipe delivers both vivid natural colors plus delicious flavor to boot!
Part of my love of cooking is experiencing the visual joy of nature's bounty placed in front of me. Just take a look at the veggies that went into this pie!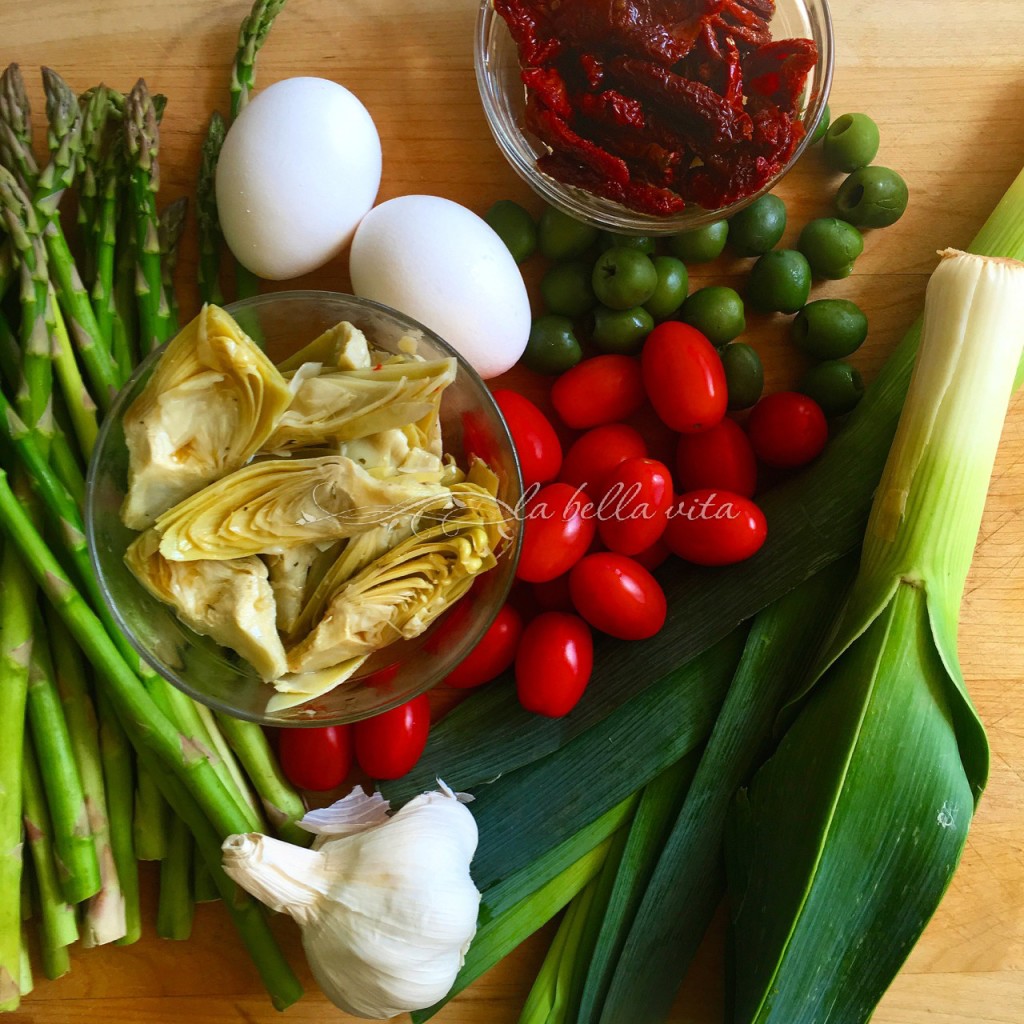 Spread the vegetables out on a baking sheet, drizzle or spray with olive oil, scatter lots of minced garlic all over and freshly crack some black pepper and sea salt all over everything.
Roast those babies to bring out an even more intense level of flavor!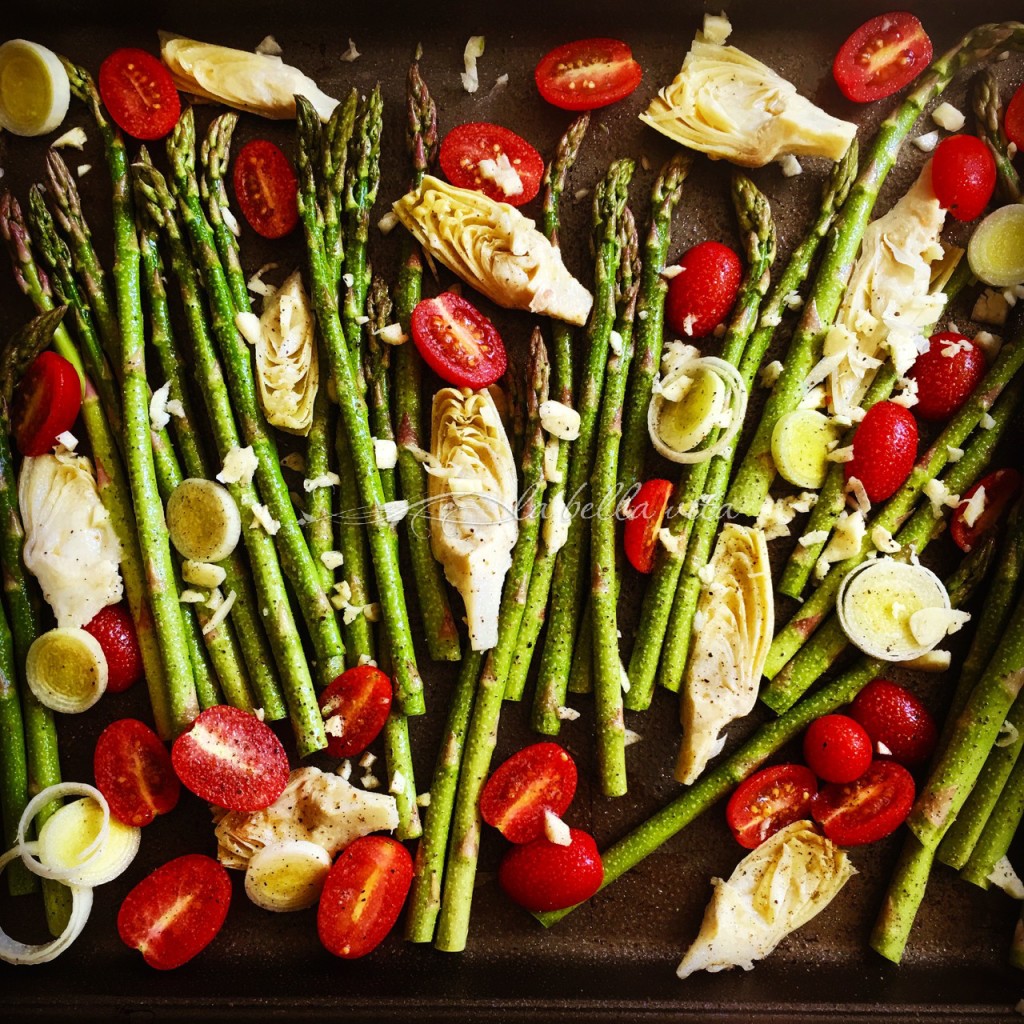 After roasting the vegetables, just look at the how the color intensifies along with the flavor!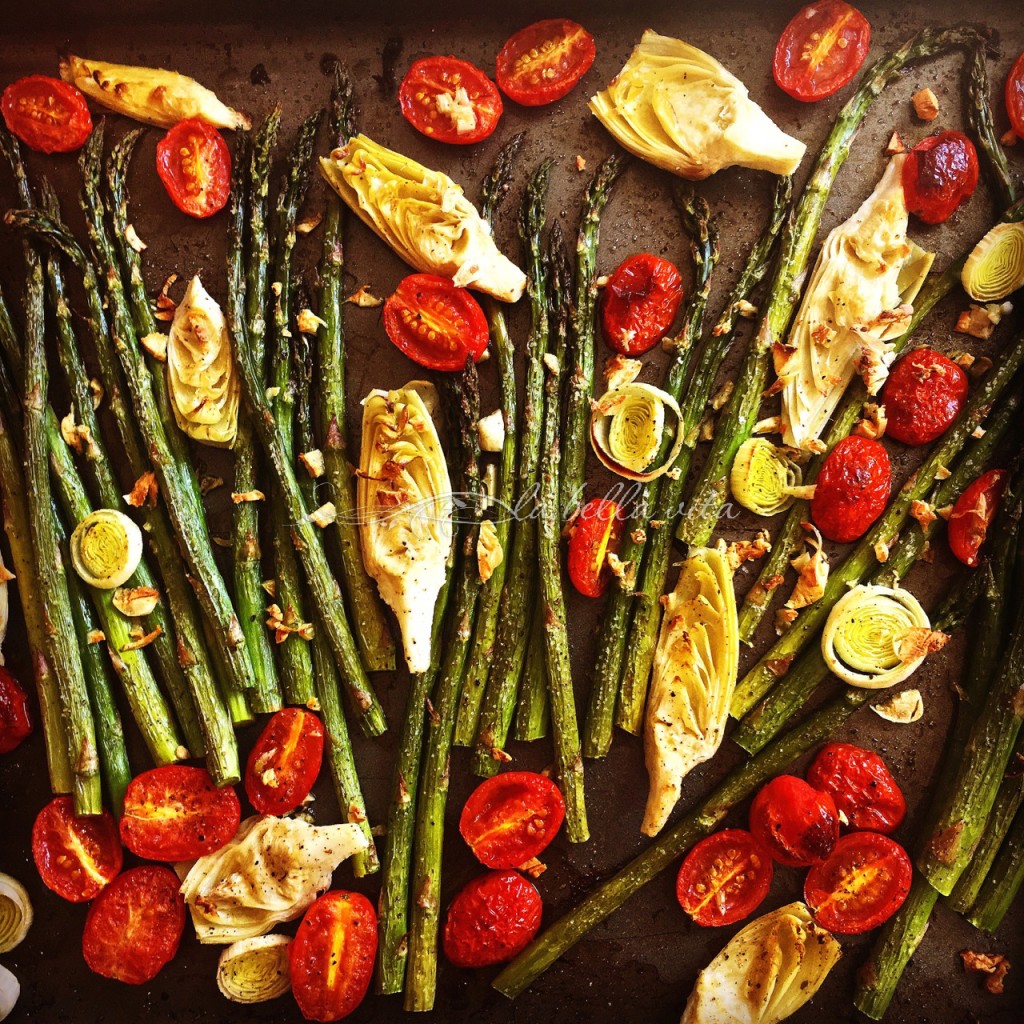 There's plenty of Italian cheese in this pie/tart too: Creamy ricotta, buttery fontina, sharp asiago, and delicious pecorino romano! The cheese is infused with additional flavors of garlic, fresh basil, and Italian seasonings. The end result is a very creamy, flavorful filling surrounded by a crispy, golden phyllo 'crust'.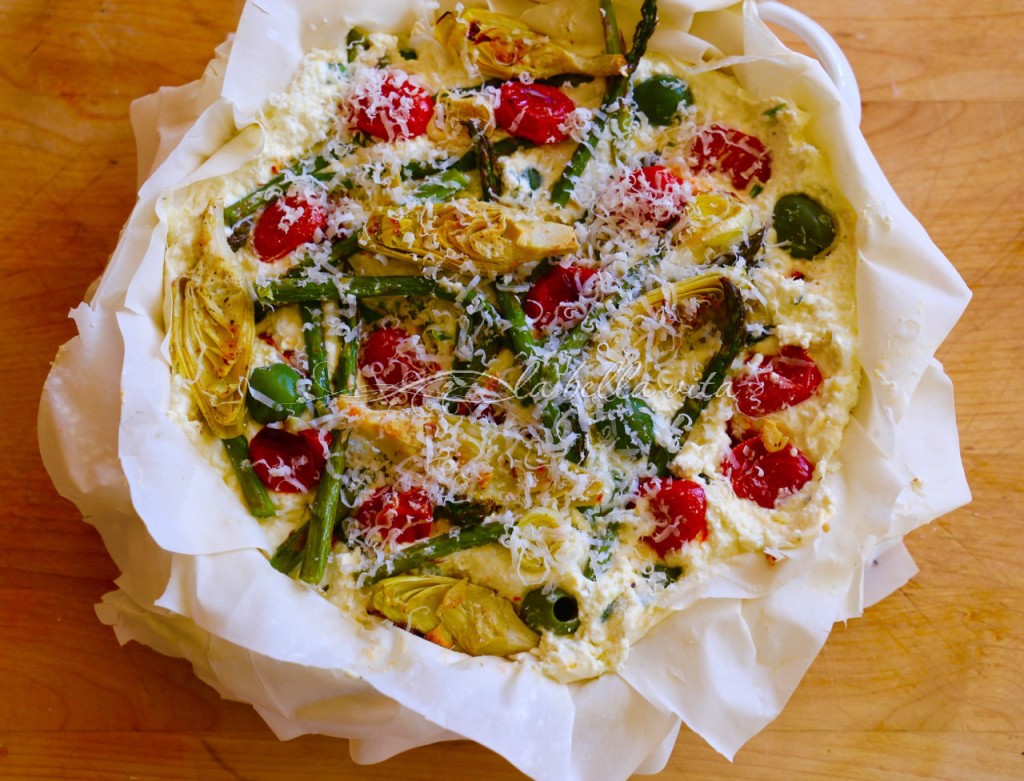 Bake and enjoy!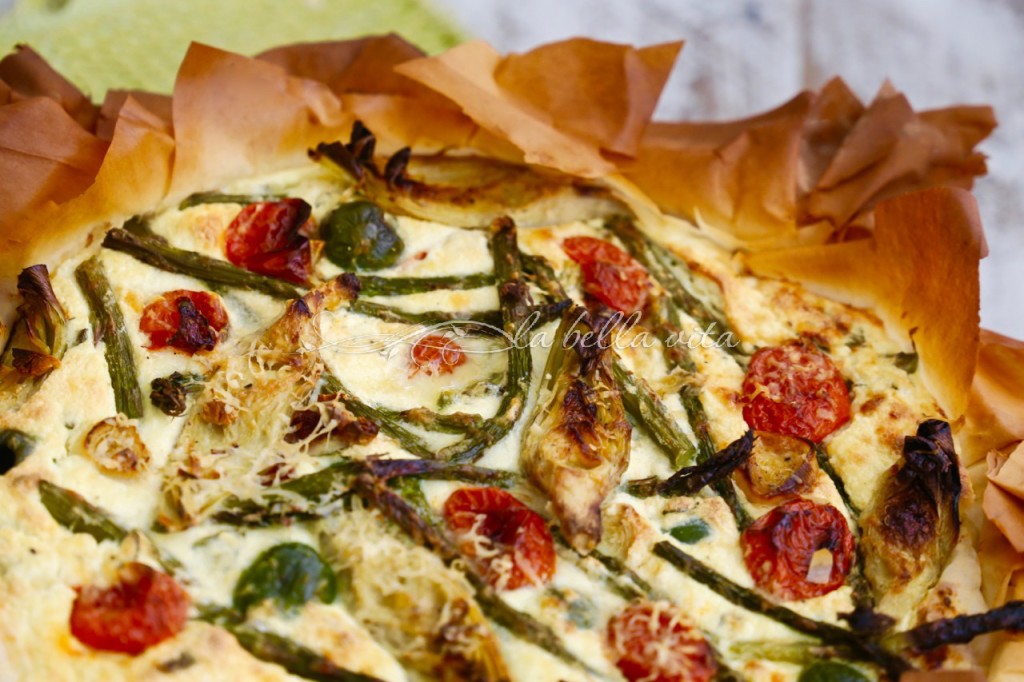 More asparagus recipes that I know you'll enjoy:
Spring Pea and Artichoke Salad
Print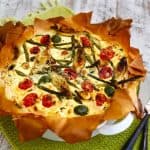 Italian Cheesy Artichoke and Asparagus Phyllo Tart
Author:
Prep Time: 0 hours
Additional Time: 0 hours
Cook Time: 0 hours
Total Time: 0 hours
---
Description
A perfect vegetable tart filled with roasted fresh asparagus, artichoke hearts, sun-dried tomatoes, garlic, and Italian green olives. The added 3 type of Italian cheese maximize the flavor. Perfect for a brunch too!
---
1 bunch very thin asparagus, woody ends cut off, then cut in half on the vertical
1 cup artichoke hearts, cut in half
1 cup cherry tomatoes, cut in half
1/4 cup sun-dried tomatoes, drained, and any oil wiped off
1/3 cup Italian pitted green olives
1 large leek, white section cut into thin circle slices
4 large garlic cloves, minced (set half to the side)
4 cups ricotta cheese, drained
2/3 cup of grated asiago cheese
2/3 cup pecorino romano cheese, grated plus another 1/4 cup for the garnish
3/4 cup of grated fontina cheese
3 jumbo eggs
3/4 cup of chopped fresh basil
Freshly cracked black pepper and sea salt to taste
optional – several shakes of dried Italian blend seasonings
12 sheets phyllo dough
olive oil cooking spray or liquid olive oil
---
Instructions
Generously spray a baking sheet with olive oil spray or drizzle with olive oil all over the baking sheet.
Layer all the prepared vegetables, except the sun-dried tomatoes and the green olives
Either lightly drizzle more olive oil over the veggies or spray olive oil cooking spray over them.
Crack fresh black pepper and fresh sea salt all over the veggies.
Roast vegetables in a 450 F degree oven until roasted to your desired level; approximately 10 – 15 minutes; keeping a close eye on them so that they do not burn.
In a medium mixing bowl, mix together the drained ricotta cheese with the shredded fontina, asiago, and romano cheese.
Blend the eggs and basil into the cheese mixture.
Add 2 more minced garlic cloves.
If you have any dry Italian blended seasonings on hand, sprinkle in several dashes of it into the mixture.
Blend well.
In either a round tart baking pan or a rectangular tart pan, layer 12 sheets of phyllo into the tart pan, between each sheet spray or brush on olive oil. Gently fit the phyllo down and towards the bottom and inner corners of the tart pan.
Pour half of the ricotta-egg-basil cheese mixture into the tart pan.
Layer ¾'s of your roasted vegetables and all of the sun-dried tomatoes and green olives; using a small spoon, push the vegetables down into the ricotta-egg-basil mixture so that they aren't just in one layer in the middle when you cut slice the tart.
Pour the remaining half of the ricotta-egg-basil cheese over the layer of vegetables.
Layer the remaining 1/4th of the vegetables on top.
Sprinkle with grated romano cheese that was previously set aside.
Spray or drizzle olive oil all over the tart and the phyllo dough
On the bottom rack of a preheated 350 F degree oven, bake for 30 minutes, checking every 10 minutes, until the phyllo dough is golden and the ricotta cheese mixture is baked and set.
Allow it to slightly cool and set.
Slice, serve, and ENJOY!
---
.
.