Easy Cherry Pie Shortbread Thumbprint Cookies
I received a recipe request from the editor of "Acreage Life" magazine in which I write a monthly recipe column. He specifically asked for something "colorful" for the December issue. Immediately I knew what recipe I would prepare and submit to the magazine! Cherry Pie Shortbread Thumbprint Cookies.
They. Are. THE BOMB!
Not only are these cookies bright and colorful with the vivid red cherry pie filling, but they're also FESTIVE!
These cookies are simply delicious with the combination of sweet cherries (with a hint of almond), the buttery shortbread, and all topped with a drizzle of creamy glaze.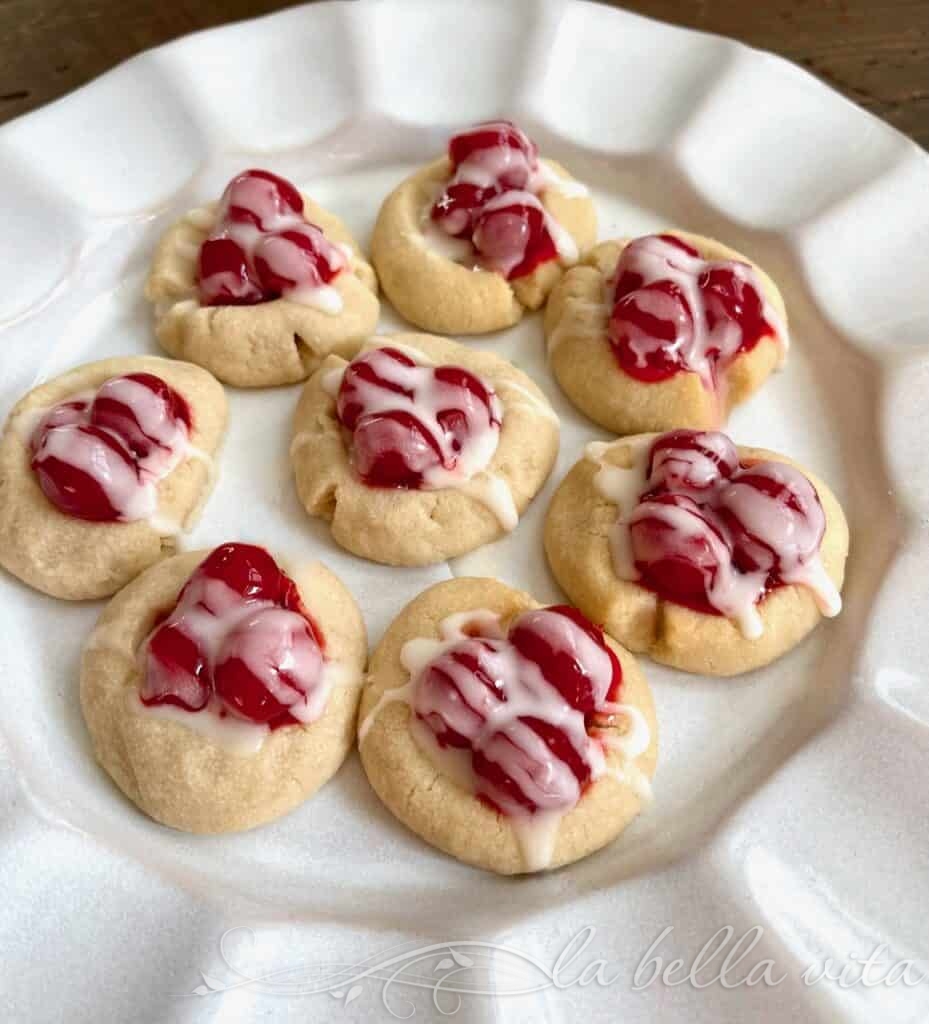 I love how easy these Cherry Pie Shortbread Thumbprint Cookies are to make. If you're a busy, full-time job person like I am, you'll truly appreciate how super easy these are to prepare. Plus, it's just so nice to have homemade (with love) cookies on hand to share with everyone!
Especially during the holidays. Who needs the extra stress?
Oh, and you don't have to always use cherries on top! You can easily use peach, raspberry, or strawberry pie fillings. Another option is to use fruit preserves instead of pie filling. Both are just as easy and yummy as the other.
Being able to freeze cookies is another super big plus!
I'm a huge fan of making large quantities of anything and freezing them so that I've got what I need when it's time. My husband isn't the greatest cook on the planet, but he's amazing at the grill and heating up things that I have planned for him while I'm at work. So he totally loves whatever I freeze! Plus this recipe satisfies his sugar addiction!
Ingredients You'll Need:
Butter: For a rich buttery tasting shortbread base, use unsalted butter for a more 'pure' flavor.
Sugar: Use granulated, white sugar for the shortbread and powdered (confectioners) sugar for the icing.
Vanilla and Almond Extract: Vanilla is commonly used in baked goods, but almond extract is heavenly with cherries! So I use both!
All-purpose flour: Add slowly into the creamed butter and sugar mixture. NOTE: It will look crumbly at first glance, and this is normal. The dough forms easily into balls using your hands.
Aren't they just beautiful?
Tips for Baking Thumbprint Cookies
Exact measurements are important for shortbread cookies: Always use the straight side of a knife to level dry ingredients to the exact measurements.
The correct temperature of your ingredients is crucial for success. Cookie dough ingredients are best at room temperature to mix together well, especially for creaming sugar and butter.
Accurate room temperature of butter means that you should be able to press your finger easily into the butter and leave an indentation. Butter should be softened at room temperature. If your butter feels greasy or melted; it's too warm and unusable. Set out your butter from the fridge for just 1-1/2 hours.
During the mixing, know that the dough is supposed to look crumbly. The dough comes together when you work it with your hands
To prevent cookies from being dry, don't over-mix the dough.
Don't overwhip the butter during the creaming step. Thumbprint cookies need to hold their shape after baking and still be delicate. Overwhipping the butter causes too many air pockets that will deflate and cause the dough to spread during the baking stage.
Always chill thumbprint cookie dough to prevent cookies from spreading too fast during the baking stage in the oven. Chilling in the fridge is essential to cool the butter in the dough.
Chill for 1 hour for up to 2 days. The longer the dough is chilled, the more flavor develops as well. This also makes the cookies' texture thicker and chewier!
For extra sweetness (that is a requirement in our house!) and also for a little more texture, roll cookie dough balls in some sugar, using a zip-loc bag or a small bowl.
Check to see that your oven temperature is correct and if possible use an oven thermometer. Preheat the oven always so that you bake the cookies for the correct amount of time and at a consistent heat level.
Do not overbake the shortbread cookies, although 13 – 15 minutes is a good range, always keep an eye on the cookies during the last few minutes to prevent browning.
How to Store Thumbprint Cookies
Cherry Pie Shortbread Thumbprint cookies can be stored in an airtight container at room temperature for up to one week. They do not have to be refrigerated.
How to Freeze Thumbprint Cookies
Freeze cookie dough only and after shaped into balls and pressed with your thumbprint. Freeze on parchment-lined baking sheets first. Then carefully place the frozen cookies in a large rectangular airtight container to prevent drying out and breakage in the freezer. Freeze for up 2 months.
When it's time to bake the cookies, place them on another parchment paper-lined baking (you'll need 2 baking sheets to spread out all 24 cookies). Thaw the cookies while the oven heats.
Optional Thumbprint Cookie Fillings
You don't have to use cherries! You can easily use peach, raspberry, or strawberry pie fillings. Another option is to use fruit preserves instead of pie filling. Both are just as easy as the other.
Lemon curd, melted chocolate, caramel or other dulce de leche filling, marmalades, and more!
Looking for More Cookie Ideas? I think you'll enjoy these!
Nutella Stuffed Snowball Cookies
The Best Italian Ricotta Christmas Cookies
Cranberry Orange Shortbread Cookies Drizzled with White Chocolate
White Chocolate Drizzled Cranberry Pistachio Biscotti
Zuccherini – Italian Lemon Cookies
So are you ready?
Let's get to the kitchen!
Print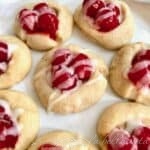 Easy Cherry Pie Shortbread Cookies
Author:
Prep Time: 1 hour
Cook Time: 20 minutes
Total Time: 1 hour 20 minutes
Yield: 24 cookies 1x
Category: Cookies
Method: Bake
Cuisine: American
---
2 cups + 3 Tbsp. flour
1 cup (2 sticks) butter, at room temperature
1/2 cup granulated white sugar
1–1/2 tsp. vanilla extract
1/2 tsp. almond extract
1 can cherry pie filling (syrupy juice strained out) Have an extra can ready in case you need more.
For the Icing:
1 cup powdered sugar
1 Tbsp. whole milk
1/2 tsp. vanilla
optional: 1 – 2 dashes of lemon juice
---
Instructions
Preheat oven to 325 F degrees.
Line 2 baking sheets with parchment paper.
Using a standing mixer fitted with a paddle attachment, set on medium speed:  cream the butter for 1 minute until fluffy and light.  Add the sugar and mix for another minute until well mixed.
Add the vanilla and almond extracts and mix for 30 seconds more.
Scrape down the sides of the bowl and turn the mixer speed down to low and then — 
Slowly add the flour, 1/2 cup at a time.  Mix until a crumbly consistency forms; it doesn't look like a ball at this stage.  Use a rubber spatula to scrape the sides of the bowl again.
With clean hands, take the crumbly dough out and mix by hand until a nice ball forms.  
Wrap tightly in plastic wrap and refrigerate for 2 hours (the longer the better so the cookies keep their thumbprint shape and do not flatten).
Remove the cookie dough from the refrigerator.  Working quickly while the dough is chilled, use a 1-tablespoon measuring spoon or cookie dough scoop, and scoop out 1 tablespoon of dough for each cookie.  With your hands, roll each scoop of dough into small 1 to 1-¼" balls.  These are not big, wide cookies.
Toss each ball in sugar to coat the cookie dough (in a plastic bag or small bowl). Optional.
Place each ball on the parchment paper-lined baking sheets, about 1 inch apart.
With your thumb, dipped first in powdered sugar (to prevent sticking to the dough), gently press down in the center of each ball of dough to make a deep thumbprint.  Work quickly so the cookie dough doesn't melt and become too soft.  It's OK if there are a few cracks.
Freeze the cookie dough balls while still on the parchment paper-lined baking sheets for 30 more minutes to an hour.
Bake for 15 – 20 minutes until set, but not golden brown, keeping a sharp eye on them at the end so that they don't overbake.  Shortbread cookies aren't hard, they are softer than most cookies.
Remove cookies from the oven and allow them to cool completely while still on the baking sheets, for another 20 – 30 minutes.  I always press lightly down into the thumbprint indentation while the cookies are still warm.
As mentioned in the list of ingredients, strain out all of the excess syrupy juice from the can of cherry pie filling.  Add a drop or two of almond extract to the strained cherries, GENTLY mixing so that the cherries don't break apart.
Spoon 2 – 3 cherries in the indented thumbprint on top of each baked cookie, trying not to add very much of the syrupy juice (which will just spread all over the cookies).
Prepare the Icing:
While the cookies are baking and/or cooling:
Whisk the powdered sugar, milk, and vanilla (and optional drops of lemon juice) together until smooth in a small mixing bowl.
Pour the icing into a small sandwich-size plastic storage bag.  Snip a very, very tiny hole in one of the bottom corners of the plastic bag.  
Slowly drizzle the icing over the cookies.
Enjoy!!
---
Notes
The shortbread cookie dough can be made in advance and frozen.
The formed and baked thumbprint cookies can be stored at room temperature or frozen as well, with or without the cherry topping.
---