White Chocolate Drizzled Cranberry Pistachio Biscotti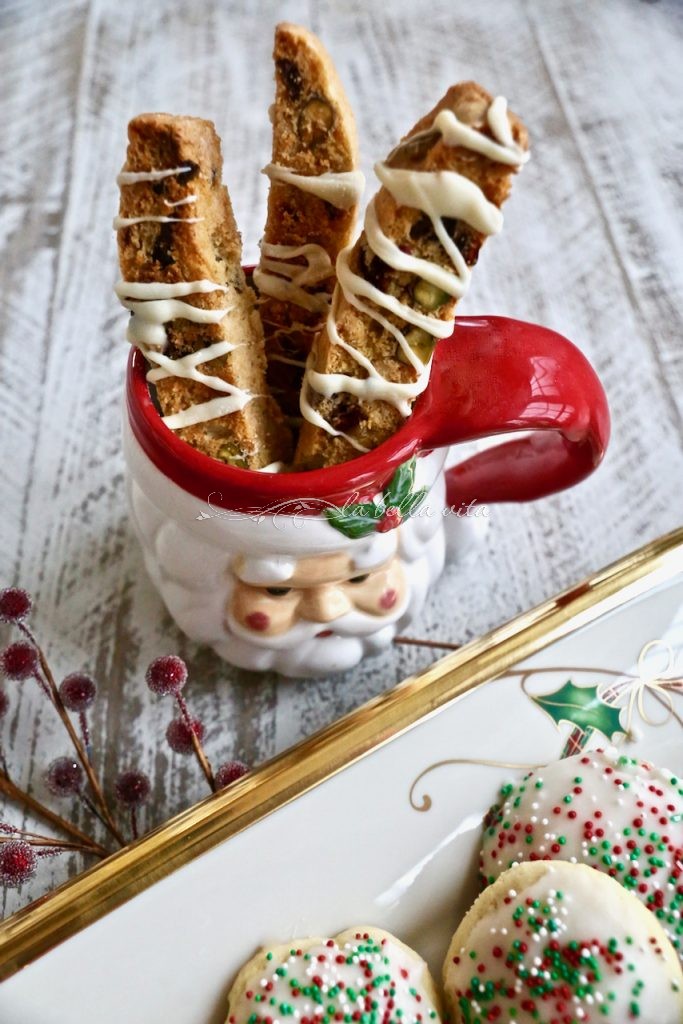 Biscotti (or contucci which is what my family calls them) have been baked for Christmas in my family since I can't remember when. As one of our favorite treats, it simply would not be the holidays without these wonderful Italian cookies. And our current favorite is my White Chocolate Drizzled Cranberry Pistachio Biscotti.
Italian biscotti are long, narrow cookies that are hard and crispy as a result of baking them twice.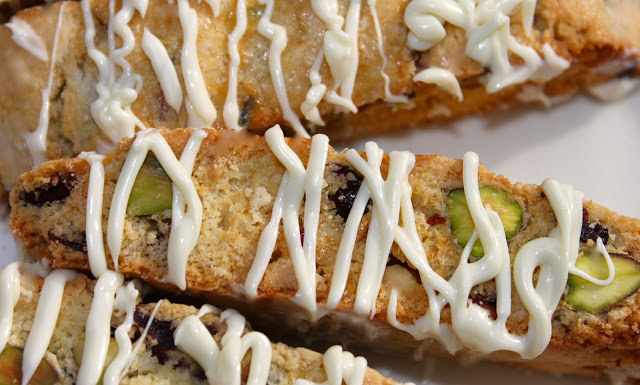 Biscotti are ridiculously easy cookies to make! No one should be intimidated by the process of forming the batter into logs for the first baking, cooling them off a bit and then slicing into shape before baking a second time to become golden brown. Plus, biscotti/cantucci are easy to store for long time and versatile to experiment with different flavors.
.
Traditionally, biscotti are dunked into either coffee or wine after dinner or as a mid-day snack. The hard texture softens in the liquid or you can eat them without dipping. My mother, grandmothers, and great-grandmothers have always made the
traditional anise-flavored biscotti
for the holidays. The cooks in this family rarely sway from traditional recipes when it comes to family recipes. However, I've been wanting to bake biscotti with white chocolate, cranberries and pistachios for some time!
.
Pistachios and Cranberries are a beautiful holiday color combination of green and red!
.
Especially for a holiday cookie platter. With the addition of white chocolate the cookies become more festive and special . . . creating a balance between the creamy, sweet flavor of the chocolate paired perfectly with the tart, chewy cranberries! The texture of the hard cookie base combined with the soft, creamy chocolate bits will make your taste buds sing! For an extra touch, drizzle or dip the biscotti with melted chocolate. The extra chocolate melts and adds some creamy chocolatey sweetness to your hot coffee.
.
These biscotti are so delicious that my family has just been gobbling them down! My mother used to ask me to get them away from her to stop the constant temptation to eat more! This is one of the highest compliments when a recipe passes the rigorous test of my family and when they declare a new favorite! Your family will enthusiastically grab them up fast too, I promise! These are the most fantastic, superior biscotti that we have ever tasted!
.
This is also a versatile recipe to change ingredients that you may prefer more. For example, if you are more fond of almonds or other nuts, use those instead. You may want to use milk chocolate or butterscotch. Maybe you prefer dried blueberries or other dried fruits instead of cranberries . . . no problem with this recipe. Or drizzle the cookies with caramel instead of chocolate too. There are so many possibilities for you to conjure up your own unique yummy flavor combination!
.
You can also control the level of crispiness/hardness of the cookies by the amount of time you bake them the second time:
.
If you prefer your biscotti more crispy for the traditional dunking in coffee or wine, the amount of baking time is anywhere from 15 – 20 minutes. The baking time for more soft cookies is 5 – 10 minutes. Just make sure that the edges of the biscotti do not brown or burn, but are golden only.
Enjoy these
White Chocolate Drizzled Cranberry Pistachio Biscotti
with love from my cucina to yours!
.
To decorate these hard (coffee and wine) dunking treats, there are a few ways:
TO DIP . . . .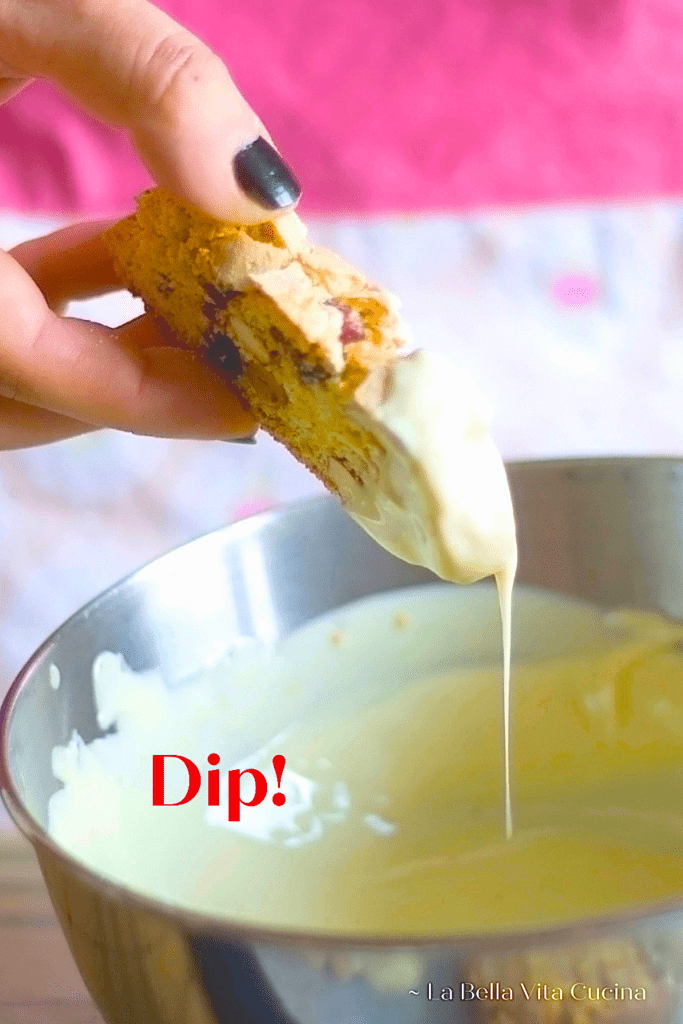 This is when you gather up all of your little ones (and big ones) to help dip the biscotti in the hot white chocolate.
You can use milk or dark chocolate too, if you desire.
Both are delicious!
Set these sweet, chocolate-dipped goodies on a towel to cool off. Mmmm, can't wait to take a bite!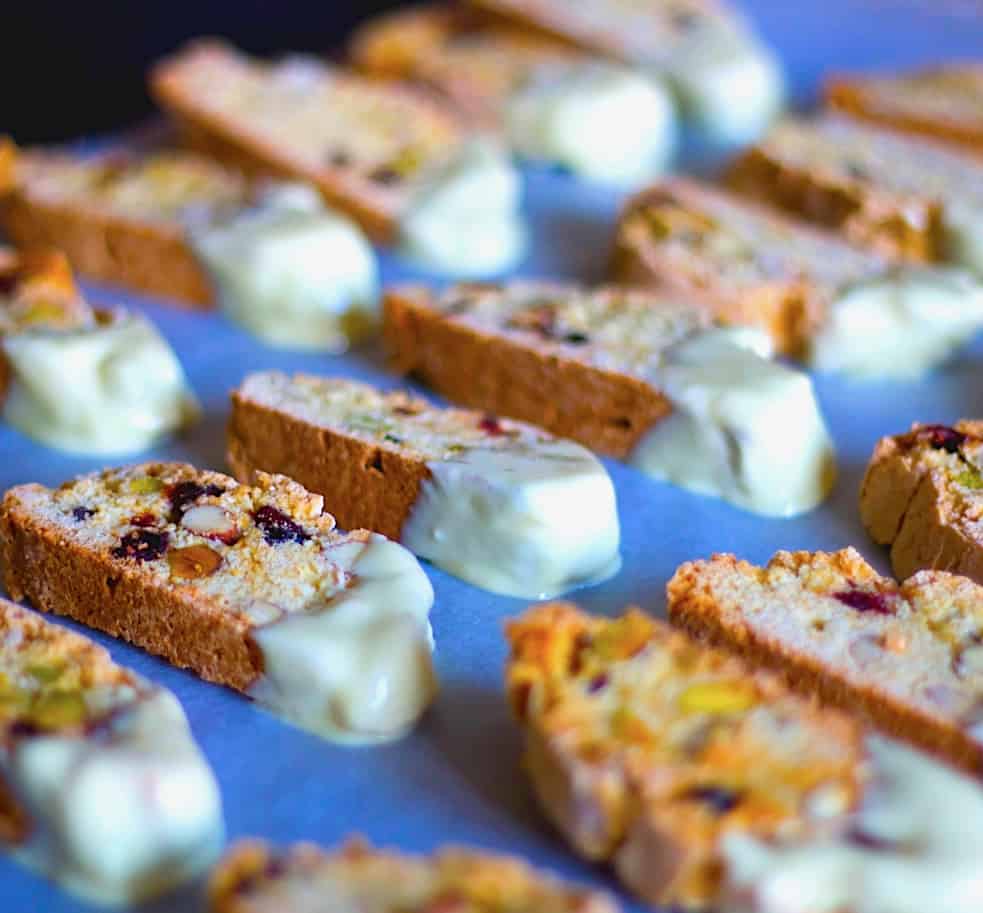 How about letting the kids build a huge mound for a fun display ….. they'll love you all the more for it!
These Italian cookies are so versatile (as you have seen from the numerous flavors marketed in every day grocery stores now) that really only your own imagination will hold you back!
Drizzling requires a little adult assistance if you've got young ones helping you in the kitchen!
OR you can do BOTH!
And now here's my ancient, age-old, time-tested recipe from Italy that has been passed down through the generations. It is for simple contucci with no glaze or dipping. My family, like many other immigrant families, were simply way to poor living in the mountains, that the thought of using icing of any kind on anything, was an unthinkable luxury.
We've come a long way . . . in some ways, and in other ways we have not . . . but that's another topic of discussion over a bottle of wine and lots of time!
PIN FOR LATER!

or you can PIN THIS FOR LATER!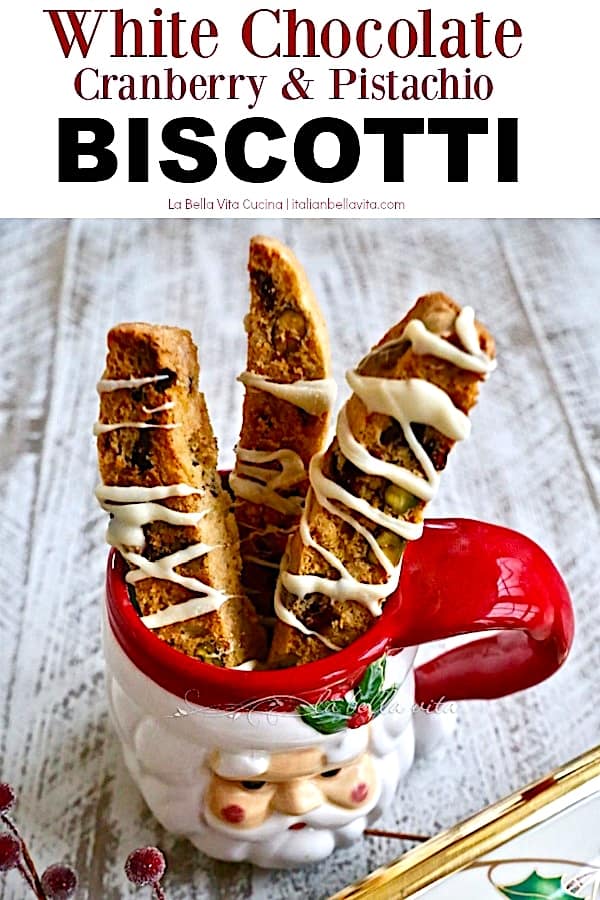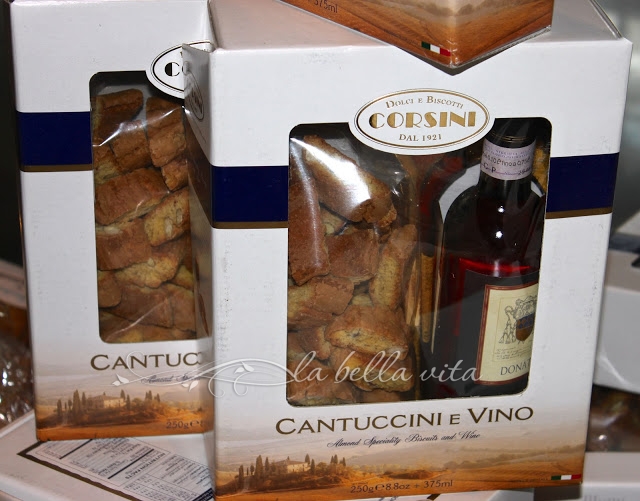 During my trip to Italy, I took these two photos of Italian "cantuccini" with wine.
Many people don't realize that Italians dip biscotti / cantucci in wine as well as coffee!
.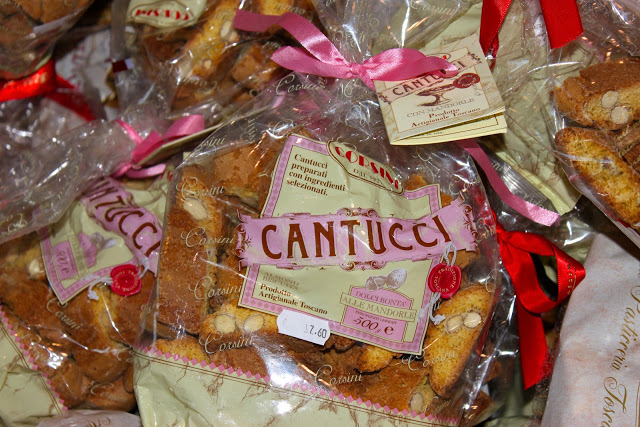 "Cantucci" (as shown above) is what my family has always called biscotti. Woo! This bag of cantucci was priced at 7.60 euros . . . about $10.00 (U.S.) in 2012 . . . You can make these at home for so much less . . . and fresher too!
.
.Disclosure: There was no compensation paid towards me for the content of this post. The photos of the cantucci were taken during a visti to Italy and were snapped in the Bologna airport gift shop.
More delicious Italian cookie recipes for you!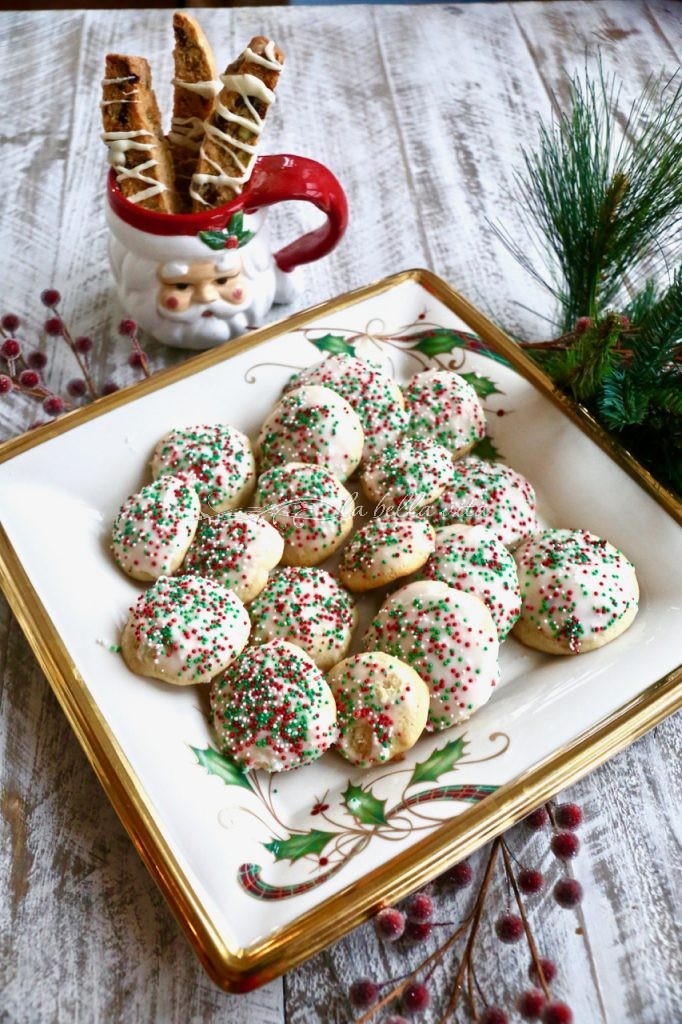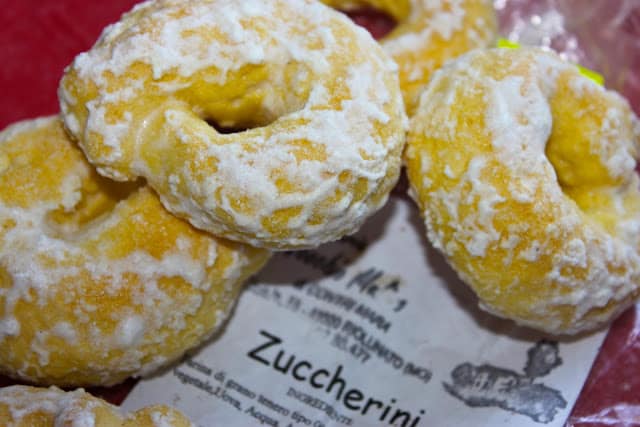 White Chocolate Drizzles Cranberry Pistachio Biscotti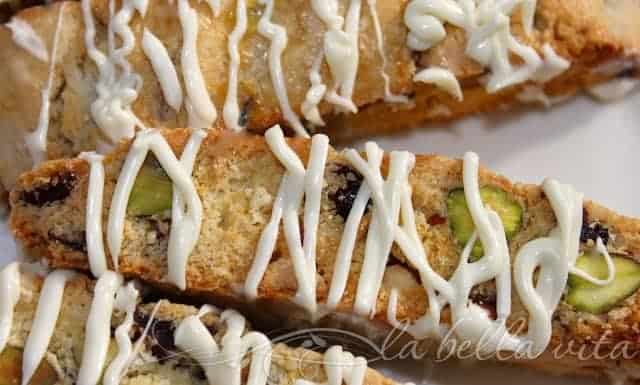 Italian biscotti are incredibly easy to make!  No reason to shy away from these delicious cookies -- they are simply "baked twice" which is the meaning of "biscotti". The cranberries plus the pistachios have such a festive Christmas color combination of green and white.  And the white chocolate drizzled on top is simply over the top!
Ingredients
1 cup butter
1-½ cup sugar, plus extra for sprinkling on the pre-cooked biscotti
3 eggs for the biscotti mixture, plus 1 egg for brushing on the pre-cooked biscotti
2 ts p. pure vanilla or vanilla extract
4 cups all purpose flour
1-½ tsp. baking powder
½ tsp. baking soda
½ tsp. sea salt
⅓ cup amaretto liquor
1-½ cups dried cranberries
¾ cup white chocolate chips or 7 squares of white chocolate
1-¾ cups shelled pistachios
1 - 2 cups melted white chocolate for dipping or drizzling
red and green colored sugar or sprinkles (optional for Christmas)
Instructions
In a large bowl, blend the butter and sugar well.
Beat in eggs, one at a time.
Add in the vanilla and amaretto liquor.
In a separate bowl combine the four, baking powder, baking soda and salt.
Slowly blend in the flour mixture into the butter-sugar mixture and mix well.
Fold in the cranberries, white chocolate and pistachios; dough will be sticky.
Divide dough into two to three equal sized portions.
On a floured surface or cutting board, shape each portion into a long 2-1/2" wide logs; these expand while baking, so shape the logs according to your preference.
With your hands, gently 'flatten' each of the logs a little bit.
Brush a beaten egg on each log and generously sprinkle sugar on top of each log.
Carefully place logs on an ungreased baking sheet, spaced 3 inches apart.
Bake at 350 degrees (F) for 25 minutes or until firm and lightly brown on the edges.
Cool for 5 minutes.
While warm, yet cool enough to handle with your hands, transfer logs to a cutting board.
With very little pressure, use a serrated knife to cut the logs diagonally into 1? slices.
Allow the knife to do the work for you and do not press down on the biscotti so they don't break.
Place the slices 'cut-side' down on the ungreased baking sheets.
Bake for 10 minutes or until golden brown and remove from the oven to turn each over.
Return the slices to the oven and bake for another 5 minutes.
Remove from oven and set the biscotti on wire racks to cool.
Melt chocolate in the top of a double boiler over simmering water.
Remove chocolate from the heat.
With a fork, drizzle the chocolate over biscotti and/or dip the biscotti into the chocolate on one end of each.
Place the chocolate dipped or drizzled biscotti on wax or parchment paper and allow to set for about 30 minutes.
For Christmas, sprinkle your favorite red and green colored sugar or sprinkles on the warm chocolate.
For Easter or springtime, you can also choose to use pink, yellow, lavender, or green).
Store in an airtight container for up to one month or freeze them for later.
this recipe post was first published in 2012 and updated and reposted in 2021.
Do you enjoy La Bella Vita Cucina?
We'd love to have you as part of our community!
Click below to get the latest recipes, travel tips, and gardening ideas straight into your inbox!
.
.