Easy Strawberry Ricotta Scones – A Scottish Treat
During a recent trip to Scotland, I couldn't get enough of its classic national treat: Scones! Tender and delicious, scones are a traditional sweet pastry that originated in Scotland as far back as 1513. Through the centuries, scones morphed from 'termsgonn' (the Scottish and Gaelic word for 'cake'). Because scones don't have any yeast, they are more of a pastry than bread. Sweet or savory, studded with fruit or not, scones are simply a treat to enjoy!
Strawberry Ricotta Scones are flaky, tender, sweet, and generously filled with sweet strawberries captured in every bite. They're just perfect served with butter, clotted cream, and/or strawberry jam. When paired with your favorite brew of tea or coffee (or mimosa), these scones will transport you on a deliciously imaginative trip to Scotland. Just what I need while I go through withdrawal symptoms after experiencing such a beautiful country and people!
The food in Scotland is simply out of this world amazing! I don't even know where to begin letting you know about all of the food specialties that are of Scottish fame! Especially the scones! Served at every traditional afternoon tea, scones are an essential part of this British ritual. During our trip, we enjoyed scones at several afternoon teas. The flavors were just incredible!
Take a look at this lovely menu with 3-tiers of savories, sandwiches, and scones!
Scones are presented on the bottom tier (above)
Scones in Scotland are usually round and look just like biscuits in the U.S.
You don't have to fly to Scotland or drive to a local Starbucks or bakery to enjoy scones when you can make them in your own home kitchen. And you don't have to be some specially trained, expert baker either! Strawberry Ricotta Scones are so easy to prepare at home and so delicious, especially when they first come out of the oven fresh and warm. What's nice about making scones is that they are best made with a rustic, almost sloppy shape.
Here's another display of sweet baked treats (with the scones on the bottom again). These were enjoyed at the cafe on the grounds of Edinburgh Castle. Just look at the detail on the macaroons! Incredible!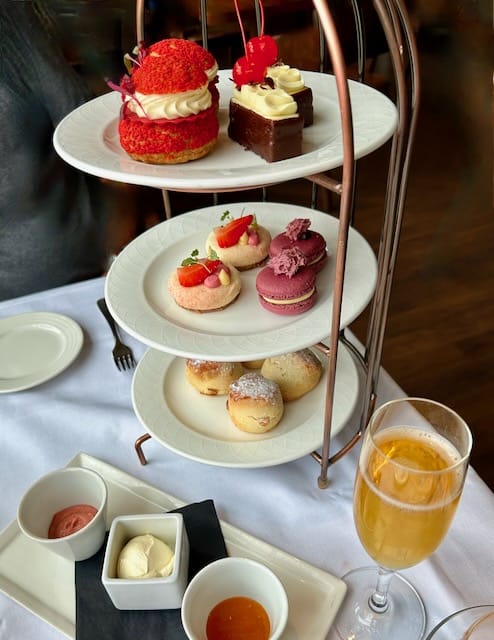 So let's get to the kitchen and do some scone baking!
Ingredients That You'll Need
Scroll down below to the printable recipe card for exact measurements.
For the Scone Dough:
Buttermilk – Don't use 't use low-fat milk as the added richness gives the perfect texture. Add more milk or heavy cream if the dough is too thick and you want a thinner consistency
Strawberries – Use fresh whenever possible, cut into small pieces. You'll need 12 oz. of diced strawberries plus any to garnish/decorate your serving dish. Dry them out a little in the oven, to prevent the juice from running through the dough.
Ricotta cheese – To create more tender, fluffy, and moist scones.
Cake flour – It's OK to use all-purpose flour, but cake flour makes scones more puffed up and light.
COLD, unsalted butter – Use cold butter either grated or cut into small ¼-inch pieces.
Baking powder – To give the scones plenty of lift and rise.
Baking soda – For the same effect.
Salt – Regular table salt is fine.
Egg – I use a jumbo-sized egg.
Vanilla extract
Lemon zest – Optional
Turbinado or Demerara sugar – Sprinkled on top of the scones before baking to create a crunchy, sweet crust. This is optional if you're watching your sugar intake.
For an Icing (optional)
Cream – half and half or heavy cream.
Powdered sugar
Vanilla extract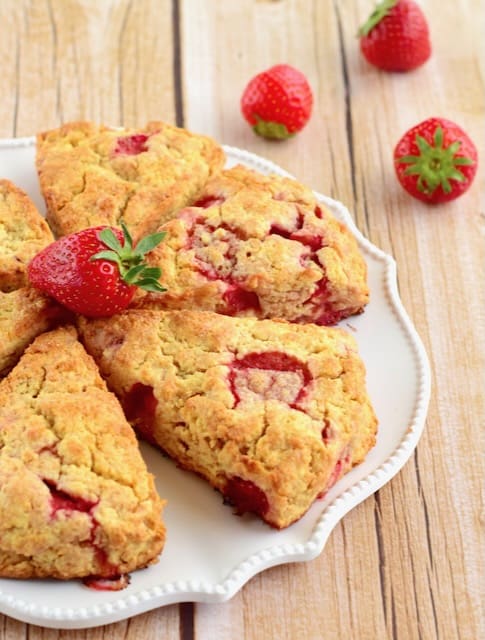 How To Make Strawberry Ricotta Scones
Gather all of your ingredients from your pantry and refrigerator.
Measure each and place in individual bowls. Place them in a convenient place around your workspace.
Clean your strawberries and remove the stems.
Cut up the strawberries in small chunks less than one inch in size.
Here's a SUPER, can't-be-missed step! Clean and cut your strawberries and place them on a baking sheet covered with a sheet of parchment paper. Place them in an oven heated to 250 F degrees for an hour and 20 minutes. This step is a well-kept secret to prevent the strawberry juice from seeping into the dough! Brilliant!
Preheat the oven 400 F degrees.
Prepare a baking sheet by placing a piece of parchment paper on the baking surface of the pan.
OK, let's begin and start the dough!
In a large mixing bowl, combine the cake flour, sugar, baking powder, baking soda, salt, and lemon zest (optional)
Add the grated (or cubed) cold butter to the dry mixture
With a pastry cutter, mix the butter into the dry ingredients. It should look like coarse lumps. Place it in the frig while mixing the wet ingredients.
In a smaller mixing bowl, whisk the buttermilk, ricotta cheese, egg, and vanilla together.
Whisk until completely blended . . . about 2 – 3 minutes.
Add the wet mixture to the clumpy dry ingredient mixture. It's best to add about ⅓ of the wet mixture to the dry ingredients and then using a pastry cutter to slowly mix it together. Then add another ⅓, blending into the dry ingredients. Finally, add the remaining third of the wet mixture, and mix well, but DO NOT OVERWORK the dough.
Once everything is all mixed together, stop mixing the dough
Add the strawberries to the dough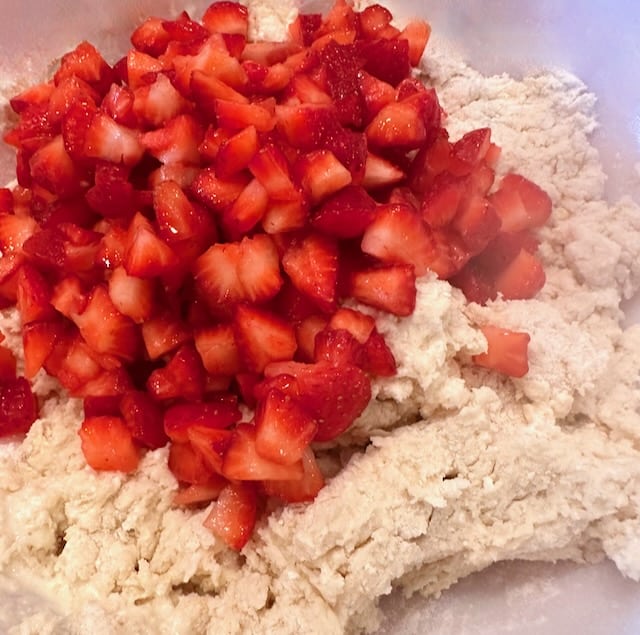 Gently and carefully mix in the strawberries. Again, do not overwork the dough. Shape the dough into a ball-like shape. It doesn't have to be perfect at this stage.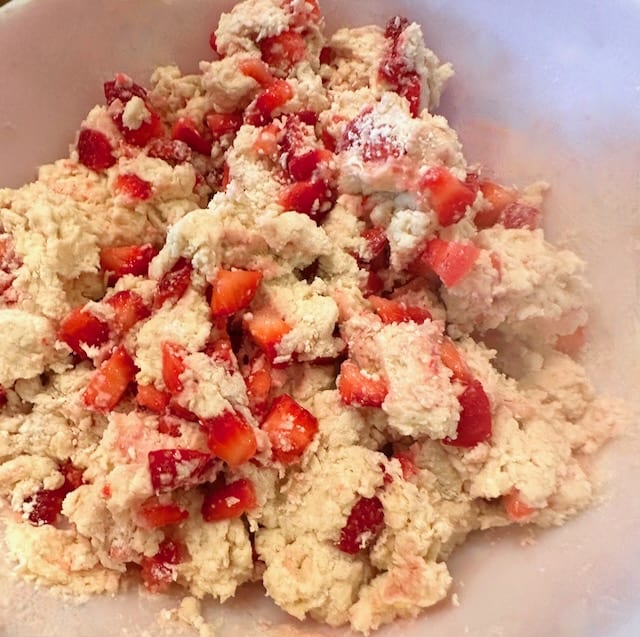 Place the ball-like dough on a lightly floured surface (I use a wooden board) and using your hands, pat it and shape the dough into an 8″ or 9″ circle about an inch thick. Again, this scone recipe does not require perfection in appearance.
Using a bench scraper or knife, cut the dough into 8 triangles.
After cutting the slices, carefully place them on a prepared baking dish about 2″ apart
Bake in a 400 F degree oven for about 25 minutes until they are golden brown.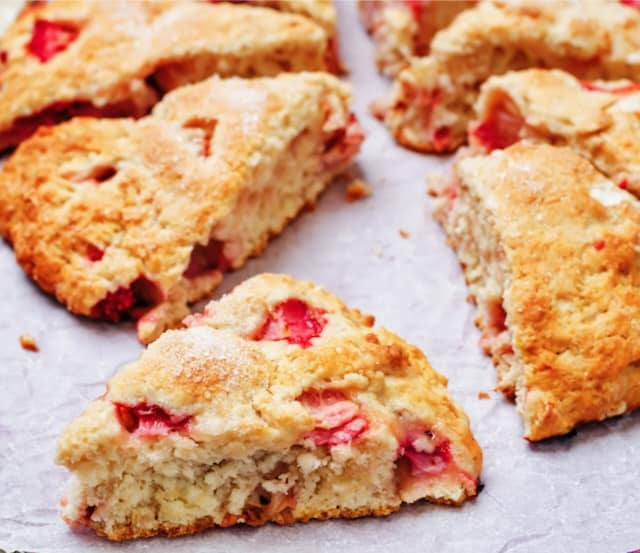 Buon Appetito!
Print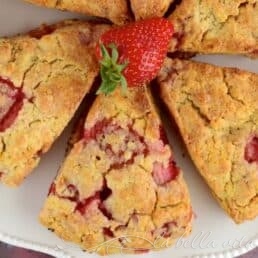 Strawberry Ricotta Scones – A Scottish Treat
Author:
Prep Time: 45 minutes
Cook Time: 25 minutes
Total Time: 1 hour 15 minute
Yield: 8 scones 1x
Category: Sweet Breads
Method: Bake
Cuisine: Scottish
---
Description
These scones are very tasty.  They have a lot of volume and height but are surprisingly light, soft, and puffy.  Pockets of strawberries and ricotta cheese peek out of the scone in multiple layers.  You'll love the crunchy, sugar topping.  Because they are lightly sweetened they're perfect served with sweet strawberry jam.   Serve with ricotta and soft butter.
---
For the Scones
2–2/3 cups cake flour
1/2 cup granulated sugar
2 teaspoons baking powder
1 tsp. baking soda
1/4 teaspoon salt
1 tsp. lemon zest (optional)
1/2 cup (8 Tbsp. or 1 stick) very cold unsalted butter, grated or cut into small pieces
1 cup buttermilk, chilled, and then divided in half.
3/4 cup ricotta cheese, strained and chilled in the refrigerator for 2 hours
1 jumbo egg
1–1/2 tsp. vanilla extract
1–1/2 cups of strawberries (12 oz.), cut into small pieces (fresh or frozen), tap-dried with paper towels
For the Simple Glaze
1/2 cup buttermilk
1/4 cup granulated or cake decorating (turbinado) sugar
For an Icing (Optional)
4 Tbsp. cream – use either half and half or heavy cream

2 cups Powdered sugar — add more or less for the consistency you like
1–1/2 teaspoons of pure vanilla extract
1 Tablespoon freshly grated lemon zest (optional)
---
Instructions
Place the cut-up strawberries on a baking sheet and bake/roast in a 250 F degree oven for 1 hour and 20 minutes — this perfectly removes the juice from the berries so that it doesn't seep all over the dough!  Set aside.
Preheat oven to 400 F degrees and cover a baking sheet with parchment paper.
In a large mixing bowl, whisk together the dry ingredients:  cake flour, sugar, baking powder, baking soda, salt, and lemon zest (optional).
Grate the frozen stick of butter using a box grater or cut up into small 1″ cubes.  Mix the grated butter flakes into the dry ingredients with a pastry cutter until the batter has various sizes of coarse clumps.  Place the scone dough into the fridge while whisking the wet ingredients together.
In a small bowl, whisk together ½ of the buttermilk (save the other 1/2 for brushing the scone tops) with the ricotta cheese, egg, and vanilla.  *Again, save the other ½ of the buttermilk to brush the top of the scones before baking.
Slowly mix this wet mixture into the dry ingredients, using ⅓ at a time.
Do not overwork the dough.  At first, the dough will feel a little wet and/or crumbly and then it turns into large clumps of dough.
With flour on your hands, form the dough into a round ball-like shape.  If you feel that the dough is too dry, add a tablespoon of buttermilk until the dough comes together.  
Place the dough ball on a lightly floured surface (I use a wooden board).  Pat it and shape it into an 8″ or 9″ circular disc shape, about 1″ thick.  
Place the entire dough circle in the FREEZER for 20 minutes.  This keeps the scones set and less likely to spread all over the baking sheet.
With either a knife or a bench scraper cut the dough into 8 triangles.  Place these on a prepared baking sheet about 2″ apart.
Glaze the scones before baking:  Brush the remaining buttermilk on the top of the scones.  Sprinkle turbinado sugar all over using the amount that you prefer.
Bake until golden brown, about 25 minutes.
Remove from the oven and allow the scones to cool a bit for 15 – 20 minutes.
Serve the scones warm with ricotta cheese, soft butter, and sweet strawberry jam.
If using the icing option, drizzle the icing randomly on the top of the scones.
Buon Appetito!
---
Notes
Recipe from:  Claire Saffitz
Keywords: scones, Scottish, tea, biscuits
The combination of the light and flaky scone with the bright sweetness of strawberries was a wonderful treat for spring!