Classic Italian Tomato and Cucumber Salad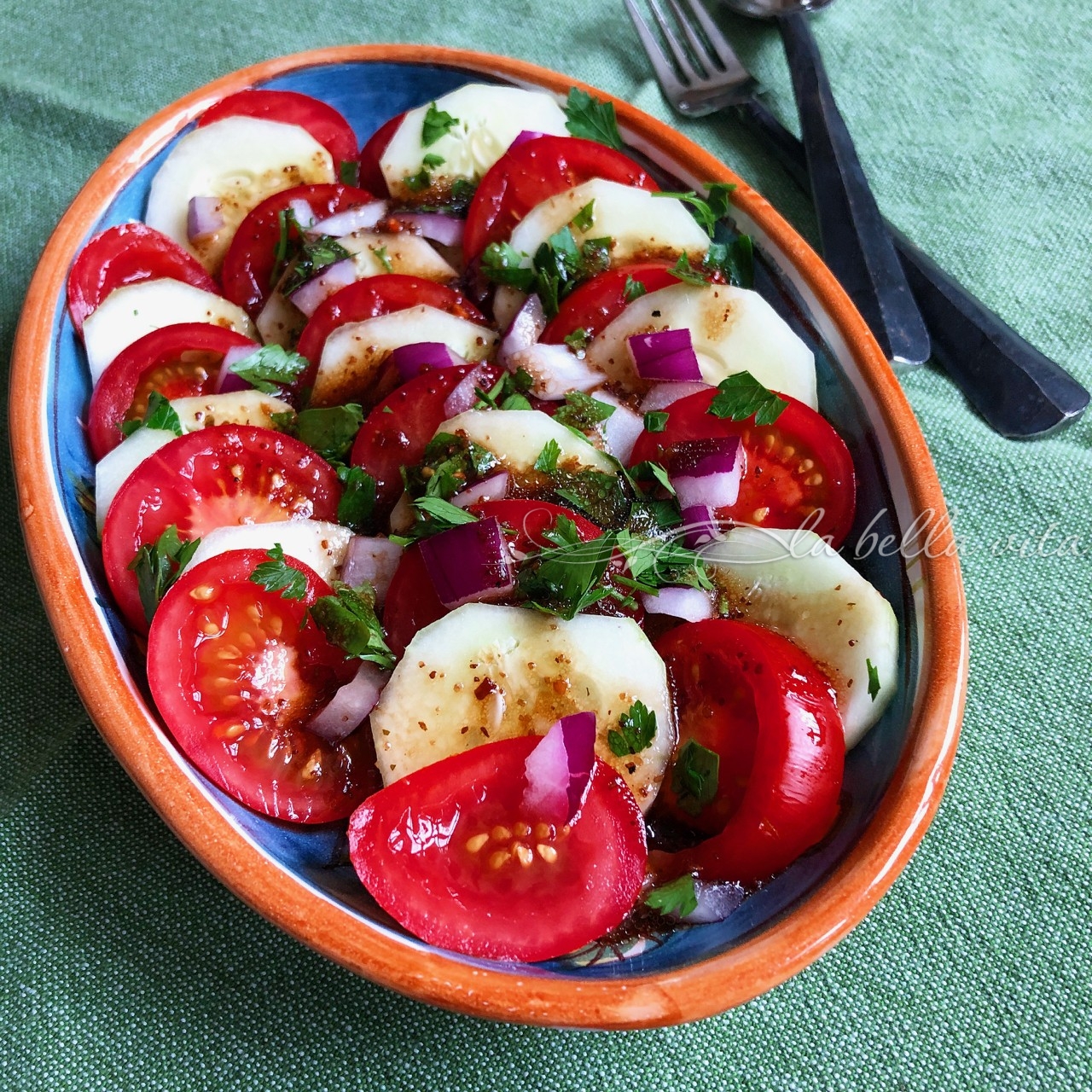 Every summer when tomatoes are at their peak of flavor and ripeness, my mother always made her classic Italian Tomato and Cucumber Salad.   Insalata di Pomodoro e Cetriolo, as it is called in Italian, always brings back memories of my mother in the kitchen preparing fresh vegetables into humble, simple, no-cook salad recipes.  Most of the time my mother just threw everything together.  But for this version today, I plated the tomatoes and cucumbers in a slightly more visually interesting and artful pattern.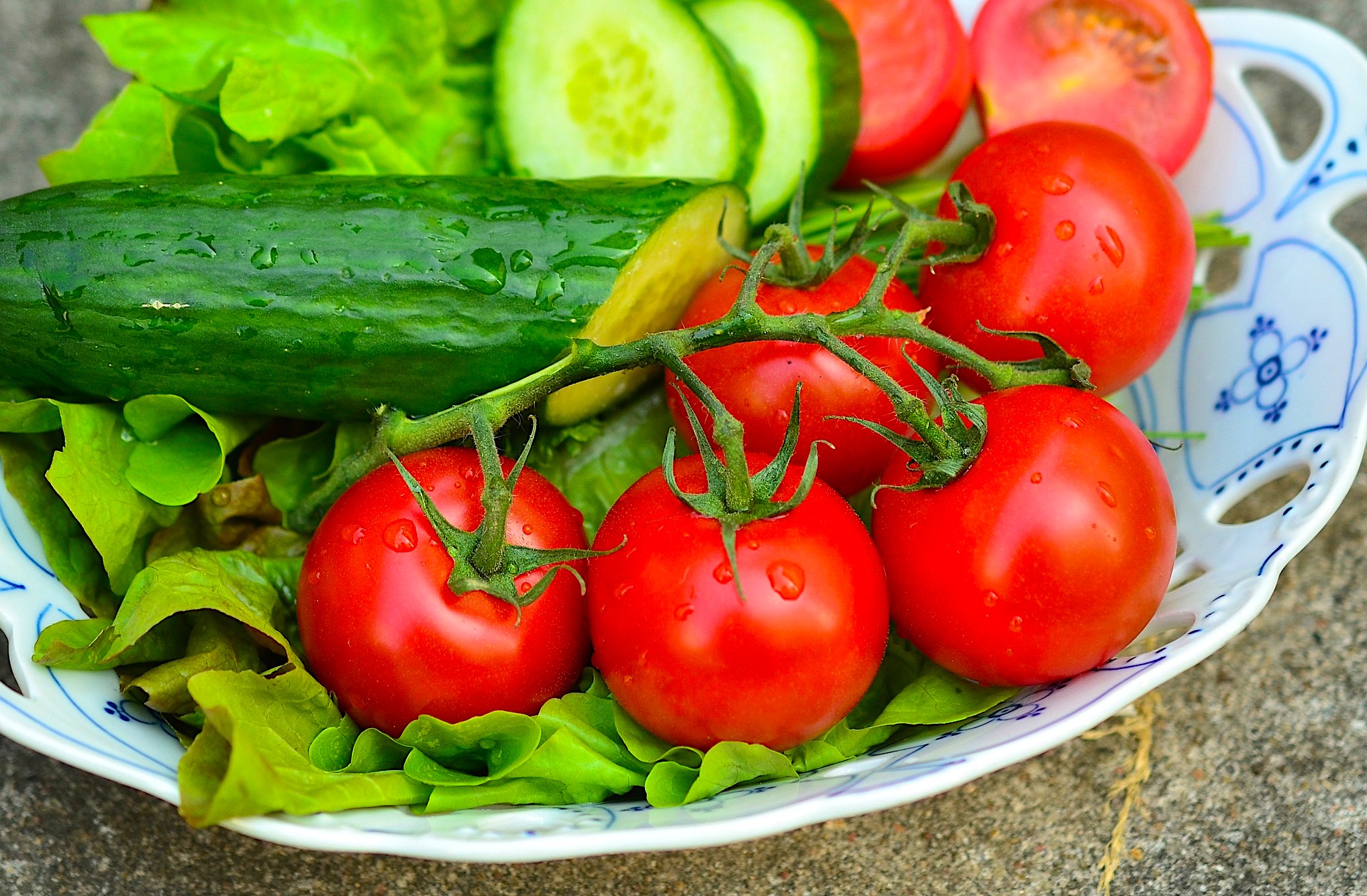 This is such an easy salad to prepare, you can make it in minutes!   But the secret to the best salads is to have the freshest and highest quality ingredients available to you.  The level of deliciousness of your salad is most dependent on the quality and ripeness of the tomatoes.  We prefer super-ripe pomodori!  They are at their juiciest when picked ripe as well.  And when the red wine vinegar -based vinaigrette blends with the fresh juice of the tomatoes, it's like an elixir that you could literally drink alone!  
Because we don't have super fresh tomatoes during the winter, my family waits patiently for summer's bounty from either our gardens or from the local farmers' market.   I have to be honest, I've never found any good tomato where we live after September and until the following July.  Those so-called hot-house tomatoes that you find in the supermarkets are not only tasteless, but they have the texture of rubber.  The only tomatoes that I purchase out of season are cherry tomatoes from San Marzano.  They suffice enough to use in salads.  But why they are the only imported tomatoes from Italy is beyond me . . . so sorry!  Let's all write to the international trade office of Italy and shout out loud together:  WE NEED FRESH ITALIAN TOMATOES!  
Hey, why not try at least?  🙂
Notes on Preparing Italian Tomato Salads:
Always dress Italian salads lightly, don't drown the vegetables in dressings/vinaigrettes as preferred by Americans.  The purpose of the dressed salad is simply to enhance the vegetable flavors and not cover them up.  Traditionally Italians use red wine vinegar with tomato and cucumber salads.  Sometimes add a splash of balsamico vinegar for a nice little punch of acidity.  The red wine vinegar really adds a bright accent to the salad versus using all balsamico.
Always allow your Italian salads to set for about 5 – 10 minutes so that the juices and veggies can marry or 'macerate'.   Don't overdo this or the acidity of the vinegar will turn your tomatoes to mush.
Use salt, but very carefully.  My family suffers from high blood pressure through my maternal lineage.  So although salt is crucial to bringing out the flavor of salads, we're very careful not to overdo it.  
My family enjoys freshly cracked black pepper, but it's optional.
This salad can easily be converted to a main meal for a light lunch or brunch by adding some delicious imported Italian tuna.  For dinner, serve this salad as a contorno (side dish).
There are additional ingredient options to choose from according to your preference that always add additional bold flavors notes.  Think about adding anchovies, capers, castelvetrano green olives, and balls or slices of buffalo mozzarella.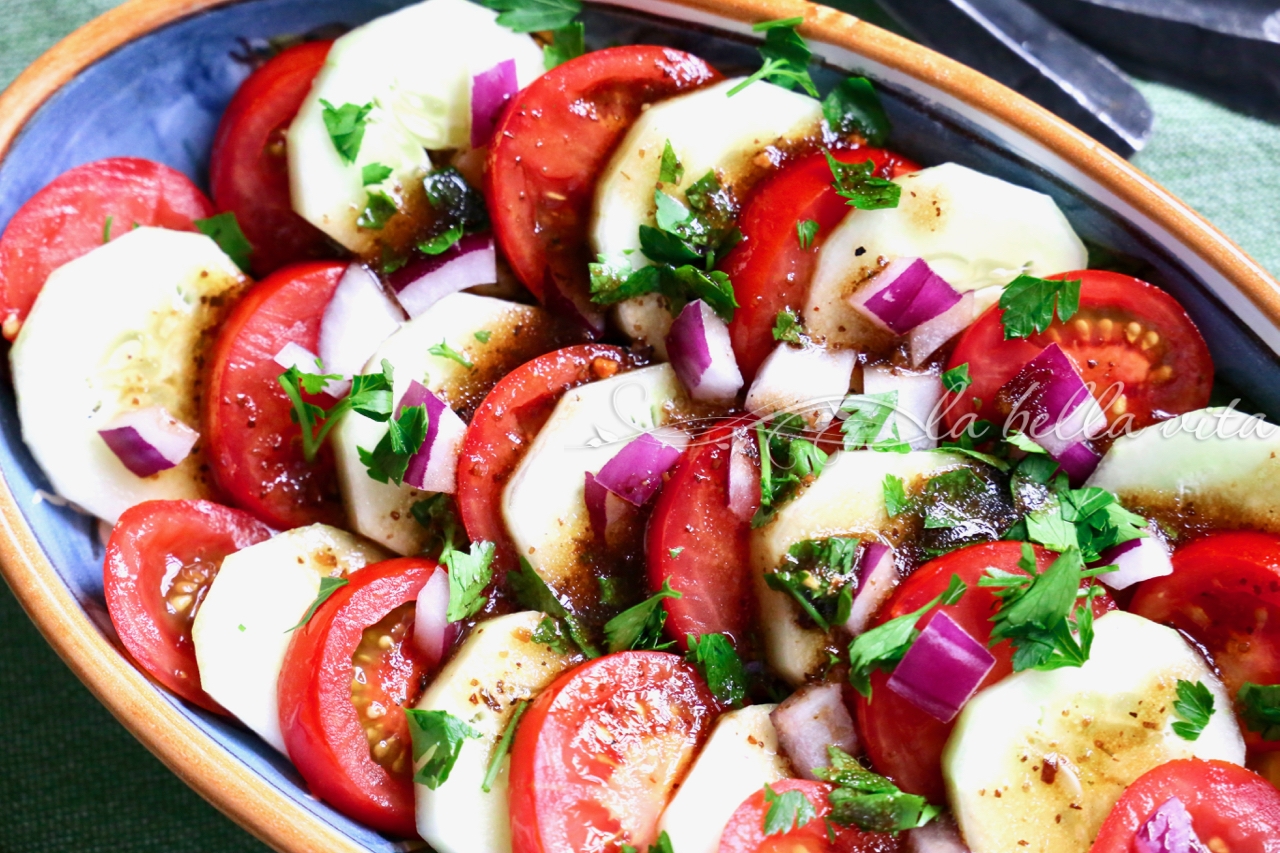 I hope that you enjoy this classic Italian Tomato & Cucumber Salad!
Please share the love and pin this vertical pin below:

Products that I use and I know that you'll enjoy:
(So wonderful that I have 2 of these to share with another cook when there are others in the kitchen with me).
Handmade Italian Ceramic Serving Platter
MORE Absolutely DELICIOUS, "ASK-FOR-SECONDS-GUARANTEED", Italian Tomato Salads on La Bella Vita Cucina in case you missed them from posts years ago!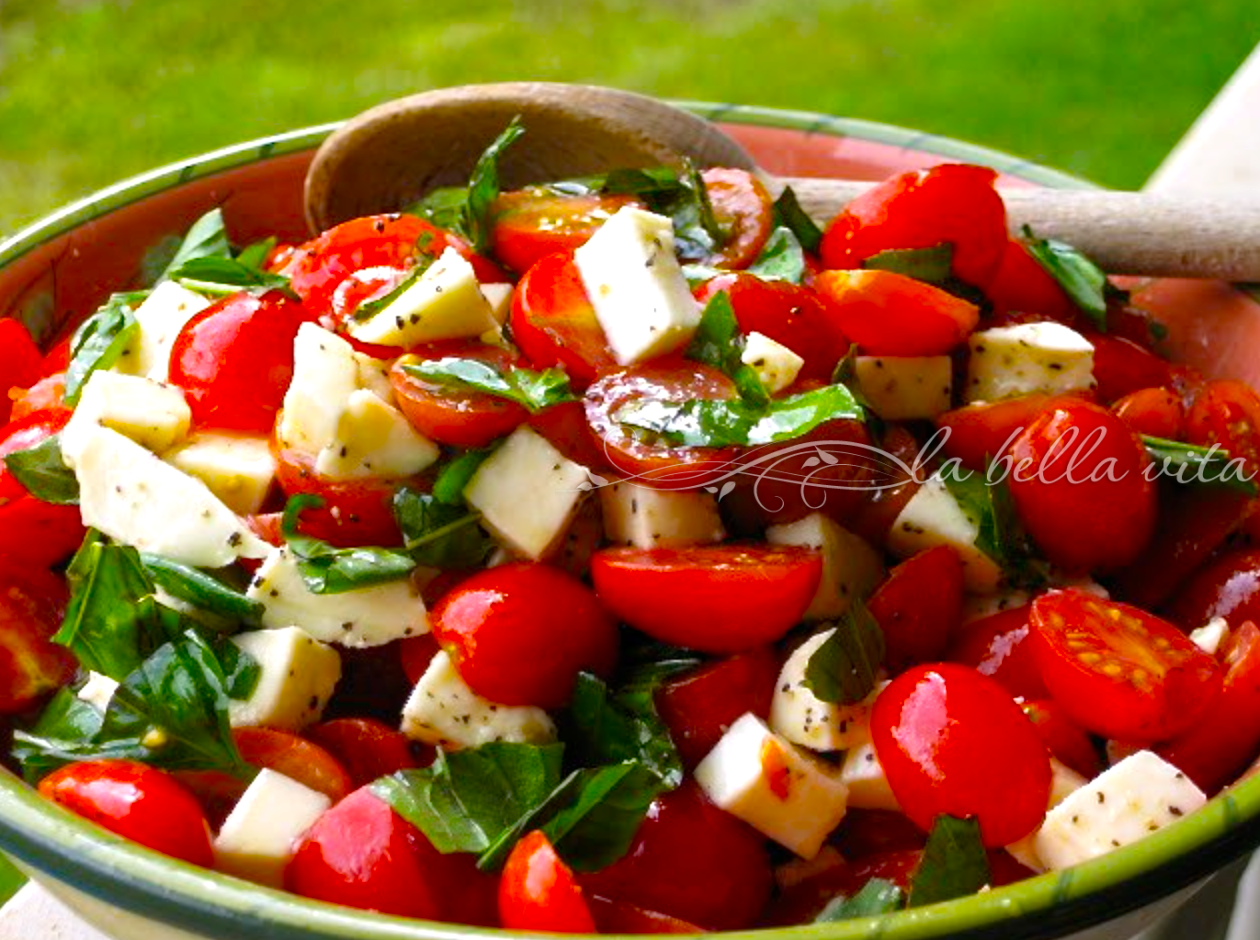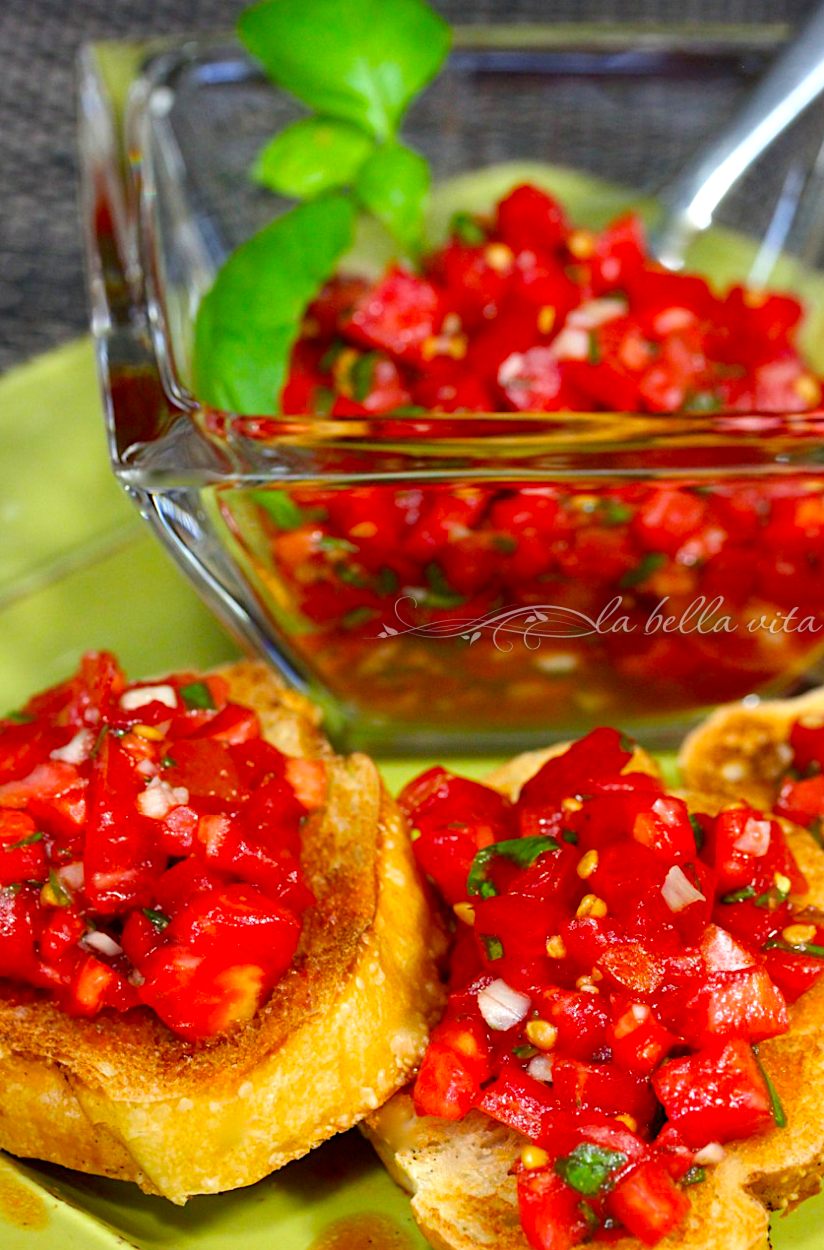 Print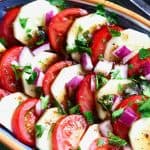 Classic Italian Tomato & Cucumber Salad
Author:
Prep Time: 15 minutes
Additional Time: 0 hours
Cook Time: 0 hours
Total Time: 15 minutes
Category: Vegetable Salads
---
4 – 6 fresh, ripe, firm tomatoes, sliced or quartered
1 – 2 cucumbers, peeled, sliced or quartered)
1 small red onion, diced
1/3 cup minced Italian parsley
6 Tbsp. olive oil
3 Tbsp. red wine vinegar (with a dash of balsamic vinegar, if you like) OR Good Seasons Italian dressing prepared according to package instructions
Freshly cracked sea salt & freshly cracked black pepper
---
Instructions
Slice the tomatoes and cucumbers as you prefer.
Either put them in a mixing bowl together or plate the tomatoes alternating with the cucumber slices.
Add the red onion and Italian parsley and any other optional ingredients that you prefer.
Either drizzle on 6 Tbsp of olive oil and 3 Tbsp. red wine vinegar OR Good Seasons Italian dressing, using just enough to coat the vegetables.
Season generously with freshly cracked sea salt and freshly cracked black pepper.
Add any other optional ingredient listed above or of your own choice.
Allow the salad to set and 'macerate' for 5 – 10 minutes.
Garnish with sprigs of fresh basil leaves if you like, or simply sprinkle more chopped parsley leaves.
Serve immediately.
---