Cherry Amaretto Crumble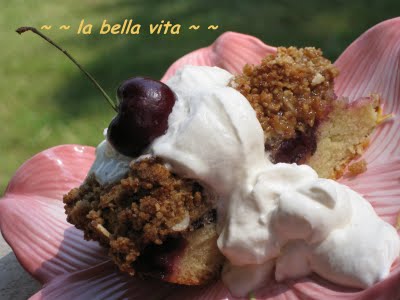 Oh Amaretto, sweet Amaretto! How wonderful you pair with cherries!
Those yummy little red darlings have been in season now for a month or two, so I had to make a dessert that I recently found in Cuisine at Home magazine. Thumbs up for this recipe, especially when warm right out of the oven.
.
I altered the recipe a bit, as I always do, to make it more personal. I SOAKED the cherries in 1 Tbsp. of Amaretto di Saronno (Italian almond liqueur) and 1 tsp. of almond extract while I made the crumble dessert. M-mmmmm! It proved to an extremely good addition!
.
Next, I made an Amaretto whipped cream topping by blending in some Amaretto diSaronno in the cream. I loved it! But W.D., who is my picky purist, made his own cream topping without any Amaretto. I tried it his way, and they are both very good . . . so it's your choice how you want to make the cream.
Cherry Amaretto Crumble
Ingredients
3/4 cup all-purpose flour
3/4 cup crushed Amaretti cookies
1 stick unsalted butter, softened
1/2 cup sliced or slivered almonds
1/3 cup packed brown sugar
For the cake/dessert
1-1/2 sticks unsalted butter, softened
3/4 cup sugar
1 tsp. vanilla extract
1-1/3 cups all-purpose flour
1/2 tsp. salt
1/4 tsp. baking powder
3 jumbo eggs
3 cups, pitted, dark sweet cherries
1 Tbsp. Amaretto di Saronno
1 tsp. almond extract
Whole cherries with stems, for garnish on top of whipped cream
For the Amaretto Cream
1 cup heavy whipping cream
1/4 cup sour cream* (do not add sour cream if you don't add Amaretto)
1/2 cup powdered sugar
1 – 2 Tbsp. Amaretto di Saronno
Instructions
FIRST, clean and pit the cherries.
Soak the clean cherries in the Amaretto liqueur and almond extract.
Let them remain in the marinade until time to prepare the cake batter.
To prepare the crumble topping (first)
Combine the flour, Amaretti cookie crumbs, butter, almonds, and brown sugar.
Mix gently until the mixture looks like coarse, little lumps about the size of a 'pea'.
Chill the topping while making the cake batter.
To make the cake batter
Preheat oven to 350 degrees.
Spray a deep pie pan (I used ceramic) with non-stick cooking spray (I used butter flavored). Set dish aside.
With a hand-held electric mixer, cream the butter and sugar together until mixture is light and fluffy.
Beat in vanilla extract.
In a separate bowl, mix in flour, salt, and baking powder.
Add these to the creamed mixture WHILE ALTERNATING with the eggs that are added one at a time and then adding a little more dry mixture . . . repeat until all is well mixed.
Spread the batter into the baking dish (it won't pour, it is very thick).
Place the cherries onto the cake batter.
Sprinkle the crumble topping evenly over the cherries.
Cover the crumble with aluminum foil (loosely) so the topping does not burn while baking.
Bake for 50 - 60 minutes until the top is golden and an inserted toothpick comes out clean.
Serve warm with Amaretto whipped cream or plain.*
Garnish with whole cherries with stems.
Notes
*Leave out the sour cream if you are not adding any Amaretto; it is used to thicken the whipping cream when Amaretto waters the cream down.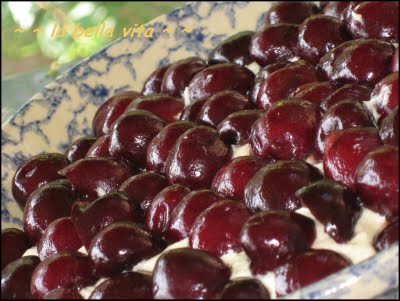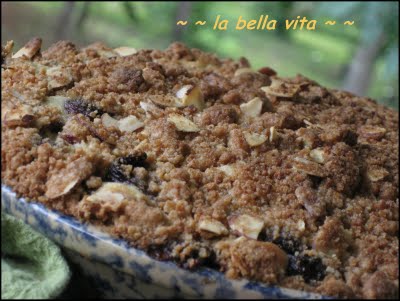 .