Lemon Garlic Salmon
This post is one of my originals when I first started to blog. You'll notice some very beginner photography that is part of my blogging journey (and so it remains on the blog to show how blogs can evolve over time).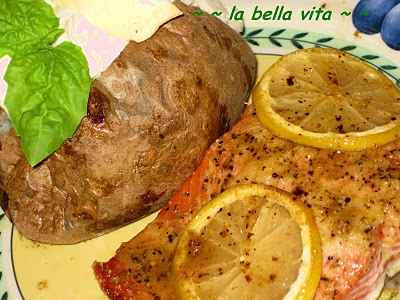 Lately, there has been a lot of discussion about the "super foods" that are recommended for us to increase in our daily lives. You know the oldies, but goldies of super foods: olive oil, garlic, almonds, tomatoes, avocados, blueberries, spinach, salmon, just to name a few. This year, there seems to be more chatter about Greek yogurt and several others. Well, it just so happens that my niece gave me one of Ina Gartner's Barefoot Contessa cookbooks (Back To Basics) for Christmas, in which she shared a creamy topping for baked potatoes using Greek yogurt. Hmmmm, I'd never thought of that and so I tried her recipe.
In Ina's recipe, she combines Greek yogurt with sour cream and chives in order to lighten it up. Sounds good to me, since I'm still trying to lose weight while eating delicious food. This is quite a challenge for me to achieve.
But what to prepare alongside the creamy topped potatoes? Well, don't forget . . . salmon is also on that super food list! So salmon baked in a lemony, garlic, olive oil sauce sang out to my heart to pair with Ina's potatoes. And it was both light, yummy, and oh so incredibly easy!
First, I want you to know that I went to Whole Foods to the fresh fish case and picked out the most gorgeous Wild Atlantic red salmon. The nutritionists have said that its best to use the 'wild' variety of salmon. Just look at these salmon fillets . . . unbelievable, intense color! They almost looks like ahi tuna!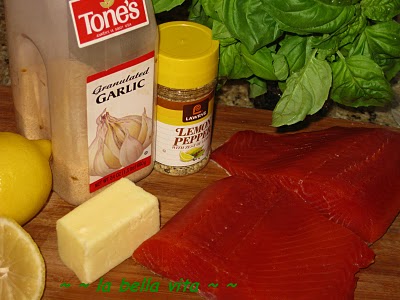 Now this isn't a recipe that I found anywhere, I've been making this for years now from ingredients that I always keep in my pantry and frig: olive oil, lemons, garlic powder, butter, and lemon pepper. That's it!
Lemon-Garlic Salmon
What you need to prepare the salmon:
juice from 1/4 lemon
2 tsp. garlic powder
1 tsp. lemon pepper
Several shakes of Mrs. Dash Table Blend (no salt)
2 Tbsp. butter
2 Tbsp. olive oil
2 salmon fillets
What you need to do to make the salmon:
Melt the butter and blend with the olive oil, lemon juice, and garlic powder.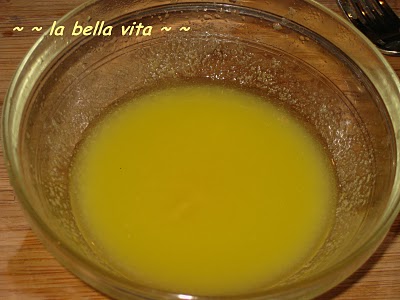 Gently drizzle the mixture over the salmon fillets.
Sprinkle the lemon pepper and Mrs. Dash Table Blend spices over the fillets.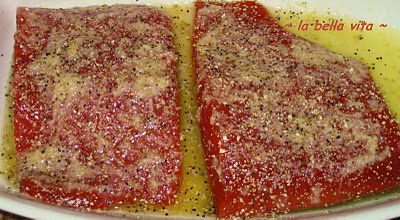 Cut up a few slices of lemon and lay them on top of the fillets.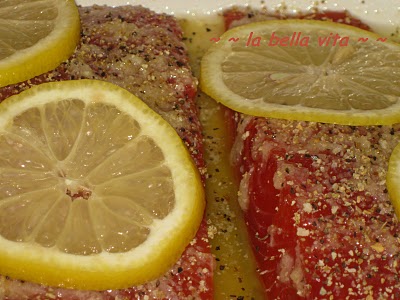 Such beautiful color and contrast!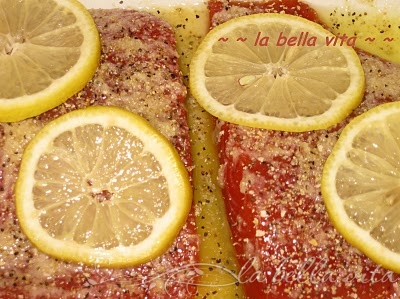 Bake in a 350 degree oven for about 15 – 20 minutes or until your preferred level of done-ness.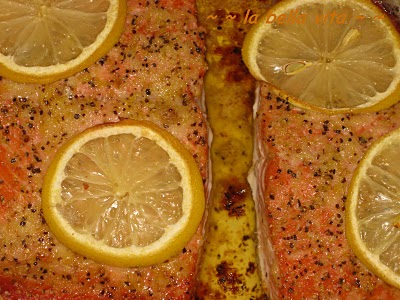 And now to make Barefoot Contessa's baked potatoes: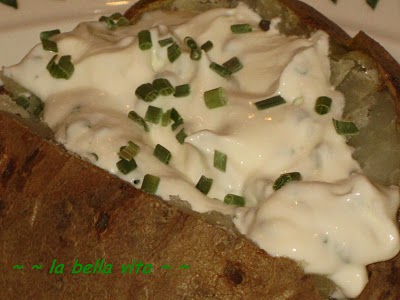 What you need to have and do for the potatoes:
1/2 cup Greek yogurt (low fat)
1/2 cup sour cream (I used regular, but you can also use low fat if you like)
2 Tbsp. chopped chives
salt and pepper
2 – 4 Idaho potatoes, scrubbed clean
Bake the potatoes for 45 minutes to an hour in a 400 degree oven or until soft.
Blend the yogurt, sour cream and chives together.
Add salt and pepper to your desired level and blend well
Top the potatoes with this mixture.
That's it!
Enjoy this really easy, tasty, flavorful, yet healthy entree and side dish!
.
.