The BEST Guacamole!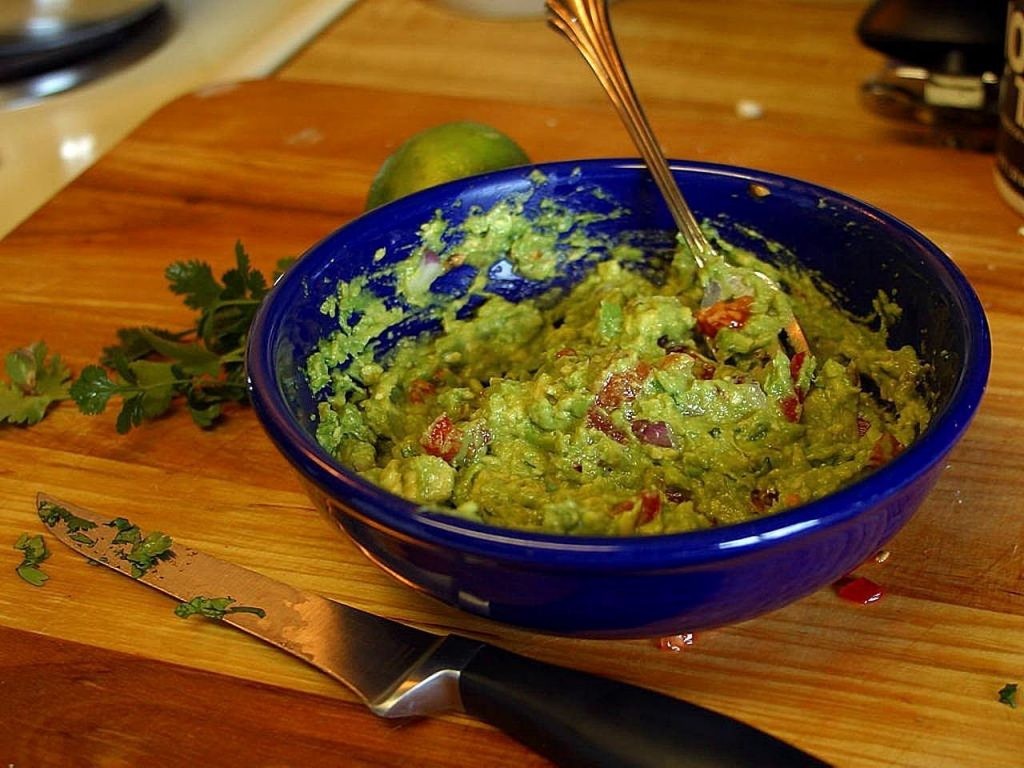 "ARE YOU READY FOR SOME FOOTBALL?"
Well, the big American football day is nearly here . . . and even though most folks are focused on the game, I know that I'm going to focus on preparing and presenting all of the food while W.D. sits in his "man-chair" with remote control in hand! (Yes, he helps, but I really like doing it all so he's just out of the way!)
.
First and foremost on our Super Bowl menu is ALWAYS, fresh guacamole! I have made this recipe for years now after trying numerous versions of the green stuff. Personally, I feel that this is just plum awesome. But we all have our own ways to make 'gwauk', and this is my humble little attempt of green bliss on a chip! Just look at these fresh avocados and limes that I picked up at the organic food store . . . incredibly beautiful colors!
.
.
Set out all of your ingredients at one time and set in your work area, so that your preparation time is more efficient. Just the colors of these avocados and limes make your mouth water! Gosh, fresh produce is just so beautiful!!
.
Start with slicing the avocados in half. With a knife pull out the pit. With a large spoon, in one large scoop, take out all of the pulp from the peel. It should look like this (below):
Then slice and dice the avocados and place in a bowl . . . these are absolutely PERFECT!
Take the lime and cut in half to . . . .
squeeze the juice (with the help of a teaspoon pressing into the lime) onto the avocados.
Dice the onion, tomatoes, and jalapeno peppers . . .
Chop the cilantro into tiny pieces . . .
Then put all of the chopped and diced ingredients together in a medium bowl.
Add chopped jalapeno peppers.
Add salt and pepper to taste.
Add cayenne pepper (if desired).
Mash it to your preference level. We like ours chunky and not blended, but it is totally up to you.
Garnish with more chopped tomatoes and cilantro and start digging in. Watch this stuff disappear FAST!
And this recipe is JUST the beginning . . . there's more to come, so stay tuned!
I know that I'm going to be checking in on all of your blogs to see what you're cooking up for the big game day!
.
Ingredients
3 large ripe Haas avocados, peeled and cubed
3 Roma tomatoes, seeded and chopped
1/2 small onion, chopped
1 jalapeno pepper, seeded and chopped
3 tablespoons minced fresh cilantro
1/4 cup lime juice salt to taste Cayenne pepper (if desired)
Instructions
In a large bowl place the scooped avocado pulp and lime juice, toss to coat. Drain, and reserve the lime juice, after all of the avocados have been coated.
Add the salt and mash.
Fold in the onions, tomatoes, jalapeno peppers, and cilantro.
Add 1/2 tablespoon of the reserved lime juice.
Taste and add any ingredient to your taste preferences.
Serve immediately with tortilla chips.
When cutting or seeding hot peppers, use rubber or plastic gloves to protect your hands.
And avoid touching your face.