Cheesy Southern Pimento Cheese Burgers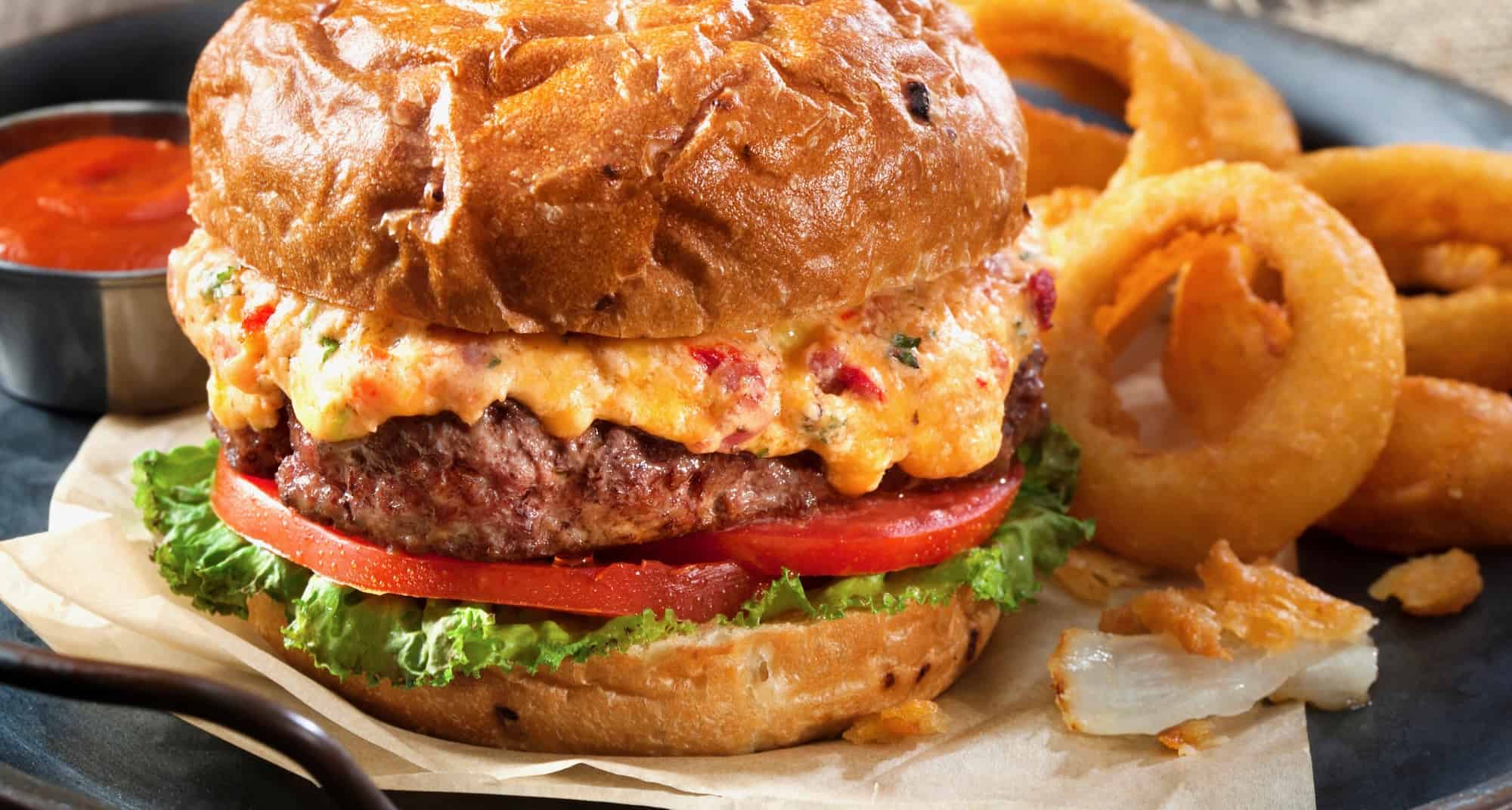 Pimento Cheese Burgers all garnished up and ready to devour just moments ago!
.
Before my family and I moved to the Southern region of the U.S. I had already fallen in love with Southern cooking through the hundreds of mouth-watering recipes that I read from my subscription to Southern Living magazine. In many of those recipes, I would come across an ingredient that was simply impossible to find in the Midwest: Pimento Cheese!
.
This brilliant orange colored stuff is created with extra-sharp cheddar cheese, chopped pimentos, mayonnaise, and other ingredients that folks differ on whether or not to include (I provide several options for you in the recipe below). After moving here, I found this incredibly tasting, yet very fattening whipped cheese everywhere! Southern cooks even have their own prized secret family recipes! Many a Southern mama would curse any family member for giving away their treasured recipe, no matter HOW politely you may ask!
..
And in South Carolina, in the middle of the state, in the capital city of Columbia, is a classic hamburger that is served using this golden cheese spread: Pimento Cheese Burgers! This unique hamburger has even been given the title of the city's "national food". As a pimento cheese addict, I had to try this Southern burger, no matter how bad it is for my cholesterol level (which is low by the way!). Trust me, you'll be begging for more too!
.
Print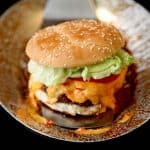 Cheesy Southern Pimento Cheese Burgers
Author:
Prep Time: 0 hours
Additional Time: 0 hours
Cook Time: 0 hours
Total Time: 0 hours
---
For The Pimento Cheese spread
1–1/2 cups finely grated, extra-sharp Cheddar Cheese (Boar's Head Vermont Extra Sharp Cheddar is our favorite)
1/4 to 1/3 cup mayonnaise (Hellman's is preferred in this area)
(note: although we love Miracle Whip, this recipe needs a simple, pure mayo and not a salad dressing such as M.W. that is gloriously spiced)
2 Tbsp. cream cheese
2 to 3 Tbsp. chopped/diced jarred pimentos, drained
The following are options to add to the cheese spread according to your taste preferences
1/2 tsp. dry mustard
1 Tbsp. diced onion
crushed red pepper flakes, to taste
1/8 cayenne pepper, to taste
For the Burgers
1 pound ground sirloin
1 pound ground chuck
Sprinkle the following to your taste preferences
Sea salt or kosher salt
Freshly ground black pepper
Mrs. Dash Grilling Seasoning for Steak
Accent
Nature's Seasons
Large hamburger buns (Kaiser rolls work well)
---
Instructions
Prepare the Pimento Cheese spread
Mix all the ingredients together, either by hand or in a food processor.
Place in the refrigerator to chill and allow the flavors to blend well until ready to use.
Prepare the Burgers
Form the burger patties and press a nice 'well' on top of each where you put the pimento cheese.
With a large spoon or tablespoon put a nice sized dollop of pimento cheese in each well on top of the meat patties.
Pull the sides of the ground meat up and around the cheese as best as possible, sort of like the sides of a bowl.
Form another thin meat patty and place it on top.
With your fingers, tightly seal the two layers of meat patties so that the cheese will stay contained within when grilled.
Sprinkle the burgers with your favorite seasons (mine are listed above) and plenty of salt.
Grill for at least 5 minutes on each side.
These big boys need to cook through due to their size!
Garnish options
Lettuce leaves
Sliced tomatoes
Sliced onions
Cooked thick-sliced bacon
Mayonnaise
Mustard
Ketchup
---
Kettle potato chips and baked beans make great sides to accompany these pimento cheese burgers!