Fried Green Tomatoes with Marinara Sauce and Mozzarella
.
Here in the Southern region of the U.S. is a very well-known, beloved classic recipe: Fried Green Tomatoes!
This dish is so famously known that even Hollywood produced a movie called "Fried Green Tomatoes At The Whistle Stop Cafe". But did you know that similar recipes are prepared in other parts of the world wherever tomatoes grow?
Absolutely! In fact there is even an Italian version that makes some substantial changes: using Italian herb-seasoned bread crumbs instead of flour and/or cornmeal, the addition of freshly grated parmesan cheese and minced garlic instead of cayenne pepper, and the use of light olive oil for frying instead of vegetable/canola oil.
For the entree version that I've prepared, I ladle a yummy home-made marinara sauce over the fried green tomatoes, sprinkle them with oozy-gooey Italian cheese, and then bake everything. Think Eggplant Parmiggiano, but using fried green tomatoes instead of eggplant!
The recipes for Southern fried green tomatoes are numerous to say the least. Some cooks use the double-dipping method of egg and/or milk mixture first and then dry breading next. Others use the one dip procedure using a moist batter method of egg and/or milk mixture blended together with the dry ingredients of flour or cornmeal (similar to the batter fused for fried fish and/or onion rings). I happen to like both methods, but for this recipe, I use the double-dip process.
.
Look at this huge tomato . . . it's a "Big Boy" variety that truly is as a big as a beefsteak right now!
You can use whatever tomato variety that you like or that is available, as long as they are not ripe. Little "Sweet 100" cherry tomatoes are devoured as finger food/appetizers that can be dipped into a great marinara sauce. For side dishes, it is best to use mid-sized tomatoes that are about 2-1/2 to 3-1/2 inches thick. And for entrees, you can use huge "Beefsteak" tomatoes. Just know that whatever type of tomato you use, it has to truly be 'green' and unripe! At this stage in their growth, tomatoes are more firm which lends them to holding up better in the battering and frying process. Any point later in their ripeness will produce a mushy, soft, and often broken-up fried tomato . . . and you don't want that to happen!
.
Here are my little green, unripe 'Sweet 100' cherry tomatoes. They are just beginning to turn to ripe, red tomatoes which we like to pick straight off the vine and PLOP into our mouths for the warmest and sweetest summer treat. We even catch our dogs picking and eating them! Now that proves how good these are!
.
Pick the unripe green tomatoes of your choice. These are the perfect 2-1/2 to 3-1/2″ size!
Slice the tomatoes into ⅓ to 1/2″ slices.
.Just look at these brilliantly colored green beauties! Incredible color from Mother Nature in the garden!
.I use the double-dipping method for this Italian version of fried green tomatoes:
Egg and buttermilk for the (wet) batter mixture and the seasoned breadcrumbs, garlic, and parmesan for the (dry) breading mixture.
.Dip sliced tomatoes into the wet batter (using a fork keeps your hands clean).
.
Then dip the battered tomato slices into the breading dry mixture. With the fork, pat the breading more firmly onto the tomatoes.
.
Place the tomatoes into the hot olive oil and cook for less than one minute or they will be too brown. This little guy looks just perfect in color!
.Place several layers of the fried green tomatoes in a baking pan as shown above.
.Ladle or pour marinara sauce to your desired amount all over the top of the tomatoes.
Generously sprinkle finely shredded mozzarella cheese over the sauce.
Sprinkle 1 – 2 Tbsp. freshly grated Parmesan cheese all over the mozzarella.
.
Bake for 30 – 40 minutes in a 350 degree oven. This is the result of 30 minutes of baking time.
All golden and smelling so divine!
.
Here's a peek at those green tomatoes inside!
.
Oh my goodness, I wish I could share this with you through your computer screen . . . this is ten thousand times better than mushy eggplant parmigiana!
I'm ready to take a bite into this goodness and my husband is screaming for it too!
Print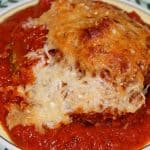 Fried Green Tomatoes with Marinara Sauce and Mozzarella
Author:
Prep Time: 0 hours
Additional Time: 0 hours
Cook Time: 0 hours
Total Time: 0 hours
---
3 to 4 medium-sized unripe green tomatoes (2–1/2 to 3–1/2 inches wide)
2 Jumbo Eggs
1/2 cup whole Buttermilk
1 cup Italian herb-seasoned bread crumbs
3 Tbsp. freshly grated Parmesan cheese
2 Tbsp freshly minced garlic
2 – 3 cups light Olive Oil (whatever it takes to have 2″ of oil in the pan)
Freshly ground Sea Salt
Freshly ground Black Pepper
Marinara Sauce (preferably homemade)
Freshly grated Mozzarella cheese (or blend your favorite Italian cheeses: Pecorina-Romano, Fontina, Provolone, etc.)
---
Instructions
From the garden (or local Farmers' Market) select your green tomatoes.
Wash them with clean water and cut off the green stem tops.
Slice into 1/3″ thick pieces (we like ours thicker than the traditional 1/4″ thickness).
Sprinkle the tomato slices with salt and pepper.
In a shallow, wide bowl beat together eggs and buttermilk.
In another shallow, wide bowl mix the Italian-seasoned breadcrumbs, Parmesan cheese, garlic, salt and pepper.
In a large, heavy frying pan (I use cast iron) heat 2 inches of the olive oil on medium high.
Begin dipping the tomatoes into the egg mixture first and then into the breading mixture (using a fork keeps your hands clean! )
Place tomatoes as they are breaded onto another clean plate to take to the stove for frying in the pan.
Gently slide tomatoes into the hot oil.
Fry each side until golden brown.
Salt and pepper to taste and serve at this point or proceed to the next level as an entree!
Place in a baking dish and pour fresh, home-made Italian Marinara Sauce (recipe another day).
Sprinkle freshly grated Mozzarella cheese (or a blend of Italian cheeses of your choice) on top.
Sprinkle another tablespoon of Parmesan cheese on top.
In a 350 degree oven, bake for 30 to 40 minutes.
---
ENJOY!
Here's another superb and delicious recipe:
Fried Green Tomatoes with Garlic, Bacon and Buttermilk Sauce!
Here's a fresh, delicious and simple Marinara Sauce recipe for you too!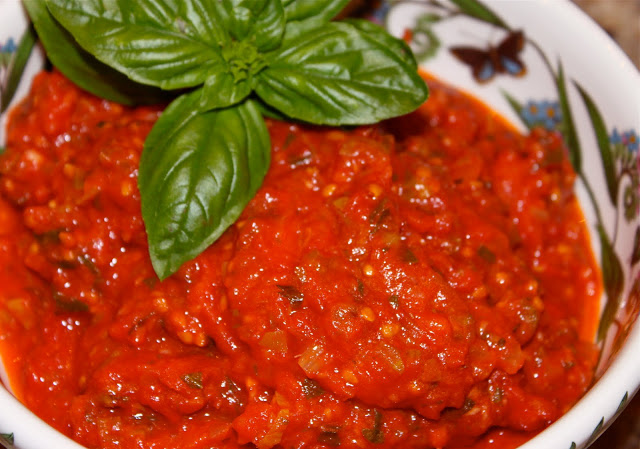 .

Fried Green Tomatoes In Marinara Sauce and Mozzarella Cheese
.