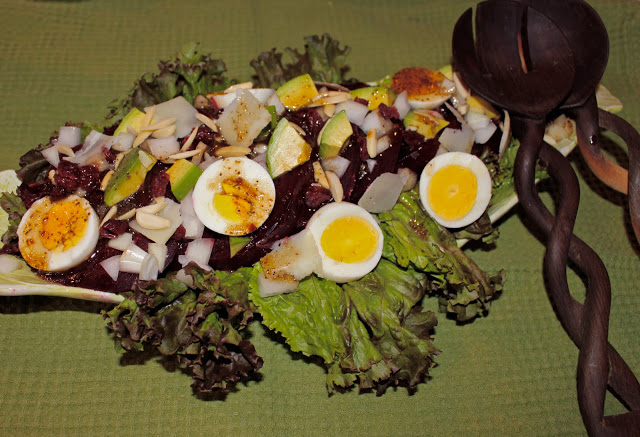 I just love sweet beets! My mother used to toss them with diced onions in a simple Italian vinaigrette when I was growing up. She knew how much I loved beets prepared that way so much, that after I left home as an adult, she would always have a large bowl waiting for me when I would come home to visit. That recipe was posted back on June 29, '09.
Beets were on my mind again lately, and so while I was at Whole Foods fresh produce department this week, my eyes honed in on the largest beets that I ever seen in my life! Just look below at the photo where I show the difference between one huge beet from Whole Foods on the right, compared to the beet in the center that I purchased from Wal-Mart today, and a jumbo cage-free egg on the left. I normally would not have bought beets from W-M, but I wanted to show just how large these beets are! I only bought three of them and they made a salad that will last all week long!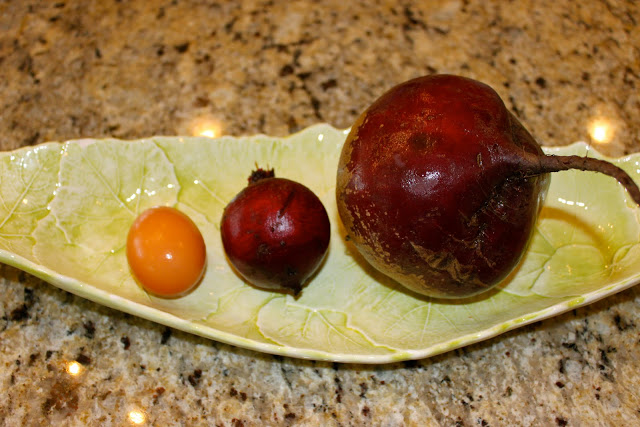 Upon purchasing these big red beauties, I had every intention to make my mother's simple Italian beet salad, but while at the market, I also picked up some perfectly ripe Haas avocados, Manchego cheese, and fresh eggs.
After unpacking all of this beautiful fresh produce, I felt like jazzing up my mother's salad just a bit. The recipe follows. But, the truth is, I still love that old recipe so much that I used half of these beets to make my mother's original Italian beet salad recipe.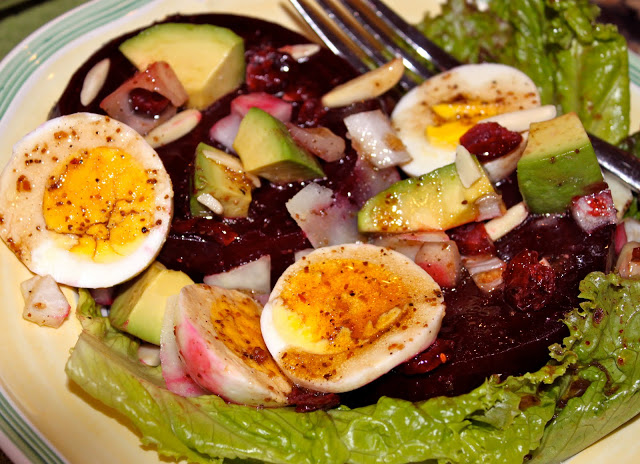 Just gorgeous colors of ruby red, green, yellow, and white in this vegetable salad!
Print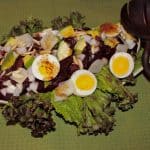 Beet Salad with Avocados and Manchego Cheese
---
Scale
Ingredients
3

large Beets (or

1

regular sized 'batch'), cooked in boiling water, cut into large slices or pieces

1

large sweet Onion, chopped

1

ripe Haas Avocado, peeled and chopped into cubes

3

jumbo cage-free Eggs, boiled, peeled, and sliced

1/2 cup

dried sweet Cranberries

1/2 cup

slivered Almonds

1/2 cup

slivered Manchego cheese
Red-leaf Lettuce, cleaned and whole leaves pulled off, do not tear up into pieces
Salt and Pepper to taste
For the Vinaigrette
1/4 cup

Balsamic Vinegar

3 Tbsp

s. chopped Onions

1/3 cup

extra-virgin Olive Oil

1 Tbsp

. Italian Seasoning or

1

packet Good Seasons Italian Dressing
---
Instructions
Bring water to a boil in a very large, deep heavy pot.
Place the beets in the hot water and boil until a fork can be easily inserted into the center.
Remove the cooked beets from the water to cool.
Peel and remove both ends.
Slice into very thick slices.
Place the lettuce on a platter for a base for the remaining ingredients.
Spread a layer of the thickly cut beets on top of lettuce.
Place the chopped avocados, onions, sliced eggs, dried cranberries, slivered almonds and slivers of Manchego cheese.
Drizzle the vinaigrette over the salad.
Salt and pepper to desired preference.
Serve with some beautiful artisan bread.
---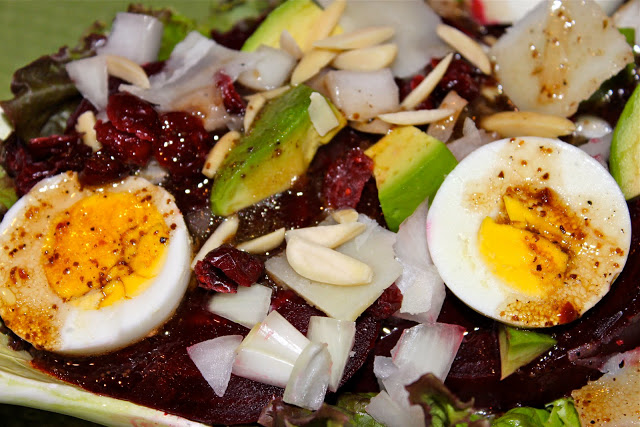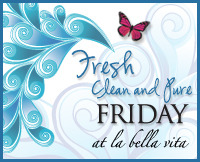 Beet and Avocado Salad With Manchego Cheese

.
.