Happy 100th Birthday Julia . . . Steak Diane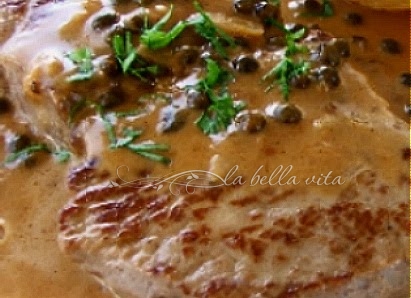 In honor of Julia Child's birthday (would have been 100 years old today), I am reposting for my newest readers, this post about the first recipe that I ever made from Ms. Child, originally posted in the earlier days of this blog on in September, 2009. This post has been read over 8,500 times via Google! It's a super-winner classic in my family that never ever fails to please. Bon Appetit!
If you're looking for a fast, but impressive dinner for either you and your sweetie or for your guests, Steak Diane is a real winner. It is so good AND so easy that my kids made it (with some supervision) for their dates before they would go to a school dance in high school. One of the beauties of Steak Diane is that you can do all of the prepping before guests come to your house, have appetizers and cocktails with them (instead of being stuck in the kitchen), and THEN quickly saute the steaks and SERVE!
The only changes I made to Ms. Julia's respected recipe is: I added more garlic! Sometimes, I'll also saute sliced mushrooms in butter and throw those in the sauce, but this time, I didn't want another trip to the store to get the mushrooms! So you decide. Some recipes even add a little bit of cream, which sounds wonderful to me, although I've never added it…..just kept to Julia's recipe plus my addition of garlic.
So in honor of the book and movie about her life, I prepared Steak Diane, the first recipe of hers that I ever made and from her Julia Child & Company cookbook series.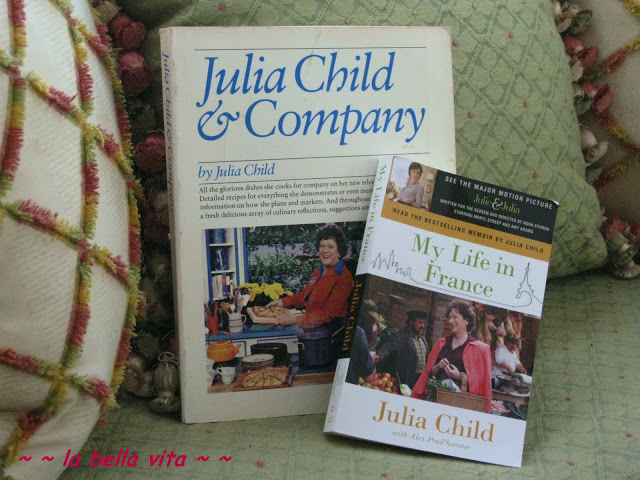 You can still see all of the spill stains and notes on my cookbook below!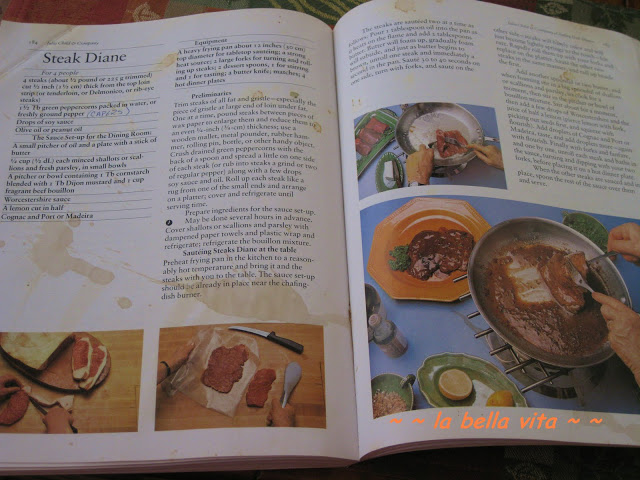 Print
Steak Diane
Author:
Prep Time: 0 hours
Additional Time: 0 hours
Cook Time: 0 hours
Total Time: 0 hours
---
4 .8-oz steaks, cut 1/2″ thick (use filet mignon/tenderloin, New York strip or rib-eyes)
1–1/2 Tbsp. capers OR green peppercorns packed in water, drained
a couple drops of soy sauce
olive oil
For placing on the side of the stove area, put all of the following on a tray or platter; place them in the refrigerator and when ready to begin cooking, take this tray/platter of ingredients directly to the stove area
1 Tbsp. canola or olive oil (if you use olive oil, do not heat too high or you'll burn it)
1 stick of butter
1/4 cup minced scallions
1/4 cup chopped fresh parsley
1 – 2 Tbsp. fresh, chopped garlic
a small bowl containing a blend of: 1 Tbsp. cornstarch blended with 1 Tbsp. Dijon mustard and 1 cup of fragrant beef bouillon
parsley for garnish
Also ahead of time, place on the side of the stove
a bottle of Worcestershire sauce
Half of a lemon
Cognac
Port or Madeira
Also have ready by the stove
12" frying pan
2 large forks for turning and rolling up the steaks
2 large spoons (one for the sauce stirring, and one for tasting only — no double dipping)
a butter knife
---
Instructions
Ahead of time
Trim all of the steaks of fat and gristle.
With a meat mallet, pound steaks to slightly enlarge and tenderize them; don't make very thin.
Crush the drained peppercorns with the back of a spoon.
Spread a little on one side of each steak.
Add one drop of soy sauce and olive oil on that same side of the steak.
With the forks, roll up each steak and place on a platter.
Cover and refrigerate until cooking time.
These only take a few minutes to cook, not hours!
So just when you're ready to cook the steaks
Make sure that the side of the stove has everything set up and ready within easy reach.
Preheat the frying pan to a reasonably hot temperature.
Pour 1 Tbsp. of oil into the pan with 2 Tbsp of butter.
Butter will foam up and then subside.
Just as the butter begins to brown, unroll 2 steaks and immediately place in the pan.
Saute' for 30 – 40 SECONDS on one side.
With the forks, flip and saute' the other sides of the 2 steaks.
The steaks will barely have a color and will become slightly springy to the tough — for RARE.
Don't overcook these little things!
Quickly roll the steaks back up with the forks and replace on the platter (or a warm platter, since the original platter was chilled).
Continue to saute the remaining steaks, 2 at a time, with the same amount of oil and butter as before.
Continue to roll them back up and place on the platter.
When finished sauteing the steaks, add 2 large spoonfuls of butter into the pan.
When butter foams, stir in a 1/4 cups of scallions and parsley.
Cook for one minute.
Add the garlic.
Stir in the bouillon.
Stir for one minute.
Add a few drops of Worcestershire sauce.
Squeeze a small amount of juice from the 1/2 lemon.
Add one drop of cognac.
Add one drop of Port or Madeira.
Throw in about another Tbsp or two of capers or green peppercorns to float around in the sauce.
With the forks, one by one, unroll each steak and bathe them in the bubbling sauce for about one minute, turning and dipping with your forks.
Place immediately on warm dinner plates.
Spoon sauce over them.
Garnish with parsley.
---
Notes
Serve with your favorite vegetable: I prefer asparagus and Dauphinous Potatoes (you can find the recipe via the search box on this blog and it will appear).
Don't let all of these ingredients scare you! Seriously, my kids made this in high school for their dates.
It's all about having everything done ahead of time and placed right next to the stove when you're ready to cook.
These steaks are literally on your table in less then 5 minutes!
So there you have it: Straight from the French Chef, Julia Child with a little extra garlic from me!
So there you have it! Straight from the French Chef, Julia Child with a little extra garlic from me!