A Beautifully Simple Beet Salad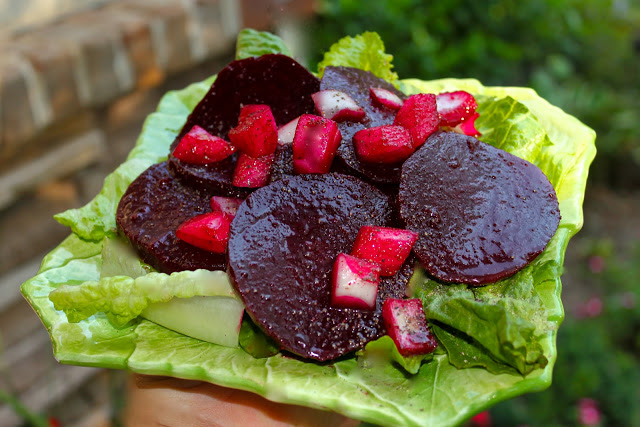 Beets just seem to make salads more beautiful! Personally, I'm just crazy about beets! They are just so good for us and so sweet and yummy! (And if you're trying to reduce your weight, you know how beets naturally assist your body in doing so!) After a drought of beets in the market, I finally found some beets that suited my standards.
Realizing that they aren't cheap in price, I then headed straight for the local farm co-op to purchase my beet seeds for planting our fall garden now that our tomatoes are all harvested and cleaned out of the beds this week.
Beets can be roasted or boiled and personally, I just haven't been able to taste a huge difference in taste between the two cooking methods, so being a creature of habit and not wanting to make my A/C work harder to cool down an oven-heated kitchen, I just plopped them into a pot of boiling water for this salad. It's really your choice on how you want to cook your beets.
Usually all I do to prepare beets is to revert to tradition and Italian simplicity . . . and that is to do as little as possible to them: just chop up some onion, cut up the cooked beets into slices or chunks, and then toss them into a simple Italian vinaigrette. However, if that's too dull for you, and you prefer a bucket-load of ingredients in your beet salad, there is a plethora of recipes 'out there' in cookbooks and on the Web to select from. I'll be sharing 4 more recipes soon for you to select from and be your own judge.
I have even explored more elaborate and 'loaded' beet salad recipes and posted them on this blog. Truth is, they were no more delicious than this recipe. You can find that recipe at the following link: Beets With Avocados and Manchego Cheese.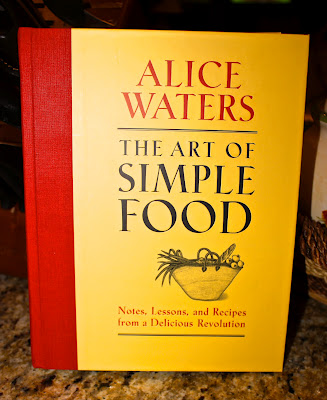 So for this simple, yet classic spring and summertime beet salad recipe, I went beyond my own family cookbooks and referred to fresh cooking guru author and owner of Chez Panisse, Alice Waters and her 2007 "The Art of SImple Food: Notes, Lessons, and Recipes from a Delicious Revolution".
This woman validates my philosophy for cooking: simplicity is best!
In her new cookbook, Ms. Waters includes one and ONLY one recipe for a beet salad and it is as follows:
A Beautifully Simple Beet Salad
Ingredients
1 pound beets (red, Chioggia, golden, or white)
Freshly cracked sea salt
1 tsp. vinegar (red wine, sherry, or white wine)
Freshly cracked sea salt
Freshly cracked black pepper
1 - 2 tsp. extra-virgin olive oil
1/2 of a sweet Vidalia onion, chopped into chunks (my family's addition)
Good Seasons Italian herbs packet prepared according to directions (my family's addition)
a teaspoon or two of sugar (my family's addition in the event that the beets may not be sweet enough . . . taste, taste, taste)
Instructions
Wash beets thoroughly.
Place them in a baking dish with a little water to a depth of 1/8".
Sprinkle with salt.
Cover tightly and roast the beets in a 350 degree oven until they can easily be pierced with a fork, about 30 minutes to an hour, depending on their size.
Remove from oven.
OR:
Boil for the same amount of time as above in a tall pot of boiling water.
Drain when a fork can easily be inserted.
Cut off both ends and remove the skins.
Cut the peeled beets into 1/4" slices or 1/2" cube/chunks.
Add vinegar and olive oil (or in my family's case we use Good Seasons Italian dressing herbs prepared according to the package directions).
At this point, my family recipe adds the chopped onions too.
Salt and pepper to taste.
If beets are not sweet enough, add about a teaspoon of sugar until your preference is satisfied.
Let the beets stand to marinate and absorb the ingredients.
To plate, place the beets on a layer of your favorite variety of fresh lettuce such as arugula and romaine.
Notes
Adapted from "The Art of Simple Food" by Alice Waters
AND THAT'S IT!
This is truly the art of simple food, which is what Italian cooking is known for.
The only thing that my family ever added to the recipe above is chopped onions, some Italian herbs, and a little bit of sugar if needed.
It's a preference thing.
Mangia!
You might also like my Fresh Italian Green Bean Salad that is a delicious cold or warm salad:
Do you enjoy La Bella Vita Cucina?
We'd love to have you as part of our community!
Subscribe below to receive the latest recipes, travel tips and gardening ideas straight into your inbox!