Minestra di Pasta e Fagioli (Pasta and Bean Soup)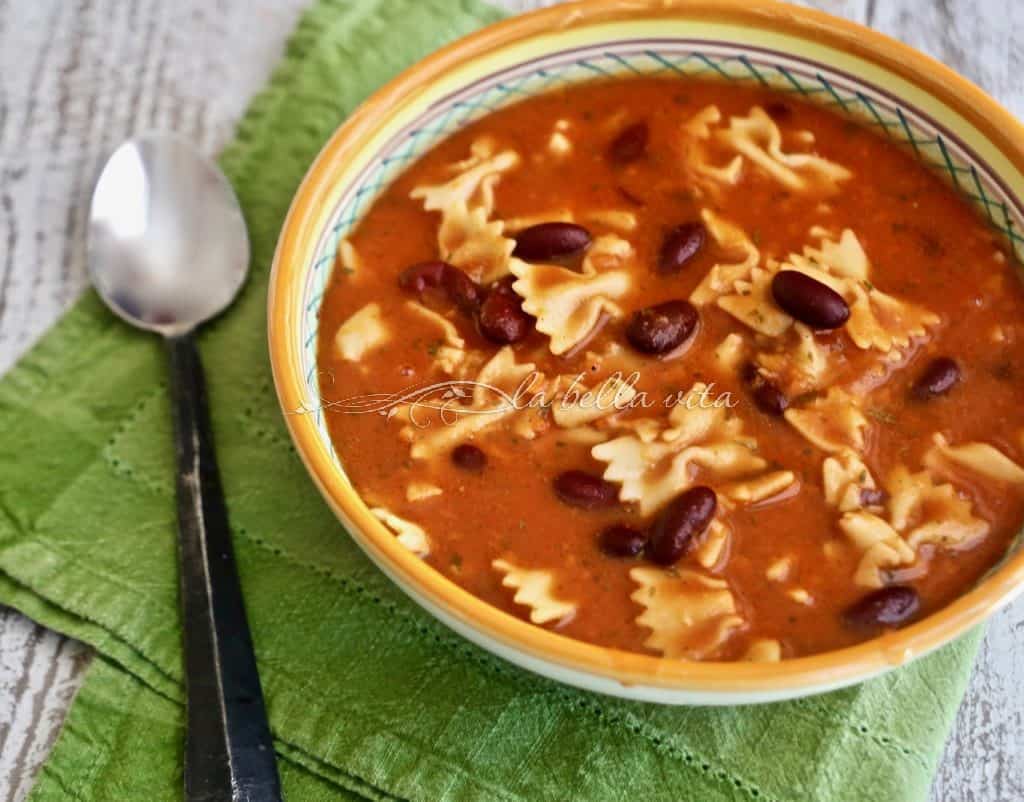 My mother used to prepare one of the most simple, yet delicious family recipes for lunch: one of the quintessential Northern Italian comfort foods that exemplifies "cucina povera" (food of the poor), and which is the infamous soup of the Tuscan people: Minestra di Pasta e Fagioli (Pasta and Bean Soup). Today, I prepare this soup in her memory and enjoy it any time of the day.
In Italy every family has their own treasured recipe for this soup and my family is no exception. You can witness this mind-boggling diversity simply from reading recipes from other blogs, Italian cookbooks, or just from searching the Web for the recipe. One Italian food blogger claims that the recipe shared there is the authentic version. I disagree completely on this position. "Authenticity" is what originated in the lineage of your family. Ingredients available to one Italian family may differ from what other families had access to . . . thus creating diversity in recipes, but still very, very 'authentic'. Northern Italian versions of Pasta e Fagioli, for example will differ from those made further south in Italy. What is passed down through the generations of your family and that which has been prepared by your mother or Nonna is truly what is "authentic" and not what someone else says is authentic or not.
So with that little rant shared, as the weather becomes somewhat cooler here in the South (it is 73 degrees today) and the evenings become a bit chilly the minute the sun is down, it seems just perfect to imitate the "bean lovers" (as Tuscans are called due to their love affair with the beautiful bean), by sipping this savory soup. We lovingly call this soup "Pasta Fajool" (fa-zhool)!
Ditalini is the pasta shape most often used, but as children, we also loved the fun 'bowtie' shape of mini-farfalle. If all you have on hand is spaghetti, just break it up into half inch pieces and you're good to go. The shape of the pasta has no impact on the flavor of the soup. Another note about pasta: my family prefers a tiny bit more broth in our soup that is not overwhelmed with too much pasta. We love to not only slurp this delicious broth at the very end, but also dunk delicious crusty Italian bread in the last few drops at the bottom of the bowl. That's just our preference, so add more pasta if you want less broth. This soup is also healthier with less calories than it is with too much pasta.
My parents may not have enjoyed abundance when they were growing up as children of immigrants, but their mothers kept the kitchen aromas filling their homes, as pots of soups or pasta simmered slowly on the stove. I remember my father telling me that he had Pasta e Fagioli soup nearly every night for dinner when my grandfather was a coal miner in the Midwest.
Nothing represents love and comfort as much as a simple, hearty warm soup and some bread to sop it up with! Although this soup was considered the food of the poor, one certainly is never hungry after one full bowl; it is that satisfying. Plus soup is so restorative to our health and our souls!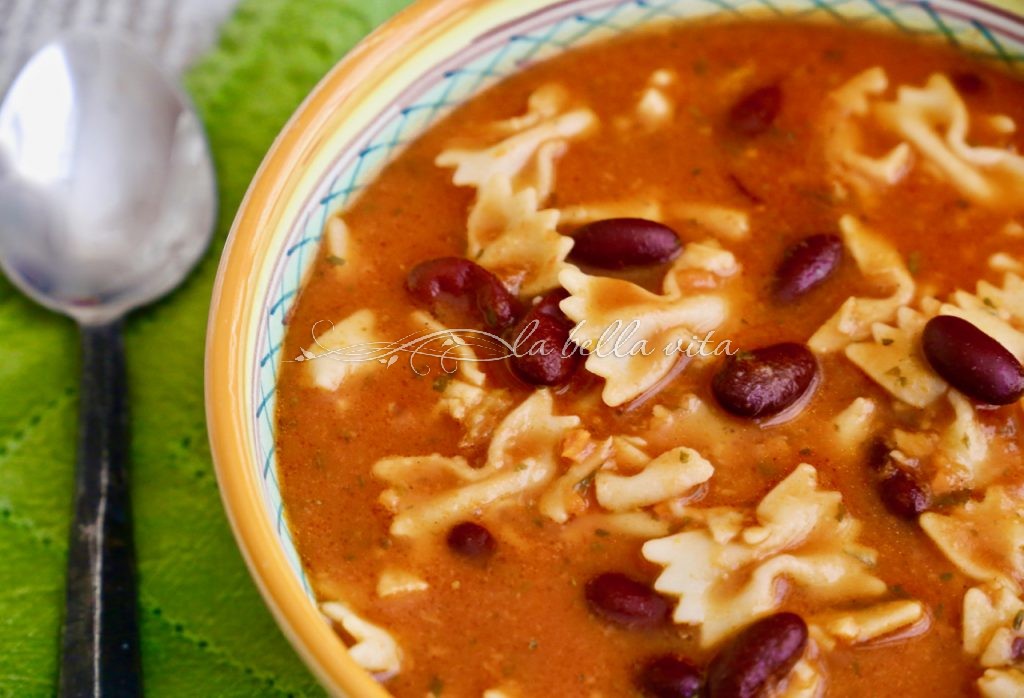 Here is my family's recipe for Minestra di Pasta e Fagioli (Pasta and Bean Soup):
Print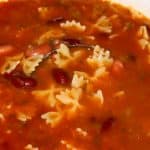 Minestra di Pasta e Fagioli (Pasta and Bean Soup)
Author:
Prep Time: 0 hours
Additional Time: 0 hours
Cook Time: 0 hours
Total Time: 0 hours
---
Olive oil (to saute the vegetables) *
5 stalks of celery, including leaves, cleaned with thick white end cut off, and then chopped *
1/2 cup chopped carrots (optional) *
1 onion, chopped *
1 big bunch of Italian parsley, cleaned, stems cut off, and chopped *
4 cloves garlic minced *
Optional – 4 oz. pancetta, diced (but this takes away from the true 'poor' vegetarian version of this soup. My family never added pancetta)
3 quarts water or vegetable broth
1 6–oz. can imported Italian tomato paste (add more until your desired level of 'red' color and tomato flavor is reached). If you prefer your broth less thick, then use 2 – 3 cans of canned Italian tomatoes. We like our broth to have a richer flavor and that is imparted from tomato paste.
2 cans red kidney beans (I prefer dark red), drained and rinsed clean ~ ~ if you use fresh beans, they must be soaked in water overnight, rinsed and drained
OR
2 cans cannellini beans t(hat were unavailable to my grandparents in the U.S., so they substituted red kidney beans that give the soup a much richer flavor
1" chunk of parmigiana cheese (for a better broth flavor)
1 box ditalini or mini-farfalle pasta
Freshly ground sea salt and black pepper to your preference taste.
Freshly grated Parmigiano or Pecorino cheese
Fresh, crusty, artisanal Italian bread
* These are known as "soffrito" or the 'fried' base of a soup, which can be made ahead and frozen.
---
Instructions
If using dried beans, cover them completely with water in a pot and soak overnight.
Drain water the next day and rinse thoroughly.
In a large, heavy 4 – 5 quart pot, saute the "soffrito" of onion, carrots, and celery in the olive oil.
Add the parsley and garlic and saute for one more minute.
Fill the pot with the water and/or broth.
Add the tomato paste/ tomatoes and bring to a boil.
Add the chunk of parmigiana cheese.
Add the beans, reduce the heat just slightly and cook until slightly tender.
In a separate pot, boil the pasta for only a few minutes; you will continue to cook them for a few more minutes in the finished broth.
Bring the broth to a boil and add the semi-cooked pasta noodles and cook until al dente, about 5 minutes max.
Remove the soup from the heat and season with salt and pepper to taste.
Let stand 5 minutes.
Serve in warmed bowls.
Sprinkle with grated cheese.
Serve with freshly, grated Parmigiano cheese and fresh, crusty Italian bread.
THIS SOUP IS BETTER IF allowed to rest for 2 hours before serving; it thickens up nicely.
It is even better the NEXT day when all of the flavors are allowed to marry and blend!
If you choose to do this, boil the pasta in a separate pot for only a few minutes because it will continue to cook in the broth. Have the broth warming in another pot. Put the partially cooked pasta in the re-warmed broth and continue to cook until your pasta is al dente.
If you have the pasta noodles in for a long time, they become very large from absorbing the soup liquid, as well as become very soft and mushy.
---
Enjoy this recipe for Minestra di Pasta e Fagioli (Pasta and Bean Soup)
.

.