Cinnamon Toffee Praline Oatmeal Cookies
The foods of the autumn season are so incredible. But truthfully, all seasonal foods are awesome, it's just that the wait in between seasons makes me appreciate them all the more when their peak time of freshness and availability arrives. All of the fresh apples and fruit at this time of year just leave me often overwhelmed with the dilemma of what to prepare next!
Since we're cookie monsters in this house, we decided to bake the apple oatmeal cookie recipe. What a treat these are by adding toffee and praline chips. These little darlin's will make your autumnal heart sing with joy, just as they did ours! They are just delicious!
Also if you happen to have too many of these cookies on hand that you can eat (there's only the two of us here, now that our kids are grown and gone!), they'll dry up just like any other cookie, but with these, you have another special autumn dessert ready to go: crumbled toffee-praline oatmeal cookies sprinkled on top of fresh vanilla (or cinnamon) ice cream with warm caramel sauce drizzled on top. Oh yea!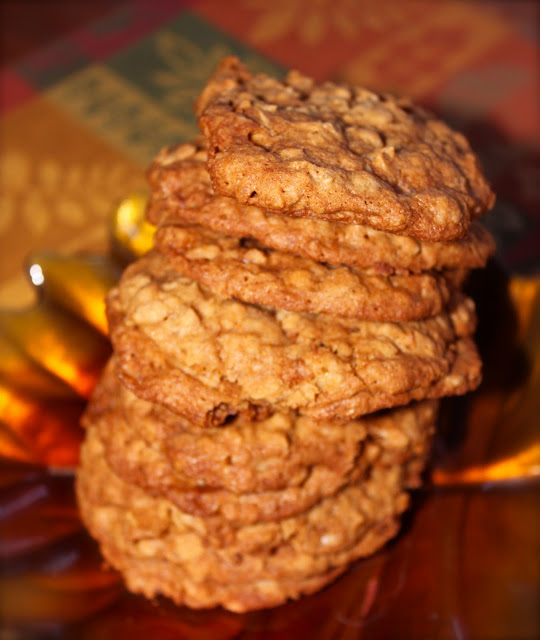 Cinnamon Toffee Praline Oatmeal Cookies
These cookies are INSANELY delicious! You won't even want to wait until they cool down! Grab a nice big glass of milk to gulp down with them!
Ingredients
1/2 cup unsalted butter, room temperature
1/2 cup salted butter, room temperature
3/4 brown sugar, packed
1/2 cup sugar
2 jumbo eggs
1 tsp. vanilla
1 Tbsp. spiced apple butter (or regular)
1-½ c. cup flour
1 tsp. baking soda
1 big pinch fine sea salt
1 1/2 c. rolled oats
2 packets instant brown sugar and cinnamon oatmeal (we didn't have the full 2-1/2 cups of regular oats on hand)
1 cup toffee chips (or cinnamon chips)
Instructions
Preheat oven to 350° F.
Beat butter and sugars in a large bowl until light and creamy.
Beat in eggs, vanilla, and apple butter.
Gradually beat in the flour and salt.
Fold in the oats and toffee chips.
Drop by rounded tablespoons onto a lined cookie sheet.
Bake for 12-14 minutes, or until golden.
Cool on tray for a minute or so, then remove to a wire rack to finish cooling.
.
.