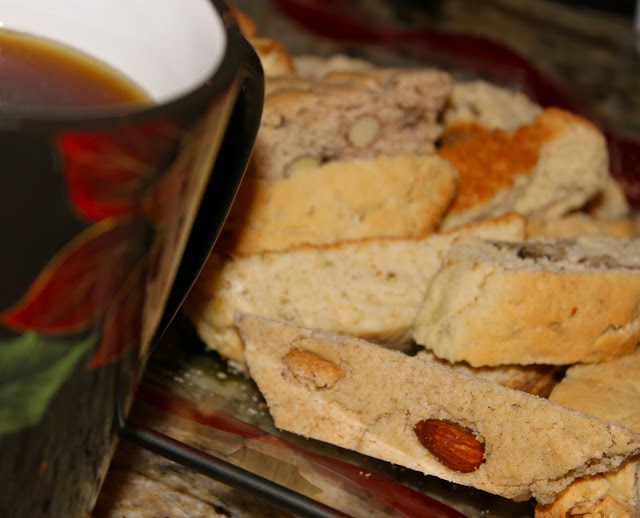 .
When all of the families in my Midwestern hometown were baking and enjoying sugar cookies for Christmas, my mother would be baking traditional Italian cantucci (biscotti) cookies. She also made Amaretto balls and Spritz cookies (which I loved). But as a child, I didn't care for contucci very much because the cookies were not as sweet and moist as other Christmas cookies, plus they weren't cut into cute Christmas shapes, nor did they have a sweet icing or have any colorful, festive decorations on top!
.
Oh, but on the contrary, how the adults loved those twice-baked, semi-sweet biscuits, which they dipped into their coffee or wine after dinner! When I grew up and developed more mature tastes in food, I finally fell in love with contucci or biscotti, as they are more familiarly known as in the U.S. And so did everyone else in America, it seemed, as little biscotti and espresso bars popped up around the country, as well as being sold in grocery stores including Wal-Mart. That's a long way from the days in the 60's growing up in the U.S. when no one had ever heard of contucci or biscotti outside of an Italian home!
.
Here is our family's Christmas story of cantucci at Christmastime that I'd like to share with you: My mother and her sister would always stay overnight on Christmas Eve at my great-grandmother Martina's house in Iowa in order to go to 5:00 AM Mass on Christmas morning. My mother's mother had died many years earlier in childbirth, and my grandfather was not a practicing Catholic at the time. So my mother and aunt would go to my great-grandparents' home to go to church on Christmas morning when they were little girls. In those old days Catholics were required to fast from food after midnight on Christmas Eve until after Mass was over on Christmas morning. So my great-grandfather would always have cantucci in his pockets to surprise my mother and my aunt after church on Christmas day.
Today, before rushing off to visit my dad who is now in rehabilitation, my mother made these traditional Italian cookies for our holiday celebrations. I'm so glad that she did, because these cookies are really a special part of our family's Christmas traditions. I've read many recipes for cantucci, but here is my family's version that makes a LOT of cookies to give away as gifts!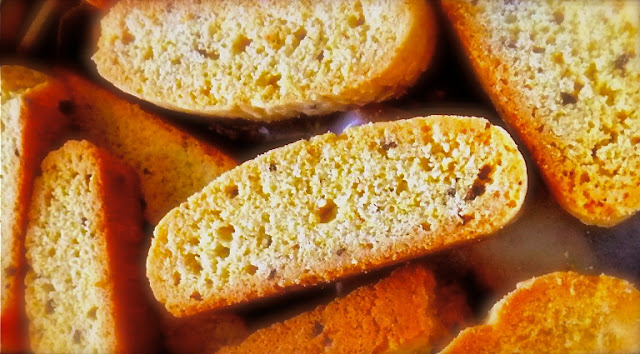 Print
---