Raspberry Amaretto Jelly Roll ~ Light Too!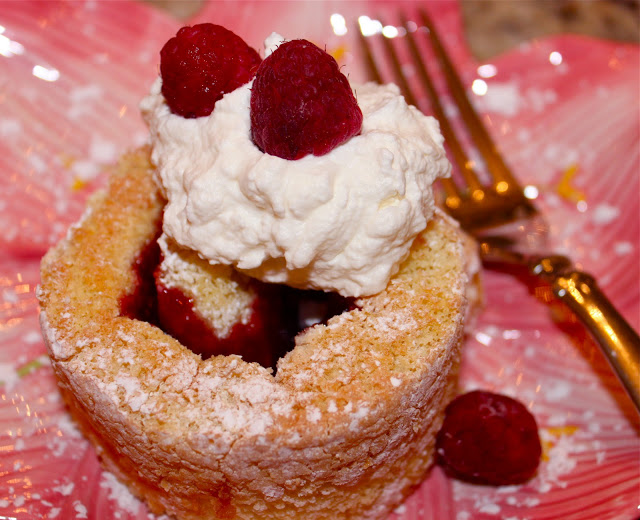 I have been honored to be invited
to join the
Cooking Light Virtual Cooking Club
with Val from "More Than Burnt Toast" and other tremendously talented food bloggers from both Canada and the U.S. who focus on delicious recipes that are also more healthy for us.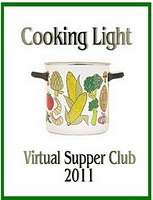 For my first month as a member of the group, the theme "Have a Heart" focused on foods that are red, reminiscent of Valentine's Day and in keeping with February's focus on keeping our hearts healthy. What a beautiful focus for this month! I chose to prepare a dessert from the archives of Cooking Light and have to say that I am simply, wonderfully amazed and delighted at this sweet ending that can be for any meal, whether that be for Valentine's Day, a special occasion, or really just for a light, refreshing treat alone.
I adore raspberries! I always have and I always will. This raspberry almond jelly roll is pure heaven in the midst of such a dreary, cold winter. My family could not believe the delightful flavor! This is a winner, a keeper, and an award-winner in my (cook)book and it's light to boot!
How can you beat that combination?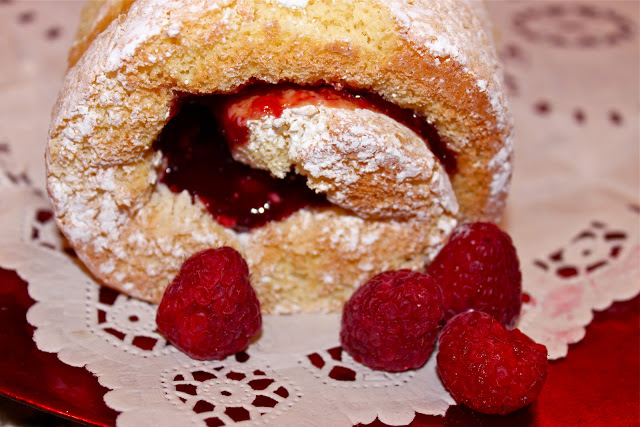 Raspberry Almond Jelly Roll
Ingredients
3/4 cup sugar
1/4 cup almond paste
1 tsp. Amaretto diSaranno (my addition to the recipe; oh gosh, I HAD to make it more Italian, right?)
Cooking spray
2/3 cups flour
1 tsp. baking powder
1/8 tsp. salt
4 jumbo eggs
1 tsp. vanilla extract
1/4 cup powdered sugar, divided
2/3 cup seedless raspberry jam/preserves
1 cup whipping cream (I increased from 1/2 cup)
1/2 cup powdered sugar (I increased from 1/4 cup)
Fresh raspberries
Instructions
Preheat oven to 350 degrees.
Combine the sugar, almond paste and amaretto liquor with a blender until well blended. Set aside.
Coat a 15 X 10″ jelly roll pan with cooking spray.
Line pan with wax paper. Coat paper well with cooking spray. Generously sprinkle wax paper with powdered sugar…..this is a MUST to prevent cake from sticking. Set aside.
Combine 2/3 cup flour with baking powder and salt in a medium-sized bowl. Stir with a whisk.
Place eggs in a large bowl, beat with a hand-held mixer on high speed until pale and fluffy (about 4 minutes).
Gradually add sugar/almond paste mixture with vanilla extract, beating at a medium speed until smooth (about 3 minutes).
Fold half of the flour mixture into the egg mixture.
Repeat procedure with remaining flour mixture.
Spread batter evenly into prepared jelly roll pan.
Bake at 350 degrees for 10 minutes and the cake springs back lightly in the center.
Loosen cakes from sides of pan and turn it over onto a dishtowel GENEROUSLY sprinkled with powdered sugar.
Carefully peel off the wax paper.
Sprinkle cake with 2 Tbsp. powdered sugar, cool for one minute.
Starting at one end, roll up the cake and towel TOGETHER.
Place seam side down on a wire rack and cool completely for about 30 minutes.
Carefully unroll the cooled cake and remove the towel.
Spread the jam/preserves over the cake.
Re-roll the cake back up, placing seam-side down on a platter.
Mix the whipping cream and powdered sugar in a medium bowl, beat with hand-held mixer until stiff peaks form.
Cut cake into 1″ wide slices with a serrated knife.
Top each slice with whipped cream and fresh raspberries.
Notes
321 light calories per slice