Favorite Spicy Hot Chili For The Super Bowl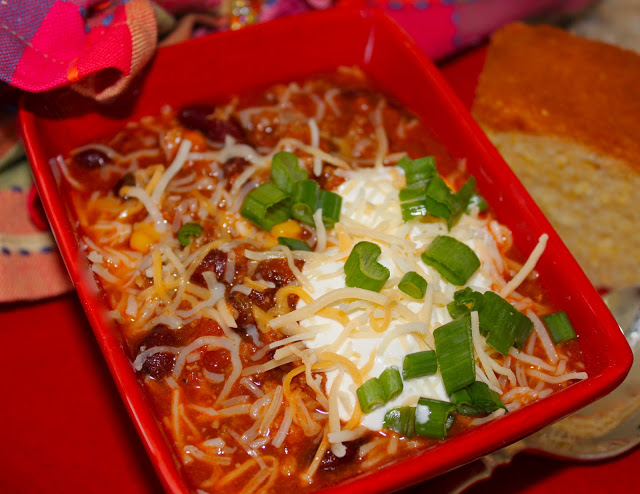 I haven't made chili this winter yet, so what could be more appropriate and suitable than a hot bowl of spicy hot home-made chili to eat while sitting in front of the tube watching The Super Bowl tonight? Oh yes, there are other items on the party menu that I will post about later, but since it's February and winter, my hubby really begged for this chili. The sun is shining brightly and the temperature is a spring-like 55 degrees, so it's not as though we needed some chili to warm up our innards, but rather to just keep with football game tradition! This chili recipe is a combination of a variety of recipes that I have married together throughout the years. It is though, fairly spicy in heat and includes three varieties of beans plus some corn.
We just love it and hope that you enjoy it too.
Print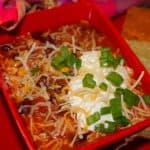 Favorite Spicy Hot Chili
Author:
Prep Time: 0 hours
Additional Time: 0 hours
Cook Time: 0 hours
Total Time: 0 hours
---
4 Tbsp. olive oil
8 large garlic cloves, minced through a garlic press
2 – 3 cups finely chopped celery, including the leaves
2 onions, finely chopped
2 large green peppers, chopped
2 lbs. ground pork
4 – 5 lbs. ground lean ground round
1/2 can chopped jalapeno peppers . . . or better yet, 1/2 of one chopped fresh jalapeno pepper with seeds removed ~ ~ note that using the fresh option increases the level of heat (spiciness).
1/2 cup chili powder
1 tsp. cup cumin
2 tsp. oregano
2 Tbsp. red pepper flakes
3 Tbsp. cayenne pepper
1 Tbsp. paprika
2 28–oz. cans peeled, whole or diced tomatoes
5 6–oz. cans tomato paste
1 28–oz. can tomato sauce
2 cans dark red kidney beans, drained, and rinsed
2 cans black beans, drained and rinsed
1 can pinto beans, drained and rinsed
1 can of corn, drained
6 cups water
Garnish
Sour cream
Finely shredded 4-cheese Mexican cheese blend
Chopped green onion stems
---
Instructions
Heat the olive oil in a large, heavy pan.
Add the garlic, chopped onion, celery, and green pepper to saute'.
Add the pork and beef. Cook while constantly stirring and breaking down the chunks of meat, cooking until the meat is browned nicely.
Add all of the spices and stir until well blended.
Add the tomatoes, tomato paste, tomato sauce and water.
Add all of the beans.
Add the corn (really this is optional).
Add the jalapenos (use the amount you prefer for heat level).
Adjust seasonings by adding more where desired, especially the chili powder and red pepper flakes!
Cook on low heat for about an hour to allow all of the flavors to blend, adding more water if the chili becomes to thick.
Add a little water at a time until your preference of thickness is reached.
Garnish with sour cream, Mexican cheese, and chopped green onion stems.
Serve with fresh cornbread and/or tortilla chips.
Also have small bowls of sour cream and Mexican cheese to pass around to your guests.
---
Notes
** This chili freezes very nicely too, since this is a big batch of chili!