A Perfect Pork Tenderloin Roast from a Classic Cookbook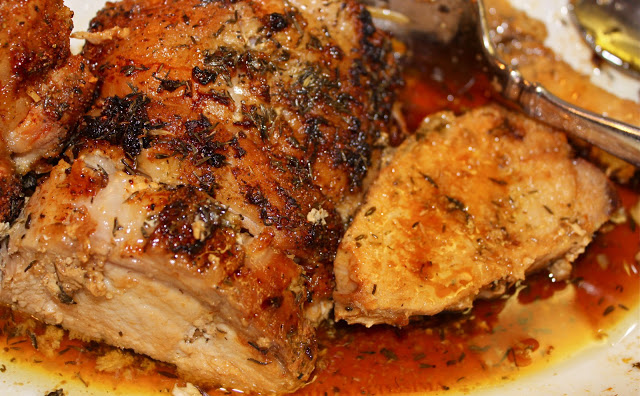 My passion for cooking began in 1978, when a beautiful woman in St. Louis, Missouri introduced me to Bon Appetit magazine and The Good Cook, a cookbook mail-order club. From this cookbook club, I ordered my very first cookbook! My collection of cookbooks grew to nearly 500 books since then, many of which I have given away as gifts to my adult kids to start their own collections.
.
Considered a true classic today in the culinary literature, I chose
The New York Times Cookbook
written by the late Craig Claiborne in 1961! Today in original form with dust cover this cookbook sells for around $70.00 as a collectible. At the time that I bought it in 1978, I had no idea that it would someday be considered so important in the culinary world.
.
This cookbook is the source for this incredibly savory, delicious, and perfect pork tenderloin roast. If you're lucky you have this book in your collection and/or library. The pork sizzles in a lemony, olive oil, garlic and herbal sauce that blends wonderfully into the pork while roasting! I've never made a better pork roast and I don't think that I ever will. This recipe is extremely easy to prepare and it is quite simply . . . perfect in taste!
.
Here's the recipe for A Perfect Pork Tenderloin Roast from a Classic Cookbook!
.
Print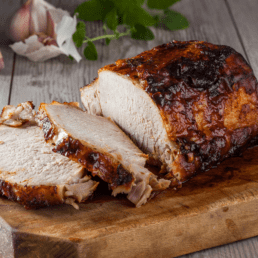 Perfect Pork Tenderloin Roast with Garlic and Herbs
Author:
Prep Time: 0 hours
Additional Time: 0 hours
Cook Time: 0 hours
Total Time: 0 hours
---
Marinade (double or triple the following, I do this every time so that there is an Au Jus to drizzle on top of each guest's entree If you use the amounts below, there is hardly any juice left in the pan to pass around)
3 Tbsp. extra virgin olive
2 Tbsp. freshly squeezed lemon juice
1 tsp. thyme (not in powdered form)
2 cloves garlic, minced through a garlic press (rather than one clove indicated in the recipe)
I ALSO generously sprinkle all sides of the tenderloin with
Accent (eliminate if you have an MSG allergy)
Mrs. Dash Garlic and Herb Seasoning
Nature's Seasoning
---
Instructions
Puncture the tenderloin with large, gaping holes/gashes on all four sides (for the sauce to penetrate into the meat and not just glaze it on the surface).
Generously sprinkle the tenderloin with the 3 commercial seasonings above (Accent, Mrs. Dash, and Nature's Seasoning).
Blend the olive oil, lemon juice, thyme and garlic together in a small bowl (again don't forget to double or triple the ingredients).
Pour the sauce over the entire seasoned pork tenderloin, with fatty side facing up in a baking pan.
Bake, uncovered, and roast for 2 to 2-1/2 hours at 350 degrees or 45 minutes per pound or 170 – 185 internal degrees on a meat thermometer.
---
.
Enjoy this delightful pork roast!
.
I serve this roast with my mother's outrageously delicious Italian garlic and rosemary roast potatoes!
.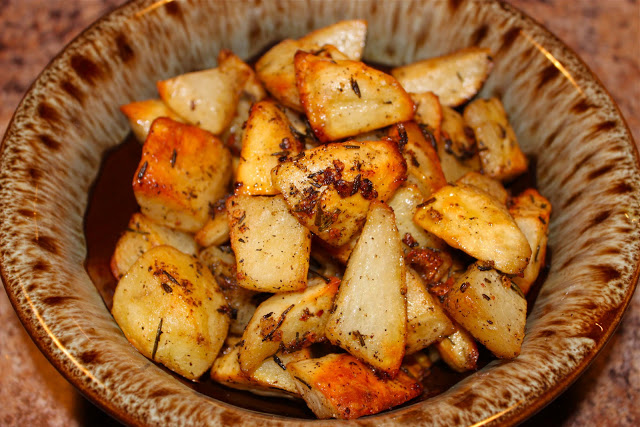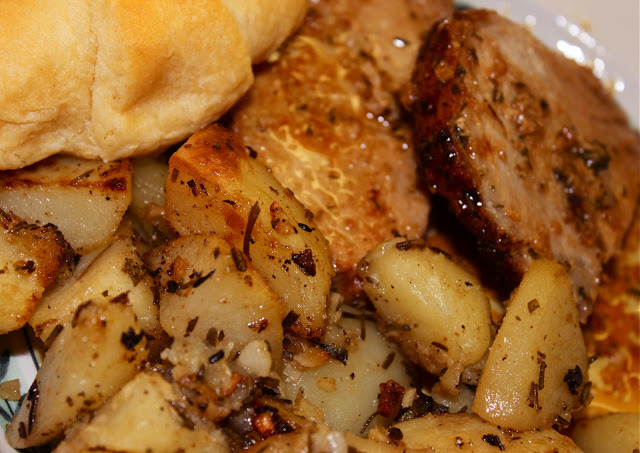 The roast, juice, potatoes, and a croissant perfectly plated and smelling so incredible!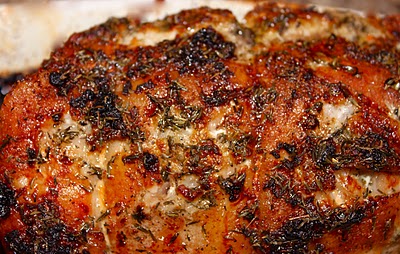 A close-up shot to show off the beautiful bronze glaze of the sauce with the herbs and spices all over!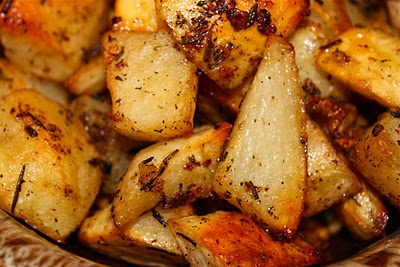 One last close up of Mom's Roast Potatoes with the olive oil, rosemary, and garlic finish!