Cheesy, Creamy Baked Orzo with Fontina and Peas
Let me forewarn you: This is not a light, low-cal/fat recipe, but rather this dish is a diet-buster! It is an indulgent, creamy, cheesy pasta dish! Laced with spring green peas and meaty mushrooms, it's perfect by itself as a meatless meal or paired with your favorite entree as a side dish. I put this together in less than a half hour prior to baking which made it even nicer. I'm sure that after sitting a day, all of the flavors will mingle beautifully! There were several adjustments that I made to this recipe: I sauteed some garlic with the onions and mushrooms, doubled the amount of cream and salt, and cut the bread crumb amount in half. These made a notably delicious difference in the texture (less dry) and flavor (more exuberant).
.
This week my family began experiencing some Spring Fever so looked through a cookbook that my daughter gave me, "Giada's Kitchen" to satisfy this feeling. This recipe that features peas and mushrooms caught my eye. Peas and mushrooms always represent spring for me, especially morel mushrooms from when I was younger, my family would hunt for those little guys! Those little mushrooms were so HARD to find, yet oh so good!
.
.
This is a nice recipe, I would definitely make it again and again, but of course with the adjustments that I made. We just enjoy pasta in a sauce that is more creamy and garlic-y! My husband also felt that there should be more peas and mushrooms added. Now that's saying something! I'll make note of that for the next time we make this wonderful spring recipe!
.
Print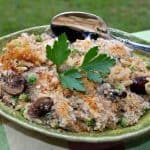 Cheesy, Creamy Baked Orzo with Fontina and Peas
Author:
Prep Time: 0 hours
Additional Time: 0 hours
Cook Time: 0 hours
Total Time: 0 hours
---
4 cups low-sodium chicken broth
1 pound orzo pasta
4 Tbsp. butter
Cooking spray for the baking pan
1 onion, chopped
2 large cloves of garlic, minced (my own addition)
8 oz. white mushrooms, wiped, trimmed, sliced (I used Baby Bellas, add another 8 oz. of prefered)
1 cup Marsala wine
1 cup heavy cream (original recipe calls for 1/2 cup)
4 oz. shredded fontina cheese
4 oz. diced fresh mozzarella cheese
1 cup frozen peas, thawed (add another cup if you like)
1 tsp. salt (original recipe calls for 1/2 tsp)
1/2 tsp. freshly ground black pepper
1/4 cup plain bread crumbs (original recipe calls for 1/2 cup)
1/4 cup freshly grated Parmesan cheese
1 tsp. dried thyme
---
Instructions
Preheat oven to 400 degrees F.
Spray a 9 x 13″ baking dish with cooking spray.
Bring the chicken broth to a boil over medium-high heat in a medium sized saucepan.
Add the orzo and cook until almost tender, about 7 minutes.
Melt the butter over medium heat in a medium skillet.
Add the onion and saute until tender, 3 minutes.
Add the garlic and saute for another minute, do not burn.
Add mushrooms and continue to saute until golden around the edges, around 7 minutes.
Add Marsala wine.
Scrape the brown bits off bottom of the pan and cook until Marsala is reduced by half, about 5 minutes.
Add mushroom mixture to the orzo in a large bowl.
Add the cream, fontina and mozzarella cheeses, peas, salt and pepper.
Stir to combine.
Pour the mixture into the prepared baking dish.
In a small bowl, combine bread crumbs, Parmesan, and thyme.
Sprinkle the bread crumb mixture over the top of the pasta/mushroom/pea mixture.
Bake until golden brown on top, 25 minutes.
I also broiled it for 3 minutes to get the top more golden brown.
---
.
More shots of my "Ice Follies" Daffodils still in full bloom!
.
.
.