Halibut in Prosciutto and Herb Cream Sauce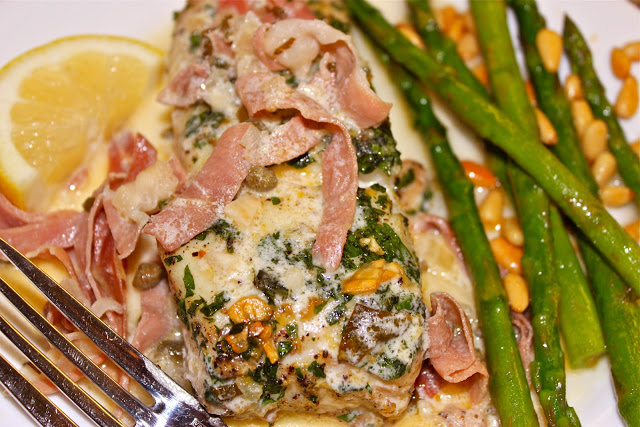 While in the market this week, I was lazily walking by the fresh fish case when I read a sign "Halibut Is Now In Season". So I went over to check out the halibut to see if it was at least somewhat affordable to purchase. Well, to my disappointment, it was no less expensive than before. But I bought some anyway, because it would cost close to $25 – $30 as an entree in a good restaurant. Especially the way that these were prepared for dinner tonight! This is very gourmet and special, but very quick to prepare once all the prepping is done.
.
The delicate halibut fillets are very light and have a coat of herbs dressing them with a heavenly sauce of lemon, white wine, butter, garlic and prosciutto drizzled on top. A side dish of asparagus in brown butter and pignoli (pine nuts) was perfect paired with the fish.


Print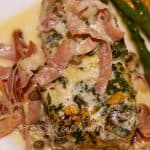 Halibut in Prosciutto-Herb Cream Sauce
Author:
Prep Time: 0 hours
Additional Time: 0 hours
Cook Time: 0 hours
Total Time: 0 hours
---
1 Tbsp. olive oil
1/4 cup sliced green onions/shallots
4 large cloves, garlic, minced
4 8–oz. halibut fillets
4 slices prosciutto, cut into strips
2 Tbsp. lemon zest
4 Tbsp. chopped fresh Italian Parsley
2 Tbsp. chopped fresh chives
1/2 tsp. freshly grated black pepper
1/4 tsp. salt
1 cup white wine
1 stick butter
1/2 cup heavy cream
juice of 1/2 a lemon
2 Tbsp. capers, rinsed
---
Instructions
Preheat oven to 350 degrees (to keep fish warm while preparing everything else).
In a medium skillet, warm 1 Tbsp. olive oil.
Saute the green onions/shallots and minced garlic. Do not brown the garlic.
In a medium bowl, mix together the lemon zest, Italian parsley, chives, pepper and salt.
Place the halibut fillets onto the mixture and coat all of the sides of the fish.
Place the herb-coated fish into the olive oil-shallots-garlic mixture in the skillet.
Toss in any remaining herb mixture to the skillet.
Cook the fish for 2 minutes on each side or until slightly golden. Do not overcook.
Place fish in an oven-proof dish in the hot oven while preparing the rest of the ingredients (for the sauce).
In the skillet that the fish was cooking in, place the prosciutto slices in whatever onions, garlic, and herbs remain. Cook for about 5 minutes.
Remove prosciutto and put to the side.
In the skillet, add the wine.
Cook the wine down to about a quarter cup of liquid.
Add the butter, cream, lemon juice, and the capers.
Re-add the prosciutto slices back into the sauce and warm.
---
Taste. Taste. Taste!!!

Adjust the ingredients to what you prefer . . . do you like more lemon? Add a bit.
Or do you like it with more cream? Then add some more.
Maybe you think it needs more butter to tone down the lemon or wine? Add some.
I know that I played around with more butter and cream to tone down the wine and lemon from over-powering everything. I'm glad that I did. You be the judge for your own taste preferences.
Remove the fish fillets from the hot oven and plate them.
Pour the prosciutto cream sauce over the fillets and serve with a beautiful green vegetable!
Serve immediately!
Just look at the pale yellow sauce: All lemony and buttery!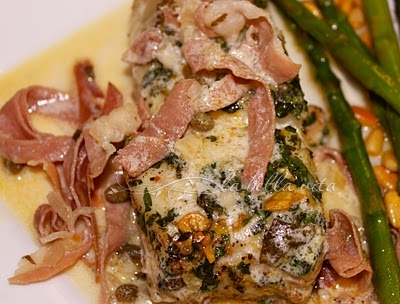 .
.