Luscious Fresh Peach Ice Cream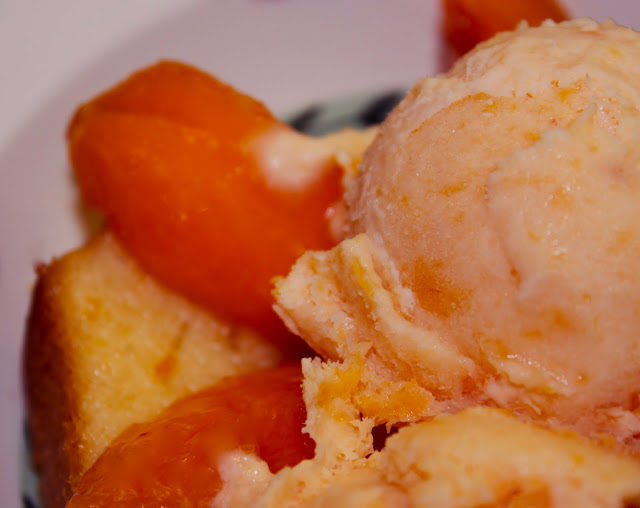 .
Glorious free-stone peaches from the South! One of those fruits that we have to wait and wait for, and then pick at just the perfect point of ripeness . . . not a moment earlier or later. I've brought a bag of these fuzzy gems home to my parents since it is my father's favorite fruit. Arriving at nearly midnight, my parents were waiting up for me, whereupon my dad quickly devoured two peaches right on the spot! His exact words were, "Now this is what I call a peach!" Truly, they are summer treats to say the least.
But before leaving for my trip to the Midwest, my husband, Mr. M & P (meat and potatoes) whipped up a batch of fresh peach ice cream, using what has now become our favorite recipe from David Lebovitz's The Perfect Scoop. We've tried them all, and this is hands-down, the winner!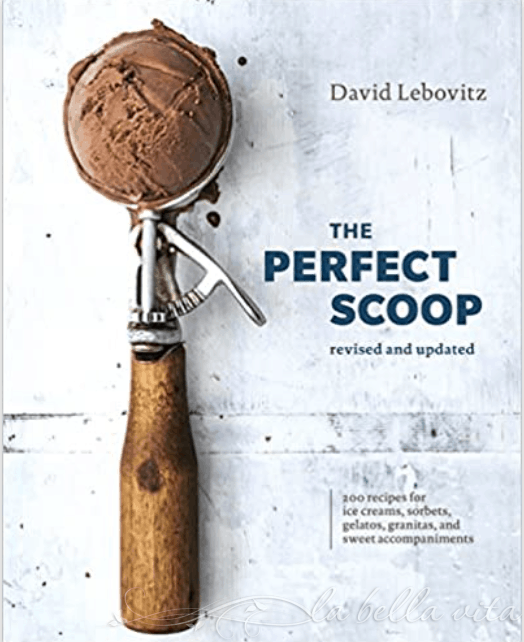 This recipe is so unique in that there is sour cream included. I really think that is why this version is so creamy! This time we made peach sundaes with a slice of plain pound cake, a layer of peaches, topped with the ice cream. YUM-MO!
I hope you try this recipe and enjoy it . . . and please let me know what you think!
Just look at the huge chunks of peaches throughout this ice cream!
.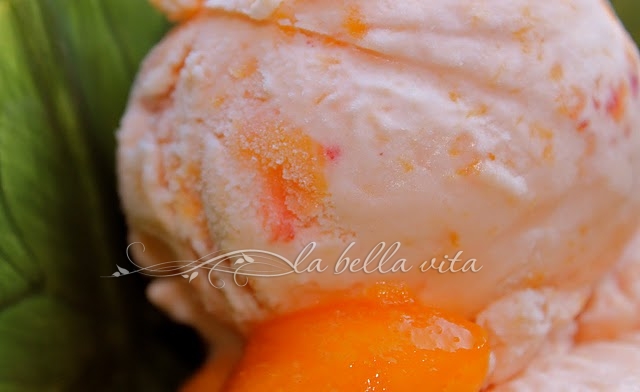 Print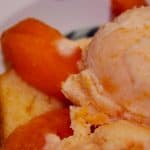 Luscious Fresh Peach Ice Cream
Author:
Prep Time: 0 hours
Additional Time: 0 hours
Cook Time: 0 hours
Total Time: 0 hours
---
1–1/3 lbs (about 4 large peaches) fresh or frozen peaches (we freeze peaches every summer)
3/4 cup sugar
1/2 cup sour cream
1 cup heavy cream
1 teaspoon vanilla extract (original recipe calls for 1/4 tsp. but we like more vanilla flavor)
a few drops freshly squeezed lemon juice
---
Instructions
Place a large bowl or container in the freezer to chill it before you get started. This container is what you'll put the finished ice cream in and it will already be pre-chilled nicely.
Peel and slice the peaches, remove the pits.
Cut the peaches into slices or chunks.
(original recipe calls for cooking the peaches in 1/2 cup of water for 10 minutes; we skipped this step because we like our peaches more fresh and uncooked, except in crisps and pies).
Add the sugar to the peaches.
Blend the peaches and sugar with the sour cream, heavy cream, vanilla extract and the lemon juice with an immersion blender or hand-held electric beater.
Blend until slightly chunky.
Pour the mixture into the ice cream maker and follow the manufacturer's instructions (we use a Cuisinart).
Freeze for several hours or overnight until desired level of firmness is achieved.
---