Roasting Red Peppers (and Green, Yellow or Orange)
.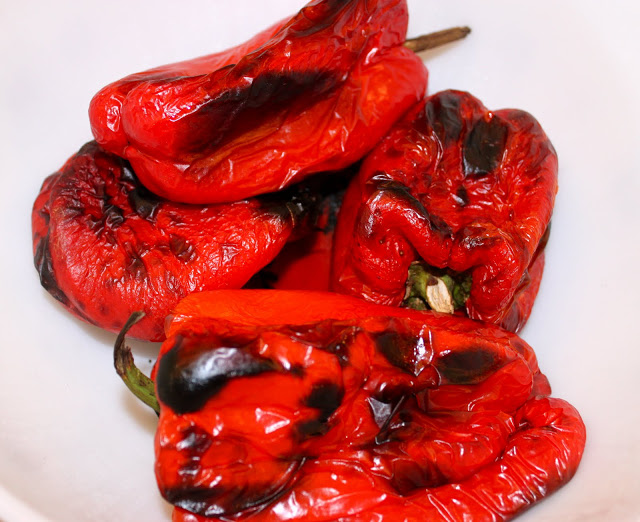 Roasted red bell peppers are great to add a layer of extra flavor in sandwiches, panini, pasta recipes, salads, and the traditional Italian antipasto platter. With the intent to continue to grow my own (you can't get any more local than your own backyard or patio/balcony), I've enjoyed roasting my own and freezing them in small quantities. This way they are only an arm's length away to use throughout the colder months.
The actual roasting is a simple task, not hard at all, but there is a bit of work involved once they are finished roasting and cooling. But it's so worth it! Here's what you do: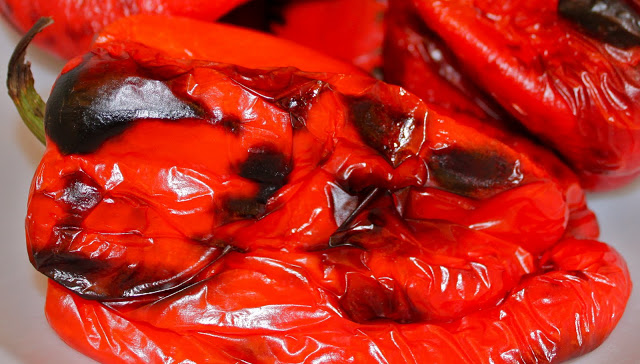 Roasting Peppers:
Wash the peppers and if they are store-bought, remove the sticker labels.
If using a gas range, turn the burners on high and place the peppers directly onto the grates.
Using tongs, turn the peppers for an even char.
The peppers will hiss and bubble while the peppers' moisture evaporates.
If using a grill, the method is the same.
However, if you're like me and roast a lot of peppers at a time, then use the oven broiler setting.
In all options, make sure that you continually turn the peppers over to ensure even charring.
Oven Method:
Preheat the oven on "Broil".
Arrange the peppers evenly on a baking sheet.
Place in the hot oven on the highest rack position.
Roast, while keeping a constant eye on them, turning them whenever necessary to prevent burning/complete blackening.
Once nicely roasted and charred all over, put the peppers in a bowl and cover with plastic wrap or a clean paper bag.
Do not open or the steam will come out.
Keep the peppers in the covered bowl or bag for 30 minutes to allow the steam to help loosen their peels which makes peeling them easier.
Once the peppers have cooled, cut off the tops of the peppers.
Cut into half and then into half again (quarters) . . . actually I simply pull them apart in sections where they 'naturally' separate into sections.
Remove the seeds.
Carefully peel or scrape off the charred skin with either your fingers or a sharp paring knife.
Discard all peels, tops, and seeds or put in your compost pile.
Do not rinse the peppers as the water diminishes the smoky flavor.
When the skins and seeds have been removed, cover the peppers with olive oil, adding garlic slices, herbs or capers if desired, and refrigerate for up to two weeks.
To freeze, I don't put them in any oil.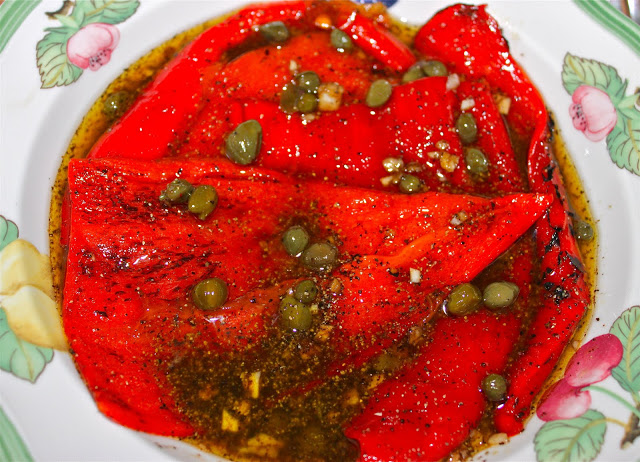 Below, for freezing, use zip-lock freezer bags, indicate contents and date, insert the peppers only (no oil), press lightly to remove extra air, and seal. Freeze.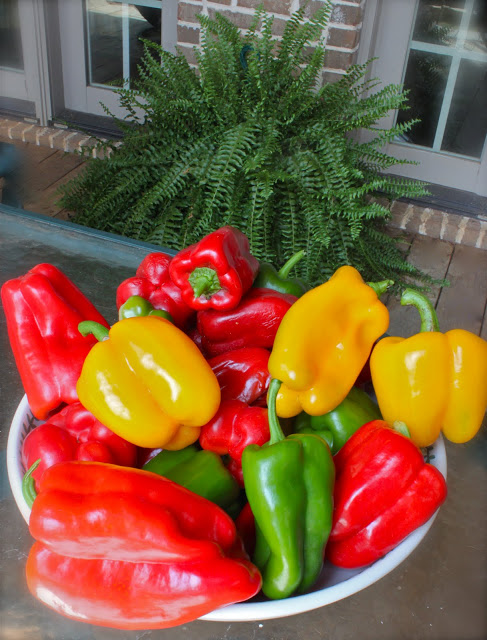 A simply gorgeous bounty . . . and this is just one of about 5 harvests thus far!