Tomato Basil Risotto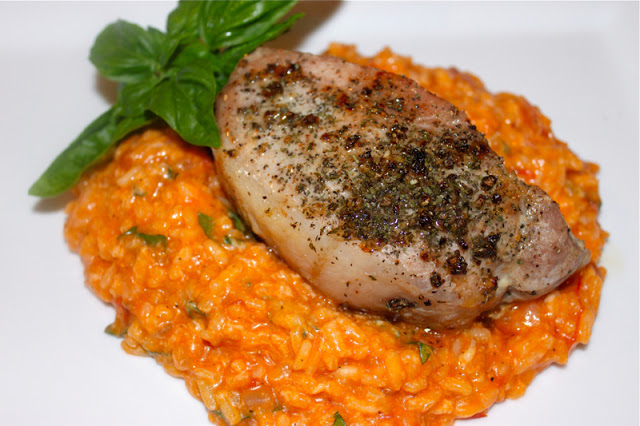 The choices for using garden-fresh veggies and herbs in our recipes are almost endless and cooks can be as resourceful and creative at the same time when using their bounty! I discovered a nice recipe for Tomato and Basil Risotto from "Vegetables From An Italian Garden ~ Season By Season Recipes". The recipe for this risotto is a spin-off of the classic Caprese Salad of tomatoes, mozzarella, and basil . . . only blended into creamy risotto.
Risotto is so easy to make and such a cooking ritual of love with the stirring and adding, tasting, stirring more and more until a creamy consistency results. You do need to use Arborio rice because of this variety's characteristic of creating creaminess from the constant stirring and release of starches while at the same time absorbing the liquid.
Although it is very common to serve risotto as a main dish for many people, for Mr. Meat and Potatoes, I simply baked some thick-cut, boneless pork chops sprinkled with a basic dried Italian seasoning blend for the entree. They are so brainless to prepare; just make sure that you don't over-cook the chops beyond a half hour in a 350 degree oven.
Another thing that I need to mention is that this risotto is more mildly flavored due to the mozzarella, whereas most risotto recipes don't use mozzarella. Again, this recipe is a take on Caprese salad, so the mozzarella cheese was necessary for this version. Even though we prefer risotto with a stronger cheese bite, we still enjoyed this delightful risotto using fresh tomatoes and basil.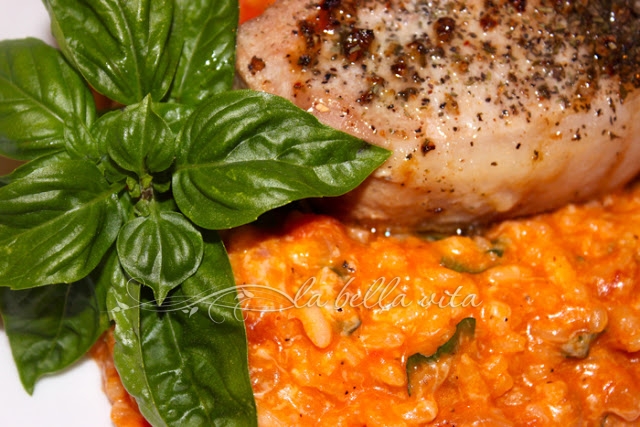 Print
Tomato Basil Risotto
Author:
Prep Time: 0 hours
Additional Time: 0 hours
Cook Time: 0 hours
Total Time: 0 hours
---
5 cups vegetable stock
2 Tbsp. olive oil
1 yellow onion, finely chopped
2 cloves of garlic, minced (my addition)
1–2/3 cups Arborio rice
3 cups peeled, diced, ripe tomatoes
10 large basil leaves, torn into pieces (I doubled the basil from 5 leaves)
6 Tbsp. butter (I doubled the butter from 3 Tbsp.)
5 oz. buffalo mozzarella (the soft cheese, not the hard variety), cut into cubes
1/2 freshly grated Parmigiana Regiano (use the good stuff for this recipe)
1 tsp. sea salt
1 tsp. freshly ground pepper
---
Instructions
Pour stock into a medium saucepan and bring to a boil.
Heat the olive oil in a large, deep pot.
Add the chopped onion and saute over low heat for 5 minutes, until softened.
Add the minced garlic and saute for one more minute; do not burn.
Stir in the arborio rice and cook, all the while stirring continuously, for 2 minutes until all of the rice are coated with oil.
Stir in the chopped tomatoes.
Add a ladleful of the hot stock and cook, stirring continuously until absorbed.
Continue to add the hot stock, a ladleful at a time, stirring continuously until each addition of stock is absorbed, for about 20 minutes.
When the rice is nearly cooked, add the torn basil leaves.
Season generously with sea salt and freshly ground black pepper.
Remove from the heat.
Stir in the butter.
Stir in the buffalo mozzarella.
Stir in the Parmigiana
Transfer to a warm serving dish.
Garnish with basil leaves.
Serve immediately.
---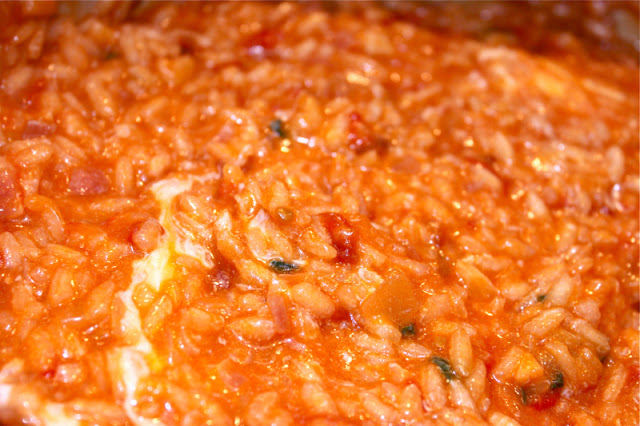 Just look at the creamy, white mozzarella melting and oozing into the risotto!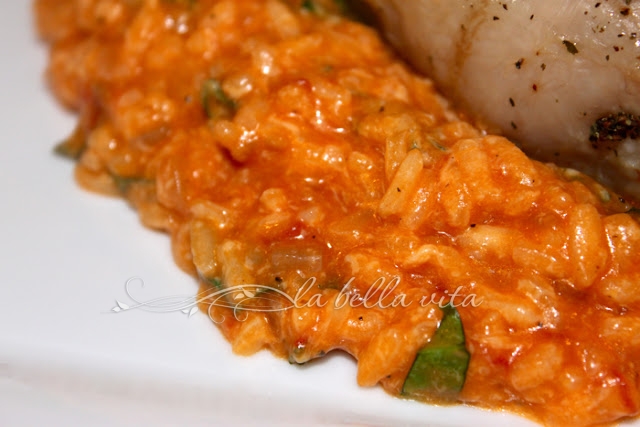 Gorgeous . . . full of summer-fresh flavors . . . and delicious!
.
.