Iowa Breaded Pork Tenderloin Sandwich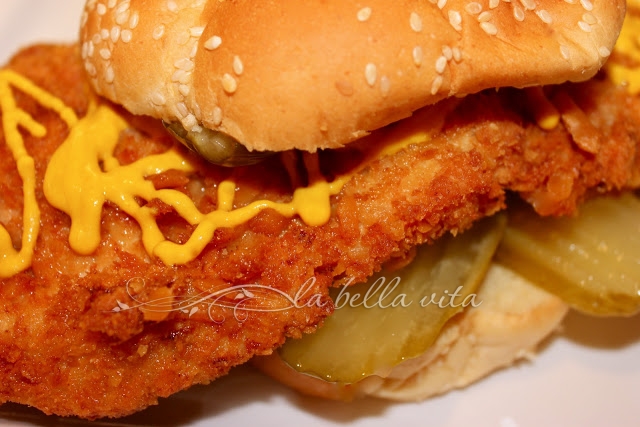 Before I even 'talk food', I just want to extend a sincere, from-the-bottom-of-my-heart "thank you and grazie" to all of you (100's of bloggers and social network friends) who wrote to me to offer me your prayers and positive thoughts for the event that took place in my life. Although the situation hasn't disappeared, my husband and I felt that blogging with my friends about our shared passion for cooking, gardening, and travel . . . is really tremendous therapy for me. I started to read your posts last week to see everything that you've been cooking up and I have to still say that you are all some of the best cooks on the planet!! I will get right back to commenting very soon . . . promise!
So I'm at a point now where I'm ready to return to my community of friends! I truly believe that all of your prayers and positive thoughts sent my way will be answered in the right way and at the right time!
.
OK . . . it's foodie trivia time!
New York has it's famous pizza.
Chicago has it's deep-dish pizza and Chicago Vienna Beef hot dugs.
Buffalo, NY has hot wings.
Boston has it's beans.
New Orleans has muffalettas.
San Francisco has it's sour dough bread.
And the South has shrimp and grits and pimento cheese!
So how about the Midwest; what stands out besides corn on the cob, buttery corn-fed beef or the State Fair's butter cow sculpture?
Well, hold on and I'll tell you about something that few people outside of the Midwest know of . . . . and it was recently featured in Cook's Country (Cooks Illustrated) magazine. It's the Breaded Pork Tenderloin sandwich.
This classic Midwestern sandwich even has it's own web-site created by a dedicated connoisseur: Pursuing the Pork Tenderloin Sandwich, a discussion/debate on the sandwich on Chowhound, plus a blog, ! The web-site also provides a list of numerous restaurants, diners, and eateries that serve this sandwich. There is even a DEBATE over where the sandwich originated: Was it Iowa, Illinois, or Indiana (the three "I" states in the Midwest)?
Well, I have no idea which state it originated from, but I know that there are more hogs in Iowa than there are people, so I'm voting for Iowa as the source . . . I'm just sayin'! No offense to any of my friends and relatives in Illinois and Indiana! Besides Iowa doesn't have any professional sports, so give it some credit for something besides Maytag Bleu Cheese and Amana appliances!
Many of you know that my roots are from the Midwest. My parents' restaurant (Italian and American food) used to have these sammies on their menu and they sold as fast as hot dogs at a baseball game. Every summer I had to have one when we'd stop at a roadside diner half-way through our 4-hour drive to Lake Okoboji in Iowa (up at the border of Minnesota).
It was a ritual !!
And this year, for the first time during one of my annual summer visits to Iowa, I brought back some super-sized pork tenderloins for this sandwich. It's been a LONG time, maybe even 10 years since I've had one of these guys!
Now to make these huge sandwiches, there are a few rules to follow:
– It must be huge, twice the size as the bun, and hanging out all over. "think outside the bun" ha ha!
– It must be a tenderized piece of pork tenderloin and not some tough pork 'chop'.
– It must be served with mustard and pickles; other condiments are OK, but not necessary (lettuce, mayo, onions, tomatoes).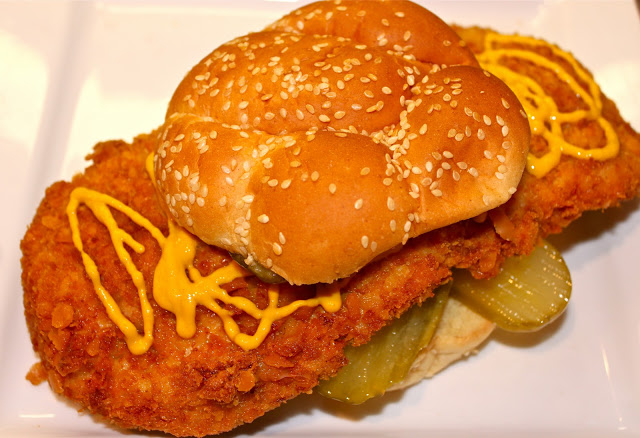 So here's a great recipe for you:
Print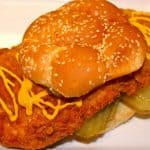 Iowa Breaded Pork Tenderloin Sandwich
Author:
Prep Time: 0 hours
Additional Time: 0 hours
Cook Time: 0 hours
Total Time: 0 hours
---
Use even amounts of each of the following (start with one cup each) . . . depending on how many tenderloins that you're breading, just make up more breading if you need to.
Flour
Super-fine crushed saltine crackers
Panko breadcrumbs or white cornmeal
For the wet batter
1 cup whole milk (some use buttermilk)
2 jumbo eggs
minced garlic or garlic powder (to taste, I just sprinkle it all over the milk/eggs)
couple shakes of paprika (some use cayenne pepper)
These amounts also depend upon how many tenderloins that you're marinating, just make up more batter if you need to.
---
Instructions
Prepare the wet batter.
Pour into a ceramic/glass baking pan.
Place the pork tenderloins in the wet batter.
Cover and marinate in the refrigerator OVERNIGHT — this really makes them tender, tender!
The next day
Prepare the dry breading mixture in a large cake pan or something similar because these are BIG and need the space for the breading process.
Remove tenderloins from the marinade and place in the dry breading, lightly pressing down so that the breading gets into all of the crevices of the tenderized pork.
Gently flip over and repeat.
Now if you really want the real deal
Dip the breaded tenderloins ONCE AGAIN in the marinade and then double-dip them again in the breading!! It may be messy, but it will really be BREADED thickly!
Heat canola oil to 350 degrees. The oil MUST be hot.
Deep fry in a deep cast iron pan (I use my Le Crueset) or in a deep fryer (which I don't have).
Fry for 3 minutes.
Serve hot.
Salt to taste.
Place on buns with pickles and mustard.
---
Notes
Original Recipe Web Page on La Bella Vita Cucina: https://www.italianbellavita.com/2011/09/iowa-breaded-pork-tenderloin-sandwich/
This recipe is from my parents' recipe from "The Safari" restaurant that they owned and operated in Ames, Iowa in the 60's and 70's before they retired. This sandwich sold out every night Roz Corieri Paige
Enjoy this Midwestern treat!
This bad boy was so big, that Mr. M. and P. (meat and potatoes) split it with me!
.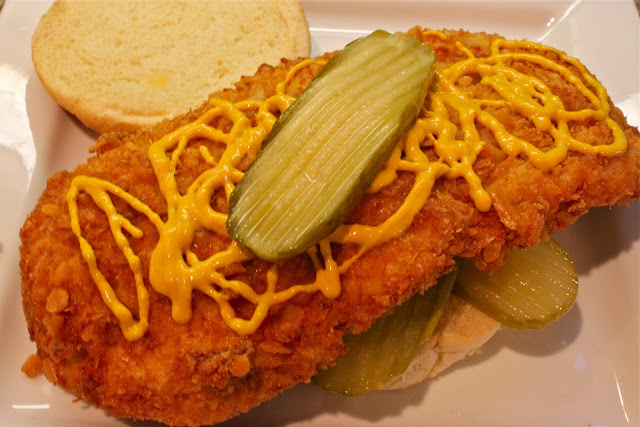 .
.
.
Related articles across the web