Steaks with Mushroom Sauce and Garlic-Chive Potatoes
.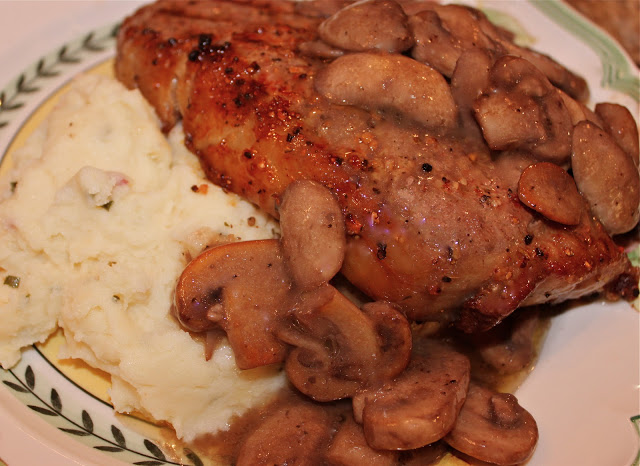 Yes, you read the name of the recipe correctly!
Did I blow my healthy nutrition path that I've been on for a month now?
Not at all! This is comfort food at it's best: Lightened up! This entree is also light in calories, coming in at about 326 calories for a 4-ounce portion. This month of February when the winds blow cold and we yearn for foods that keep us more warm and cozy inside, the Cooking Light Virtual Supper Club prepared healthier versions for a wintery "Comfort Food" theme. Normally when I think of comfort foods, I think fattening, rib-sticking foods that are heavy enough to make me fall asleep on the spot. So I was really shocked to find so many lightened up recipes for comfy food on the Cooking Light web-site.
As the web-site states, "It doesn't get any heartier then a big piece of steak topped with savory mushroom gravy and paired with creamy mashed potatoes." So true! And here it is with reduced calories and fat for us. Yummo, it was comforting alright!
Trimming the fat off the beef helps reduce the calories, as well as sautéing the mushrooms in olive oil and red wine instead of butter. All that I can say is that I was totally fooled that this dish is lighter in calories. What a winner! It was even raved about by my picky, picky skinny, meta-high metabolism husband, Mr. M. and P.!
I was concerned that I'd gain weight from this entree, but in fact, my weight loss remained steady. However, you have to remember that I'm also working everything that I put into my mouth into the Weight Watchers program that I'm on as well. So here's another recipe for you to try. This really is delicious and I'd recommend it to anyone!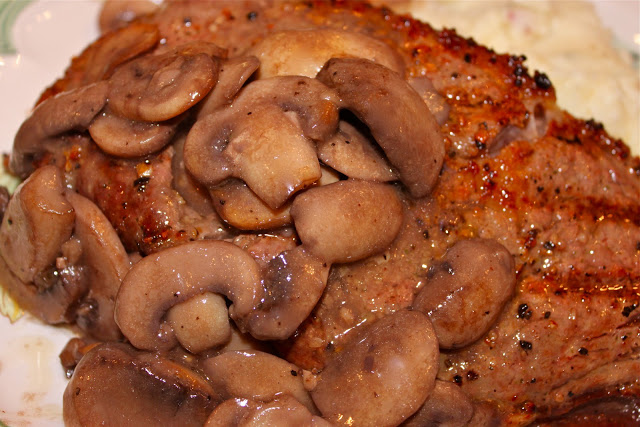 Print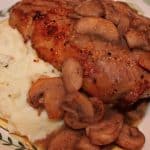 Steaks with Mushroom Sauce & Garlic-Chive Potatoes
Author:
Prep Time: 0 hours
Additional Time: 0 hours
Cook Time: 0 hours
Total Time: 0 hours
---
4 (4-ounce) boneless rib-eye steaks, trimmed (about 1 inch thick)
Season with Nature's Seasons, Mrs. Dash, and any other that you prefer
3/8 teaspoon black pepper, divided
1/4 teaspoon salt, divided
1 tablespoon olive oil
1 (8-ounce) package sliced cremini mushrooms
1/4 to 1/2 cup dry red wine
1/4 cup water
1 – 2 teaspoons all-purpose flour
2 Idaho russet potatoes
1/3 cup chopped chives
1/2 teaspoon garlic powder
---
Instructions
Cook potatoes until done (either by microwaved, boiled, or baked in oven) and then set aside and keep warm.
Sprinkle steaks evenly with 1/4 teaspoon pepper and 1/8 teaspoon salt and any of your favorite herbs and spices.
Heat oil in a large nonstick skillet over medium-high heat.
Reduce heat to medium.
Add steaks to pan; cook 2 minutes on each side or until desired degree of doneness. Remove from pan; keep warm.
Add mushrooms to pan; cook 5 minutes or until tender and beginning to brown, stirring frequently.
Combine wine, 1/2 cup water, flour, 1/8 teaspoon pepper, and 1/8 teaspoon salt; stir well with a whisk.
Add wine mixture to pan; bring to a boil.
Cook 2 minutes or until thick; stir constantly. Remove from heat.
Mash the warm potatoes.
Stir in chives and garlic powder.
Place small mounds of potatoes on each plate.
Top each mound of mashed potatoes with 1 steak and about 1/4 cup mushroom sauce.
---