Panko and Italian Herb~Crusted Perch Filets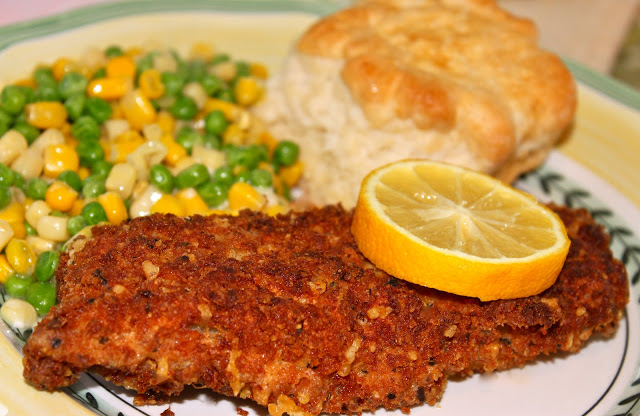 Everyone knows that we should try to enjoy more fish in our nutrition versus beef and/or pork. When it comes to preparing fish, we usually choose grilling for simplicity and speed. However, as we all know, doing the same thing all the time tends to get boring. So I searched the web for some quick and easy fish entree recipes and came up with a compilation of about three recipes. As with every recipe that I post, I always recommend that you put your own spin on a recipe. Just know that picture doesn't lie and this crust is crunchy and yummy. This fish recipe can be baked or fried.
.
Either way that you choose to cook the fish, the panko breading sprinkled with herbs is delightful. Panko is made from the center of bread instead of the crust. Using it results in a larger, flaky bread crumb and a crunchier texture when fried. We just love Panko!!
.
I used perch fillets for this entree, but you can use any mild-flavored white fish as well (tilapia, cod, flounder). If you can, try to use as freshly caught fish as you can. Serve this encrusted fish with lemon-garlic butter or your favorite tartar sauce on the side for dipping. This simple and easy fish pairs nicely with uncomplicated, colorful, fresh vegetables as well.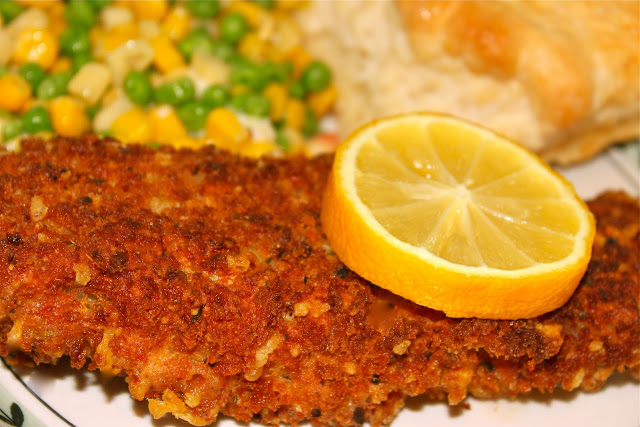 Print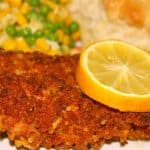 Panko and Italian Herb-Crusted Perch Filets
Author:
Prep Time: 0 hours
Additional Time: 0 hours
Cook Time: 0 hours
Total Time: 0 hours
---
4 lake or ocean perch (or any mild-flavored white fish)
1–1/2 cups panko bread crumbs
1/2 cup flour
1 tsp. lemon pepper seasoning
1/2 tsp. garlic powder
1/2 tsp. onion powder
1/2 tsp. dried basil
1/2 tsp. dried oregano
2 Tbsp. freshly grated Parmesan cheese
1/2 tsp. salt
1 tsp. paprika
1/4 tsp. lemon zest
2 jumbo eggs
1/2 stick of butter (or more if desired)
1 cup canola oil
Garlic Butter
1 stick butter
juice from 1/2 lemon (or more if desired)
1 tsp. garlic powder
---
Instructions
Blend all dry ingredients from the panko crumbs to the lemon zest in one medium sized bowl.
In a second medium sized bowl, beat the eggs.
Heat the butter and oil to hot on the stove OR pre-heat your oven to 400 degrees.
Begin dipping the fish filets in the beaten eggs.
Dip egg-washed fish filets into the panko-herb breading.
Dip AGAIN into the eggs.
Dip AGAIN into the breading.
Place the breaded fish filets into the hot butter-oil, cover with a lid.
Fry for about 3 to 4 minutes on each side, depending on the heat of the oil.
Keep your eyes on the fish so that they cook until a nice golden brown color on each side.
For the dipping sauce, melt the butter and add lemon juice and garlic.
If you bake the fish, place them in a baking pan that has been sprayed with cooking oil.
Bake until golden brown.
Garnish with lemon slices or wedges.
Serve with lemon-garlic butter and/or tartar sauce.
---