Roasted Cherry Tomatoes with Cheesy Breadcrumbs, Garlic and Basil
.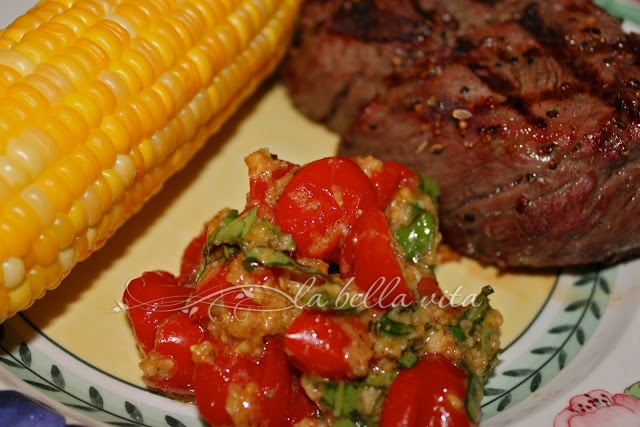 Hot, hot, hot summertime! Oh my goodness, this is certainly a brutal heatwave that most of the U.S. is enduring. I thought that we were in Arizona yesterday with the record-breaking 110 degrees in our area of South Carolina. And we live in the northern and cooler part of the state! I can't think of anything really positive about this kind of weather unless you can live in a cold swimming pool! Or take a trip to sit and sip in one of the new trendy 'ice bars'!
.
In the meantime, Mr. Meat and Potatoes husband and I have been enjoying the bounty of summer with some oh-so-sweet S.C. corn on the cob oozing in hot butter, some outstanding juicy and tender Iowa beef steaks, and fresh tomatoes and basil from the garden. This is what we call "good eatin" in our (cook)book!
.
The tomatoes in the garden are ripening now and some varieties are a bit too early. So that means it is time for me to start using them up in some recipes before they literally bake on the vine! In fact, on tonight's local news, the farmers markets are stating that the green beans are truly baking in this unseasonal heat.
.
I love how roasting brings out and intensifies the flavor of vegetables and fruit, and so I was ready to try a new recipe for cherry tomatoes. A common way that Italians prepare these little red orbs is to roast them with breadcrumbs and herbs. This is a delicious side dish or one that can be tossed in fresh pasta. Another recipe very similar to this (but without breadcrumbs) was posted here a few summers ago and that's an absolute winner that you might also enjoy:
Sweet Cherry Tomato Basil Pesto Sauce with Farfalle Pasta.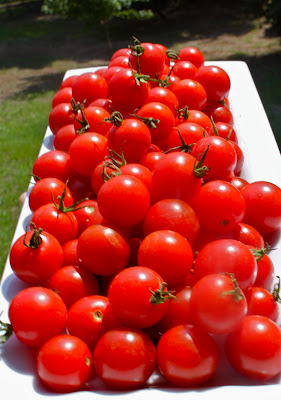 a beautiful platter of fresh cherry tomatoes from the garden, "Sweet 100's"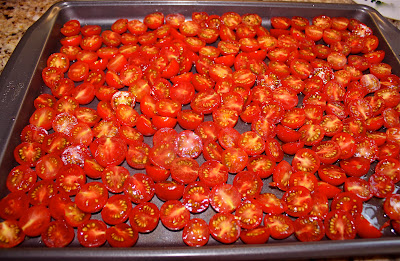 place the cherry tomatoes halves on an olive oil covered pan, with open sides facing up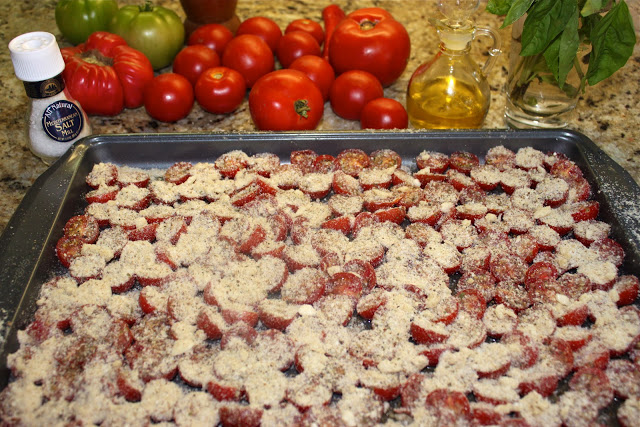 sprinkle any good brand of Italian seasonings on top and then generously sprinkle the cheese-garlic-breadcrumbs on top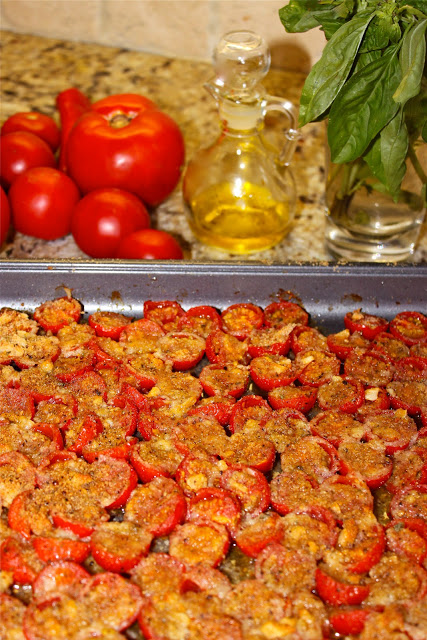 perfectly golden brown breadcrumbs on the cherry tomatoes after baking! the aroma is amazing too!
.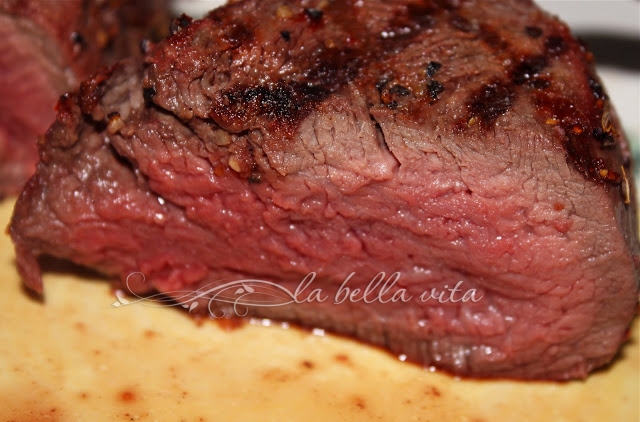 and THIS is what a great grilled steak looks like:
tender in the center and perfect brown and black grill marks on the outside!
Print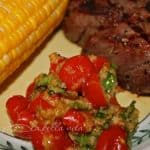 Roasted Cherry Tomatoes with Cheesy Breadcrumbs, Garlic and Basil
Author:
Prep Time: 0 hours
Additional Time: 0 hours
Cook Time: 0 hours
Total Time: 0 hours
---
1 Tbsp extra virgin olive oil
30–36 cherry tomatoes (depending on size)
1 Tbsp. dried Italian seasonings (any brand)
3 garlic cloves, minced
1/4 cup plain dry bread crumbs
1/4 cup finely grated parmesan and romano cheese
Fresh cracked Sea salt
Fresh cracked black pepper
6 – 10 Tbsp. chopped, fresh basil leaves (whatever your preference level is).
sugar if necessary (for tomatoes that are not as sweet)
---
Instructions
Pre-heat the oven to 400°F.
Drizzle olive oil on the bottom of a large baking pan (a low-sided cookie sheet works great).
Cut the cherry tomatoes in half.
Combine the garlic, bread crumbs, and grated cheese.
Season with sea salt and black pepper.
Place the cherry tomato halves, split side up, into the pan, arranging them so they remain upright.
Sprinkle your favorite blend of Italian seasonings all over the tomatoes
Sprinkle the garlic-cheese-bread crumbs all over the tomatoes.
Drizzle a little bit more olive oil on top of the breaded tomatoes.
Bake for 30 minutes or until lightly browned.
If the breaded tomatoes are not golden brown enough, turn on the 'broiler' of the oven and while keeping a close eye on the tomatoes, broil until a nice golden brown.
Scoop the roasted tomatoes into a serving bowl and gently blend in the chopped basil.
Serve hot, warm, or at room temperature.
Served with cooked pasta or alone as a side dish.
NOTE: if your tomatoes are a bit on the sour side due to early ripening and not enough time on the vine, add sugar to taste after the basil is added. It will really help take the bite and tang out of the tanginess of early tomatoes.
---