Fresh Watermelon Salad
.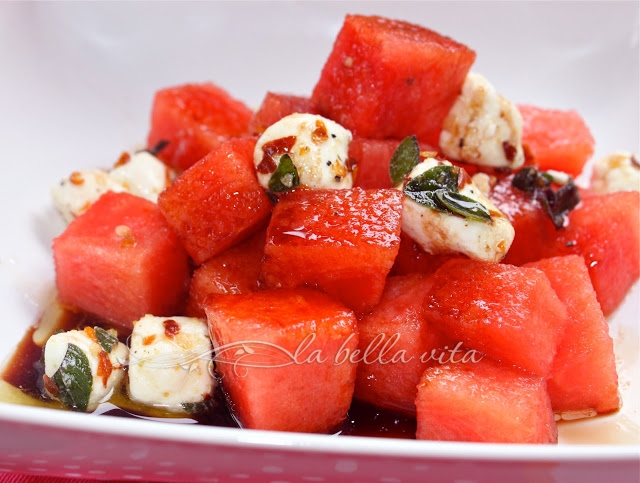 Watermelon is simply just one of the best things to enjoy in the summer!
There is nothing quite like biting into sweet, cold, juicy watermelons! As a child I remember my father taking us to nearby produce stands where there were huge tin water troughs filled with ice and watermelon. Wow, just like a cold beer in a ice-filled beer tub! I pity anyone who lacks a memory of eating a slice of ice cold watermelon . . . simple with nothing added! Yea, now that's summer eaten'!
However, for a recent gathering with friends, I prepared a heavenly watermelon with goat cheese salad, a sweet and savory combination that is so delicious you may not stop eating it! I know that this combo sounds really weird, but all of the different textures and flavors combine perfectly and the balsamico vinegar lends a nice kick to smack those taste buds of yours!
A day or two ahead, marinate your goat or feta cheese (I use goat cheese because I find it more mild and so it soaks up all the herbs and olive oil more genuinely; plus my husband hates feta cheese . . . remember he's still "Mr. Meat and Potatoes"). . . I mean after all . . . feta? Nothing but cheddar or mozzarella cheese for my guy! Yet reluctantly and surpisingly he enjoyed his one bite of this salad and then proceeded to cut that tried-and-true slice of watermelon to enjoy while I noshed on this salad.
This is superb and I highly recommend this incredible watermelon salad!
And as with all recipes, to achieve mouth-watering results, please remember to use quality ingredients: extra virgin olive oil instead of regular olive oil (unless specified), freshly ground black pepper instead of already ground pepper, freshly ground sea salt instead of regular salt, etc.
It really makes a difference in the end-resulting flavors and final dish. You'll be so glad that you did!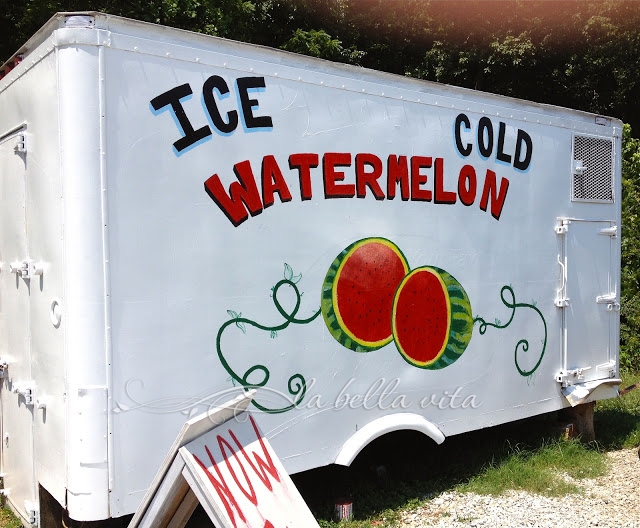 .
.
at our local produce stand: a 'refrigerated' trailer full of cold, sweet watermelons!
.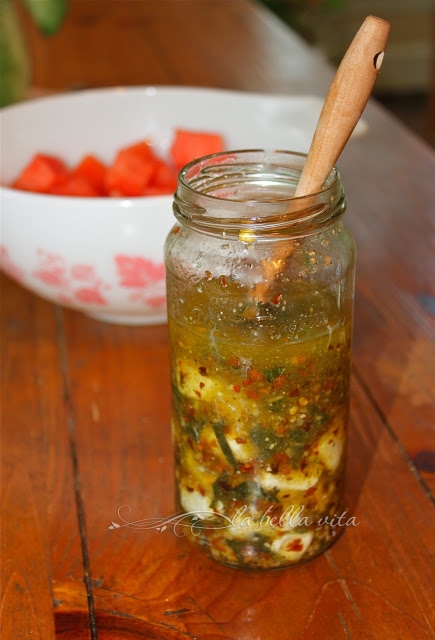 .
.
the goat cheese happily marinating in all of the herbs, spices, and olive oil
.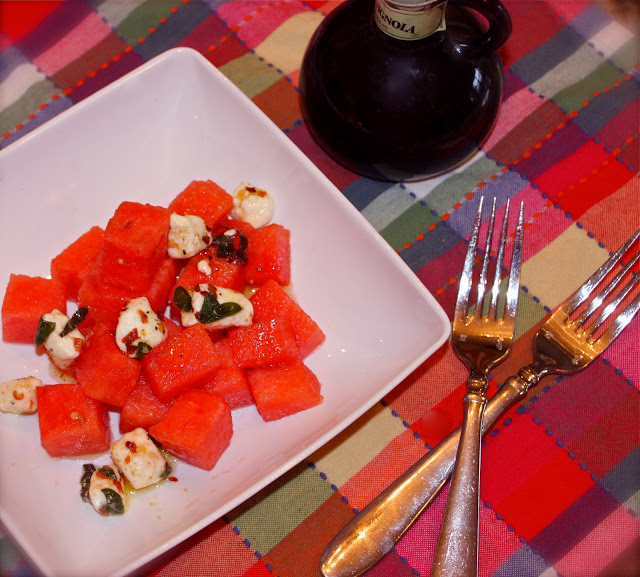 Watermelon Salad with Herb Marinated Goat Cheese Vinaigrette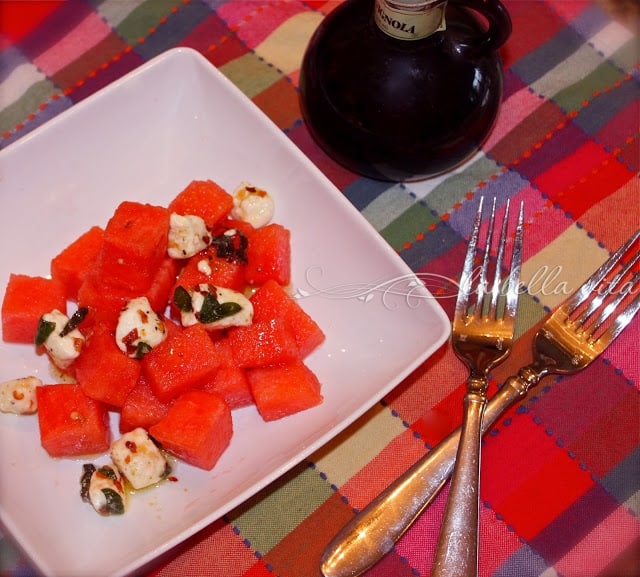 Ingredients
Fresh watermelon cut into 1 - 2" cubes
1 small roll of goat cheese, cut into small cubes
1 cup extra virgin olive oil
3 Tbsp. fresh herbs, finely chopped (basil, oregano, thyme, rosemary)
3 tsp. red chili pepper flakes
2 Tbsp. minced garlic
1/4 cup of fresh basil, broken into pieces by hand
Balsamico vinegar -- to drizzle on salad
Instructions
Prepare the marinaded goat/feta cheese at least 2 hours earlier than serving the salad.
In a clean glass jar, pour the oil into it.
Add the chopped feta/goat cheese.
Add all chopped fresh herbs.
Add red pepper flakes and minced garlic.
Gently, very gently swish the cheese cubes around in the marinade.
Place in the frig to chill for 2 hours.
Just before serving, cut watermelon into cubes.
Sprinkle the marinaded cheese cubes over the watermelon cubes.
Drizzle with balsamico vinegar or pass it around to guests.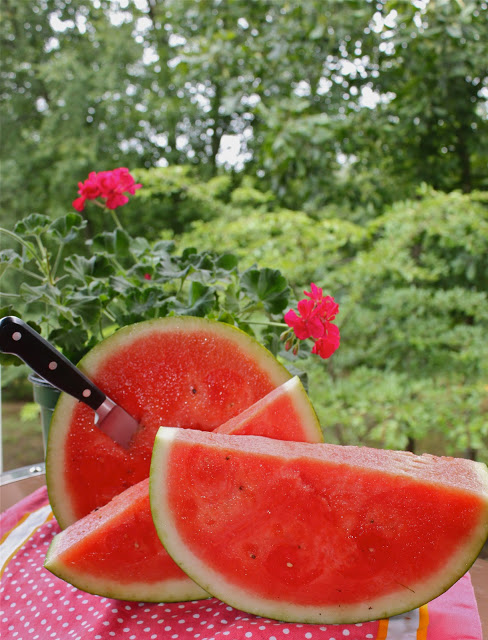 Stay Cool !
.
.
.