Summer Salad with Cherries, Prosciutto, Goat Cheese and Balsamico!
Our horses in the pasture enjoying a summer day on the acreage
Every now and then I come across a recipe that is a complete and wonderful surprise! And since lately I've been having a love affair with salads that include fresh fruit, whether that be strawberries, dried cranberries, or apples, I've just found another unexpected delicious salad. This salad is such an epicurean delight, I wanted to make a second helping immediately upon enjoying that last bite on my plate! I recently discovered two recipes for a fresh greens salad with sweet summer cherries peaking out and beckoning one to taste their magic! Larry from Big Dude's Eclectic Ramblings inspired the creation of this salad. The original recipe was found on 'Cooking Light', a resource that has never failed me and Larry's recipe that he found on the Cooking Channel, my favorite go-to food channel.
From the Cooking Light recipe, I used an arugula – baby spinach bedding for the salad. Following that, I also added the sliced red onions, Rainier cherries, and goat cheese. However I added slivered almonds in place of pistachios, for the simple reason that I just adore slivered almonds in my salads and always have them on hand in the pantry. From Larry's salad with cherries recipe, I added thinly sliced prosciutto and a balsamico vinaigrette.
Simple perfection.
Unbelievably complex and interesting flavors with the gentle sweetness of the cherries combined with the bite of the arugula, the tang of the balsamic, the butteriness of the goat cheese, and the velvety prosciutto.
Oh my goodness, slap me silly . . . incredible!
Larry, thanks so much for helping me find another keeper-winner recipe for my personal family cookbook. This summer salad with all of its flavorful players is amazing!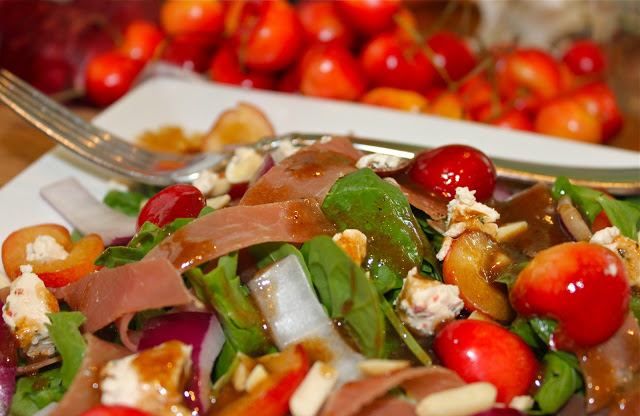 .
Summer Salad with Cherries, Prosciutto, Goat Cheese and Balsamico
Ingredients
6 cups arugula and baby spinach blend
1/3 cup red onion, thinly sliced
1 cup cherries, pitted and sliced in half (do this just before serving to prevent browning)
1/4 cup crumbled goat cheese
1/4 cup slivered almonds
3 - 4 oz. prosciutto, sliced in thin ribbons
Serve with Balsamico Vinaigrette
Balsamico Vinaigrette
1/4 cup balsamico vinegar
1/4 cup canola oil
1/4 cup olive oil
1 Tbsp. Dijon mustard
1 Tbsp. honey
1 clove garlic, minced salt and pepper to taste
Instructions
In a small mixing bowl, whisk together vinegar, canola and olive oils, mustard, honey, and garlic.
Season with salt and pepper.
Refrigerate until ready to serve.
.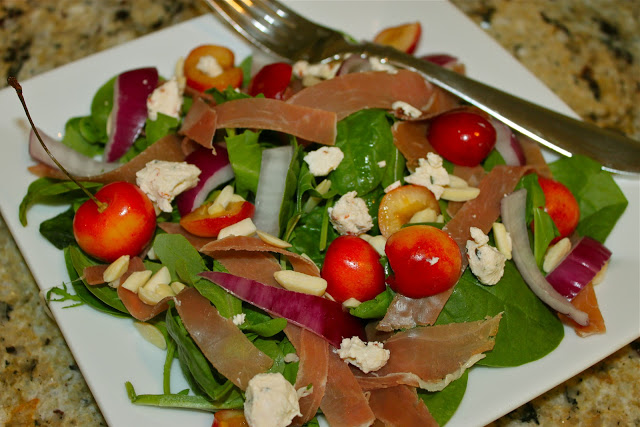 Mangia!
.
.