A Fresh Thai Salad and Two Thai Dressings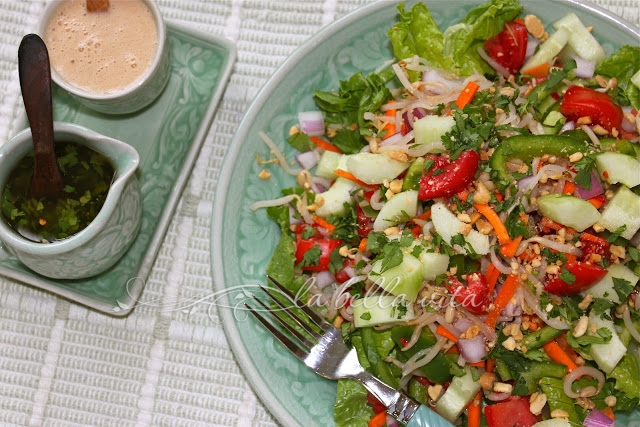 Many of us with gardens have oodles of fresh veggies to harvest and use in recipes right now . . . cucumbers, zucchini, tomatoes, green, red, yellow, orange, and even purple peppers and more! And even if you don't have a vegetable garden, your local farmers' markets and roadside produce stands are brimming with summer's bounty. Plus the heat of summer may be compelling you to prepare something without turning on the oven.
This salad is so fresh and healthy, and if you're into the 'raw food' movement, this couldn't be more perfect. There's not a single moment of cooking with any source of heat for this salad making it spot-on for summer! The colors in this salad are so pretty and inviting as well. When tomatoes are so red and peppers are so bright green, it's just such a beautiful sight to see in front of you on the table.
I've provided two Thai dressings to select from for your salad. I make both dressings because my husband just loves Thai peanut sauces. Although I enjoy the Thai peanut dressing, I really prefer the sweet, tart, spicy option that (in my opinion) pairs better with the cucumbers. But I like to make everyone's tummies happy! Last year, I developed a dressing for a classic Thai cucumber salad that is quite delightful that you may want to click on this link to check out.
The peanut dressing is adapted from the Moosewood Cookbook, in which Molly Katzen describes it as a "tart, sweet, spicy, peanutty, surprisingly exotic and very much fun to eat" dressing. Now that's quite a description!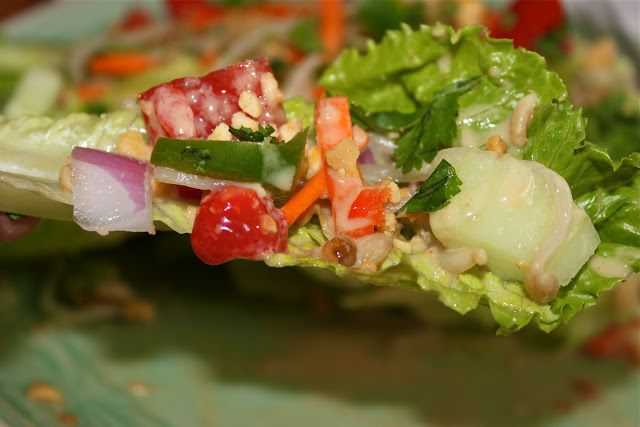 you can also use small romaine leaves to scoop up the salad!
this photo shows the Thai Peanut Dressing drizzled all over
.
Print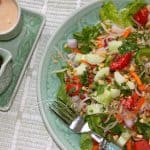 Fresh Thai Salad and Two Thai Dressings
Author:
Prep Time: 0 hours
Additional Time: 0 hours
Cook Time: 0 hours
Total Time: 0 hours
---
2 cucumbers, peeled, sliced, seeds removed
2 medium garden-fresh tomatoes, sliced and halved
1 green pepper, cored, insides removed, sliced thin
1/2 red onion, chopped
1 medium carrot, sliced thin
1 tsp. minced hot red chili (Thai pepper if you have one and can handle the heat)
1 head Romaine lettuce
2 cups fresh bean sprouts, rinsed and clean
1 cup cilantro or Thai basil, chopped
1 – 2 cups unsalted peanuts, crushed (and if you're like me, use much more)
Thai Peanut Dressing
4 Tbsp. rice vinegar (apple cider vinegar is also fine)
6 Tbsp. creamy peanut butter
1/3 cup water
1–1/2 Tbsp. lime juice
4 large garlic cloves, minced
1 tsp. sea salt
1 Tbsp. sugar
Traditional Thai Cucumber Sweet and Spicy Dressing
1/2 cup rice vinegar
1/4 cup water
2 Tbsp. peanut oil
1–1/2 Tbsp. fish oil (nam pla)
3 Tbsp. sugar
1/2 tsp. crushed red pepper flakes (this is NOT spicy)
3 Tbsp. minced onion
3 Tbsp. lime juice
3 Tbsp. garden-fresh cilantro/Thai basil, chopped
---
Instructions
For the Thai Peanut Dressing
Blend all ingredients together and serve.
If you want it more 'peanut buttery', then just add more peanut butter until you reach your preference.
For the Traditional Thai Cucumber Sweet and Spicy Dressing
Blend all ingredients together and serve.
As with the other Thai dressing, play with these ingredients and add more of what you prefer (i.e: lime juice, or cilantro, or red pepper flakes).
Instructions
On salad or dinner plates, place the lettuce leaves in an appealing and attractive manner.
Continue to pile up the remaining vegetables, topping off with the bean sprouts, cilantro/Thai basil, and finishing up with a generous sprinkling of the crushed peanuts.
Pass the dressings around to your guests to select which they prefer to drizzle on salads.
---
.
Two Extraordinary Thai Dressings to Choose From!
two absolutely delicious Thai dressings to choose from!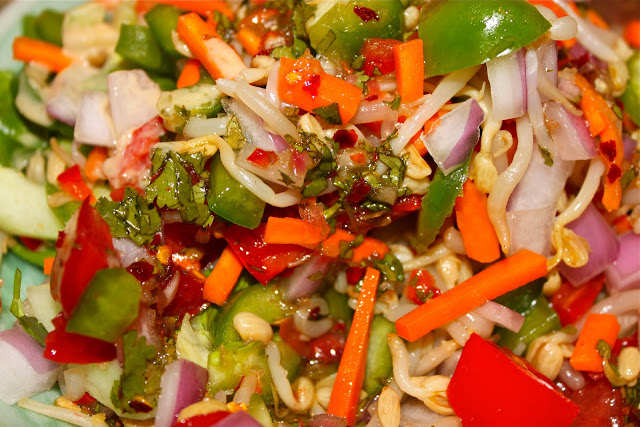 above the salad is dressed with the traditional Thai peanut oil/rice vinegar, lime, sugar, red pepper flake dressing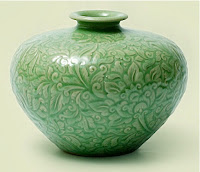 To plate this lovely salad, I used my Baan Celadon pottery from Chiang Mai, Thailand where I visited for a research project in 2001. If you like the design and color (I'm crazy about it), you can google it and order it online (be prepared for tremendous shipping prices because it is hefty pottery). The exchange rate for the Thai baht is still excellent for the American dollar, but your savings will even out once you see how much it costs to ship it over here to the States. For me, it was worth it and because they packaged it so well, not one piece arrived broken. I bought a 4-piece place setting set with lots of serving pieces, both large and small.