Wild Mushroom Agnolotti in Basil Pesto Butter
.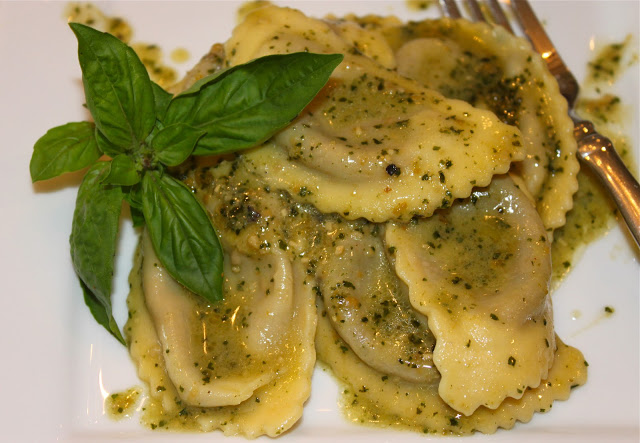 "You are not to cook for 8 weeks!" and "No BLT's" stated the nurse at the Carolina Neurosurgical and Spine Center in a pre-surgery class filled with a group of patients and their primary care takers preparing for upcoming lumbar fusion surgery.
"Oh my God," I said to my husband during the class that took place two weeks ago prior to the back surgery. This rule for recovery was just as much of a shock as learning the amount of pain that would be encountered for the first 4 days after surgery. Cooking requires a lot of "bending, twisting, and lifting . . . the three BLT's", the things that you cannot engage in for 8 weeks while wearing a back brace and healing the wounds of surgery.
"Prepare lots of frozen meals ahead of time, or have someone cook for you, or order take-out" continued the nurse.
Well, ordering take out every single day was not an option due to the expense, the huge portion sizes, and the amount of salt and fat included. And as far as having someone else cook in this household, let's just say that my husband's cooking skills are almost non-existent except for Sunday morning pancakes and sausage.
So that really put the emphasis on preparing lots of frozen meals. And I'm not talking about frozen pizzas or frozen boxed dinners either!
Truthfully I do make and freeze a lot of frozen homemade meals, but I thought that I'd get creative this afternoon for lunch while my husband was at work. These new rules for recovery from surgery are proving to be like a little cheat sheet in the kitchen . . . to give yourself permission to use frozen ingredients too! So since I was in the mood for feel-good carb-laden pasta, I slowly went to visit my happy freezer to see what I could put together.
One shelf of my freezer is filled with frozen pastas, both filled and un-filled. Naturally since my husband fixed spaghetti in a batch of my frozen Bolognese sauce two nights ago, I went straight for the filled pastas.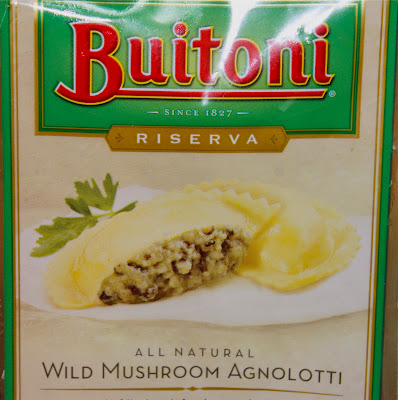 Hmmmm? Should I bathe these little pillows of beauty in a sage-butter bath? Sounds good . . . but hey! My drugged up head came up with a better idea! How about using up a small container of frozen homemade marinara sauce? Even better, my GPS location system went to the shelf where little plastic containers of my frozen home-made basil pesto was crying out to be used.
The pesto won!
So while the wild mushroom agnoletti were swimming in the boiling water on the stove, I melted a half stick of butter and stirred in about a tablespoon of my thawed out basil pesto sauce. Not too much now; these are delicate pastas.
PERFECTION! What a delicate and sublime flavor combination!
"So there! I can still cook while in recovery . . . just a little more creatively with the help of my friend, the freezer!"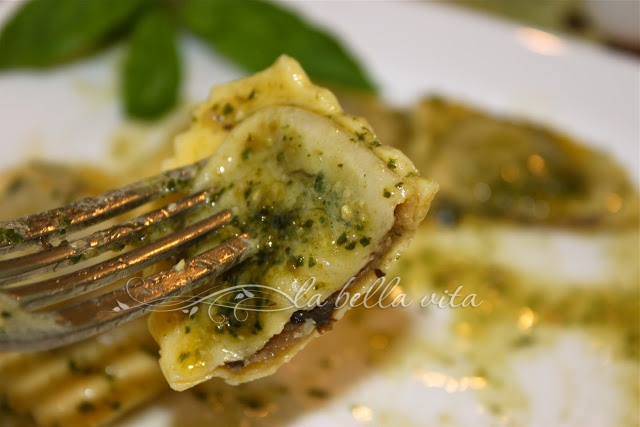 ….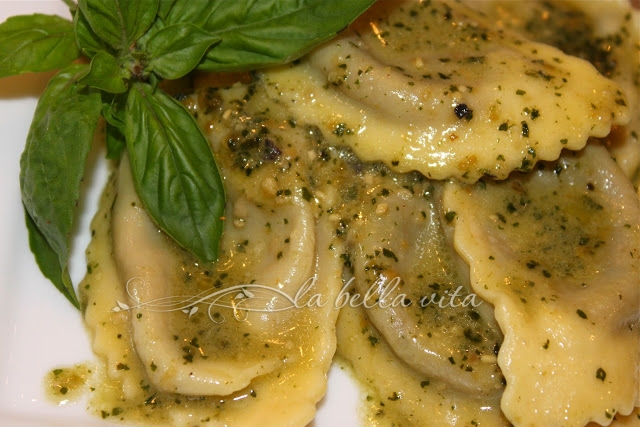 Print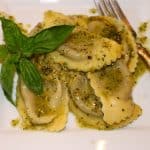 Wild Mushroom Agnolotti in Basil Pesto Butter
Author:
Prep Time: 0 hours
Additional Time: 0 hours
Cook Time: 0 hours
Total Time: 0 hours
---
1 9 oz. package of Buitoni pre-made, frozen wild mushroom agnolotti
1 stick of butter
1 – 2 Tbsp. basil pesto sauce
---
Instructions
Cook the mushroom agnolotti according to package directions.
Thaw out frozen basil pesto sauce.
Melt butter.
In a medium bowl, mix the hot butter and the basil pesto sauce.
Gently place the agnolotti in the warm pesto butter.
Toss lightly to cover the pasta lightly with the pesto butter sauce.
---
Click on this link for the recipe for my homemade: basil pesto sauce !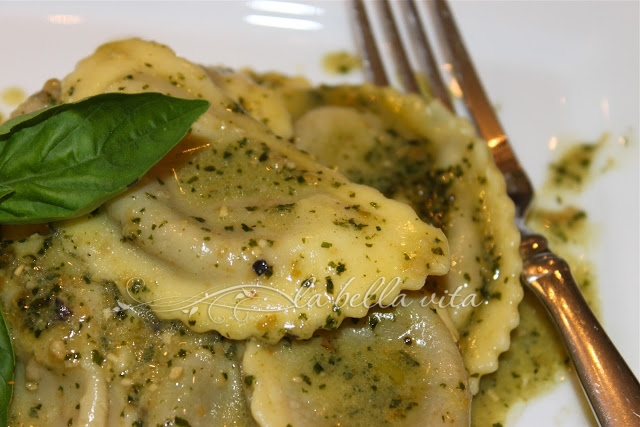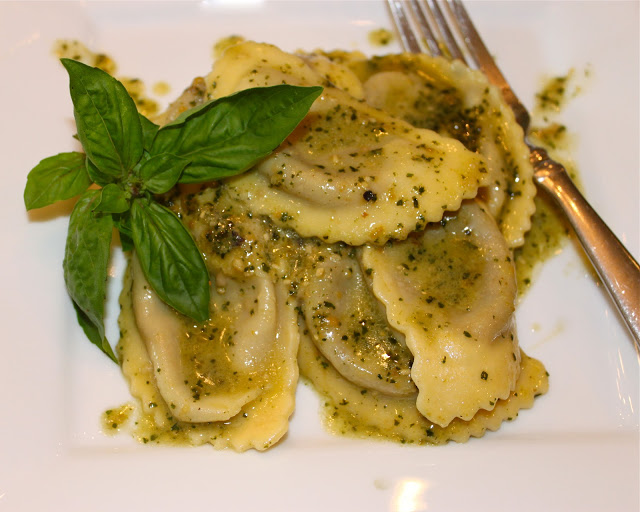 .
.