Fig and Arugula Salad with Gorgonzola and Balsamico Vinaigrette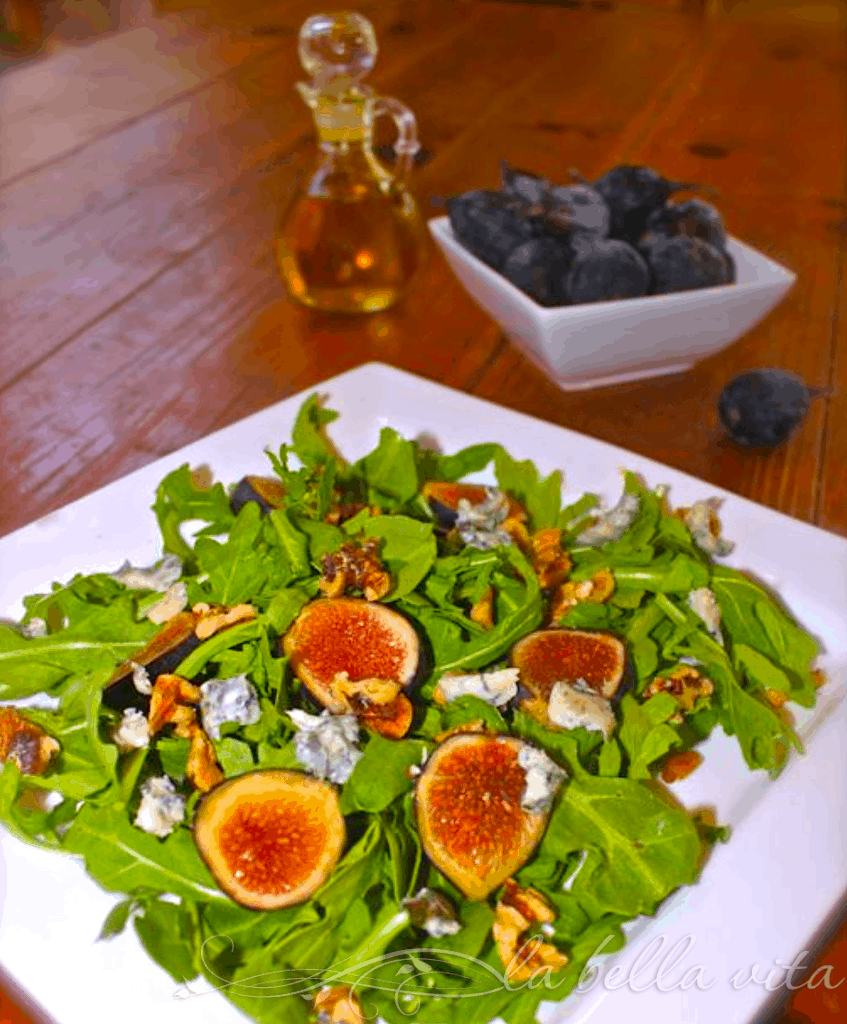 It's FIG SEASON!
I'm so excited and jazzed about this brief season, of which it is their second (and last) season of the year. I'm going to savor every brief moment of their arrival in the markets! In Italy, a garden just isn't a garden without a fig tree, and that goes all the way back to the times of the Roman empire. After all figs are one of the oldest known fruits!
Most Italians are crazy, no . . . obsessed over figs. So much so that many Italian immigrants had to bring a precious fig tree over to America with them. Figs are quite simply Italian staples used in both sweet and savory recipes. They have a very brief life, you must use them immediately or they will spoil . . . and that would be a very sad thing!
To enjoy figs, here is another bursting-with-brilliant-flavors salad . . . only this time the shining star of the show is the humble little fig! These delicious and subtly sweet gems add incredibly seductive beauty to a bed of greenery in a salad. I just love this Fig and Arugula Salad with Gorgonzola and Balsamico Vinaigrette!
There is so much going on in this superb salad with the creamy gorgonzola, peppery arugula, tangy balsamico vinaigrette, sweet figs, and crunchy walnuts . . . it's like (excuse me) a fabulous symphony of flavor! Your tastebuds are sent to gastronomic heaven. I just love it when that happens! This salad could easily be enlarged to a size to make it a main entree and that would be perfectly fine with me!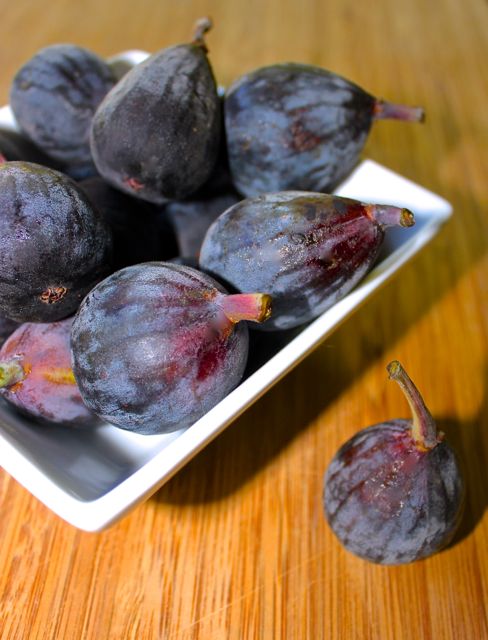 .
aren't they just beautiful?
so exotic and provocative in appearance!
I can see why figs have been so prized throughout time!
.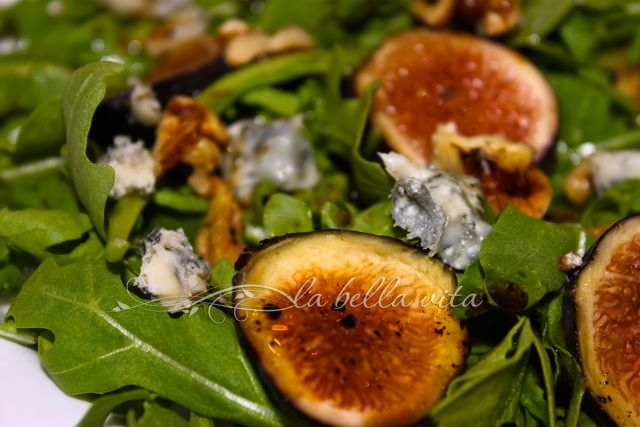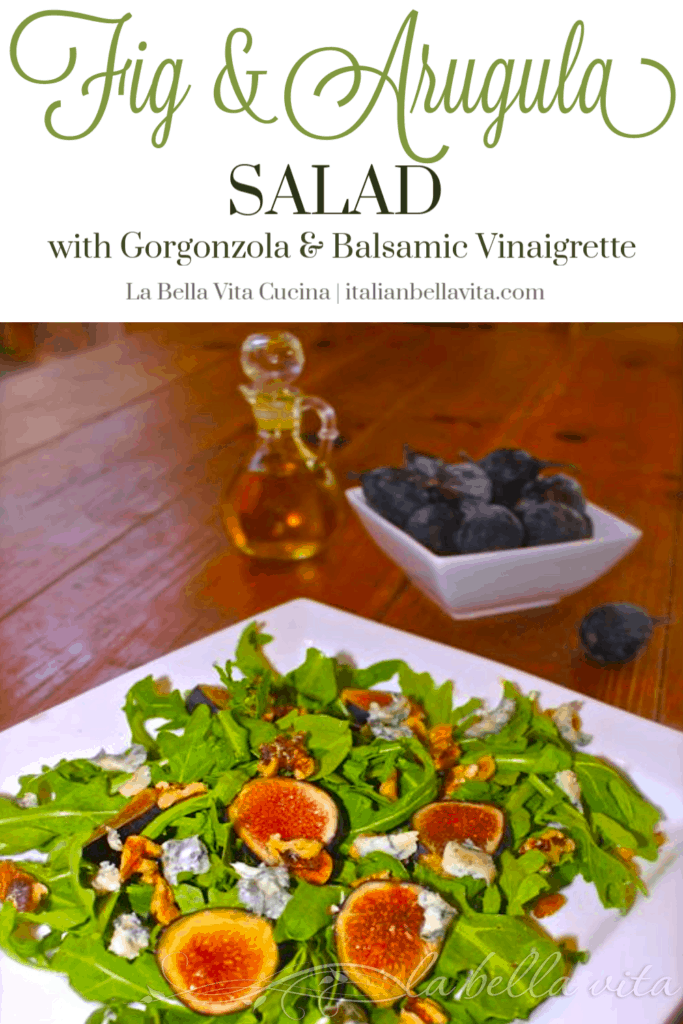 Print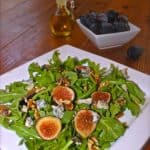 Fig and Arugula Salad with Gorgonzola and Balsamico Vinaigrette
Author:
Prep Time: 0 hours
Additional Time: 0 hours
Cook Time: 0 hours
Total Time: 0 hours
---
For the Salad
6 – 8 fresh black mission figs, sliced and/or halved
2 – 4 cups fresh baby arugula
1/2 cup chopped walnuts
1/3 cup gorgonzola cheese, crumbled
For the Balsamico Vinaigrette
1/4 cup extra virgin olive oil
4 – 5 Tbsp. balsamico vinegar
1/4 tsp. Dijon mustard
1 tsp. honey
1/8 tsp. freshly cracked sea salt
1/8 tsp. freshly cracked black pepper
---
Instructions
Instructions
Prepare the Salad
Place the baby arugula on individual salad plates.
Scatter the figs over the arugula.
Sprinkle on the walnuts and the gorgonzola cheese.
Drizzle with the vinaigrette or pass it around to your guests.
Prepare the Balsamico Vinaigrette
Blend all ingredients.
Make any adjustments necessary for your taste preferences.
Add more honey, if you like your vinaigrette more sweet, or add more balsamic vinegar or Dijon mustard if you like your vinaigrette more tart.
---
Valerie, in her comment below said:
"Absolutely yummy. I added spring mix to just give it volume, and I can eat a huge bowl of it. So easy and quick–unfortunately I don't have access to fresh figs, but I like the California dried figs. Also, if I have chicken, I'll add a bit as well.
Delicioso! Thanks so much for sharing!"
Many thanks go out to Valerie, for sharing her results of preparing (and enjoying) this salad. I hope that you try it and / or other recipes and let me know. I always share everyone's experiences, tips, and advice here with the community!
Buon Appetito and grazie, Valerie!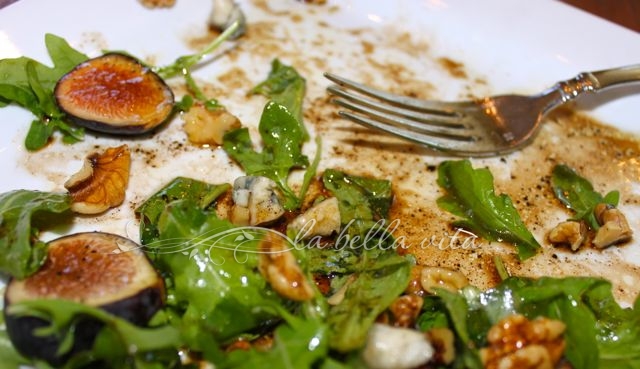 .En
Enjoy this Fig and Arugula Salad with Gorgonzola and Balsamico Vinaigrette !
.