Burgers with Smoky Bacon, Basil and Gorgonzola Cheese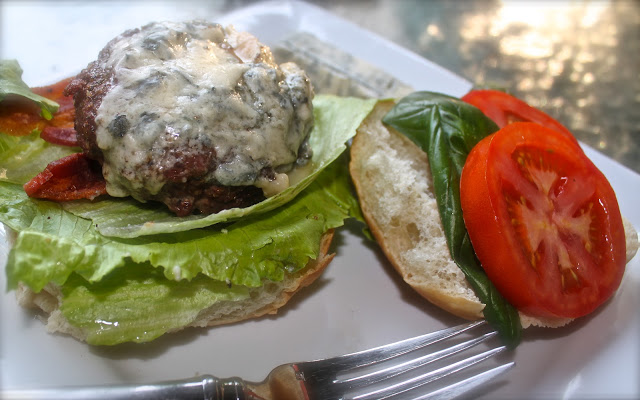 Creamy blue and white Italian Gorgonzola cheese, melting and oozing over a huge burger, laid on a bed of thick-cut, smoked bacon and topped with fresh basil and tomatoes!
.
This is burger heaven on the grill!
.
If you're into the 'black and blue' . . . beef and blue cheese combination, then this is for you.
.
Why grill when it's almost October? It was 87 degrees today and after decorating the house for autumn, I was in a sweat and not wanting to cook in the kitchen. Mr. Meat and Potatoes Bill loves to grill anyway.
.
It's also another night of football on TV, so easy-peasy and casual was required.
.
This recipe is sosuper easy too!
.
If you don't care for Gorgonzola (Italian blue cheese), than use your favorite cheese. How about trying Gruyere for something a little more French? Or a nice sharp cheddar? Spicy pepper jack would be great too!
.
Use what you like, just make sure that the cheese melts all over the burger. You'll need a big stack of napkins for this big burger for all of the cheesy-infused drippings of the tomatoes and beef running down your chin!
.
I had some extra Gorgonzola in the frig after using some in my previous salad that I just posted with figs and Gorgonzola/blue cheese. And I just hate to waste food. This stuff always seems to spoil quickly, so I only buy a small piece at a time.
.
And this cheese is just so creamy, tangy delicious!
.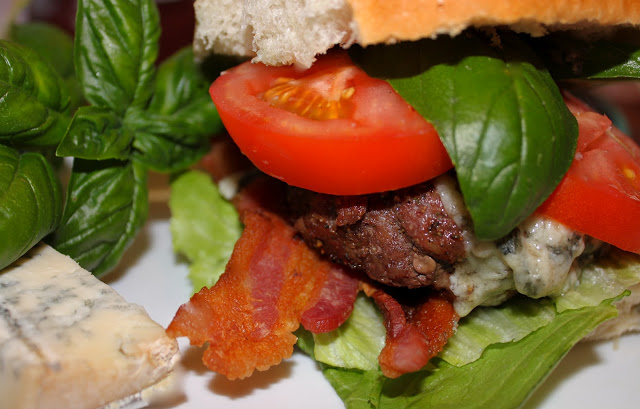 There's no secret recipe to this decadent burger either!
.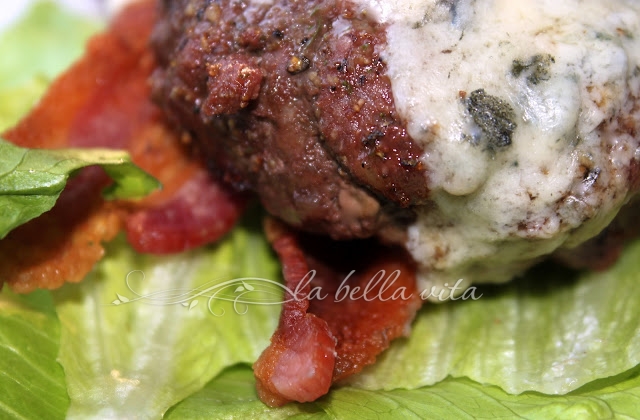 the creamy, soft Italian Gorgonzola cheese just melting all over the juicy burger and bacon!
.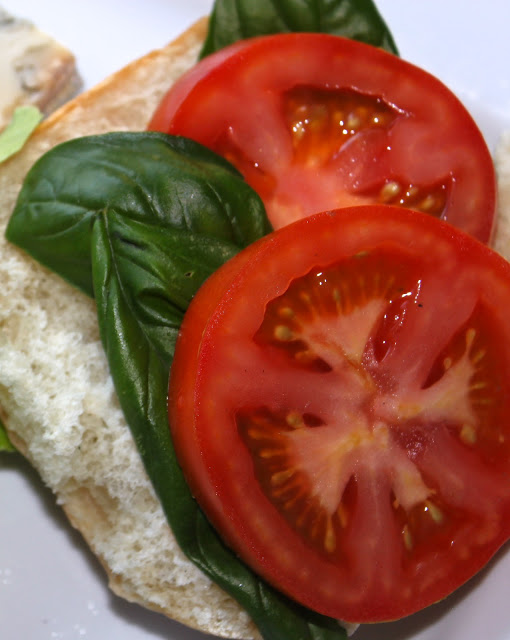 bright colors of fresh green basil leaves and red tomatoes
.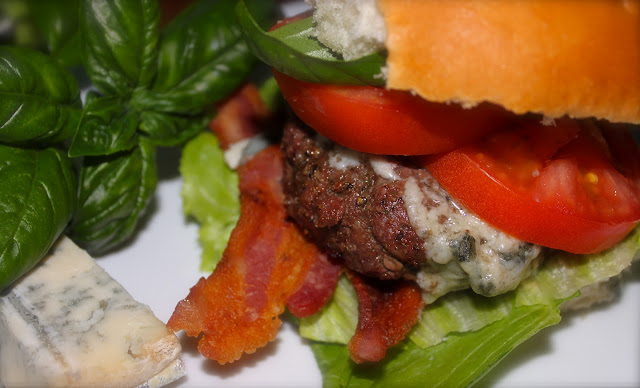 Mangia!

Print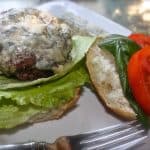 Burgers with Smoky Bacon, Basil and Gorgonzola Cheese
Author:
Prep Time: 0 hours
Additional Time: 0 hours
Cook Time: 0 hours
Total Time: 0 hours
---
1 – 2 lbs. of the highest quality of ground bison beef/sirloin.
Garlic powder
Dried oregano
1/2 pound Italian Gorgonzola cheese
Large hamburger buns
Lettuce
1 – 2 lbs. thick-cut smoked bacon, cooked until a crispy brown color develops
6 tomatoes
12 – 15 large fresh basil leaves
condiments of your choice: pickle slices, mustard, ketchup, onions, mayonnaise, etc.
---
Instructions
Form huge ½ pound patties of burgers.
Season them the way you like, I add some garlic and oregano.
Grill to the level of doneness that you prefer (we like ours medium-rare).
Near the end of being cooked, place Gorgonzola cheese on top of the burgers (it is soft and melts fast).
Use huge hamburger buns!
Toast the buns very briefly (this prevents them from becoming soggy from the beef and tomato juices).
Lay lettuce leaves on the bottom half of the bun.
Layer on the well-cooked, browned, thick-cut, smoked bacon.
Place the cooked burger with melted cheese (use the microwave if you have to) on top of bacon and lettuce.
Layer on thick-cut ripe tomatoes.
Layer on big, fresh basil leaves.
Place the top half of the bun on top.
Condiments
For this I recommend a nice, simple mixture of extra virgin olive oil and minced garlic to spread on each half of the bun.
---
Notes
Tip: Put a small indentation about the size of an inch and a half in the center of each burger. As the burgers cook, this pops out and the center of your burgers cook better.