Pot Roast with Vegetables, Garlic and Porcini Mushrooms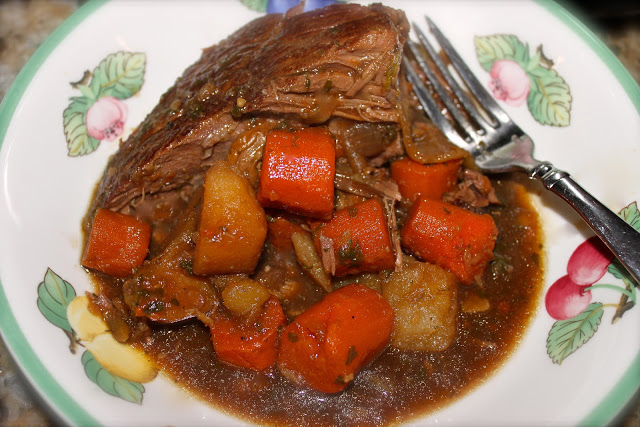 My daughter says that I need 'to get with it', stating that I need to start cooking with a slow cooker! I mean, she said this to her mom who used to be a buyer in the fashion industry where 'new' and 'on-trend' was of utmost importance! I mean, I'm just sayin'!
For Pete's sake everyone, we 'old folks' (in our 50's) used to call these things CROCK POTS! These electric cooking pots just seemed so 70's to me! Good grief Charlie Brown, I'd rather do FONDUE than cook with a crock pot!
Yet this week my husband requested something hearty and comforting for a cold winter's night . . . a pot roast. Now mind you, I have a THIN man in my life . . . you know the kind of person that you just hate because they can eat ANYTHING and not gain any weight. It's totally maddening!
All I have to do is look at food or read about it and I seem to pack on the pounds, especially around my butt! So I pack it on while he packs it in!
It just ain't fair!
So if Mr. M. and P. (Mr. Meat and Potatoes) asks me to once in a while defer from preparing Italian or healthy weight-watching meals, I'll cave in and gladly oblige.
So we dusted off the slow cooker pot that I purchased four years ago (yup, you read that right!) that still had all of the labels stuck onto it prior to this new cooking venture today. I had given away my very first, wedding-gift-crock pot from the '70s years ago! I think that I used it once. I guess it just wasn't my 'thing'.
Yes, I've made a pot roast before, but never in a slow cooker. So one thing that I knew I needed to do before putting everything together in this slow cooking process, was to "SEAR" the beef for a nicely browned exterior before putting it in the pot. Nothing beats that step . . . nothing.
So here's a simple recipe that's probably not very much different than the plethora of recipes out there: Pot Roast with Vegetables, Garlic and Porcini Mushrooms!
However, I have to admit: I did add quite a bit of garlic and the porcini mushrooms to make it more Italian. Because as you know, garlic is a good thing! 😀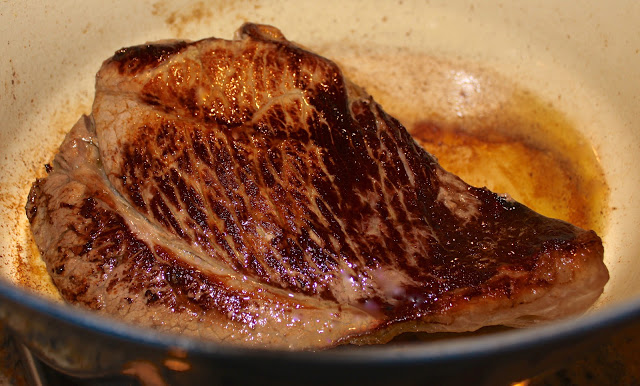 sear the beef in a heavy pot for about 4 – 5 minutes on each side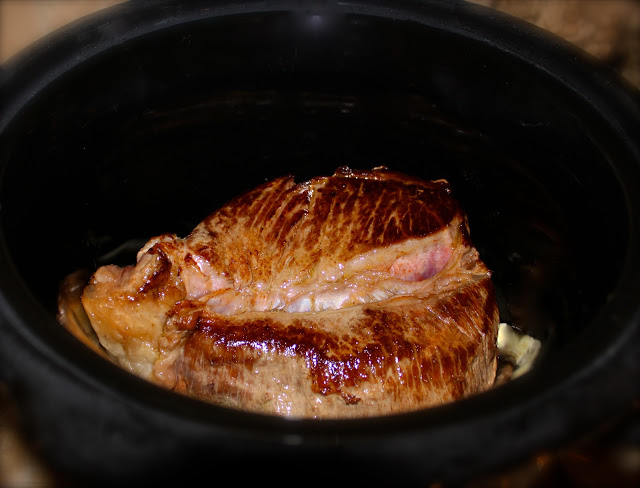 place the seared roast in the slow cooker
the garlic is on the bottom under the roast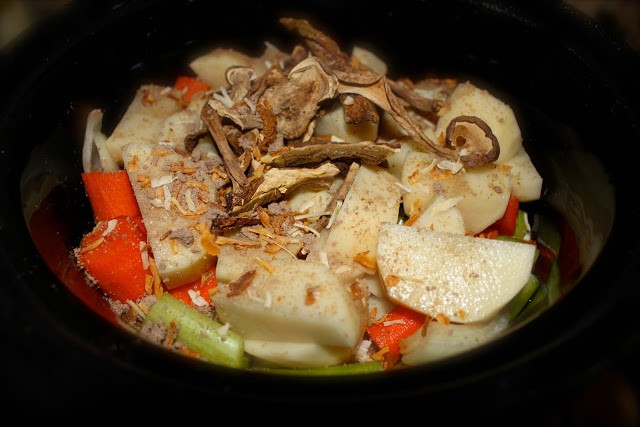 add the rest of the ingredients
cover with the lid
cook on low for 8 hours or high for 4 hours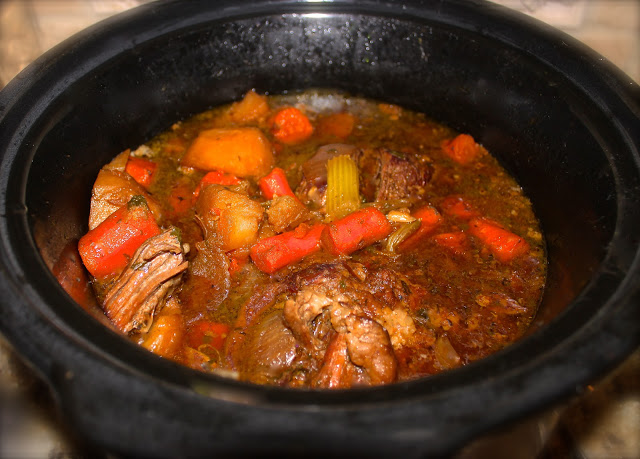 the beautiful results!
.
Print Pot Roast with Vegetables, Garlic & Porcini Mushrooms
Author:
Prep Time: 0 hours
Additional Time: 0 hours
Cook Time: 0 hours
Total Time: 0 hours
---
3 – 4 pounds boneless chuck roast
2 Tbsp canola oil (olive oil burns too easily, so I definitely do not recommend olive oil)
Mrs. Dash Garlic and Herb blend
Nature's Seasons
1 large onion, chopped
8 large cloves of garlic, peeled, smashed, and chopped
1/2 cup red wine (I use a Meritage blend)
1 cup water with 3 – 4 tsps. beef bouillon (I use "Better Than Bouillon) or low-sodium beef broth
3 large carrots, peeled and cut up the way you prefer
3 large Idaho russet potatoes, peeled and cut into 2" cubes
4 stalks celery, cut into 2" pieces
1 packet dried porcini mushrooms
1 cup finely chopped Italian parsley
---
Instructions
In a large heavy pot, heat the oil.
Season the roast with salt and pepper to taste, Mrs. Dash, and Nature's Seasons.
Brown on all sides about 4 minutes per side.
Place the roast in the slow cooker with the garlic on the bottom of the pot.
Add the carrots, onion, potatoes, celery, mushrooms, and Italian parsley.
Blend the bouillon with the liquids.
Add the liquids to the pot.
Cover and cook on low setting for 8 hours or on high setting for 4 hours.
---
---
Mangia!