Lemon Citrus Granita on the Amalfi Coast, Italy
.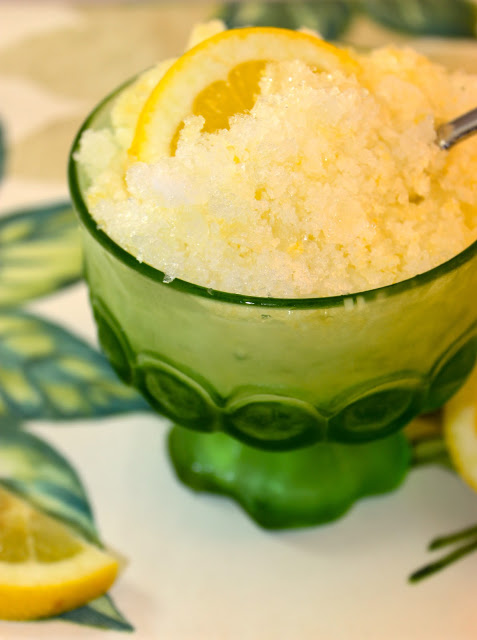 Nothing is as cleansing and refreshing as a lemon citrus granita!
Clean, clean, clean . . .
I don't know about you, but I have always loved New Year's Day! I don't make any specific resolutions, but I do vow to make positive changes in many areas of my life. Last year I promised myself to clean up my nutrition. I kept my promise to myself, lost weight, tightened up a (little) bit, and now feel so much better (and lighter too)!
I also pledged to clean out the clutter in my home . . . check! And it's still going on! We paid off several bills and cut down our spending in general to stay true to our resolution to simplify our lives and focus more on what is important to us. Our goal is to keep plugging away at this one so that some day I can retire!
Even if you don't make resolutions, you can't deny that it's great to clean up anything in our lives: whether that be our homes, all of that distracting, useless clutter, or our nutrition . . . clean is good!
But the 'clean eating' lifestyle certainly is NOT an easy approach to eating. For the most part, I agree with many of the guidelines, but this style of eating loses me in several areas (that I'll point out later). Put simply, the focus of clean eating is to consume food in its most natural state, or as close to it as possible.
Fresh fruit is a big part of this style of eating since fruit can be enjoyed so much without any cooking. And since it's winter when citrus is at it's peak of freshness, I chose to prepare a granita of lemons and orange to try a 'clean eating' recipe.
BUT, and this is a really big 'but': One of the challenges of the 'clean eating' approach: NO sugar is allowed. That's a toughy for many of us, at least I know that it is for me and especially for my husband. Granita requires sugar added to the squeezed juice from fresh fruit. So I replaced it with Stevia, which is allowed in the clean eating philosophy. For this month's 'clean' theme, I'll make that one little change. But other than this one time, I'm going straight back to using sugar, which is what the Cooking Light recipe uses anyway! And I trust Cooking Light!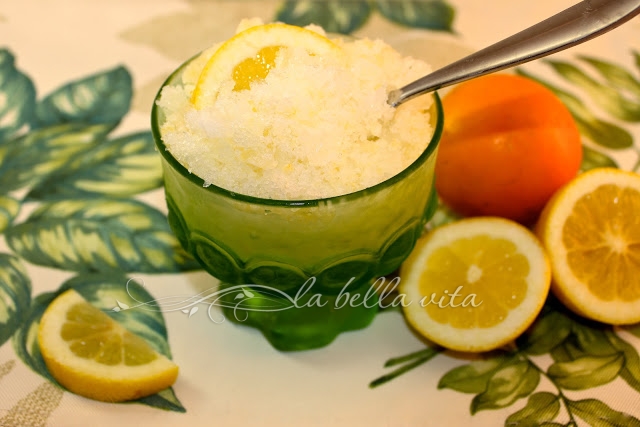 Print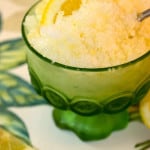 Lemon Citrus Granita
Author:
Prep Time: 0 hours
Additional Time: 0 hours
Cook Time: 0 hours
Total Time: 0 hours
---
2/3 cup freshly-squeezed lemon juice (about 4 lemons)
3 cups water
1–1/2 to 2 cups sugar (substitute 'Stevia' for a pure 'clean' recipe, just know that it will not taste as good as what you get in Italy with 'real' sugar)
1 cup fresh orange juice (about 4 oranges) or lemon juice (if you prefer, like I do)
---
Instructions
Combine all ingredients in a saucepan, and bring to a boil over medium-high heat.
Cook for 1 minute or until sugar dissolves; stir constantly.
Remove from heat.
Cool completely.
Pour into a 13 x 9-inch baking dish.
Cover; freeze at least 8 hours or until firm.
Remove dish from freezer, and scrape the entire mixture with a fork until fluffy.
Store the remaining granita in an airtight container.
Cover and freeze up to 1 month.
---
.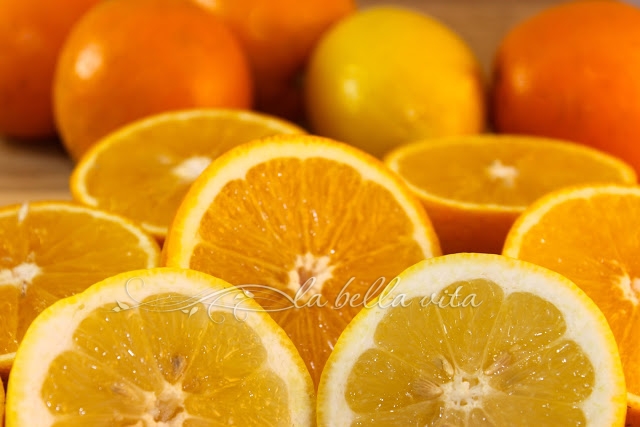 .
Slice open 4 – 5 oranges and 3 – 4 lemons, depending on your flavor preferences.
Fresh citrus is in high season right now, so they're perfect for fresh granita!
.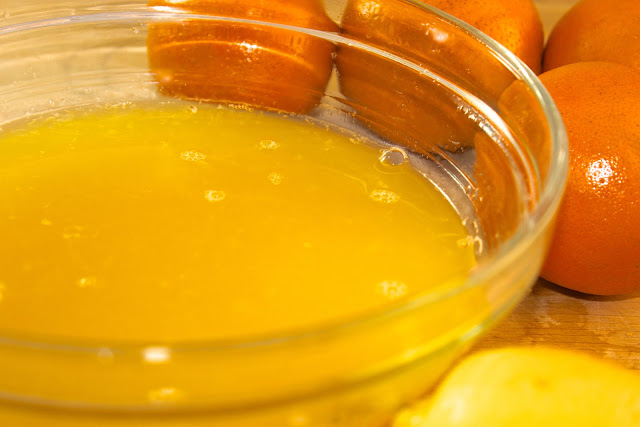 .
.
Squeeze the lemons and oranges and blend together in a bowl.
.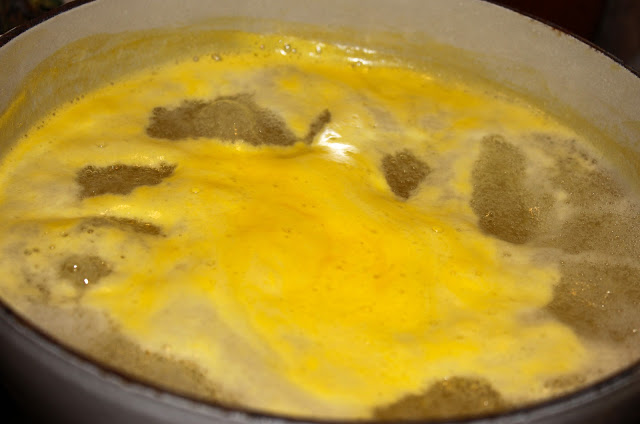 .
.
Bring the lemon-orange juice-sugar/Stevia-water mixture to a boil.
Cook for one minute until sugar dissolves.
.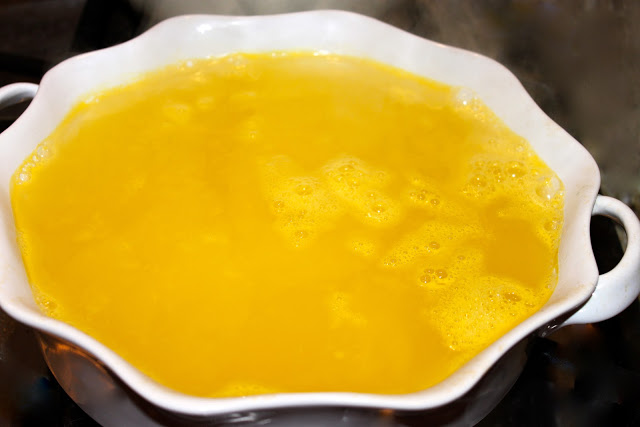 .
.
Allow the mixture to cool completely.
Pour into a baking pan.
Place in the freezer for 8 hours to firm up.
.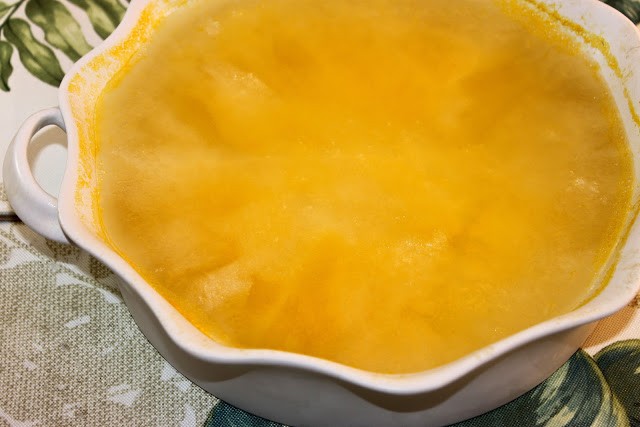 .
.
here's the granita in a solid frozen state
.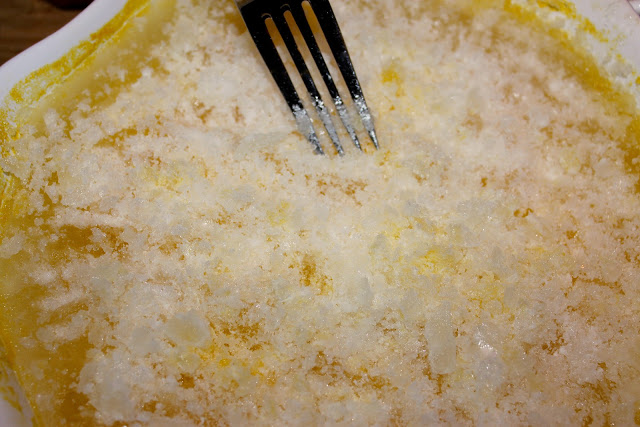 .
with a fork, chip away ice flakes from the solid granita
the first layer is a little hard to chip off but once the first layer is chipped away,
the process is very easy and fast
have chilled glasses ready to put the granita in before it melts
I also put each filled glass in the freezer while filling the other glasses
.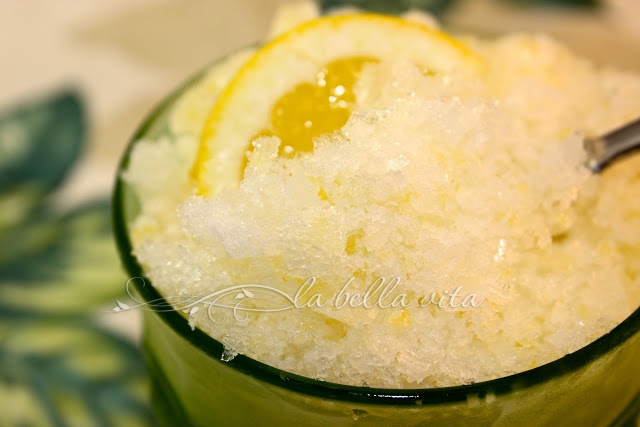 .
Mmmm, a glass full of sweet and tangy granita!
.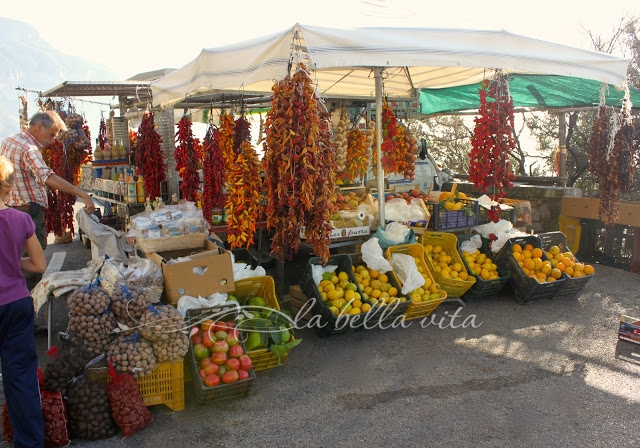 .
.
From my October trip to the Amalfi Coast in Italy:
One of the numerous fruit stands hanging on the edge of the cliff,
where I bought an outrageously delicious, fresh-squeezed lemon granita!
I went back to buy several more!
.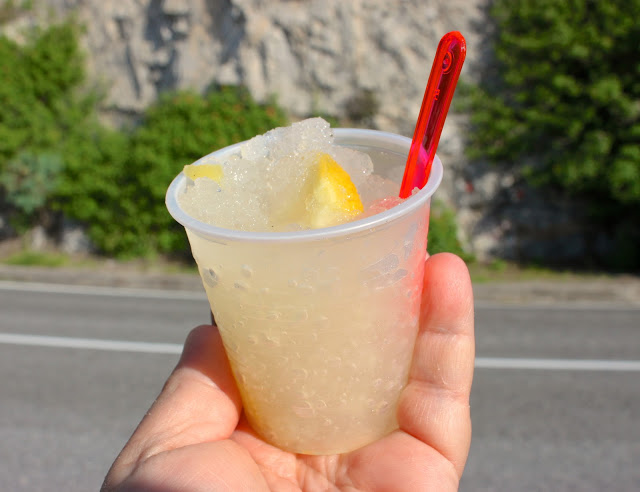 .
.
With the cliffs of the Amalfi coast mountainside in the background,
this little cup of sweet-tart freshly squeezed lemon granita
was simply perfect, especially on a hot afternoon!
.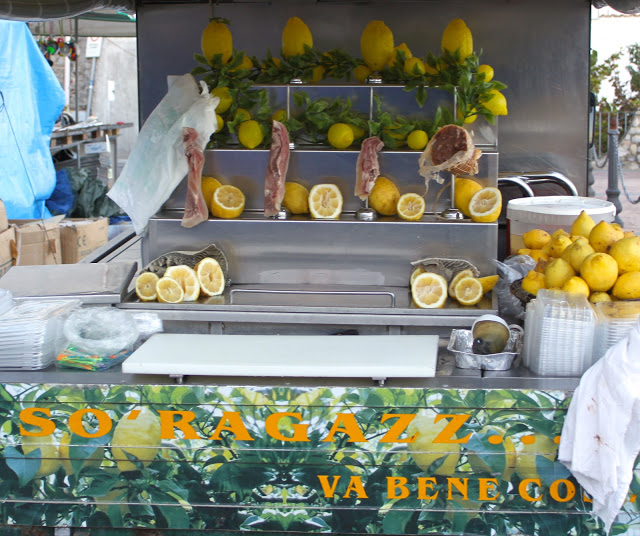 .
.
In the little village of Praiano, Italy
my mother and I attended the annual Festival for St. Luke the Evangelist.
People had food and fruit stands set up in the small piazza.
Here was one very tempting lemon granita stand.
.
Now, if you're interested in knowing more about the trendy new "clean eating" lifestyle, here are a few additional ways to incorporate it into your own life:
.
Always focus on eating foods in their most natural or close-to-natural states.
Eat five to six small meals a day, grazing only when hungry (this includes snacks). This maintains your blood sugar levels and keeps your metabolism churning all day long
Include a lot of fresh fruit and vegetables during each meal — basically eat more plants than meats.
Meats are allowed, but only purchase fresh cuts from a butcher, never pre-packaged.
Include grains such as brown rice, whole wheat and other whole grains.
Drink lots of water . . . at least 8 glasses of water daily
Eliminate drinking alcohol except an occasional glass of red wine for the antioxidants — this would be difficult for me, as well as for most Europeans who enjoy wine with nearly every meal . . . and still live healthy lifestyles
Avoid drinking carbonated sodas, even 'diet' sodas; avoid packaged fruit 'drinks', drink water with citrus juice for flavor
Avoid processed and refined foods (including sugar, white bread, white pasta, and white flour) — I would fail this approach right here with this point! If you look at the natives of the Mediterranean (where I was just visiting Italy in October), you'd see how THIN they are while at the same time enjoying sugar in granitas, gelate, tortas, and pastries. They also enjoy pasta from 'white' semolina flour and enjoy fresh-baked white artisanal breads. The reason? They walk EVERYWHERE! . . . so I could never buy into this approach completely. The Mediterranean Diet has been famous for years and it's very close to the 'clean eating' diet, just more forgiving! All other points of this philosophy are doable for me though.
Stay away from any foods with saturated and trans fats, or foods that are fried.
Include healthy fats such as olive oil, sesame oil, or peanut oil, cheese, nuts, avocados, seeds or fish daily.
Read labels and purchase foods that contain only one to five ingredients.
Avoid foods that state 'fat free' on the labels due to the chemicals contained within those foods.
.
.