Lemon Polenta Torta with Fruit Compote
.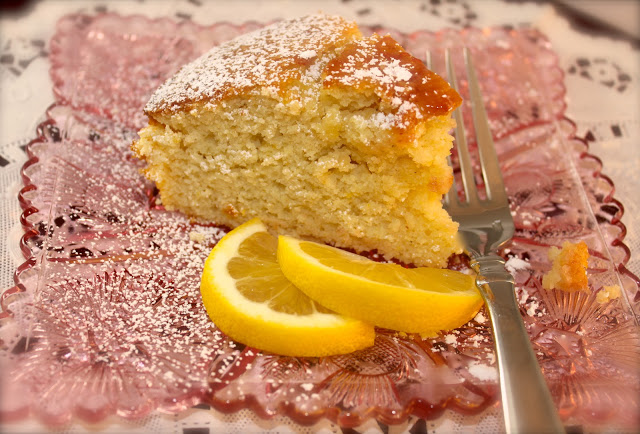 'Lemon Polenta Torta' with powdered sugar sprinkled on top just as it is served in Italy!
.
.
Winter and lemons? This combination just doesn't seem very logical to many of us. Lemons are more commonly associated with the hot days of summer when we quench our thirst with icy, cold lemonade or lemon sherbet. But in the warmer regions of the world, especially in the Mediterranean areas, and the U.S. states of Florida, California, Arizona and Texas, lemons are at their peak. Lemons and all citrus fruits are a delicious and healthy part of winter, especially for cooking lighter in the kitchen. The vitamin C in citrus proves their worth by helping us in the cold and flu season also, another timely advantage to citrus in winter!
.
In Italy, vibrant yellow lemons are harvested three times a year along
the Amalfi coast!
The flavor of lemons is a family favorite in desserts, from torte' to pies to icey granite'. We also love adding lemon juice with butter and garlic for an added sophistication to fish or chicken sizzling on the grill. Vinaigrettes and vegetables jazz up with the help of lemons as well.
.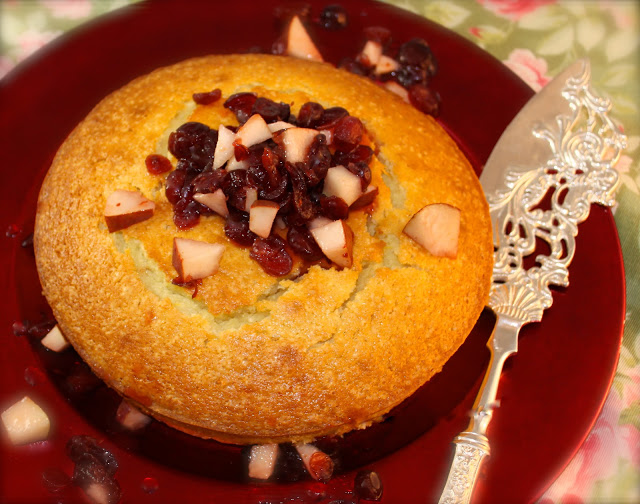 .
Baking and cooking with fresh, fragrant lemons infuse the air of any kitchen and home with their hypnotic perfume. So during these grey days of winter, it's a perfect time to prepare something lemony!
My husband seriously raved about this cake! "Superb . . . very, very wonderful!" were his exact words! Both of us thought that this cake was even better served warm, plain and simple without the compote. We favored it with just a little sprinkling of powdered sugar on top as is the customary way to serve it in Italy. Below is a photo of my sweet cousin, Silvia in Italy, who prepared an incredibly delicious classic Italian torta for us during our visit in October.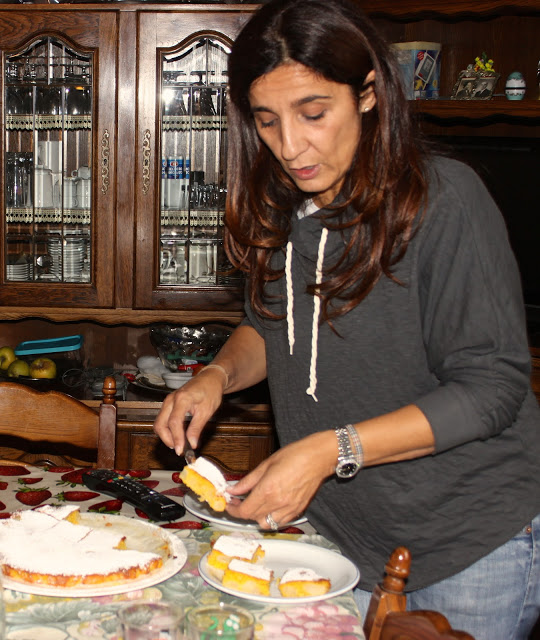 Silvia cuts fresh slices of Italian torta for us just minutes after entering the home!
.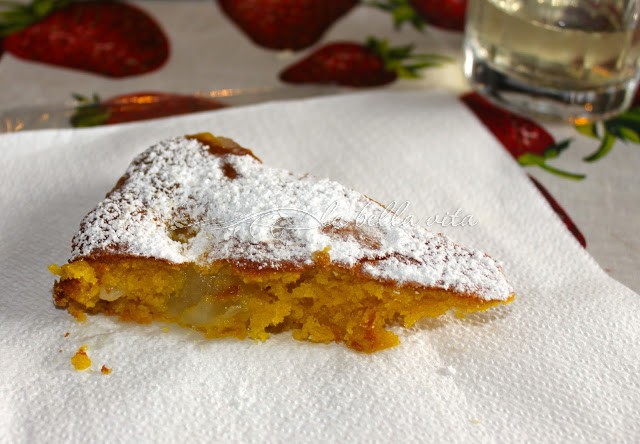 perfectly moist and flavored, with a generous dusting of powdered sugar on top!
.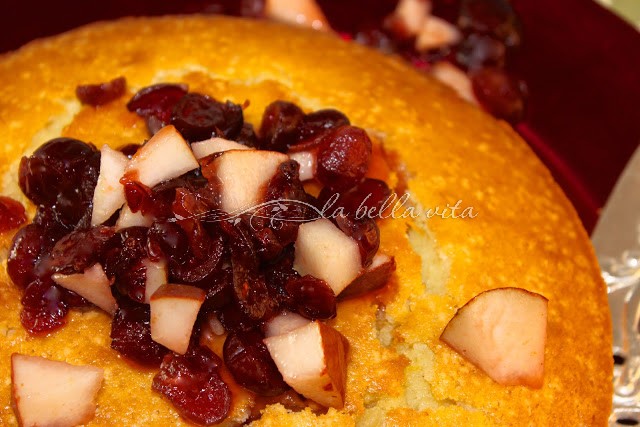 Lemon Polenta Torta with Fruit Compote
Ingredients
For the cake
Cooking spray and parchment paper
1 1/4 cups all-purpose flour
1-1/4 cup sugar (I added the extra 1/4 cup due to my addition of lemon juice, below)
1/2 cup yellow cornmeal
1/2 teaspoon baking soda
1/4 teaspoon salt
2/3 cup reduced-fat buttermilk
1/4 cup olive oil (I did not use extra-virgin because the taste is so much stronger)
2 large eggs (I use jumbo eggs)
juice from 1/2 of a lemon, fresh-squeezed (preferably from Meyer lemons) (my addition that I highly recommend)
2 tsps. grated lemon rind
For the winter fruit compote
1 cup unsweetened apple juice
1/2 cup fresh or dried cranberries
1 3/4 cups chopped red-skinned pear (about 2)
1/2 cup golden raisins (I eliminated since my husband doesn't like raisins)
2 tsps. fresh lemon juice
1 Tbsp. sugar
Instructions
To prepare the cake
Preheat oven to 350°.
Coat an 8-inch round cake pan with cooking spray.
Line bottom of the pan with parchment paper.
Coat paper with cooking spray.
Set aside.
Lightly spoon flour into dry measuring cups; level with a knife.
Combine flour and all dry ingredients (except the lemon zest) in a large bowl, stirring well with a whisk.
Make a well in center of mixture.
Combine buttermilk, oil, eggs, lemon juice and lemon rind, stirring well with a whisk.
Add buttermilk mixture to flour mixture, stirring until moist.
Pour batter into prepared pan.
Bake at 350° for 40 minutes or until wooden pick inserted in center comes out clean.
Cool in the pan 10 minutes on a wire rack; remove from pan.
Cool completely on wire rack.
To prepare the compote
Combine apple juice and raisins in a small saucepan over medium-high heat; bring to a boil.
Reduce the heat, and cook until reduced to 2/3 cup (about 4 minutes).
Add cranberries to pan; cook 5 minutes.
Add pear to pan; cook 2 minutes or until tender.
Remove from heat; stir in lemon juice.
Top slices of the lemon torta with the fruit compote.
If 'lighter' lemon dessert recipes are something that you enjoy, than you might want to check out the following luscious lemon treats that I've prepared before. Both of these cakes are loaded with lemon flavor and you'd never, ever know that they are lightened up!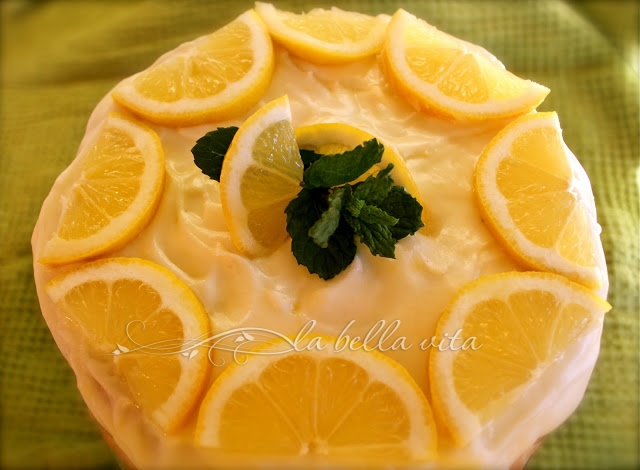 .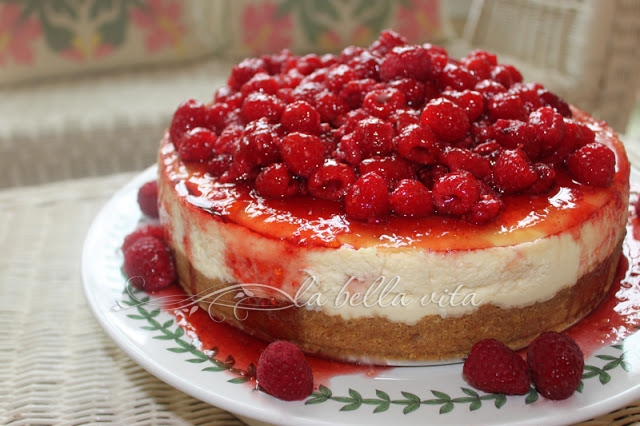 .
.