Twiced Baked Potatoes with Fontina Cheese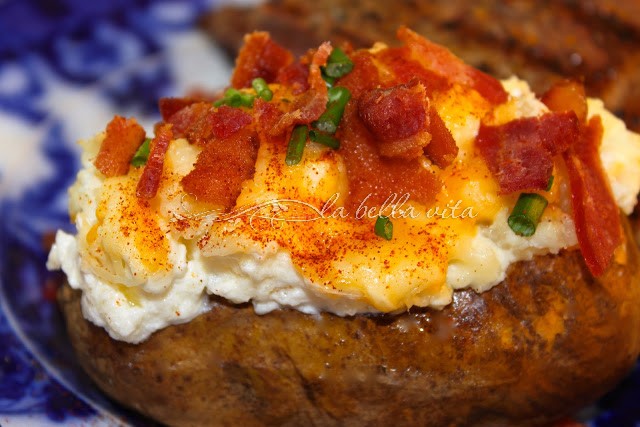 The big game of the Super Bowl is now playing and we've settled into our comfy spots after splurging on some appropriate, football man-food . . . a rib-eye steak so thick and wide that we cut it in half and still only finished a smidgen of it!  Plated on the side of that big beef monster was the mother load of all potatoes . . . Twice Baked Potatoes with Fontina Cheese . . . and loaded to the max!  Including something new and a little different to keep Mr. M. and P.'s (meat and potatoes) tastebuds surprised:  I added fontina cheese to the mix to give the potatoes a little more zing!  I might use some asiago cheese the next time too, since it was really a nice twist.
What a wonderful change to the same old – same old twice baked potato recipe!
No need for little finger food in this household to watch the game.  A juicy, perfectly grilled beef steak and an awesome loaded potato somehow keeps us content throughout the entire game . . . well, until it's time for dessert!
May the best team win!
Oh, PS:  I will change the channel to watch Downton Abby on PBS.  Even my husband enjoys that great British show more than football!  He's such a keeper!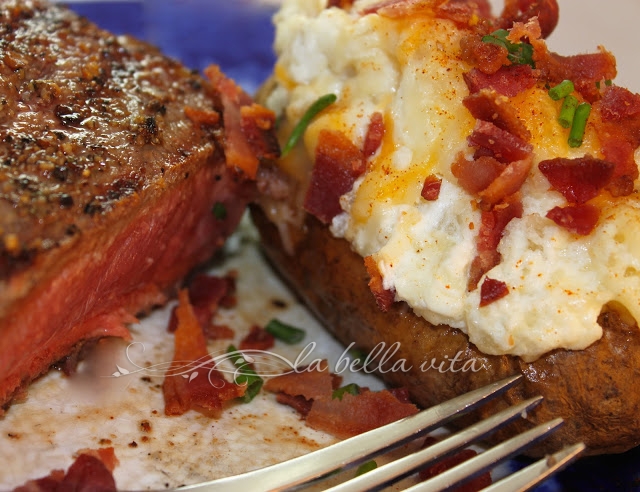 Twiced Baked Potatoes with Fontina Cheese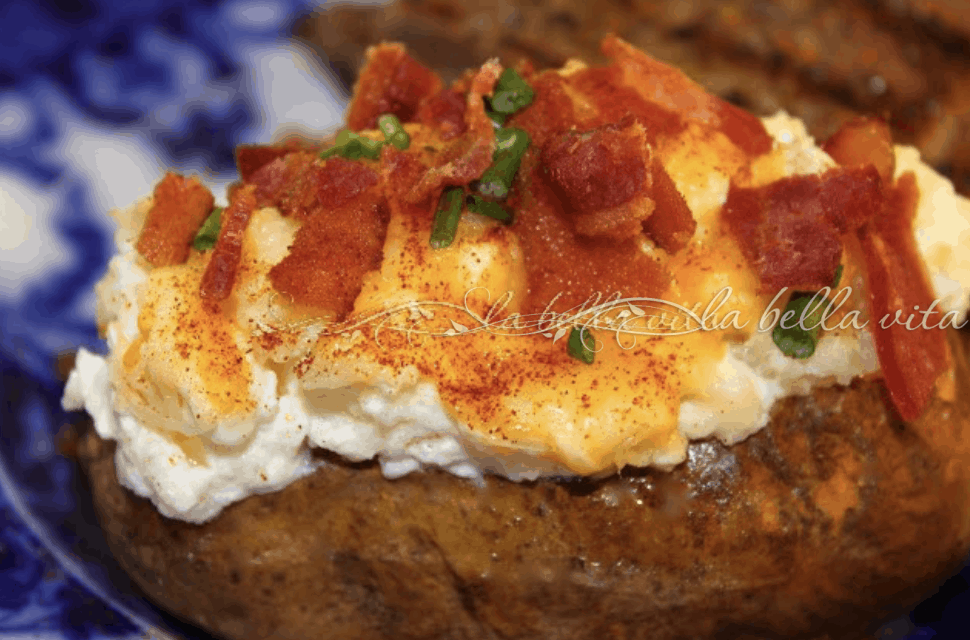 Ingredients
4 medium-sized russet potatoes
3/4 cup sour cream
1/4 cup butter, softened
1/3 cup mascarpone or cream cheese, softened
1/2 cup shredded fontina cheese
1/2 tsp. garlic salt
1/2 tsp. onion salt
1 cup shredded cheddar cheese
1/4 cup finely chopped chives
1/4 cup cooked and diced thick-cut Italian pancetta or bacon
paprika for garnish
optional: 6 tablespoons freshly-grated Parmigiano-Reggiano cheese
Instructions
Preheat oven to 400°
Clean the potatoes with a good scrub.
Pierce potatoes with a fork.
Bake at 400° for 1 hour or until tender.
Cut a lengthwise slice off of the top of the baked potatoes to create a bowl, but do not cut it in half.
Scoop out flesh, leaving about a 1/4-inch-thick shell.
In a medium-sized mixing bowl, combine flesh, sour cream, butter, cream/mascarpone cheese, fontina cheese, garlic and onion salts.
Mash until chunky, yet well-blended.
Divide mixture evenly among hollowed out potato shells.
Place potatoes in a single layer on a baking sheet.
Sprinkle potatoes evenly with Cheddar cheese.
Bake at 400° for 12 minutes or until heated.
If desired, sprinkle freshly-grated Parmigiano-Reggiano on top of each potato.
Preheat broiler.
Broil potatoes for 2 minutes or until browned and bubbly.
Garnish with pancetta/bacon, chives, and paprika.