Raspberry and Lemon Curd Mascarpone Stuffed French Toast
.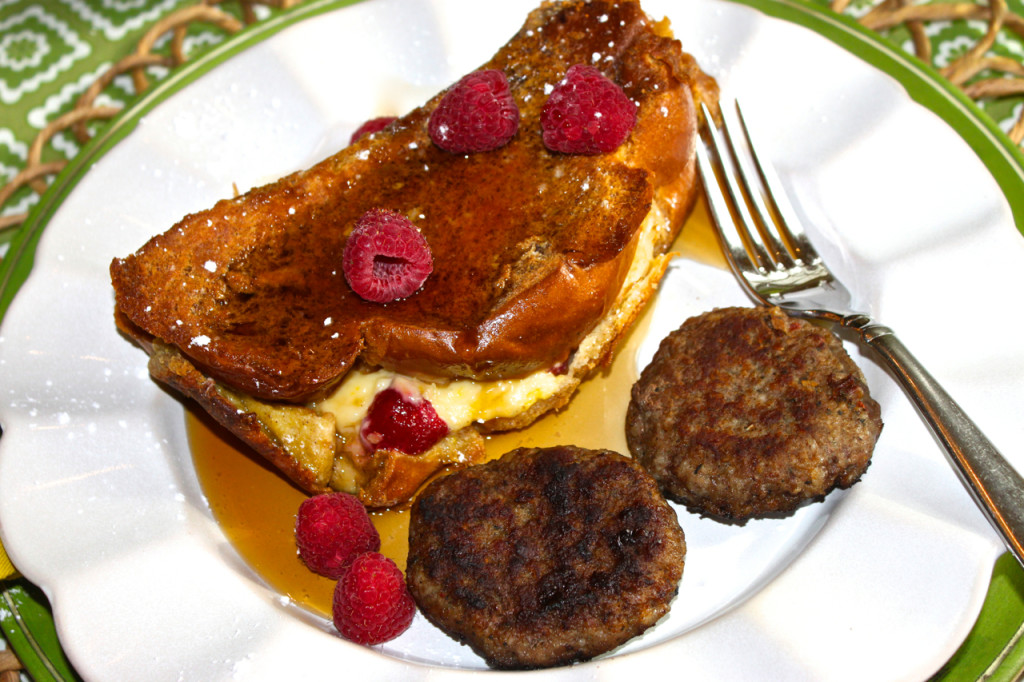 I just love a leisurely brunch on the weekend, don't you?
.
And one of my favorite recipes that has already been published
Raspberry and Mascarpone Stuffed French Toast (click here for the recipe),
is a beloved recipe that
I wanted to tweak to try something new
to serve our guests that we are hosting this weekend.
..
We have a group of NASCAR fanatics in my family.
.
And these race fans make an ANNUAL pilgrimage to DARLINGTON, S.C. for one of the races in the series. From Tennessee, two men and their wives drive down to stay with us for the weekend. And then in the dark wee hours of the morning, the guys drive over (about 3 hours from here) to the race and the gals stay back here with me on the acreage and do something . . . well,
---
gal-ish and totally unrelated to a car race! Now mind you, if you're a female that loves car racing, than go for it . . . I just like my horsepower in a real 'live' horse and not under a hood like my car-crazed husband where he prefers horsepower to be located!
.
We understand and respect our differences about sources of horsepower! To each his/her own, right? Whatever tickles one's pickle is just fine with me!
.
After we each do our own thing, there IS ONE THING that BOTH OF US want to make sure of . . . and that is to have a big brunch ready for our guests after they've driven through the night after the race to return to our farm and then to have a full tummy for their return trip back to Tennessee.
.
Here's what my daughter and I prepared this year: Raspberry and Lemon Curd Mascarpone Stuffed French Toast!
.
This is a new recipe . . . an experiment, and it was (humbly stated) absolutely, amazingly, over-the-top DELICIOUS! My daughter said, "Mom this was worth breaking my resolution of giving up sugar during Lent". My son-in-law who doesn't like sweet food in the morning loved it and my husband had 2 huge servings. It's so easy too: prepare it the night before and fry them in the morning!
.
And now here's my new recipe for you, I hope that you enjoy it: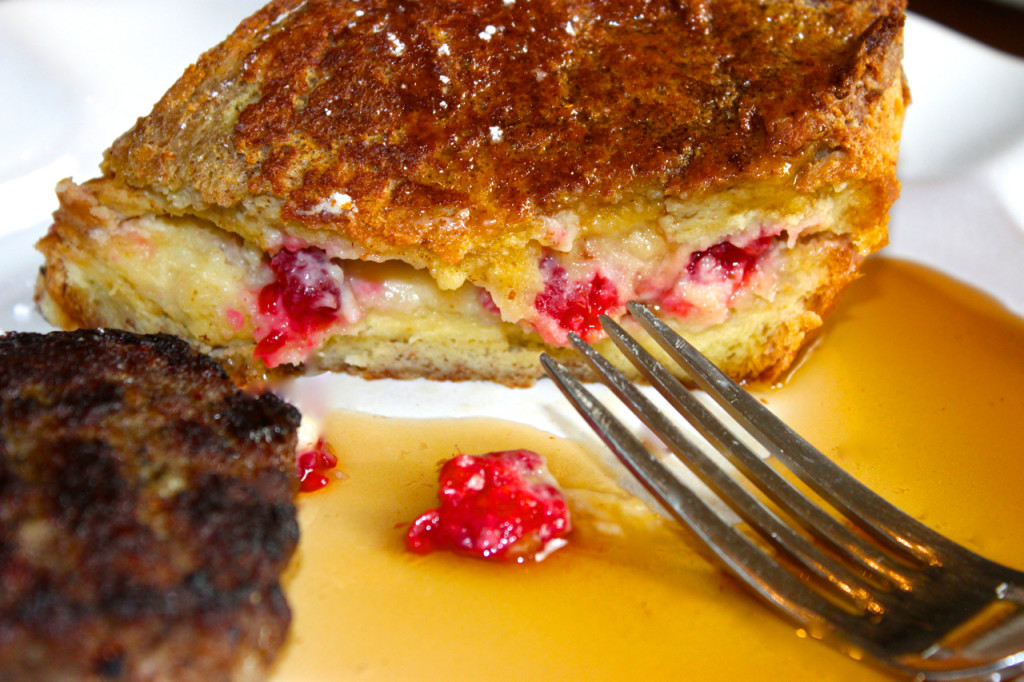 .
Print Raspberry and Lemon-Curd Mascarpone Stuffed French Toast
Author:
Prep Time: 0 hours
Additional Time: 0 hours
Cook Time: 0 hours
Total Time: 0 hours
---
1 loaf Challah or Brioche bread, cut into 2" slices including the crust
Batter for Dipping The French Toast
6 jumbo eggs
1 cup half and half (or heavy cream if you want to take it to a new level!)
1 tsp. ground cinnamon
2 Tbsp. sugar
1 Tbsp. pure vanilla extract
pinch of freshly ground sea salt
Filling For The French Toast
8 oz. Italian mascarpone cheese, room temperature
1/2 tsp. pure vanilla extract
8-oz. jar of lemon-curd
zest of 1 lemon
6 Tbsp. powdered sugar
2 cups fresh raspberries
For frying & baking
2 Tbsp. high quality butter
Garnish
Lots of fresh raspberries
Powdered sugar for dusting
Serve with
---
Instructions
Prepare the Filling
In a medium bowl, whisk together the mascarpone cheese, lemon curd, lemon zest, powdered powdered sugar and vanilla, combining nicely until smooth.
Set aside to stuff the bread.
Stuff the Bread Slices
Cut the bread into into 2″ generously thick slices.
Spread mascarpone-lemon curd mixture on top of one layer of bread slices up to about ¼" from the edge of the bread slices to prevent filling from overflowing.
Place a generous amount of fresh whole raspberries all over each bread slice.
Dollop any remaining mascarpone lemon-curd mixture on top of the raspberries.
Top the spread bread slices with the other slice of bread.
Prepare the Batter
In a medium bowl, with an immersion blender, mix together the eggs, half and half, sugar, cinnamon, vanilla and pinch of salt.
Baking
Lay the stuffed bread slices in a single layer in a large baking pan.
Pour the batter all over the stuffed bread slices.
Cover with aluminum foil and refrigerate overnight.
In the morning or before brunch is served pre-heat the oven to 350 degrees.
Remove the batter-soaked stuffed toast from the batter.
Melt a generous amount of high-quality butter in a heavy frying pan (such as cast iron).
Place the battered, stuffed bread slices into the hot butter and cook until a nice golden-brown color appears.
Place the prepared french toast in an uncovered baking dish in the heated oven and bake for 1/2 hour.
Dust with powdered sugar.
Garnish with raspberries.
Serve immediately out of the oven with warm maple syrup
---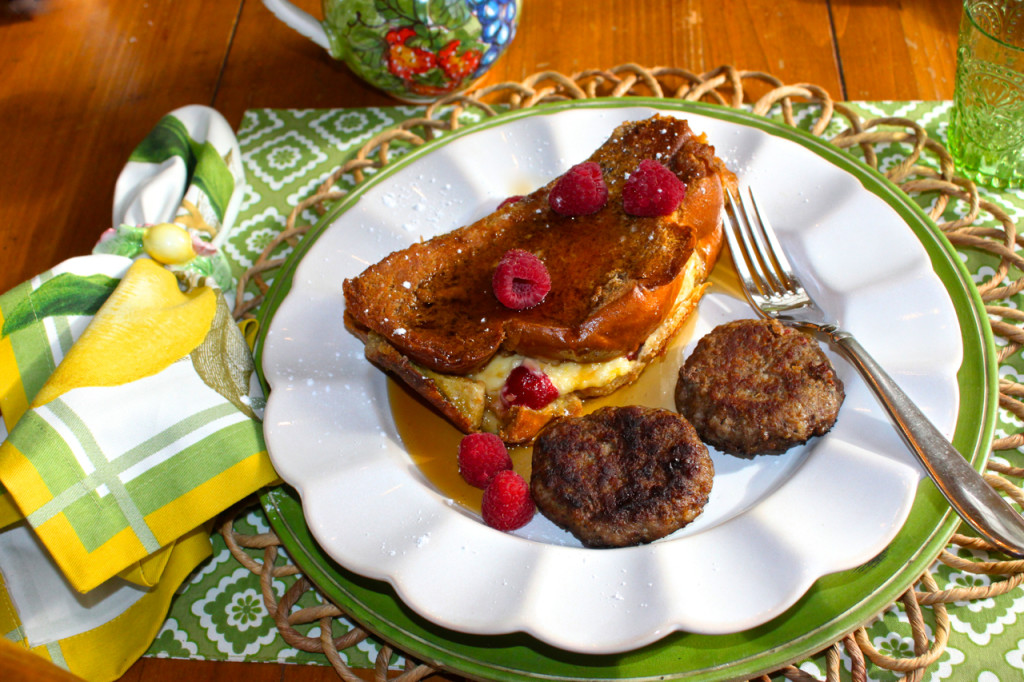 .
.